Directions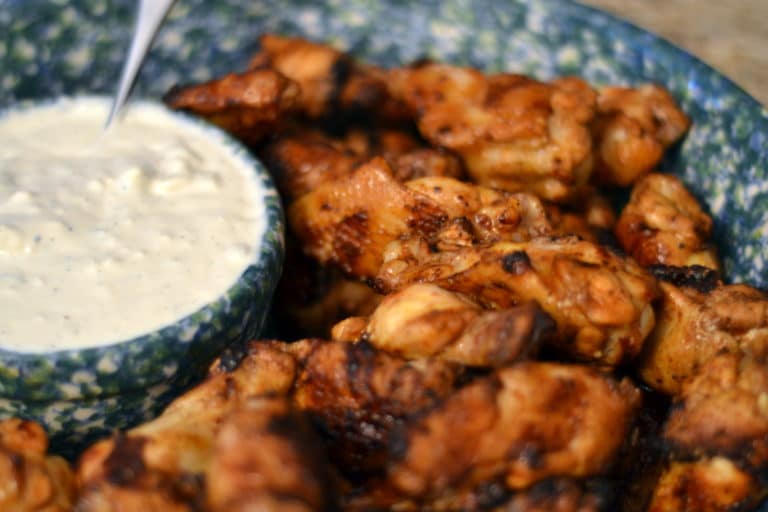 Buffalo Wings and Blue Cheese:  It's a match made in football watching munchie heaven.  Only recently, have I been able to admit that I actually like blue cheese.  It took me years and years of failed attempts, but I've finally grown to like it.  And thank goodness I have, because it makes eating Buffalo Wings that much better.
I've made a few different variations of traditional Buffalo Wings and this is the favorite that we always return to.  Why?  It's easy.  It takes about five minutes of prep time and then, after letting them marinate all day, you throw them on the grill instead of the traditional deep fry. Plus, the blue cheese sauce is so, so good and just as easy.  If you make these, promise me you'll try the homemade dip instead of just buying a bottle of blue cheese dressing.  Please?
You'll start by mixing together a spicy, vinegar based marinade.  We like our wings on the spicy side, so I added a little extra Tabasco sauce and red pepper.  Feel free to play with the mixture to suit your taste!
Next, you'll prep your chicken wings.  Oftentimes, you'll be able to find the little chicken drums already prepped for you at the grocery store.  Sometimes, though, all they have available are the whole chicken wings.  If you come across whole wings, you can easily slice them into three pieces.
The photo above shows both a whole chicken wing at the top and the three sections of the separated wing in the bottom row.  The pointy wing tip (far right, bottom row) can be discarded.  Then, using a sharp knife, slice between the joint of the drum and the wingette (How cute is that name?  Seriously! That's what it's called!)
Once your wings are prepped, place them in a gallon sized freezer bag, pour the marinade in, squeeze all of the air out and seal it up tight.  Massage the bag a bit to make sure that the marinade works its way through and then place the bag in a large bowl, just in case it leaks.  At this point, the wings go in the fridge to marinate for a few hours.  I made these early in the morning and then threw them on the grill around 5:00 PM.  Every couple of hours, flip the marinade bag over and redistribute the sauce.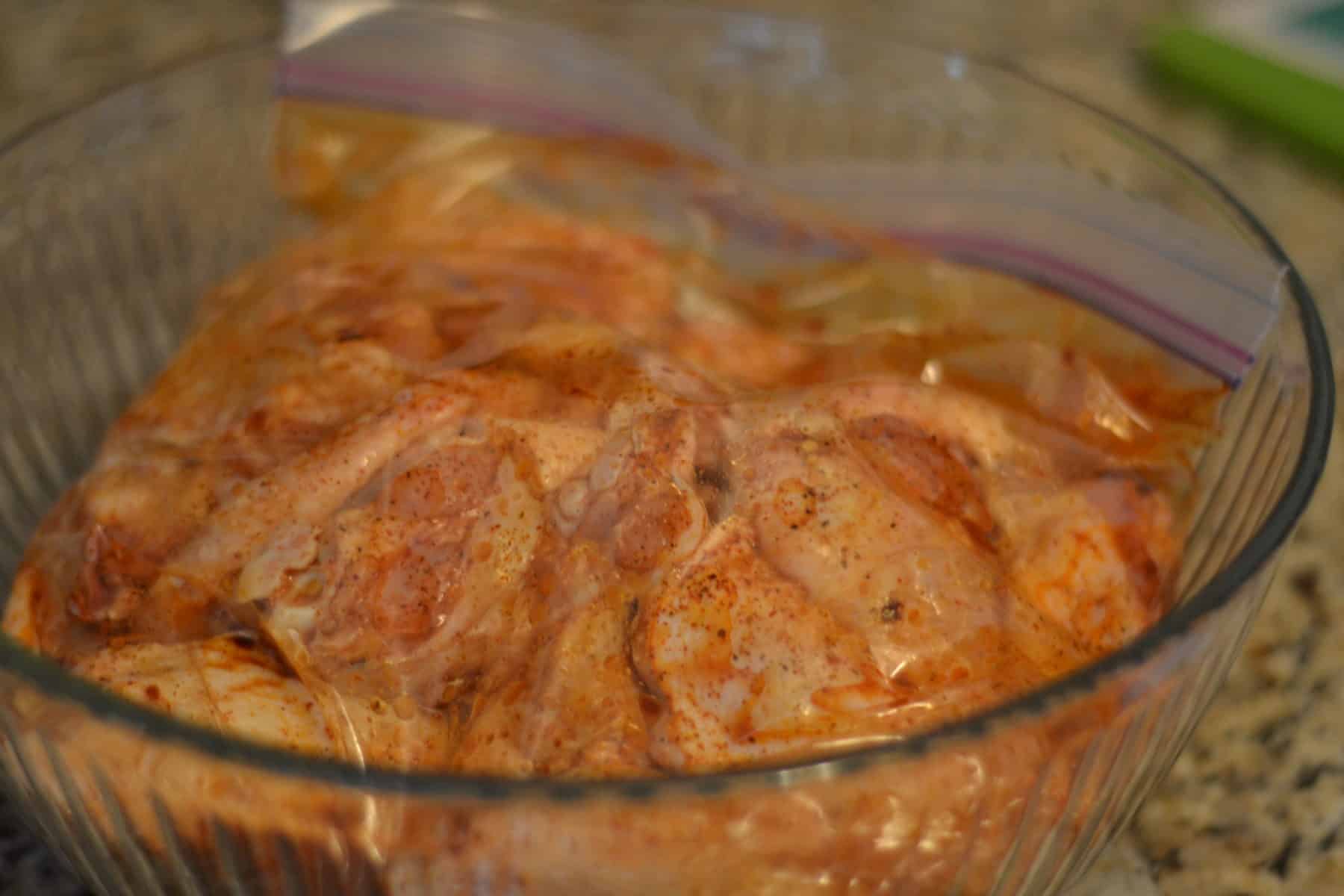 Now, it's onto the blue cheese dip.  You'll need a cup of chunky blue cheese.  I used Point Reyes blue cheese.  If you can find this, it's out of California, give it a try.  It is the creamiest blue cheese around, as far as I'm concerned.  I prefer breaking up a block of blue cheese myself as opposed to buying it in crumbles.  This way, I can control the size and the cheese hasn't dried out.  To crumble the cheese easily, just use a fork.  Nobody, no matter how much they love blue cheese, wants hands that smell like it.  Trust me.  Just use a fork.
You'll mix the blue cheese with a few quick ingredients and then it can go in the fridge to hang out until the wings are ready.
After a few minutes on the grill later in the day, you'll have a great bowl of wings and sauce just begging to hang out with you while you watch the big game.
GRILLED BUFFALO WINGS AND BLUE CHEESE DIP
Adapted from the Williams-Sonoma Kitchen Library
Game Day Week Recipe #2: Grilled Buffalo Wings and Blue Cheese Dip
Author:
Prep time:
Cook time:
Total time:
Ingredients
4 lb. chicken wings
Marinade:
1 cup apple cider vinegar
2 Tbsp. vegetable oil
2 Tbsp. Worcestershire sauce
2 Tbsp. chili powder
1 tsp. red pepper flakes
1 tsp. salt
1 tsp. freshly ground pepper
1 Tbsp. Tabasco sauce
Blue Cheese Dip:
2/3 cup sour cream
1/2 cup mayonnaise
1 large clove garlic, minced
2 teaspoons Worcestershire sauce
1 cup crumbled blue cheese
salt
freshly ground pepper
2 Tbsp, more or less, milk
Instructions
To make the marinade:
Using a whisk, stir together the vinegar, oil, Worcestershire sauce, chili powder, red pepper flakes, salt and pepper in a small bowl. Place the chicken wings in a gallon sized storage bag and pour in the marinade. Press the air out and seal it tightly. Distribute the marinade by massaging the bag gently. Set the bag in a large bowl and refrigerate for several hours, turning and massaging the bag every once in a while.
To make the blue cheese dip:
In a small bowl, combine the sour cream, mayonnaise, garlic, Worcestershire sauce and blue cheese. Season to taste with salt and pepper. Add just enough milk to make a sauce the consistency of pancake batter. Cover and refrigerate.
Prepare your grill:
Position an oiled rack 4-6 inches above the fire. Remove the wings from the marinade and pat them dry with paper towel, reserve the marinade. Arrange the wings on the grill rack. Grill, turning frequently and brushing with the reserved marinade, until cooked through, about 20-30 minutes. Serve with the dip and celery sticks. Can be served warm or cold.
Serves 4 as a main course, 6-8 as an appetizer.