Directions
Oooooh, these cookies.
Chocolate and marshmallow is one of my favorite combinations, but I fully underestimated how delicious these cookies would be.  I saw them on Pinterest, thought they were clever and fun, and then I took a bite, and fell in love.
These cookies are fudgy, and chewy, rich, and delicious.  Warm, out of the oven, they are melty and gooey, like a molten lava cake.  As we ate them over the next few days, they were still chewy, and decadent…and the marshmallow stays puffy and light.  That was, honestly, my biggest worry.  I wondered if the marshmallow would dry out and lose its bounce.  Nope.  Still amazingly puffy a few days out.
I started by melting together some butter and a bag of chocolate chips on the stove top.
 Once the mixture was smooth, I removed it from the heat and allowed it to cool for a bit.  Once it was cooler to the touch, I started the dough.
I beat together some brown sugar, eggs, and vanilla, and then mixed in my butter-chocolate mixture until everything was well combined.
To that, I added cocoa powder (A bag of chocolate chips alone just isn't fudgy enough, right?), flour, baking powder and salt.
 Before scooping the dough out, the fudginess needed to spend some time in the fridge to set up.
After a couple of hours of chill time, I had an unbelievably thick, rich dough that reminded me more of truffles than cookie dough…but I wasn't about to complain.
The cookies baked for about twelve minutes, but they weren't quite done yet.
I pushed a square of semisweet chocolate down into the hot cookie, and topped each one with a crown of marshmallow.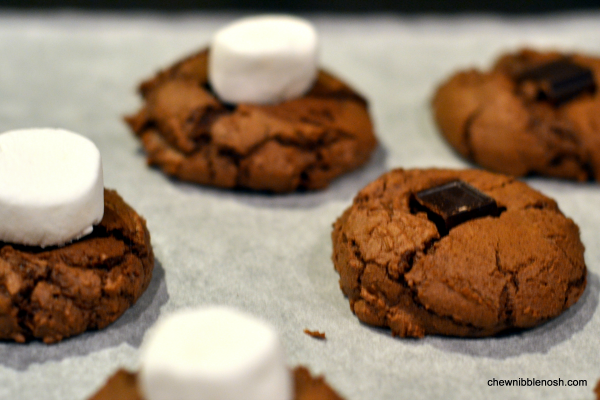 Once they were topped, they went back into the oven for just a couple of minutes more to finish setting up.
I let them cool on the cookie sheets for a few minutes before moving them to a wire rack to cool completely.
Oh…my…goodness.  Need a chocolate fix?  These cookies can help you out.  My kids have been begging me to make another batch ever since the last one disappeared.
They are really something special, and doesn't everyone need a little hot cocoa to get through a chilly day now and then?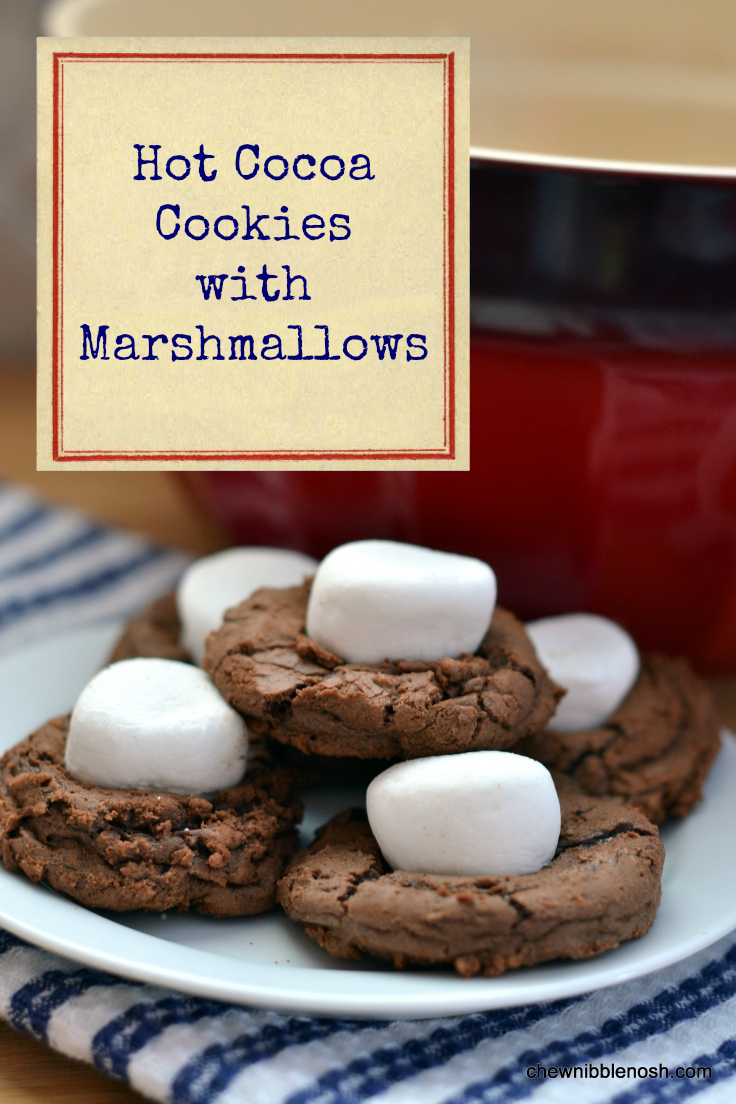 HOT COCOA COOKIES WITH MARSHMALLOWS
Adapted from Stepable.com
Hot Cocoa Cookies with Marshmallows
Author:
Prep time:
Cook time:
Total time:
**This cookie dough requires at least 2 hours of chill time before baking. Don't forget to plan for that when you decide to make them!
Ingredients
1 stick butter
1 (12 oz.) bag semi sweet chocolate chips
1 1/4 cups light brown sugar
3 large eggs
2 tsps. pure vanilla extract
1/4 cup unsweetened cocoa powder
1 1/2 cups all-purpose flour
1 1/2 tsps. baking powder
1/4 tsp. salt
8 oz. semisweet baking chocolate, cut into 1 inch pieces
large marshmallows, cut in half
Instructions
In a saucepan over medium heat, melt the butter and chocolate chips together. Stir continuously with a whisk until smooth. Remove the mixture from the heat and allow to cool a bit before continuing.
In a large bowl, beat together the brown sugar, eggs, and vanilla. Beat in the cooled chocolate mixture just until combined.
Add the cocoa powder, flour, baking powder and salt. Mix on low speed until just combined. Cover the dough with plastic wrap and chill for 2 hours.
Preheat the oven to 325*F. Line cookie sheets with parchment paper.
Scoop out hefty tablespoons of the dough (using a cookie scoop is very helpful, as this dough is thick!). Place the cookie dough two inches apart on the prepared cookie sheets.
Bake the cookies at 325* for 12 minutes.
Remove the cookies from the oven, and press a piece of semisweet chocolate into the center of each cookie and top with a marshmallow half.
Return the cookies to the oven to bake for 3 minutes more. Marshmallow should be slightly puffed and cookies should be set.
Allow to cool on the cookie sheets for 5 minutes before moving to a wire rack to cool completely.
Store in an airtight container.
ENJOY!