Directions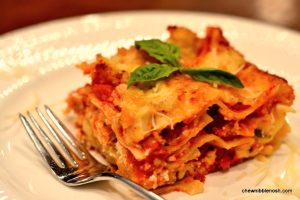 Red Gold is at it again.  This time, my favorite tomato growers are hosting a fantastic "Red Gold Simple Gourmet Lasagna Party" giveaway on their Facebook page!  Click RIGHT HERE and you can enter to win one of 750+ prizes, including a gourmet lasagna party prize pack that includes a Le Creuset Lasagna pan!  Get those entries in quickly!  The promotion ends February 3rd!
It doesn't stop there!  They are so generous, that they've also given me a special Red Gold Lasagna Kit to giveaway to one lucky Chew Nibble Nosh reader!  Keep reading, and there will be information on how to enter at the bottom of the post.
Red Gold shared some seriously delicious looking, family friendly, lasagna recipes with me this month, but this is the one that stuck out for me that I really needed to try right away.  My family loves Chicken Parmesan, so when I saw this fun twist on traditional lasagna, I had a feeling it would be a big hit at our dinner table.
I started by breading five thin chicken cutlets.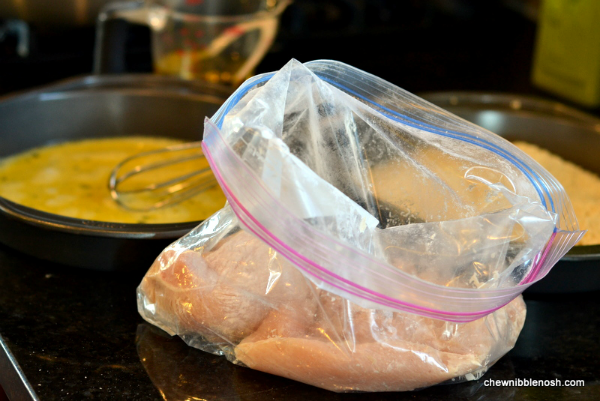 I tossed the chicken in a zip top bag with a little bit of flour, until they were well coated.  Then, I dipped them in beaten egg and coated them in a mixture of crispy Panko breadcrumbs and Parmesan cheese.
When they were all breaded nicely, I heated some olive oil in a large pan on the stove, and cooked the chicken for a few minutes on each side, until they were crispy and golden brown.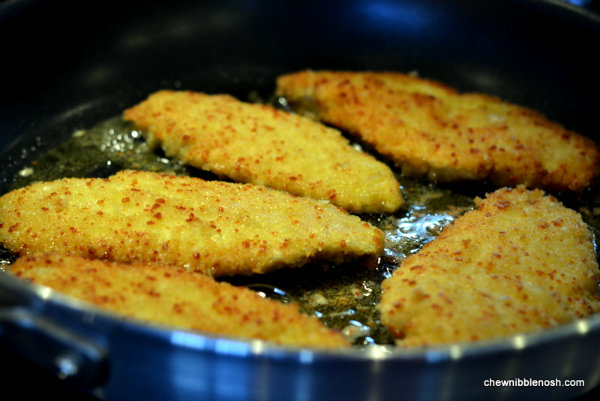 Once they were cooked through, I removed them to a plate lined with some paper towels to catch some of the oil, and let them cool a bit while I got the rest of my lasagna fillers together.
The sauce couldn't have been easier.  I broke out two cans of Red Gold tomatoes, one crushed and one diced tomatoes with basil, garlic, and oregano.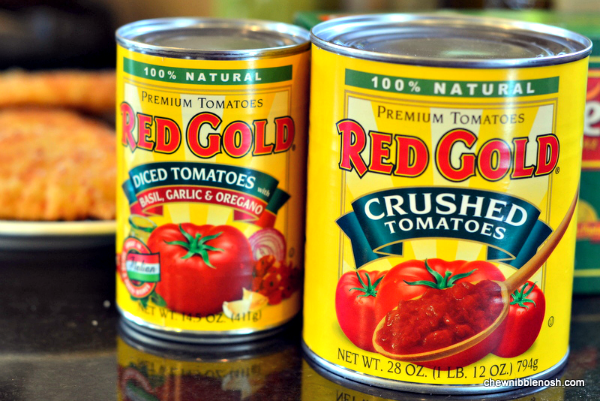 In a large bowl, I stirred together my two cans of tomatoes, along with a little bit of water, and some Italian seasoning, and salt to taste.
And, there was my sauce.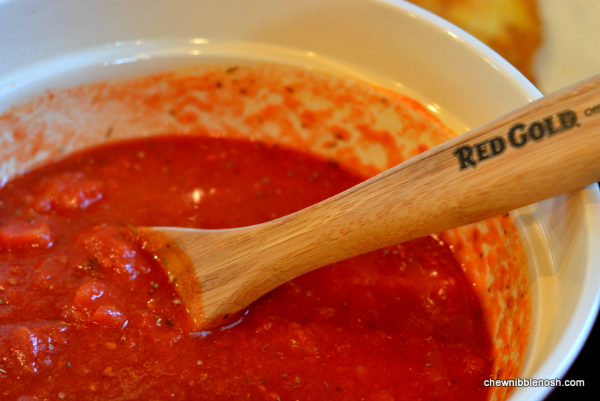 I stirred some fresh chopped basil into some creamy ricotta cheese, and got my lasagna noodles, and some shredded mozzarella together.  I chopped the crispy chicken into bite sized pieces, grabbed my lasagna pan, and started to build.
The lasagna bakes long enough that there's no need to pre-cook the lasagna noodles.  Instead, they cook and soak up all of the flavor of the lasagna right in the oven.  How's that for easy?
I started by layering some sauce, then noodles, then my ricotta-basil mixture, some chicken, mozzarella, and more sauce.  Then, I repeated the layers a couple of times, finishing with the last of the sauce, chicken, mozzarella and Parmesan cheese on the top.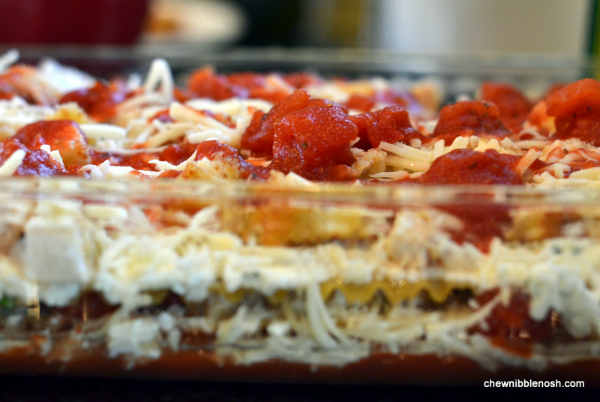 I covered it with foil, and popped it into the oven for an hour and fifteen minutes.  Then, I removed the foil, and let it bake for about fifteen minutes more, until the cheese on top was bubbly and golden, and the lasagna noodles were easily sliced with a knife.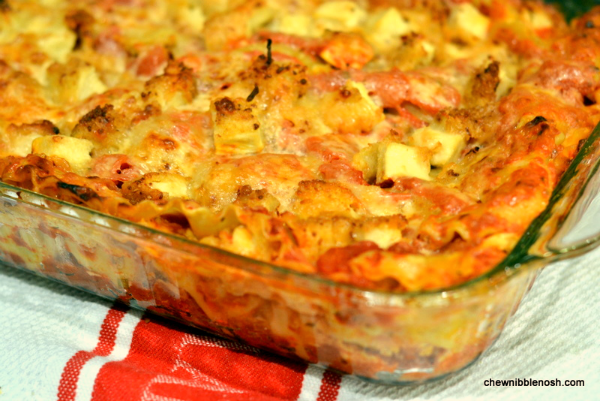 I let it stand for a few minutes before slicing into it, and then when I did, my family devoured it.  My girls don't usually enjoy lasagna, but when it's a twist on something they already love, they were all over it!  What a simple, cozy, delicious family meal!
Now, would you like to try your hand at one of Red Gold's fabulous Simple Gourmet Lasagnas?  Enter below to win!!
[promosimple id="687a"]
And don't forget to check out their awesome Facebook Giveaway as well!  Be sure to enter by February 3rd.  Here's to happy, simple, family meals!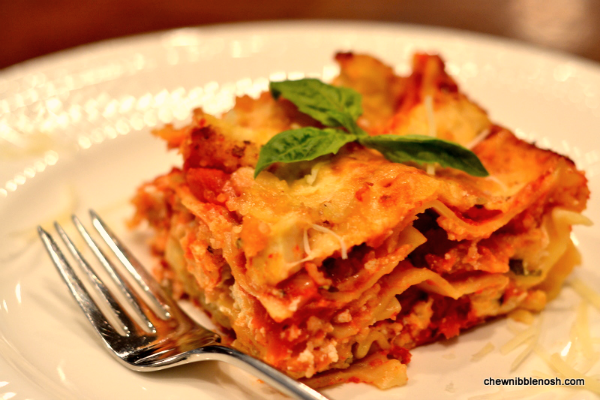 CHICKEN PARMESAN LASAGNA
Recipe Courtesy of Red Gold
Chicken Parmesan Lasagna – Red Gold Simple Lasagna Party Giveaway!
Author:
Prep time:
Cook time:
Total time:
Ingredients
5 thin-cut boneless, skinless chicken breast cutlets (pound out to 1/2 inch thick, if bigger than that)
2 eggs, beaten
2 cups Panko breadcrumbs
1 1/2 cups grated Parmesan cheese, divided
2 Tbsp. flour
1/2 cup extra virgin olive oil
1/2 cup water
1 (28 oz.) can RED GOLD Crushed Tomatoes
1 (14.5 oz.) can RED GOLD Diced Tomatoes with Basil, Garlic and Oregano
1 tsp. Italian seasoning
salt to taste
1 (16 oz. ) box lasagna noodles, traditional, uncooked
1 (15 oz.) carton part skim Ricotta Cheese
1/4 cup chopped fresh basil
3 cups shredded Mozzarella cheese
Instructions
Preheat oven to 350*F.
Place the beaten eggs in a shallow bowl. Mix the breadcrumbs and 1/2 cup of the Parmesan in a separate bowl. Toss the chicken with the flour in a zip top bag until well coated. Dip each piece of chicken in the egg, and then coat in the breadcrumb-cheese mixture. Press to make sure the breadcrumbs adhere. Repeat with each piece of chicken.
Heat the olive oil in a large skillet over medium high heat. Add the chicken, and cook, 2 minutes on each side, until golden brown and crisp. Remove from the pan to a plate and allow to cool for a bit.
As the chicken cools, combine the tomatoes in a large bowl along with the water, Italian seasoning and salt.
In a smaller bowl, add the chopped basil to the ricotta and stir to combine.
Chop the chicken into bite sized pieces.
Cover the bottom of a 9x13x2 inch baking dish with 1 1/2 cups of the sauce. Arrange some of the noodles over the sauce to cover, slightly overlapping them. Top the noodles with 1/2 of the ricotta cheese mixture, 1/3 of the chicken, 1 cup of the mozzarella and 1 cup of sauce. Repeat the layers and top with the last of the noodles, the remaining sauce, and the last 1/3 of chicken. Sprinkle with remaining mozzarella and Parmesan cheeses.
Cover tightly with foil, and bake for 1 hour and 15 minutes. Remove the foil, and continue to bake uncovered for 15 minutes more, until top is golden and bubbly, and a knife can easily slice the noodles.
Allow to rest for 10 minutes before slicing.
ENJOY!