Directions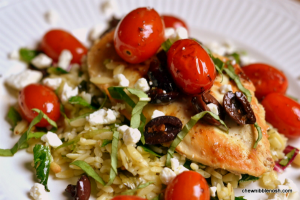 What is it with the end of the school year?
It seems that every year, the end of the school calendar gets busier and busier.  This year is no exception.  We are scheduled to the max, every single one of us.  Between school projects, recitals, concerts, field trips, assignments, after-school activities, and deadlines, this Mama needs a glass of wine and a day by the pool.
Our after-school schedule has picked up tremendously, and now we are facing the age-old parenting dilemma of "Do we eat dinner in shifts, or try to get everyone around the table together despite the craziness?"  Those family dinners are really the one time of day we can come together this time of year. So, despite the craziness, I'm trying to work together-time into our daily plan.
This is where super speedy quick meals come in very handy.  Fast doesn't need to sacrifice fresh, and this meal executes that concept perfectly.  From fridge to table, we're talking about 25 minutes.  If you have a few extra minutes in your day before the craziness kicks in, you could prep a lot of the vegetables and toast the pine nuts up, cutting actual dinner making time down even more.
I started by combining a pint of grape tomatoes with some sliced kalamata olives and a few tablespoons of light Balsamic vinaigrette.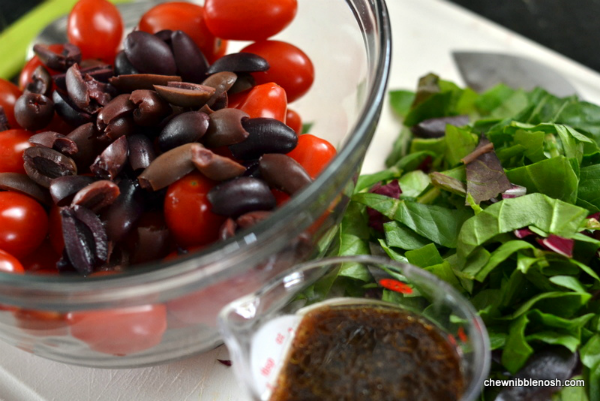 I also roughly chopped up a large handful of spring greens, that would eventually be added in with my orzo.
I got a pot of water boiling on the stove for the orzo, and started the orzo cooking.  Then, it was time to saute my chicken breasts.  I used thin pieces of chicken, to speed up cooking time even more.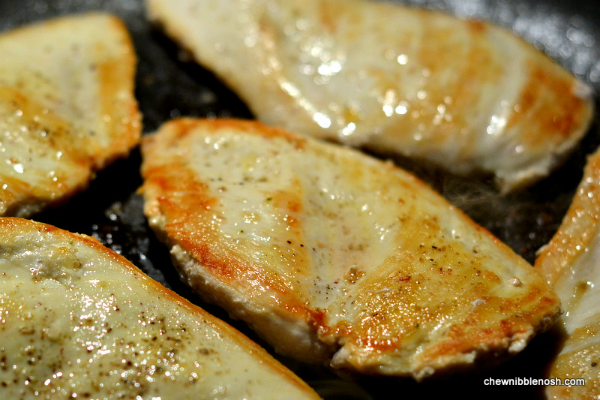 Once the chicken breasts were cooked through, about 5 minutes on each side, I moved them to a plate and added my Balsamic-tomato mixture to the pan.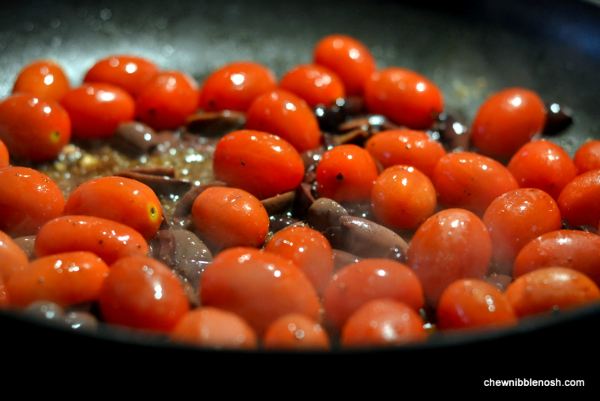 This is where I realized that, in my haste, I'd forgotten to slice the tomatoes in half.  No matter.  It all worked out, but if you make this and would like to cut the tomatoes in half, go ahead.  It will make the sauce saucier.
I let the tomato mixture bubble together until the tomatoes were softened and starting to pop a bit.
Right about this time, my orzo finished up cooking, so I drained it and added it to a bowl, where I tossed it with the chopped spring greens, some toasted pine nuts, olive oil, rosemary and salt.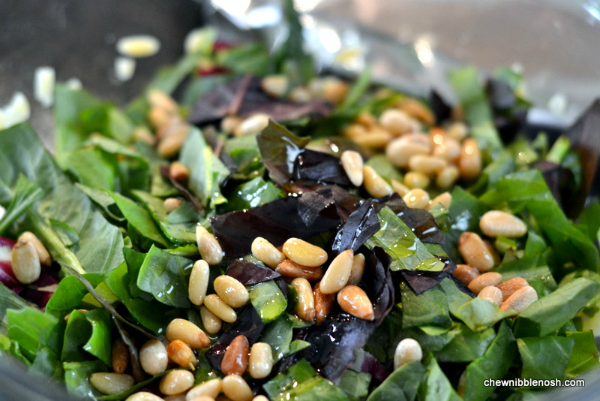 Then, it was time to serve up some dinner to my (very hungry by now, because it's late) family.  I spooned some of the orzo and greens onto each plate, and topped it with a chicken breast, some of the tomato-olive mixture, feta cheese and some sliced fresh basil.
Done!
I could have spent twenty minutes driving out of my way to pick up dinner in a drive-thru, but this fresh, healthy family meal was much more exciting to come home to.
We all enjoyed it immensely, chatted about our crazy days, and had some time to decompress and just be together…before heading to bed and starting all over again the next day.
KALAMATA-BALSAMIC CHICKEN WITH FETA AND ORZO
Adapted from Cooking Light: Fresh Food Fast
Kalamata-Balsamic Chicken with Feta and Orzo
Author:
Prep time:
Cook time:
Total time:
Ingredients
For the Chicken:
4 skinless, boneless chicken breast halves
1/2 tsp. ground pepper
nonstick cooking spray
1 pint grape tomatoes (halved, if desired)
1/2 cup kalamata olives, halved
4 Tbsp. light Balsamic Vinaigrette (I use Newman's Own)
1/4 cup crumbled feta cheese
2 Tbsp. sliced fresh basil
For the Orzo:
1 cup uncooked orzo pasta
1 cup spring greens mix, coarsely chopped
1/4 cup toasted pine nuts
1 Tbsp. extra virgin olive oil
1/4 tsp. crushed dried rosemary (or 1/2 tsp. fresh minced rosemary)
1/4 tsp. salt
Instructions
For the Chicken:
Sprinkle the chicken breasts with salt and pepper.
Heat a large nonstick skillet over medium-high heat. Coat the pan with cooking spray, and place the chicken breasts in the pan. Cook, 5-7 minutes per side, until nicely browned and cooked through. Transfer the chicken breasts to a plate, cover, and set aside.
As the chicken cooks, combine the tomatoes, olives, and Balsamic dressing.
Once the chicken is removed from the pan, add the tomato mixture to the pan. Cook, stirring occasionally, until the tomatoes are soften and the skins start to pop a bit, 2-3 minutes.
For the Orzo:
Cook the orzo according to the directions on the package as the chicken is cooking. Drain the pasta and place it in a medium-sized bowl.
Add the chopped greens, toasted pine nuts, olive oil, rosemary and salt. Stir to combine.
To serve:
Place some of the orzo on your plate. Top with a chicken breast. Spoon some of the tomato-olive mixture over the top of the chicken. Sprinkle with feta cheese and sliced fresh basil.
ENJOY!