Directions
Aaron's Aunt Cathy came through for me again.  Her garden continues to overflow with amazing, homegrown produce.  I continue to defy successfully growing anything, so when we saw her last weekend, she handed over some beautiful cabbage and red, ripe tomatoes.
I was trying to think of what to do with the cabbage, and trying to come up with my next week's menu, when I happened across a recipe for "stuffed" cabbage in my favorite slow cooker cookbook.  I love stuffed cabbage rolls, but I don't often make them because it isn't exactly a 'throw together on a weeknight' type meal.  This recipe was titled Lazy Man's Stuffed Cabbage, though, and it involved a slow cooker.  Sounds good to me!
Instead of making actual cabbage rolls, all of the ingredients are layered, casserole style, in the slow cooker and then you turn the thing on and walk away.  That's the type of home cooking I need during the school year, so I figured I'd give it a go.
I started by chopping up that entire head of cabbage from Farmer Cathy.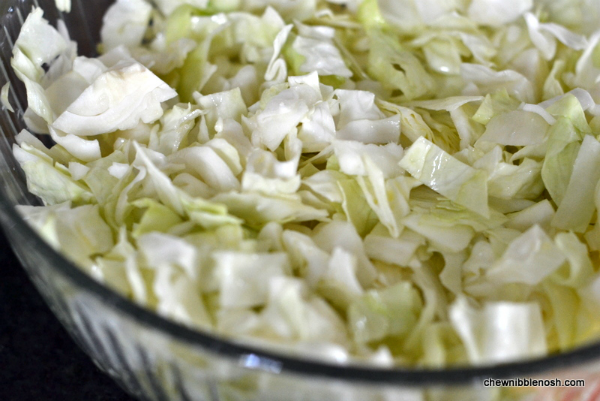 I tossed the cabbage in a large bowl with just a little bit of olive oil and salt, and then cooked it in the microwave for about twenty minutes.  This was enough time to soften up the cabbage, but it didn't turn everything into mush.
As the cabbage was spinning in my microwave, I started to put the other pieces together.  I chopped up two onions and some garlic, and then sautéed them on the stove top with some cinnamon, ground ginger, and nutmeg.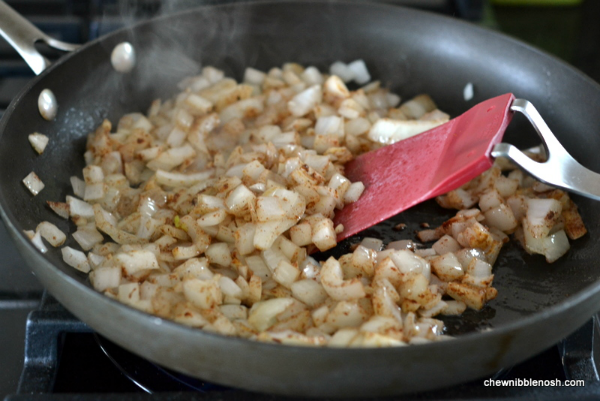 I love those warm, savory fall flavors.  It may still be hot out, but since it's September, I figured it was OK to kick dinner into the next season.
Once the onions were cooked down, I removed half of them to a large bowl that would eventually hold my meat filling.  The other half stayed in the pan and I added a large can of tomato sauce, some brown sugar and red wine vinegar.  This was the sweet and tangy sauce that would layer in with my meat and cabbage.
Before I mixed in my meat and rice, I crushed the onion mixture together with some milk and a couple of slices of bread that I'd torn up.  The bread would help bind the meat mixture.  The recipe called for white bread, but I only had wheat, so I used that and it worked out just fine.
Once the onions, milk, and bread were almost mashed to a paste, I added in a pound of ground beef, a pound of bratwurst meat (removed from the casings), and two cups of cooked rice.  It's messy, but go at it with your hands.  It's the best way to combine it thoroughly.
By this time, my cabbage was done, so I drained the liquid off and got to layering it in my crock pot.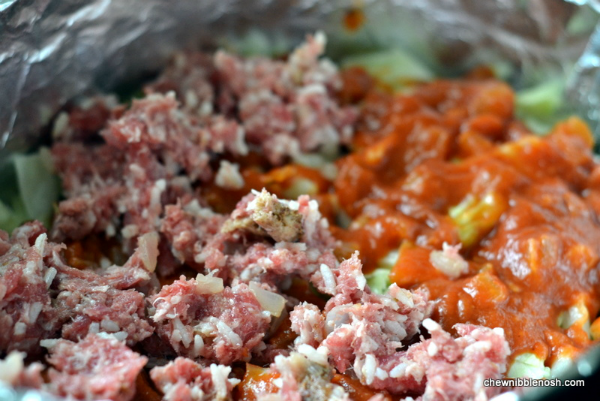 First a bit of sauce, then some of the meat mixture dropped in, then the cabbage.  All in all there were three layers and it was finished off with some sauce on top.
I'd also lined my slow cooker with a foil collar and sprayed it with nonstick spray before I even started adding the food to the crock pot.  Slow cookers actually cook unevenly.  One side heats more than the other.  Lining the bowl with foil helps distribute the heat evenly, and works best with dense dishes like this.
Once everything was layered in, I set my slow cooker to LOW and walked away.
Aaaaahhhh….
The stuffed cabbage cooked on low for four hours, and then I turned off the heat, removed the lid, pulled out the foil, and let it sit for about twenty minutes before I served it up.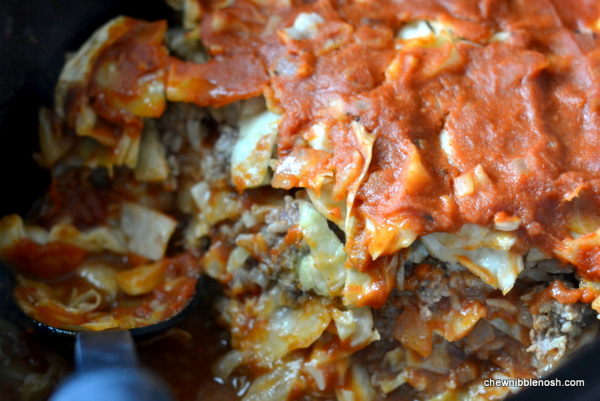 We had it over mashed potatoes, because that just seemed like the right fit.
It…was…delicious.
Everything cooked up perfectly, and the dish was packed with so much flavor that we were all talking about how tasty dinner was the entire time we were eating it.  I think we were all pleasantly surprised!  The sauce was sweet and savory, and the brat/beef concoction was pure genius.  It was really, really tasty and even once Aunt Cathy's garden stops growing cabbage for the season, I'm pretty sure this one will make repeat appearances in our kitchen.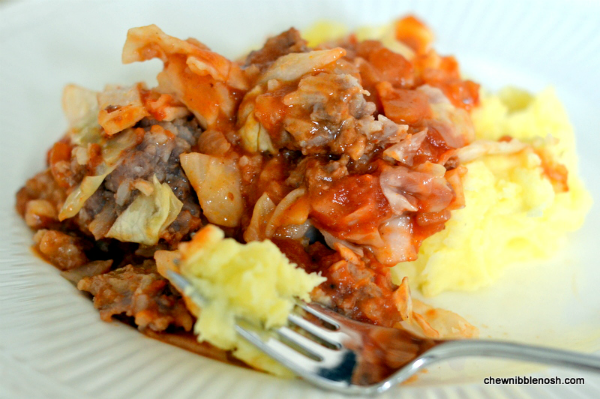 LAZY MAN'S SLOW COOKER STUFFED CABBAGE
Adapted from America's Test Kitchen: Slow Cooker Revolution
Lazy Man's Slow Cooker Stuffed Cabbage
Author:
Prep time:
Cook time:
Total time:
Ingredients
1 head green cabbage (about 2 lbs.) cored and cut into 1-inch pieces
3 Tbsp. vegetable oil
salt and pepper
2 onions, diced
3 cloves garlic, minced
1 tsp. ground ginger
1/2 tsp. ground cinnamon
1/4 tsp. ground nutmeg
3 Tbsp. all-purpose flour
1 (28 oz.) can tomato sauce
1/4 cup packed brown sugar
3 Tbsp. red wine vinegar
2 slices soft bread (white or wheat works), torn into pieces
1/4 cup milk (I used skim)
1 lb. 85% lean ground beef
1 lb. bratwurst, removed from its casing (I used Johnsonville)
2 cups cooked rice
Instructions
Line a 6 quart slow cooker with a ring of aluminum foil. (I tear off a couple of sheets of foil, stack them, fold them in half, and line the edges of the cooker with them. Usually takes two stacks of foil.) Spray the inside of the foil and cooker with nonstick spray.
Place chopped cabbage in a large bowl. Toss with 1 tablespoon of the oil and 1/2 teaspoon salt. Microwave until softened, about 15-20 minutes. Drain off excess liquid.
As the cabbage is cooking, heat the remaining oil in a large skillet over medium high heat. Add the onions, garlic, ginger, cinnamon, and nutmeg and cook until the onions are softened and just starting to brown, about 8-10 minutes.
Transfer half of the onions to another large bowl. Set aside.
Stir the flour into the remaining onions in the skillet and cook over medium-high heat for 1 minute. Stir in the tomato sauce, brown sugar, and vinegar, making sure to scrape up any browned bits, and season with salt and pepper to taste. Turn off the heat and set the sauce aside
Add the bread pieces and milk to the onions in the bowl. Mash the mixture with a fork until it's almost to a paste. Mix in the ground beef, bratwurst meat, cooked rice, 1/2 tsp. salt and 1/4 tsp. pepper using your hands, until well combined.
Spread 1/2 cup of the sauce over the bottom of the slow cooker. Pinch off one-third of the meat mixture into small, tablespoon sized pieces and drop in over the sauce. Spread one-third of the cabbage over the meat. Spoon one-third of the remaining sauce over the cabbage. Repeat the layers two more times, ending with sauce.
Cover the slow cooker, and set to LOW. Cook until the beef is tender, about 4 hours.
Carefully pull out the foil collar, turn off the heat, and let the dish sit for 20 minutes before serving.
Serve over mashed potatoes.
ENJOY!