Directions
I don't know why, but lately, I'd been craving a lemon cookie.  I've never gotten the urge to make lemon cookies before, but I just couldn't get them off my mind.  My guess is I'm trying to hold on to the last bit of summer, even though everywhere I turn is filled with fall and even holiday decor already, and my kids are oogling over catalogs of Halloween costumes and winter coats.
I chose these cookies because, honestly, I had everything on hand.  I'm glad I did, though, and will make sure I have everything on hand in the future because they were a huge hit with the home crew.  They are sweet, and tangy, and just about the perfect little summer cookie.  Plus, they are incredibly simple to throw together, which is always a bonus.
I started by zesting up two lemons.  I'd need some of my lemon zest for the dough and some more to finish them off with at the end.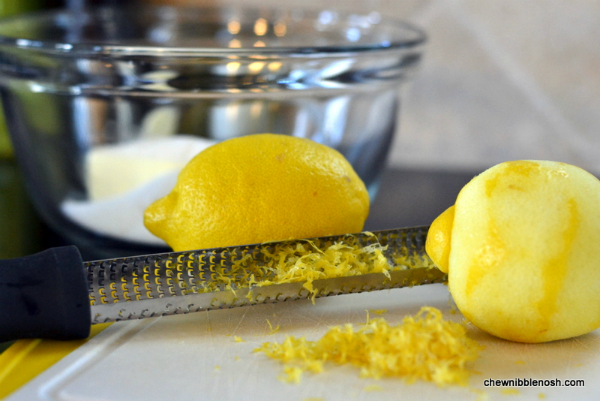 I mixed together a simple cookie dough.  Butter was mixed with sugar and some of that bright, tangy lemon rind.  Once it was creamy, I beat in an egg, some honey and a dash of lemon extract.  Then, in went some flour, baking soda and salt, and it was beat in alongside some fat-free vanilla yogurt.  The original recipe called for plain yogurt, but I didn't have any on me, so I went with vanilla.  I'd go with vanilla again.
I dropped them by tablespoonfuls onto my cookie sheets, that I'd lined with parchment paper, and into the oven they went for about ten minutes.  The tops don't brown up too much, but the bottoms do, so once you see them brown up on the edges, pull them out of the oven.
Once I'd removed them to a cooling rack, I whisked together a quick glaze of lemon juice and powdered sugar.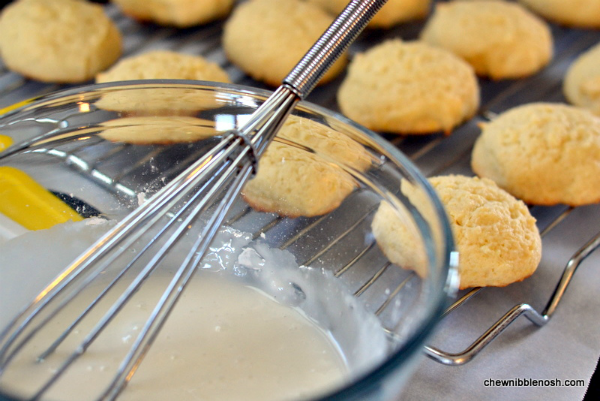 Using a pastry brush, I brushed each warm cookie with some of the glaze, and then dropped a little more of that bright lemon zest on top.  The glaze set up as the cookies cooled, and as if by magic, that was the moment my girls walked in the door from school.
They dove into the cookies and declared them delicious.  They really were!  They bake up like sweet little tea cakes, and would be absolutely perfect for a nice luncheon or tea…or, I guess, as an on the fly after school snack for two sweet young ladies.
 LEMON-HONEY DROP COOKIES
Adapted from Cooking Light
Lemon-Honey Drop Cookies
Author:
Prep time:
Cook time:
Total time:
Ingredients
1/2 cup sugar
7 Tbsp. butter, softened
2 teaspoons grated lemon zest
1/3 cup honey
1/2 tsp. lemon extract
1 large egg
1 3/4 cups all-purpose flour
1 tsp. baking powder
1/2 tsp. salt
1/4 cup fat-free vanilla yogurt
For the Glaze:
1 cup powdered sugar
2 Tbsp. fresh lemon juice
2 tsp. grated lemon zest
Instructions
Preheat your oven to 350*F. Line your baking sheets with parchment paper.
Beat the butter, sugar and 2 teaspoons lemon zest in a large bowl with a mixer until light and fluffy, at medium speed. Add the honey, lemon extract, and egg. Beat until everything is well blended.
Lightly spoon the flour into dry measuring cups. Level with a knife. Combine the flour, baking powder, and salt, stirring well with a whisk. Add the flour mixture to the sugar mixture, alternately with the yogurt. Beginning and ending with the flour.
Drop by tablespoonfuls onto the prepared baking sheets. Bake at 350* for 10-12 minutes (10 worked for me) or until the bottoms are light brown. Remove the cookies to a cooling rack.
Whisk together the lemon juice and powdered sugar for the glaze. Brush the glaze over the warm cookies and sprinkle with the reserved lemon zest.
Let cool and dive in!
ENJOY!