Directions
Isn't the Internet grand?  You have an idea, throw it into a search engine and endless possibilities pop up.   That was the case with this recipe.  I knew I wanted to make something for dessert (It was one of those days…) and I had some lemons and raspberries calling my name.  The combination of lemon and raspberry is one of my favorites, especially in the summer.  So light, and tart, but still sweet….Mmmm.  It's good stuff.
In my search, I ran across pies, tarts, cakes, muffins, and even cookies.  This bar caught my eye, though.  It looked cool and creamy, which was what I was aiming for, and simple enough that I could throw it together fairly quickly.  I set to work.
The original recipe is from a wonderful blog called Two Peas & Their Pod.  Be sure to check them out when you have some time.  They have a lot of great stuff to offer.
I love a good old-fashioned lemon bar.  You know the one I'm talking about, right?  The shortbread, buttery crust, with tart, tangy, bright yellow lemony filling and powdered sugar on top?  Those are delicious, and one of my favorites in the summer.  What struck me about these bars, though, was that they resembled one of my favorite pies.  As I read the ingredients, it occurred to me that these were more like a Key Lime Pie than a traditional lemon bar.  In fact, they are so similar, I'm going to go out on a limb and say you could substitute Key Limes for the lemons in this recipe and end up with a delicious Key Lime bar.  In fact, I may have to try that next time!
I started by mixing together a simple, graham cracker crust.  I stirred together some graham cracker crumbs, sugar and lemon zest together and then mixed in some melted butter, to help bind it all together.
Once everything was mixed nicely, I poured the graham cracker mixture into an 8×8 pan that I'd sprayed with nonstick spray.  Using a spoon, I firmly pressed the crust into place, and about an inch up the sides of the pan.
The crust went into my preheated oven for about ten minutes.  I took it out and got the filling ready while it cooled off a bit.
The filling is even easier than the crust to put together.  I mixed together a can of fat-free sweetened condensed milk with a couple of egg yolks.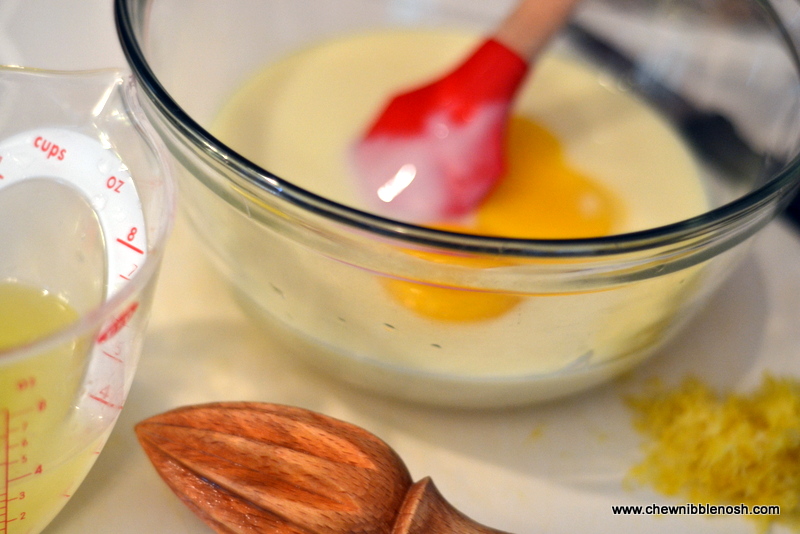 Then, I whisked in some lemon juice and lemon zest until the mixture was nice and smooth.
Once the filling had smoothed out, I carefully folded in my fresh raspberries.  If I stirred them too quickly, the berries would break up and leave me with a gooey, pink mess.  I didn't want that, so I knew I had to be pretty gentle with it.
Once the berries were mixed in, I poured the filling into my prebaked crust and it was ready to pop in the oven!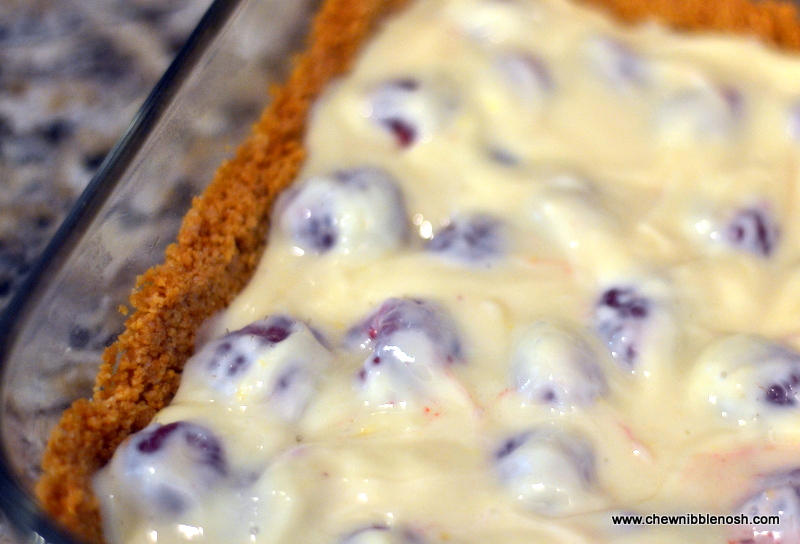 The bars baked for about fifteen minutes, until the center was set.  It didn't look a whole lot different than it did when I put it into the oven, but if I jiggled the pan, nothing moved.
I cooled the bars for an hour on the counter, and then transferred them to the fridge to chill until we were ready for dessert!  That's it!
When dessert time rolled around, the whole family was pretty eager to try them.  The original recipe says you can cut the pan into 16 small bars, and you could, but I cut them a little larger…I couldn't resist.
They were delicious!  The filling was cool and creamy, and reminded me so much of Key Lime pie, just as I thought it would.  The fresh raspberries were a delicious addition and the crust was perfectly crunchy and buttery.  The entire family really enjoyed them!  Next time, I may have to try doubling the recipe and making it in a 9×13 inch pan.  They were that tasty.
LEMON AND RASPBERRY BARS
Adapted from Two Peas & Their Pod
Author:
Ingredients
Crust:
1 1/2 cups graham cracker crumbs (you can find these in your baking aisle)
6 Tbsp. butter, melted
1/4 cup sugar
the zest of one lemon
Filling:
2 large egg yolks
1 (14 oz.) can fat-free sweetened condensed milk
1/2 cup fresh lemon juice (about 3 lemons worth)
1 tsp. lemon zest
6 oz. fresh raspberries (I bet blueberries would work nicely too!)
Instructions
Preheat your oven to 350*. Spray an 8×8 inch baking dish with nonstick spray.
In a mixing bowl, stir together the graham cracker crumbs, lemon zest and sugar. Add the melted butter and stir together, until all of the crumbs are evenly coated. Pour the mixture into the prepared baking dish and press the crust firmly into place with a spoon, and one inch up the sides of the pan. Bake the crust for 10 minutes and then let cool on a wire rack before adding the filling.
Once the crust has cooled, stir together the sweetened condensed milk and the egg yolks with a whisk. Add the lemon juice and zest and whisk together until the mixture is nice and smooth. Add the fresh berries and carefully, using a large spoon, fold the berries into the lemon mixture. Don't mix them too harshly, as you don't want to break up the berries. Try to keep them whole.
Once the berries are mixed in, pour the filling into the cooled crust and spread it out evenly.
Bake, in the preheated oven, for 15 minutes, or until the mixture is set. Jiggle the pan a little. If the filling stays put, it's done.
Cool, on a wire rack, for an hour. Then, cover the dish and chill, at least one hour, until ready to slice and serve. These bars keep well in the refrigerator for five days.
ENJOY!