Directions
OK, this heat is crazy.  It's officially summer.  Gone are the days of June, where I was almost swayed to believe that the weather was going to stay pretty mild until the kids went back to school.  We're at the point in our summer where the kids don't even want to be outside because it's so hot.  This is a major bummer from a parental standpoint.
This is one of my favorite pasta dishes to whip up on a summer's day, especially a hot one where turning on the oven and heating up the house seems like a new form of torture.  The sauce is completely raw, and comes together quickly using your food processor.  It takes less time to put the sauce together than it takes to boil the pasta!  Plus, it's the perfect vehicle for more of those summer tomatoes that I can't get enough of.
As my water comes to a boil on the stove, I prep my ingredients and dump them into my food processor.  The original recipe calls for cherry tomatoes, but I find they are hard to come by nowadays.  I have always used grape tomatoes, a full pint.  To that, I add some roughly chopped green onions, some Parmesan cheese that I've chunked up, a few cloves of garlic, some fresh basil and some olive oil.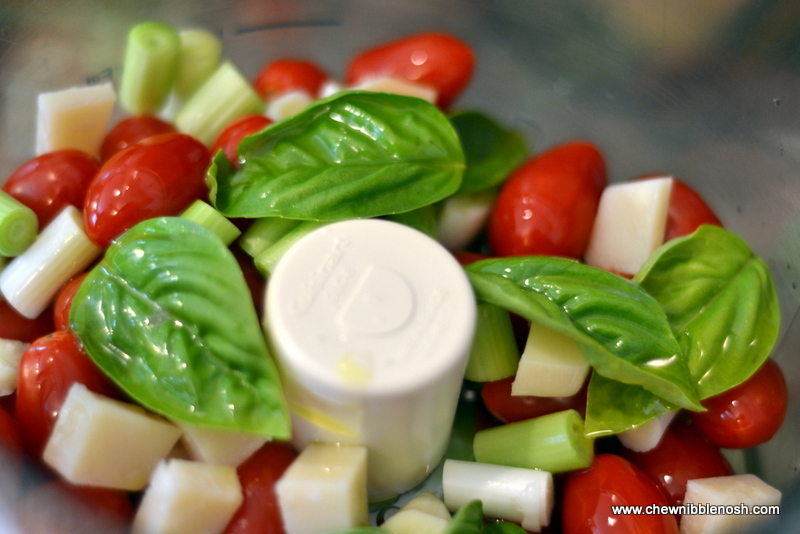 Before I hit the pulse button, it's time to get my pasta in the pot.  While this sauce would work with any pasta shape, I find that a thinner spaghetti or angel hair pasta works best.  It's nice and delicate, like the sauce.
The pasta takes five minutes to cook, and that's all the time I need to finish things up.  I pulse the ingredients in the food processor, just a few times, until they are coarsely chopped.  You don't want to puree the tomatoes, but you do want everything minced up evenly.
I transfer the sauce to a large bowl and stirred in some cubes of fresh Mozzarella cheese, salt and pepper.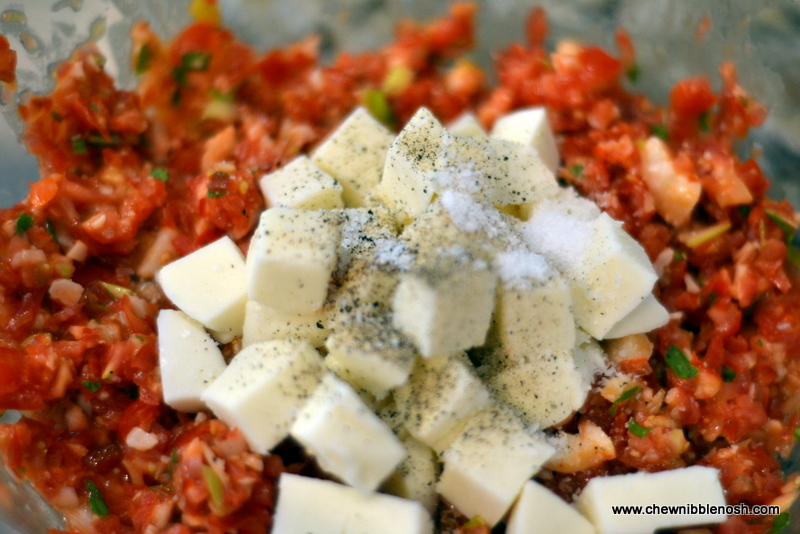 That's it!  The sauce is done.
As my family gathered at the table last night, I drained the pasta well and then poured it into a large bowl.  There, sauce met pasta, and a beautiful relationship began.
The warm pasta helps to melt the cheese just enough and brings out the amazing flavor of those tomatoes, basil, and garlic.  It's so simple, deliciously fresh and light, and a great way to end a day in this crazy summer heat.
ANGEL HAIR PASTA WITH CHECCA SAUCE
Adapted from Everyday Italian, by Giada DeLaurentiis
| | | |
| --- | --- | --- |
| Angel Hair with Checca Sauce | | |
Author:
Ingredients
1 pint cherry or grape tomatoes (If using cherry tomatoes, cut them in half before using them)
3 green onions, white and pale green parts only, coarsely chopped
2-3 cloves garlic
1 (1-ounce) piece of Parmesan cheese, coarsely chopped
8 fresh basil leaves
3 Tbsp. olive oil
4 oz. fresh Mozzarella cheese, cut into 1/2 inch cubes
1/2 tsp. salt, plus more to taste
1/2 tsp. pepper, plus more to taste
8 0z. angel hair or spaghettini pasta (1/2 a box), cooked according to package
Instructions
In the bowl of a food processor, combine the tomatoes, green onions, garlic cloves, Parmesan cheese, basil leaves, and olive oil. Pulse until the ingredients are coarsely chopped, not pureed.
Transfer the sauce to a large bowl. Stir in the cubes of fresh Mozzarella and 1/2 teaspoon each of salt and pepper. Season with more salt and pepper, to taste, if needed.
Toss the sauce immediately with the fresh cooked pasta and serve.