Directions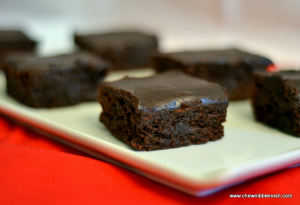 Yesterday was just one of those days that called for a hefty dose of chocolate.  I couldn't get away from it.  It had to happen.
I came across this recipe for Mexican Hot Chocolate Brownies a while ago and have been saving it for one of my "Ugh…ME NEED CHOCOLATE" days.  It was the perfect thing.
Have you ever had Mexican hot chocolate?  Mexican hot chocolate differs from our, traditional hot chocolate in that it's often a darker chocolate, spiced with vanilla, cinnamon and sometimes a little chili pepper.  Don't let those savory spices scare you off.  They pair beautifully with the chocolate and add even more warmth to an already cozy treat.  When I saw a brownie version, I had to investigate further…for you.  It's all for the good of my readers, right?  Nothing selfish at work here! (wink wink)
I started by mixing together my dry ingredients, which included a bit of cayenne pepper and cinnamon.  I also melted together some unsweetened chocolate and butter in the microwave.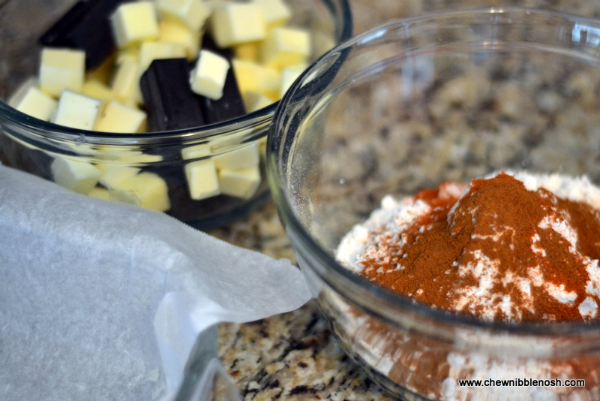 I also buttered and lined my 9×13 inch baking pan with parchment paper.  Then I buttered the paper to ensure that every last bit of those brownies would make it out of the pan safely.
Once the chocolate and butter was melted and smooth, I poured it into my stand mixer bowl, blended in some sugar, eggs and vanilla, and then added my spiced flour mixture to the bowl.
Once it was blended nicely, I poured it into my prepared pan.  It was thick, and ooey gooey.  I had a feeling wonderful things were about to happen.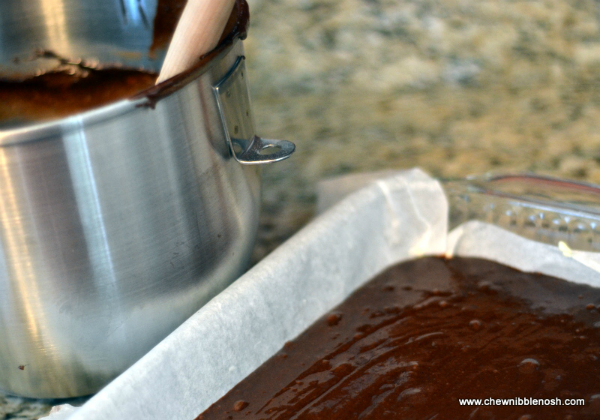 After about 30 minutes in the oven, the brownies were done, and I let them cool for a few minutes while I whipped together a super easy ganache frosting.
I melted together some semisweet chocolate with a bit of whole milk in the microwave and stirred it up until it was nice and smooth.
Frosting, done!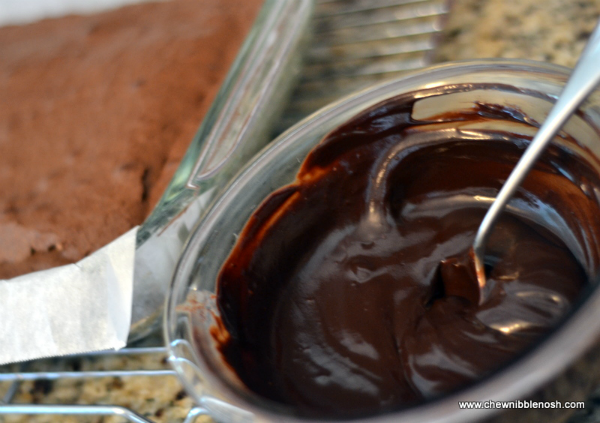 *While you're making the ganache, if it seems as if the chocolate is lumpy or "seizing up" on you with the liquid, just keep stirring.  Once the liquid and chocolate realize that they are perfectly proportioned for each other, it will be smooth sailing.*
I poured the ganache over the brownies and let them cool completely on the counter, before moving them to the refrigerator for about an hour or so.  Chilling the brownies helps that ganache to set up nicely, and it also makes slicing the brownies a bit easier.
When I was ready for dessert, I carefully lifted the brownies out using the parchment paper and sliced them up with a large, sharp knife.  These are super fudgy, thick brownies, so dipping the knife in some warm water and wiping it off in between slices helps a lot.  They are easier to cut when cold, but taste better at room temperature, so let them sit for a few minutes before diving in.
These brownies are AMAZING.  They have the perfect amount of spice, and a whole lot of fudgy, which made them the most excellent cure for a chocolate craving.  They are quite rich, so a little goes a long way.  I was really curious to hear what my girls would think of them, since these aren't the mild mannered brownies they're used to having.  Avery said they were the best brownies she'd ever had.  Emily just made a lot of "Mmmmmm" noises as she ate.  I'm guessing that means they went over pretty well!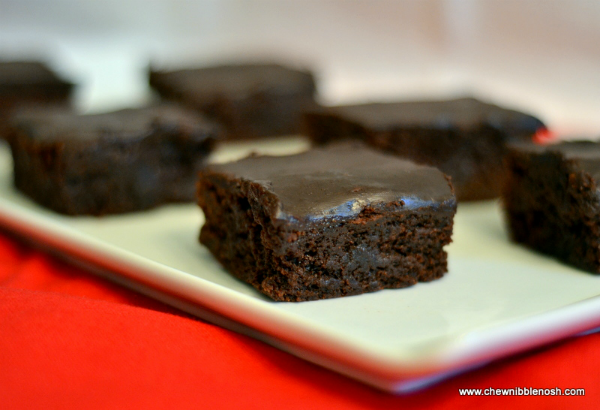 MEXICAN HOT CHOCOLATE BROWNIES
Adapted from Confections of a Foodie Bride
Mexican Hot Chocolate Brownies
Author:
Prep time:
Cook time:
Total time:
Ingredients
For the Brownies:
1 1/4 cup cake flour
1/2 tsp. salt
3/4 tsp. baking powder
1/2-3/4 teaspoon ground cayenne pepper (I used 1/2 and they were plenty spicy.)
1 tsp. ground cinnamon
6 oz. unsweetened chocolate
12 Tbsp. butter, cubed
2 1/4 cups sugar
4 eggs
1 Tbsp. vanilla
For the ganache:
6 oz. semisweet chocolate, chopped
1/3 cup whole milk
Instructions
Preheat your oven to 325*. Butter the bottom and sides of a 9×13 inch pan. Put a long piece of parchment paper in the bottom of the pan, so that the parchment extends over the sides of the pan (handles, for later on!). Butter the parchment as well.
Place the unsweetened chocolate and butter in a medium-sized microwaveable bowl. Microwave for 1 minute, on HIGH, and stir. Continue cooking at 30 second intervals until the chocolate has completely melted and mixture is smooth when stirred. Pour the chocolate mixture into the bowl of a stand mixer fitted with the paddle attachment.
In another medium-sized bowl, mix together the cake flour, salt, baking powder, cayenne pepper, and cinnamon.
Add the sugar to the chocolate and butter mixture and mix on medium-high until well combined. Reduce the mixer speed to LOW and add one egg at a time, mixing completely with each new addition. Add the vanilla and mix. Stir in the dry ingredients until just combined.
Pour the batter into the prepared pan and spread it out evenly.
Bake for 28-35 minutes, or until a toothpick inserted in the center comes out with just a few moist crumbs attached. Let cool on a wire rack for 15 minutes.
While the brownies are cooling, heat the semisweet chocolate and milk in the microwave for 30 seconds and then stir. Continue to microwave at 15 second intervals until smooth. Pour the ganache over the brownies and spread evenly.
Let the brownies cool completely on the counter and then chill for, at least, an hour before slicing.
The brownies slice easier cold, but taste better at room temperature.
ENJOY!