Directions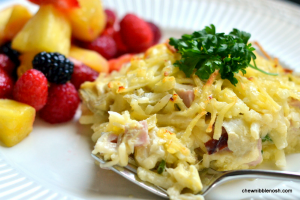 In our house, special holidays deserve a special breakfast, and Easter is one of those days.  I don't like to spend my Easter morning running around the kitchen, though.  I'd rather spend that special time soaking in the memories with my family (and quite possibly, swiping chocolate eggs out of my daughters' Easter baskets…but you didn't hear that from me.)
Make ahead breakfasts make my holidays a lot less stressful, and this latest one I've concocted is perfect for springtime.  Speckled with spring colors, and light, fresh flavors, this breakfast turned out to be just what the Easter Bunny ordered.
I started by dicing up some thick sliced ham, and mixing that with some chopped green onions, and coarsely chopped artichoke hearts.
In a prepared baking dish, I sprinkled two cups of frozen shredded hash brown potatoes.  I layered in half of the ham and artichoke mixture, and then topped that with some shredded Swiss cheese.  The cheese was topped with the rest of the ham and artichokes, and I finished off the dish with some more of the shredded potatoes.
Then, I got my egg base together.  In a medium-sized bowl, I whisked together some eggs, a little bit of milk, a half of a cup of small curd cottage cheese, some pepper, and McCormick ground mustard.  I figured the mustard would pair really well with the ham, and yet not overpower the subtle flavor of the artichokes and Swiss.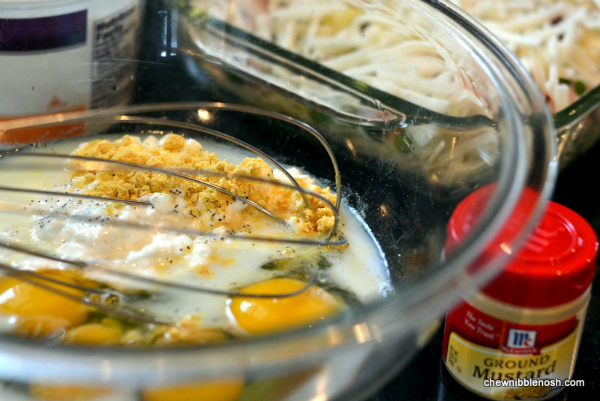 I beat the egg mixture together, and then poured it over the top of my layered ingredients in the baking dish.
Then, into the fridge it went until it was time to bake up breakfast.
Once it was baked up, it was nice and golden brown, with melty bits of cheese mixed in with the crisped up potatoes on top.  Yum!
Everything works so well together in this dish.  It reminded me a bit of a hearty Quiche Lorraine…with a springtime twist.  The potatoes and artichokes make for a nice change of pace, and all of the flavors compliment each other so well.
Still looking for more ways to make your Easter meals special?  Be sure to check out McCormick.com ! There, you'll find all sorts of amazing springtime recipe ideas to stick in your basket.
Happy Easter!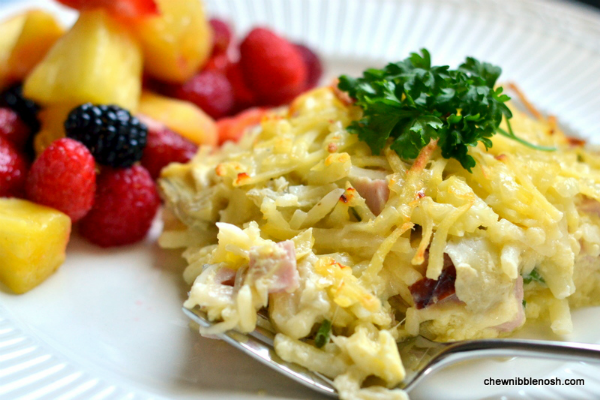 OVERNIGHT ARTICHOKE AND HAM BREAKFAST BAKE
Overnight Artichoke and Ham Breakfast Bake
Author:
Prep time:
Cook time:
Total time:
Ingredients
4 cups frozen shredded hash brown potatoes
1 1/2 cups diced, fully cooked smoked ham
1 1/2 cups shredded Swiss cheese
1 can artichoke hearts, drained and coarsely chopped
3 green onions, chopped
5 large eggs
1/4 cup milk
1/2 cup small curd cottage cheese
1 tsp. McCormick Ground Mustard
1/4 tsp. pepper
Instructions
Spray an 11×7 inch baking dish with nonstick cooking spray.
Mix together the diced ham, artichoke hearts, and chopped green onions in a medium bowl.
In another bowl, beat together the eggs, milk, cottage cheese, mustard, and pepper until well blended.
Layer two cups of the shredded frozen potatoes in the bottom of the prepared dish. Then, layer in half of the ham-artichoke mixture.
Top that layer with the Swiss cheese, and then layer in the rest of the ham-artichoke mix. Then, layer the last two cups of frozen potatoes over the top.
Pour the egg mixture over the top of the layers. (The cottage cheese will likely sit on top. It's OK. It bakes up nice and creamy.)
Cover with foil and refrigerate overnight.
When ready to bake, preheat the oven to 350*F. Remove the dish from the refrigerator and allow to rest on the counter while the oven preheats.
Bake at 350* for 55-60 minutes, or until the top begins to brown and the eggs are set in the middle.
ENJOY!
This is a sponsored post written by me on behalf of McCormick.