Directions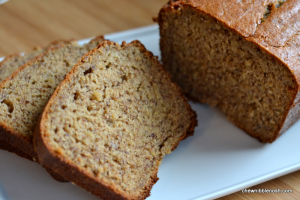 It was a couple of hours before the kids came home from school.  I was cleaning up the kitchen, and noticed that the bananas hanging on my banana hook had seen better days.  You know the type, the brown, spotty, "Oops, we didn't eat these quickly enough" bananas?  What do you do when life hands you brown bananas?  You bake banana bread!
I'd seen this recipe a while ago, and wanted to give it a try.  I love peanut butter and banana together, and I loved that this recipe (which I adapted from one I'd found in Cooking Light) had some healthier twists than the usual quick bread.
As excited as I was to try this new recipe, I was nervous too.  For some reason, I almost always undercook quick breads.  I have the worst luck with them!  I'll test the loaf after baking by sticking my cake tester in the middle, it will come out clean, it will look completely set, and then when I slice into the middle, I find a soggy mess.  There have been many loaves over the years that have been eaten from both ends, and then we end up throwing the middle of the loaf in the trash.  Ugh…I hate that! I kept my fingers crossed that I could pull this one off.
I started by combining my wet ingredients in a bowl.  I beat together three mashed bananas, some creamy peanut butter, a bit of fat-free plain yogurt, three tablespoons of melted butter, and two eggs.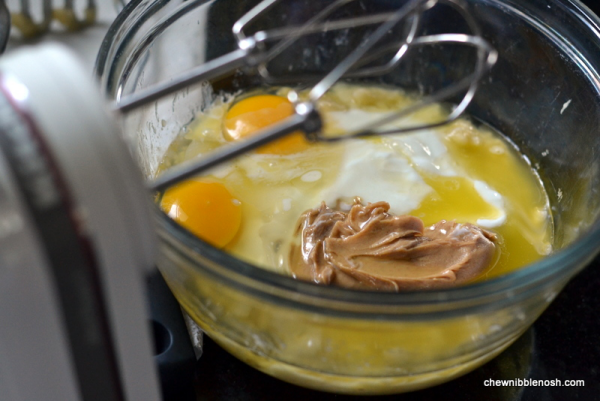 So many quick bread recipes call for a hefty dose of oil. I love that with the addition of protein packed peanut butter and the yogurt, all I needed was a little bit of butter to carry us through.  After the peanut butter mixture was blended, I added in a half-cup of white sugar, and a half-cup of brown.
Once that came together, I stirred up my dry ingredients, which included the usual flour, baking soda, salt, cinnamon and allspice, but with some added ground flaxseed, I got to sneak a little more healthy into the bread as well!
Ground flax-seed is actually thought to be better for you than whole flax-seed, because it's easier to digest.  There are many health benefits associated with flax-seed, and it's such an easy way to amp up a whole host of recipes and foods you may eat every day.
Once the dry ingredients were together, I carefully beat them into the banana mixture.  I stopped just as they came together, and then poured the mixture into a prepared loaf pan.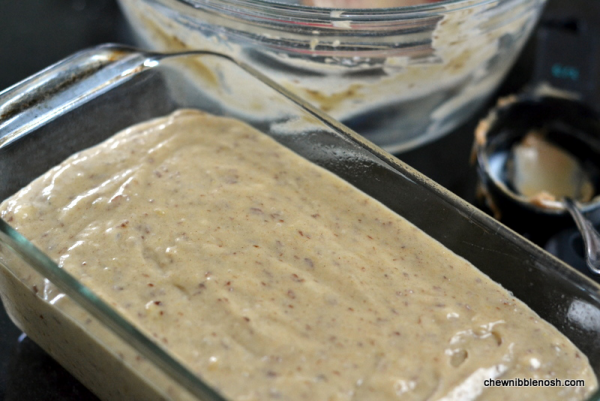 See all the speckles from the flax-seed?  My kids never knew that wasn't banana. (Mwahaha!)
Into the oven it went for an hour before I checked it.  As you know, I'm always nervous about undercooking bread like this, so when I checked it at an hour and the middle was still a little jiggly, I gave it a few more minutes.  After about five more, the cake tester came out clean, and I removed it from the oven…but kept my fingers crossed.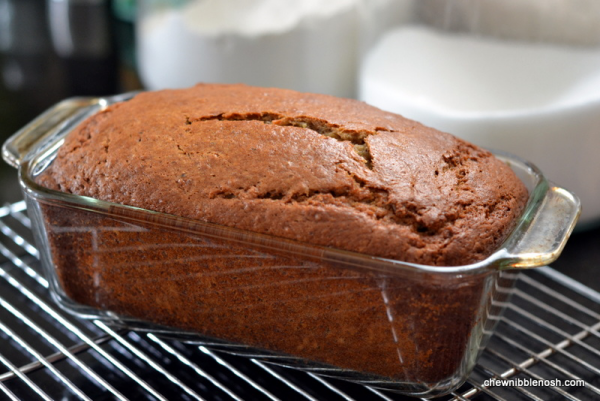 It smelled so good.  Fresh banana bread always smells good, but this smell had, not surprisingly, a nutty character.  I had about thirty minutes before the kids came home from school.  Just enough time to let it cool a bit before slicing into it for a warm, cozy after school snack.
I'm happy to report that not only was the bread baked all the way through, but it was absolutely delicious.   The peanut butter wasn't overpowering, at all, but it was just subtle enough to let you know it was there.  The bread was tender, and sliced up beautifully.  It was so good, that my butter loving Avery ("If it's bread, it needs butter." tends to be her motto) said it was perfect just the way it was, and she didn't need to slather anything on top.  She was right!
Needless to say, when the kids came home, they were pretty excited that Mom had run across some brown bananas that day.  I think I've found my go-to brown banana recipe.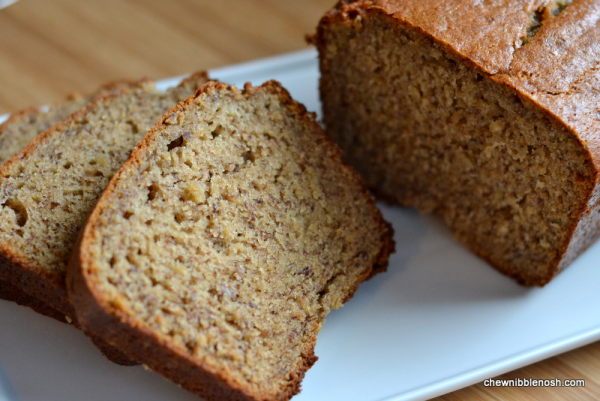 PEANUT BUTTER BANANA BREAD
Adapted from Cooking Light
Peanut Butter Banana Bread
Author:
Prep time:
Cook time:
Total time:
Ingredients
1 1/2 cups mashed, ripe banana (about 3 medium sized bananas)
1/3 cup fat-free plain yogurt
1/3 cup creamy peanut butter
3 Tbsp. butter, melted
2 large eggs
1/2 cup granulated sugar
1/2 cup brown sugar
1 1/2 cups all-purpose flour
1/4 cup ground flax seed
3/4 tsp. baking soda
1/2 tsp. salt
1/2 tsp. cinnamon
1/8 tsp. allspice
nonstick spray, for pan
Instructions
Preheat your oven to 350*F.
In a medium sized bowl, beat together the banana, yogurt, peanut butter, butter, and eggs on medium speed until combined. Add the sugars and beat in.
In another bowl, combine the flour, flax seed, baking soda, salt, cinnamon, and allspice.
Add the dry ingredients to the wet, and beat in carefully, just until blended, on low speed.
Spray a 9×5 inch loaf pan with nonstick spray. Pour the batter into the prepared pan.
Bake at 350*F for, approximately, 1 hour. Check the bread to make sure it's set and cooked through. If it's jiggly and a cake tester or toothpick poked in the middle comes out sticky, give it a few more minutes in the oven. If you're worried about the top over-browning, lay a piece of foil over the top of the loaf as it continues to bake.
When the loaf is set and a cake tester comes out clean, remove it from the oven. Allow the loaf to cool in the pan 10 minutes on a wire rack before removing from the pan.
Cool the bread on the wire rack until slicing.
ENJOY!