Directions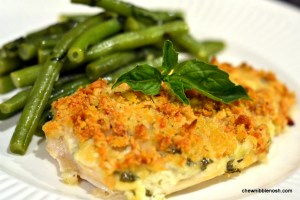 As the mom of a Chicken Lover (as in "If it's not chicken for dinner, I don't want to eat it.  Don't tell me that salmon is chicken.  I'm seven now. I don't believe you anymore."), I'm constantly looking for ways to jazz up a chicken dinner, and yet still keep it interesting enough to keep the rest of us happy at the dinner table.  This dish did just that.  Not only was it easy to throw together, every single one of us ate it happily AND Avery (The Chicken Lover) was so happy with the chicken, that she tried the green beans AND declared that she now likes green beans.  Or, at least, she thinks she likes them.  Something like that.  She ate something green, and I was thrilled.
The meal really is delicious, and simple enough that putting it together only takes a few minutes.
I started by mixing up a little bit of mayo with some chopped, fresh basil.  That went in one bowl.  In the other, I mixed up some Panko bread crumbs, chopped, toasted pine nuts, Parmesan cheese, and some minced garlic.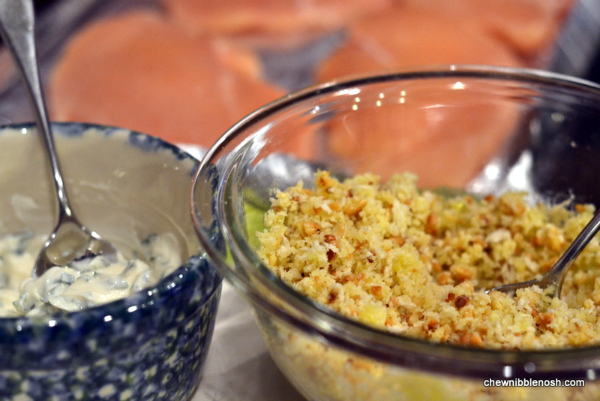 I laid four boneless, skinless chicken breasts in a 9×13 pan, and then spread some of the mayo mixture over the top of each pieces of chicken.  Then, I pressed some of the breadcrumb topping onto the top of each mayo-coated piece.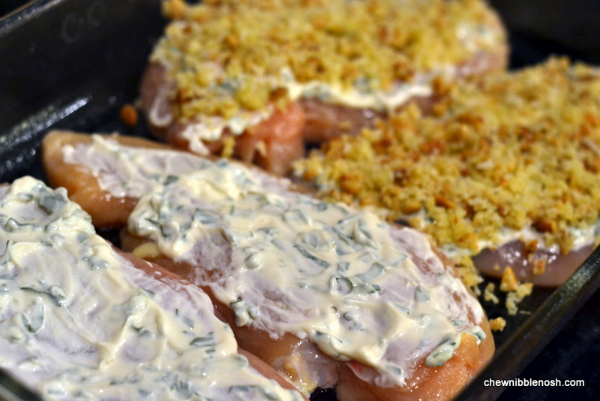 The mayo and basil not only gives the chicken some flavor and act like glue for the breadcrumbs, it also keeps the chicken incredibly juicy as it bakes.
Once the chicken breasts were coated, I popped the pan in a preheated oven and let the chicken bake for about twenty minutes.
Meanwhile, I got a pot of water boiling on the stove top, and added in some salt, a pound of cleaned green beans, and some lemon juice.
They simmered away for about five minutes, just until the beans were tender, and then I drained them.  I tossed the beans with some more garlic, a dab of olive oil, and some more of the chopped basil.
By this time, the chicken was done, and ready to serve up alongside the green beans.  (Did I mention that Avery ate the green beans?  THIS IS HUGE, PEOPLE!)
We were treated to a moan-free dinner that night, and it was heavenly…and delicious.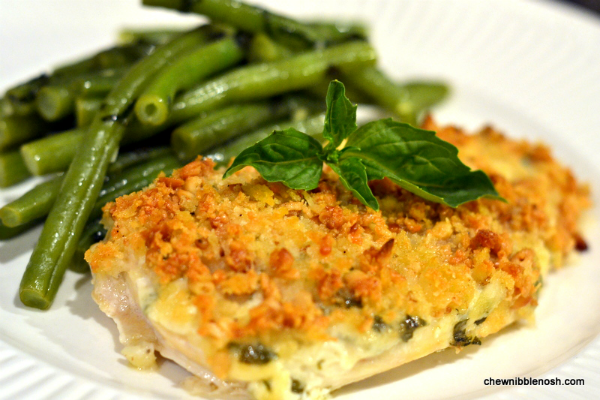 PINE NUT AND PARMESAN CRUSTED CHICKEN WITH GARLIC-BASIL GREEN BEANS
Adapted from Simple Weeknight Favorites
Pine Nut and Parmesan Crusted Chicken with Garlic Basil Green Beans
Author:
Prep time:
Cook time:
Total time:
Ingredients
1/3 cup Panko bread crumbs
1/3 cup pine nuts, toasted, and chopped
1/3 cup grated Parmesan cheese
3 garlic cloves, minced, divided
3 Tbsp. olive oil, divided
salt and pepper
1/4 cup mayonnaise
1/2 cup fresh chopped basil, divided
4 (6 oz.) boneless, skinless chicken breasts
1 lb. fresh green beans, trimmed
1 Tbsp. lemon juice
Instructions
Make sure that the rack in your oven is in the upper-middle position. Preheat your oven to 450*F. Spray a 9×13 inch baking dish with nonstick cooking spray.
Combine the bread crumbs, Parmesan, pine nuts, two-thirds of the garlic, 2 tablespoons of the oil, 1/4 teaspoon salt, and 1/4 teaspoon pepper in a small bowl.
In a second bowl, combine the mayonnaise and 1/4 cup of the chopped basil.
Pat the chicken pieces dry with some paper towel, and lay them in the prepared pan.
Spread some of the mayonnaise mixture over the top of each piece of chicken.
Sprinkle the Panko mixture over the chicken, patting it into place so it adheres to the chicken.
Bake the chicken at 450*F for 18-22 minutes, or until the internal temperature reaches 160 degrees.
Meanwhile, bring 2 quarts of water to a boil on the stove top Add 1 teaspoon of salt, the green beans, and the lemon juice.
Cook until the beans are tender, about 5 minutes. Drain.
Toss the green beans with the remaining garlic and basil, and 1 tablespoon of oil.
Season to taste with salt and pepper.
Serve the beans alongside the chicken.
ENJOY!