Directions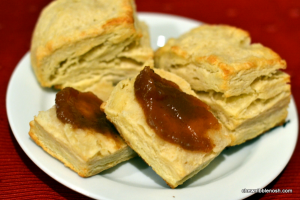 You know that moment of panic when you realize that you haven't been able to go shopping and there's very little left in the house to make a decent meal, and you won't be able to go to the store because of a Polar Vortex?  Yeah, that's where these biscuits were last seen.  I'd been in the house for four days, looked like I hadn't been out of the house in four days, and realized that we'd pretty much eaten everything decent.  I actually Googled soup recipes using ingredients I had on hand, so I made that for dinner, and then was thrilled to realize that I had everything I needed to throw together some of our favorite dinner-time biscuits to go with the Google soup.
My family loves these, and they are so simple.  Not to mention, they make exactly the right amount for us.  In the end, you have eight biscuits.  If you steer clear of biscuit recipes because they make a gazillion and also include a lot of mess making, rest assured that this is the biscuit recipe for you.
I start by combining some flour, baking powder, baking soda, and sugar in a bowl.  Then, I cut in six tablespoons of COLD butter with my pastry blender.  If you don't have a pastry blender, you could easily use your hands.  Just be gentle.
You want it combined enough that there are still lumps of butter, but that the majority of the butter is in pea-sized lumps.   Don't over-combine it.  You want those little pockets of cold butter.
Then, I carefully stirred in 3/4 cup of buttermilk.
I stirred just until the dry mix was moist, and it looked a little shaggy.  You never want to overmix dough like this.  Just make sure the wet has come together with the dry.
Then, I dumped the dough out onto a floured countertop and kneaded it by hand just a couple of times, to get everything "together".  I pressed the dough into a 4×8 inch rectangle, wrapped it in plastic wrap, and popped it in the fridge while I prepped my Google soup.
You can bake the biscuits up right away, but I wanted them nice and warm with our soup, so I gave the dough some time in the fridge.  If you're not baking right away, make sure to chill the dough.  The key to flaky biscuits, is cold butter.  If the butter warms up, you'll have wimpy biscuits on your hands.
Once I was ready to bake them, I unwrapped the dough and cut it into eight pieces.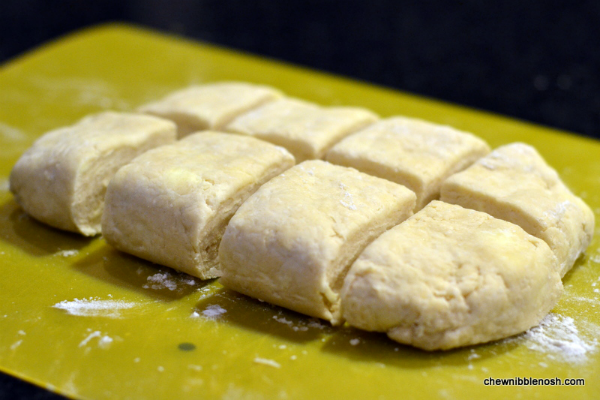 I placed each biscuit on a parchment lined cookie sheet and then brushed the tops with a little bit of milk, and sprinkled them with just a bit of sugar.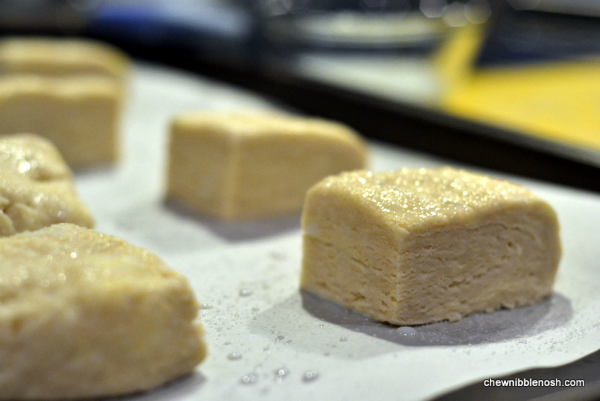 Can you see those layers?  When you can see the layers like that, and still see the butter, you know you're in for a good, flaky biscuit.
I popped the biscuits into my preheated oven for about twelve minutes, until they were nicely golden on top and fully puffed and flaky.
Surprisingly, the Google soup turned out to be pretty darn good.  The biscuits may have made my little snowed in bunnies' day though.  Nothing makes them smile at the dinner table like warm, flaky, sugared biscuits with some apple butter dolloped on top.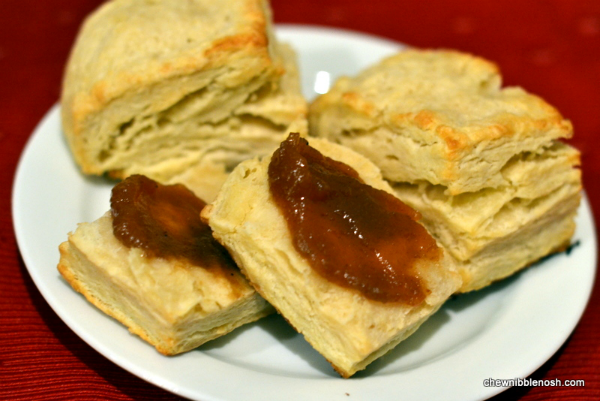 EASY BUTTERMILK BISCUITS
Adapted from Fine Cooking
Easy Buttermilk Biscuits
Author:
Prep time:
Cook time:
Total time:
Ingredients
1 3/4 cups unbleached all-purpose flour, and more for sprinkling
2 tsp. baking powder
1 tsp. sugar, plus more for sprinkling on top
1/2 tsp. baking soda
1/2 tsp. table salt
6 Tbsp. cold, unsalted butter, cut into 1/2 inch pieces
3/4 cup cold, well-shaken buttermilk
Instructions
Preheat your oven to 450*F. Line a baking sheet with parchment paper and set aside.
In a large bowl, whisk together the flour, baking powder, sugar, baking soda and salt.
Using a pastry blender, or your fingertips, cut the butter into the mixture until the mixture resembles coarse meal and there are still some pea sized lumps of butter. (The flour and butter mixture can be refrigerated in a zip top freezer bag for up to 1 week, or frozen for up to a month. If frozen, thaw for 30 minutes before using.)
Using a silicone spatula, stir in the buttermilk until the mixture is moistened, and looks a bit shaggy.
Transfer the dough to a floured surface and knead a few times until it comes together. Shape the dough into a 4×8 inch rectangle
At this point, either bake them up or wrap the dough and chill until you're ready to bake.
Cut the dough into 8 evenly sized biscuits. Place the biscuits on the prepared cookie sheet. Brush the tops with a little bit of milk and sprinkle with additional sugar.
Bake for 12-15 minutes, or until puffed, flaky and golden. Let them cool for 5-10 minutes before eating.
ENJOY!