Directions
I know it's just under the wire, but I wanted to sneak this post in before the month, and the contest, were up!  If you've been following my Facebook feed, you may have noticed a contest I spoke about called Cook For Health September.  It's the brainchild of Alex and Sonja Overhiser, over at the amazing A Couple Cooks.  They've partnered up with Green BEAN Delivery, my favorite organic produce delivery group, to help promote healthy eating and meals made with healthy, seasonal, unprocessed foods…especially in their home state, and my home state, of Indiana.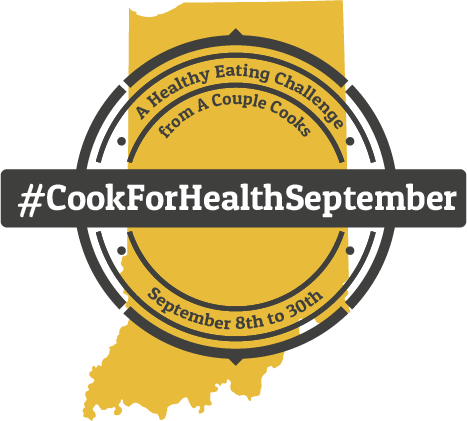 Check out their site for more information on the contest. I know that plenty of you cook healthy meals each night, and entries are accepted through September 30th! There are some amazing prizes, including a drawing to win 3 months of free groceries from Green BEAN!  There are also many other amazing prizes up for grabs from other local merchants.  And all you have to do is make a healthy meal, using some fresh, healthy, unprocessed ingredients and post it to your Instagram account with the tag #CookForHealthSeptember in order to be entered to win!
Today, I've decided to share my entry with you, and not only was it healthy and delicious, it was incredibly simple.  It's amazing how a few simple, GOOD ingredients can make a wonderful meal.  You don't need an ingredient list a mile long, just good quality.
My meal was this amazing roasted vegetable, apple, and kielbasa bake.  First things first, I chopped up lots of cozy, colorful, fall veggies…carrots, brussels sprouts, Yukon Gold potatoes, red onion, and then added a couple of Gala apples to the mix.
 Once the veggies and apples were cut up, I combined all of them in a big bowl along with some sliced kielbasa, olive oil, ground sage, salt and pepper.  That's it.  Simple stuff, right?
I spread the mixture out on a large baking sheet, and I was ready to pop it into the oven.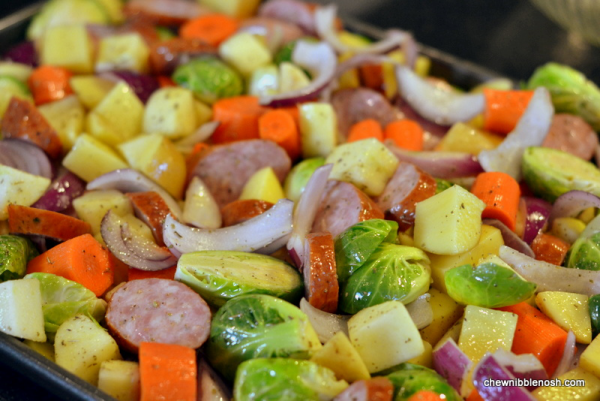 The mixture baked for 45 minutes, and I made sure to give it a good stir around halfway through.
When the time in the oven was up, I had this amazing, smoky, sweet, veggie, apple, cozy, homey (how many other words can I think of to describe it) smell that filled the air.  It was just good, healthy, simple comfort food.
The veggies and kielbasa started to caramelize just a bit in the oven, which added some texture and amazing smoky flavor to the dish.
We had it as our main course, but this would make a wonderful side dish for a crowd at Thanksgiving, or any fall gathering.  If you're looking for a dish to celebrate the harvest, you've come to the right place!  It was absolutely delicious, filling, and certainly pleased the crowd at my dinner table that night.
So, Hoosiers! Get into your kitchen and cook up some healthy tonight!  Don't forget to post your entries to Instagram with the tag #CookForHealthSeptember!  Good luck!
ROASTED APPLE, VEGETABLE AND KIELBASA BAKE
Adapted from azcentral.com
Roasted Apple, Vegetable and Kielbasa Bake – #CookForHealthSeptember
Recipe Type
:
Healthy Dinner
Author:
Prep time:
Cook time:
Total time:
Ingredients
4 cups Brussels sprouts, trimmed and halved
1 red onion, sliced into chunks
3 large Yukon Gold potatoes, cut into chunks
2 Gala apples, peeled and cut into chunks
6 carrots, peeled and cut into large chunks
1 lb. Kielbasa, sliced into 1/2 inch pieces
2 Tbsp. olive oil
2 tsp. dried sage
1 1/2 tsp. kosher salt
1 tsp. ground black pepper
Instructions
Preheat your oven to 400*F.
In a very large bowl, combine the apples, veggies, and kielbasa.
Add the olive oil, sage, salt and pepper, and toss to coat.
Pour the mixture into a large rimmed baking sheet and spread out evenly.
Bake, at 400*F, until tender, browned around the edges, and caramelized, about 40-45 minutes. Stir the mixture once during the baking time.
ENJOY!