Directions
One of my favorite fall traditions, and one that I've been able to carry on with my children, is of heading to an orchard in the early days of fall, picking bushels and bushels of apples, sipping on cider, swatting away the bees (OK, I could do without that part.), and then turning said bushels and bushels of apples into delicious treats for my friends and family once we get back home.  We haven't gone apple picking yet this year, but this could be the perfect weekend to do just that.
A friend of mine gave me a recipe for a German Apple Cake that her family adores a while back, and I ran across it the other day and thought it would be the perfect cake to bake up for a fall family gathering last weekend, and it further convinced me that I really need to get going on that apple picking.
I started by combining my dry ingredients and my wet.  Into one bowl went the flour, salt, sugar, baking soda, and two teaspoons of McCormick Apple Pie Spice.  McCormick makes it easy!  Their Apple Pie Spice is the perfect blend of Cinnamon, Nutmeg and Allspice, and I knew it would be the perfect addition to this dessert.
I whisked together my eggs, oil, and vanilla, and then combined the wet ingredients with my spiced dry ingredients.  Once that mixture was combined, I stirred in four cups of juicy, chopped Granny Smith Apples.
As you can see, this cake is chock full of apples!  (There's more apple than batter, which means this is like health food, right?)  I like using Granny Smith apples in my baking because I think they hold up really well.  Some apple varieties turn to mush in the heat, or turn mealy.  Granny Smith stay whole, and juicy.  Plus, their tartness compliments the sweetness of the cake, so the sweet-factor isn't over the top.
I spread my chunky apple batter into a greased 9×13 inch baking dish, and then popped it into the oven for fifteen minutes. As it was in the oven, I mixed together a crumbly topping for the cake.  I didn't want to add it right at the beginning, because I was afraid it would sink into the batter, so I let the cake bake for a few minutes before topping it with the mixture of sugar, flour, McCormick Cinnamon, butter, and chopped pecans.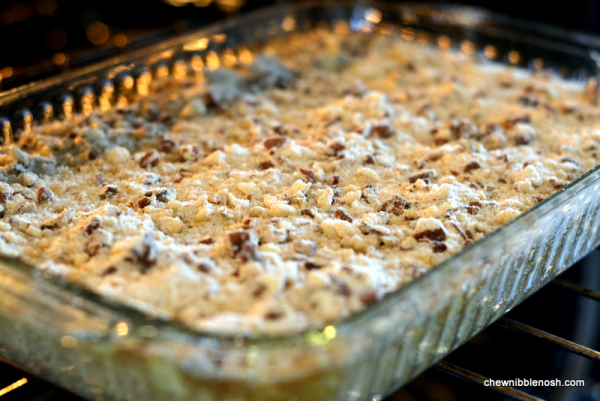 I let the cake bake for another thirty minutes, and when I took it out of the oven, the kitchen filled with those warm, cozy, sweet smells of fall.  Just looking at the cake, you can tell how amazingly moist and delicious it is.  I couldn't wait to cut into it.  Unfortunately, my guests wouldn't be over for dinner until the next night, so I let it cool completely, and then covered it and let the flavors mingle until Saturday.
 When it was time for dessert the next day, I actually popped the cake back into the oven for a few minutes, just to warm it up a bit.  While it was warming, I whipped together a spiced whipped cream topping for the cake.  I combined two cups of heavy whipping cream, some powdered sugar, and a half teaspoon of McCormick Apple Pie Spice and then whipped it until it was nice and thick.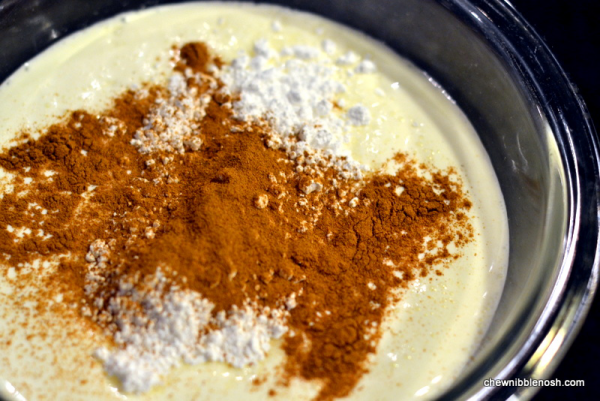 The cake was a huge hit.  It's so deliciously moist, chock full of sweet, chunky apples and just bursting with warm fall spices.   It was a perfect way to celebrate a beautiful fall weekend full of family and fun.  I can't wait to pick some apples of my own and bake up another one.
For more amazing recipes to help celebrate fall, be sure to visit McCormick.com!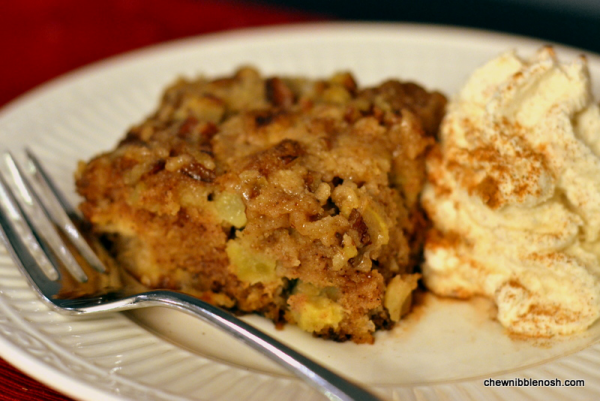 GERMAN APPLE CAKE WITH SPICED WHIPPED CREAM
German Apple Cake with Spiced Whipped Cream – Baking with McCormick
Author:
Prep time:
Cook time:
Total time:
Ingredients
For the Cake:
2 cups all-purpose flour
2 cups sugar
1 tsp. baking soda
1/4 tsp. salt
2 tsp. McCormick Apple Pie Spice
1 cup canola oil
1 tsp. pure vanilla extract
3 large eggs
4 cups peeled, chopped Granny Smith apples (I used 4 apples)
For the Crumble Topping:
1/2 cup sugar
1/3 cup all-purpose flour
1/2 tsp. McCormick Ground Cinnamon
1/4 cup butter, softened
1/2-3/4 cup chopped pecans (optional)
For the Spiced Whipped Cream:
2 cups heavy whipping cream
2 Tbsp. powdered sugar
1/2 tsp. McCormick Apple Pie Spice
Instructions
For the cake:
Preheat oven to 350*F.
In a large bowl, combine the flour, sugar, baking soda, salt, and McCormick Apple Pie Spice. In a smaller bowl, beat together the oil, vanilla, and eggs. Add the egg mixture to the flour mixture and stir to combine.
Fold in the chopped apples.
Spread the mixture into a greased 9×13 inch baking dish.
Bake at 350* F for 15 minutes. Sprinkle the crumble topping over the cake, and bake for 30-35 minutes more until a toothpick poked in the middle of the cake comes out clean.
For the Crumble Topping:
Combine the sugar, flour, cinnamon and butter in a small bowl until lumps are pea-sized and crumbly. Stir in the chopped pecans, if desired.
For the Spiced Whipped Cream:
Combine the whipping cream, powdered sugar, and Apple Pie Spice. Beat with a mixer until cream forms stiff peaks. Serve with the cake.
ENJOY!