Directions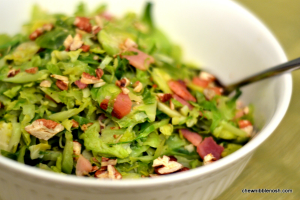 Christmas dinner, for us, was a small affair this year.  It was just the four of us.  Pretty quiet, and the youngest two of the four wore their pajamas to dinner.  (The cast of "Downton Abbey" would be mortified.)  It was a lazy, laid back day over all.  One that we all needed and really enjoyed.  And at the end of it, I was left with a cozy holiday feeling, and an excessive amount of Christmas ham leftovers.
I hope you guys like ham, because it's likely that I'm going to throw quite a few hammy favorites your way in the coming weeks!
I'd seen quite a few recipes floating around involving shredded brussels sprouts, but I hadn't tried any before now.  This one was really tasty, quite simple to throw together, AND it used up some of my leftover ham.  It's a wonderful, different kind of side dish, but in the spirit of "Let's get rid of the Christmas leftovers before they go bad, " I served it alongside leftover Scalloped Potatoes, one of my other holiday favorites, and called it a day.
I stared by preparing my ingredients.  I trimmed the root ends from the sprouts and removed the outer leaves.  I chopped up about a cup of my leftover ham, and then diced up some garlic.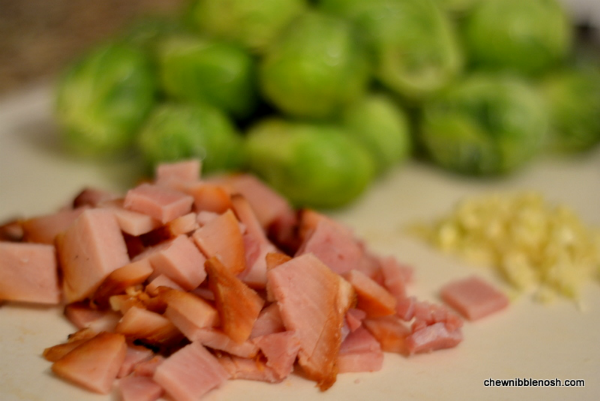 Before I started cooking, I got out my food processor and took a minute to shred my sprouts.  I used the slicing disk attachment and, in no time flat, they were done.  If you don't have a food processor, just slice them thinly into shreds with a sharp knife.
Once that was done, I got to cooking.
I quickly sautéed my ham in some melted butter and olive oil that I'd heated up on the stove.
Once it had started to brown and crisp up just a bit, I threw in my minced garlic and gave it a stir.
Once the garlic was fragrant, I carefully added my mess of shredded sprouts and some chicken broth.
Like greens, the sprouts will wilt a little once they hit the heat and soften, but I needed to be careful as I stirred, or sprouts would be flying everywhere!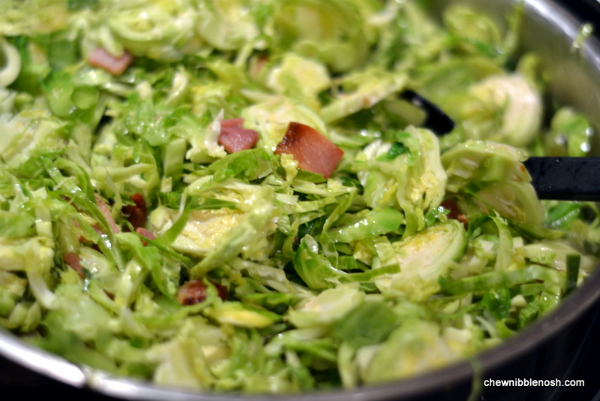 I stood over the pan for about five minutes, stirring every minute or so and making sure that those bigger pieces of sprouts got significant time with the heat, so they'd soften up nicely.
As they were cooking, the sprouts turned a lovely bright green, and once they were cooked, but still crisp-tender, I removed them from the stove top and transferred them to my serving bowl.  Once they were there, I sprinkled the sprouts with some chopped toasted pecans, and the dish was done!
The dish was really, really delicious.  The smoky ham and toasty pecans paired beautifully with the buttery sprouts.  We went through the entire bowl that night…two pounds of sprouts!  (Avery didn't like them, but does that surprise anyone?)
Check one ham leftover recipe off the list!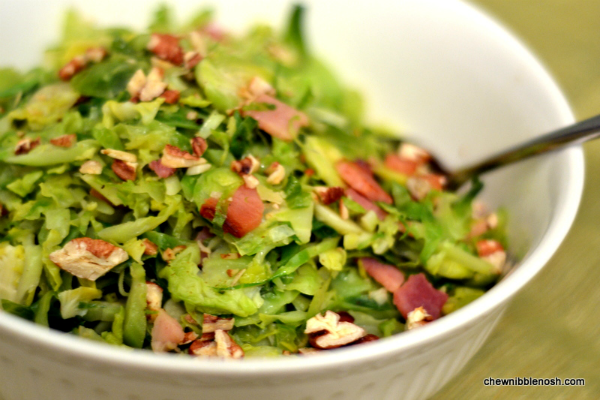 SAUTEED SHREDDED BRUSSELS SPROUTS WITH SMOKED HAM AND TOASTED PECANS
Adapted from Bon Appetit
Sautéed Shredded Brussels Sprouts with Smoked Ham and Toasted Pecans
Author:
Prep time:
Cook time:
Total time:
Ingredients
2 pounds fresh brussels sprouts
2 Tbsp. butter
3 Tbsp. olive oil
2-3 thick slices smoked ham, coarsely chopped, about 1 cup
1 large garlic clove, minced
2/3 cup low-sodium chicken broth
salt and pepper
1/2 cup pecans, toasted, chopped
Instructions
Trim the root ends from the sprouts and remove the outer leaves. Using a sharp knife, or the slicing disk in your food processor, thinly slice the sprouts into shreds. (This can be done up to a day ahead of time. Just cover the sprouts and chill.)
Melt the butter with the olive oil in a large, deep skillet over medium heat.
Add the ham, and cook until the ham starts to brown, about 3-4 minutes.
Add the garlic, and stir until fragrant, about 30 seconds.
Add the brussels sprouts and the broth, carefully stir the mixture together and cook until crisp tender, but still bright green, about 5-7 minutes.
Season with salt and pepper and transfer to a serving bowl.
Sprinkle chopped toasted pecans over the top.
ENJOY!