Directions
It's berry season!  Berries are officially my favorite dessert fruit, so when early summer rolls around and bright, beautiful, fresh berries are abundant, I stock up and start cooking.  I ran across this super simple Raspberry Cream Tart from Midwest Living magazine, and I knew this was the perfect time to give it a try.
The dessert looks perfectly summery and elegant, but putting it together is a breeze, and it gets a little (delicious) help from a convenient grocery store staple…
Refrigerated Sugar Cookie Dough.
No crust muss and fuss, just a minute or so of pressing cookie dough into a tart pan, and you're on your way.
I baked the crust for about twenty minutes, until it was lightly browned and baked through.
While the cookie crust was in the oven, I got to work on my simple filling.
I blended together some cream cheese, and then added in one egg, a dash of vanilla, some lemon zest, sugar, and a squeeze of fresh lemon juice.
Once the crust came out of the oven, I poured my cream cheese filling in, while it was still warm, and topped it with some of those beautiful fresh berries.
Before popping it into the oven, I sprinkled the tart with a dusting of granulated sugar.
The tart went into the oven for about fifteen minutes more, just until the filling had set and the berries began to shine.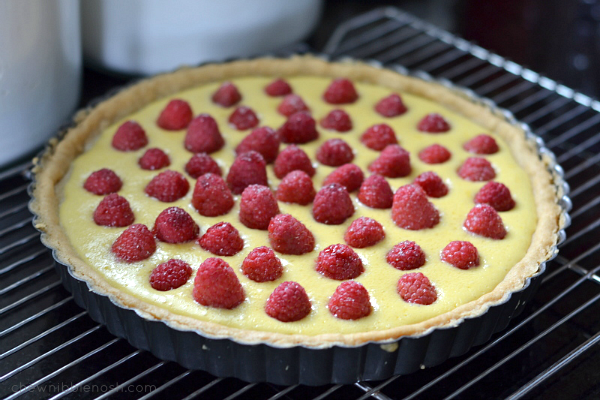 I let the tart cool completely on a wire rack, and then I covered it carefully in plastic wrap and put it in the fridge to chill until we were ready to dig in.  Before I sliced it up, I gave it a good sprinkle of powdered sugar.
It was cool, fresh, and delicious, and everyone who tried it commented on how tasty the crust was.  Little did they know, it was the easiest part of all!
And, the recipe is easy to change up to suit your tastes.  Try blueberries, blackberries, cherries, apricots, any summer fruit you get your hands on!  They'd all work beautifully in this simple, summer treat. Be sure to let me know if you try a variation, and how it turned out!
SIMPLE RASPBERRY CREAM TART
Adapted from Midwest Living
Simple Raspberry Cream Tart
Author:
Prep time:
Cook time:
Total time:
*This version uses bright, fresh raspberries, but feel free to change up the fruit based on what's in season and your personal tastes!
Ingredients
1 (16.5 oz.) roll refrigerated sugar cookie dough, cut into 1/2-inch-thick slices
6 oz. cream cheese, softened (I used low-fat)
1/4 cup granulated sugar, for filling
1 egg
1 teaspoon fresh lemon zest
1 tablespoon lemon juice
1/2 teaspoon pure vanilla extract
2 cups fresh red raspberries
2 teaspoons granulated sugar, for sprinkling
Powdered sugar, for sprinkling
Instructions
Preheat your oven to 350*F. Spray an 11-inch tart pan with removable bottom with nonstick spray and place it on a baking sheet.
Line the tart pan with slices of cookie dough and press the dough into the bottom of the pan and up the sides to form a crust.
Bake the crust for 20 minutes, or until golden and baked through.
Meanwhile, in a medium-sized bowl, beat the cream cheese until smooth. Add in the egg, vanilla, 1/4 cup sugar, lemon zest and lemon juice, and beat until smooth and creamy.
Pour the cream filling into the baked crust while it's still warm.
Arrange the berries in the cream, sprinkle with 2 teaspoons of granulated sugar, and bake for an additional 15-17 minutes, until the cream filling is set and lightly golden.
Remove from the oven to a cooling rack and allow to cool completely.
Cover and store in the refrigerator until ready to serve.
Before serving, sprinkle with powdered sugar.
ENJOY!