Directions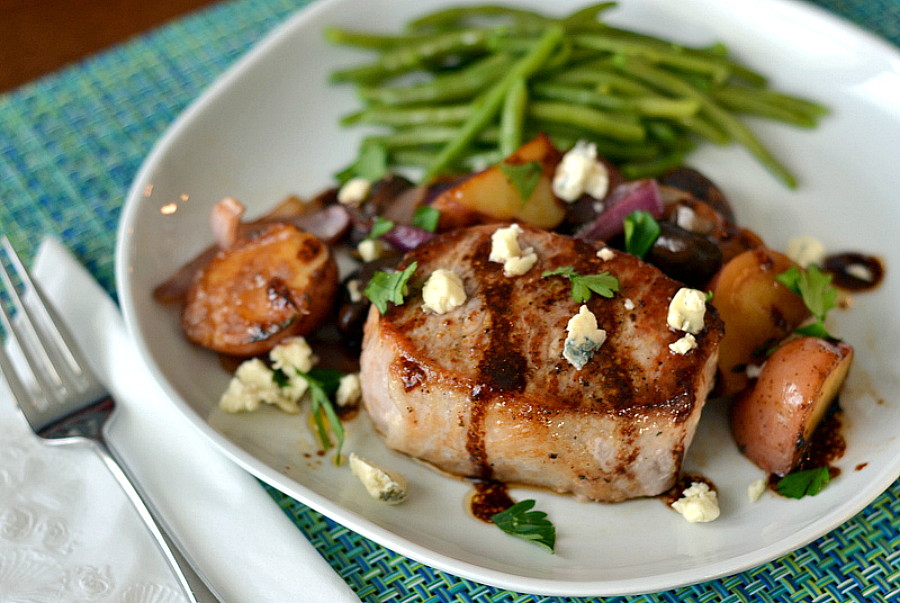 After being married for close to nineteen years (next week!) to my husband, I've gotten to know him and his tastes pretty well.  I have to admit, he's very polite when it comes to dinner time.  He never complains, even if what I'm serving for dinner isn't exactly what he was in the mood for. It doesn't matter if we're having cereal or a four course meal, he'll eat it with a smile on his face.  Although, with the cereal, he probably sneaks back into the pantry after dinner. And he's very patient as I snap picture after picture of dinner, trying to get the right shot, before serving it up.  I know that's not a common problem in most households, but in our house, it's a "thing". He's a trooper, and always has been, even before I started this blogging gig.
There are some nights where he comes home for dinner, asks what we're having, and after I tell him, I can genuinely feel the wind come out of his sails.  He never complains, or groans (unlike some of the other members of the household), but I just know that he's not too keen on whatever we're having.  When I decided to make this for dinner the other night, I knew we wouldn't have this issue.
This is a meal right up my husband's alley, and thankfully, mine too.  It all comes together simply in one pan, and doesn't take much time at all, but is so filling and delicious, I wouldn't hesitate to serve it to company.
I started by cutting some small red potatoes into chunks and halving a package of hearty, Cremini mushrooms.
I've noticed lately that a lot of Cremini mushrooms are labeled "Baby Bella" mushrooms to appear trendy.  So, if you see Baby Bellas, grab them, they are exactly the same thing.
After my potatoes and mushrooms were prepped, I sliced up a red onion and tossed it  and the mushrooms with a heap of fresh thyme, and a mixture of Balsamic vinegar, tomato paste, pepper, and olive oil.
I'd mixed the Balsamic mixture together in a separate bowl, and saved a little to drizzle over the pork at the end.
Then, it was time to get moving on my pork.  I heated a pan on the stove top, sprinkled both sides of my thick-cut chops with salt and pepper, and then let the chops cook for about three minutes on each side until they were golden brown.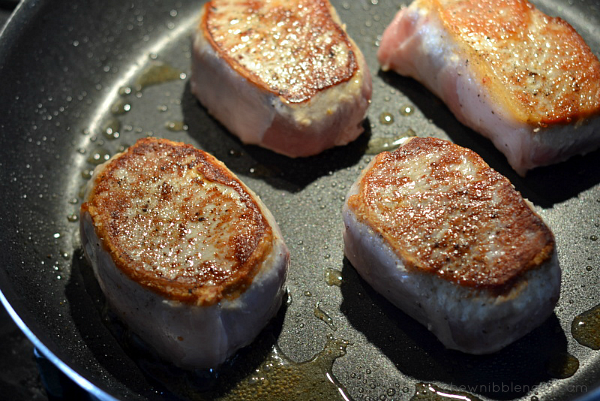 I removed the chops to a plate, they weren't cooked through yet, and then put my potatoes into the same pan, cut side down, and let them sizzle on the stove for a couple of minutes to brown up a bit.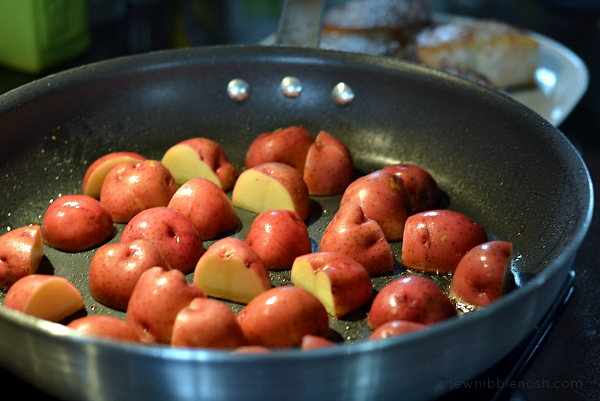 I added my mushroom and onion mixture to the pan, and gave it a good stir, mixing up those toasty potatoes with all of that Balsamic and thyme.
Then, I put the pan in my oven and let the vegetables roast for about twenty-five minutes.  All the while, the pork was waiting patiently on the plate.
After the veggies were in the oven for a bit, and just about done, I nestled the pork chops down into the veggies in the pan, and returned the pan to the oven to finish off the pork.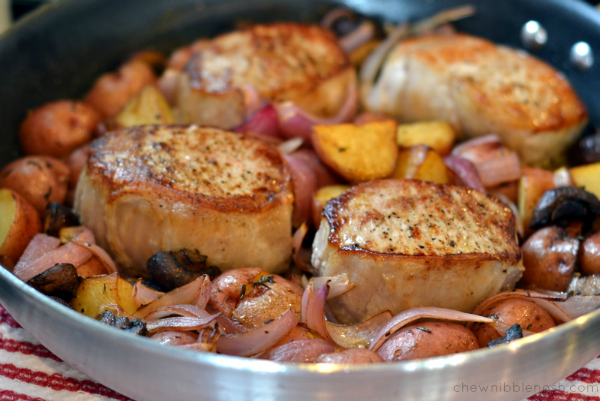 My chops were thick, probably close to two inches, so they took about fifteen minutes more in the oven, but what you're looking for is an internal temperature of 145*, so once you've hit that mark, your pork is good to go.
When it was time to plate it up, I sprinkled the vegetables with just a little more salt, scooped them around a pork chop on the plate, drizzled it all with just a little bit more of that Balsamic mixture, and then sprinkled a little tangy Gorgonzola cheese over the top.  A little goes a long way, and as it melted over the juicy chop and perfectly cooked vegetables, and my husband dug in with a smile on his face, I was pretty sure he wouldn't be heading back into the pantry for more food after dinner that evening!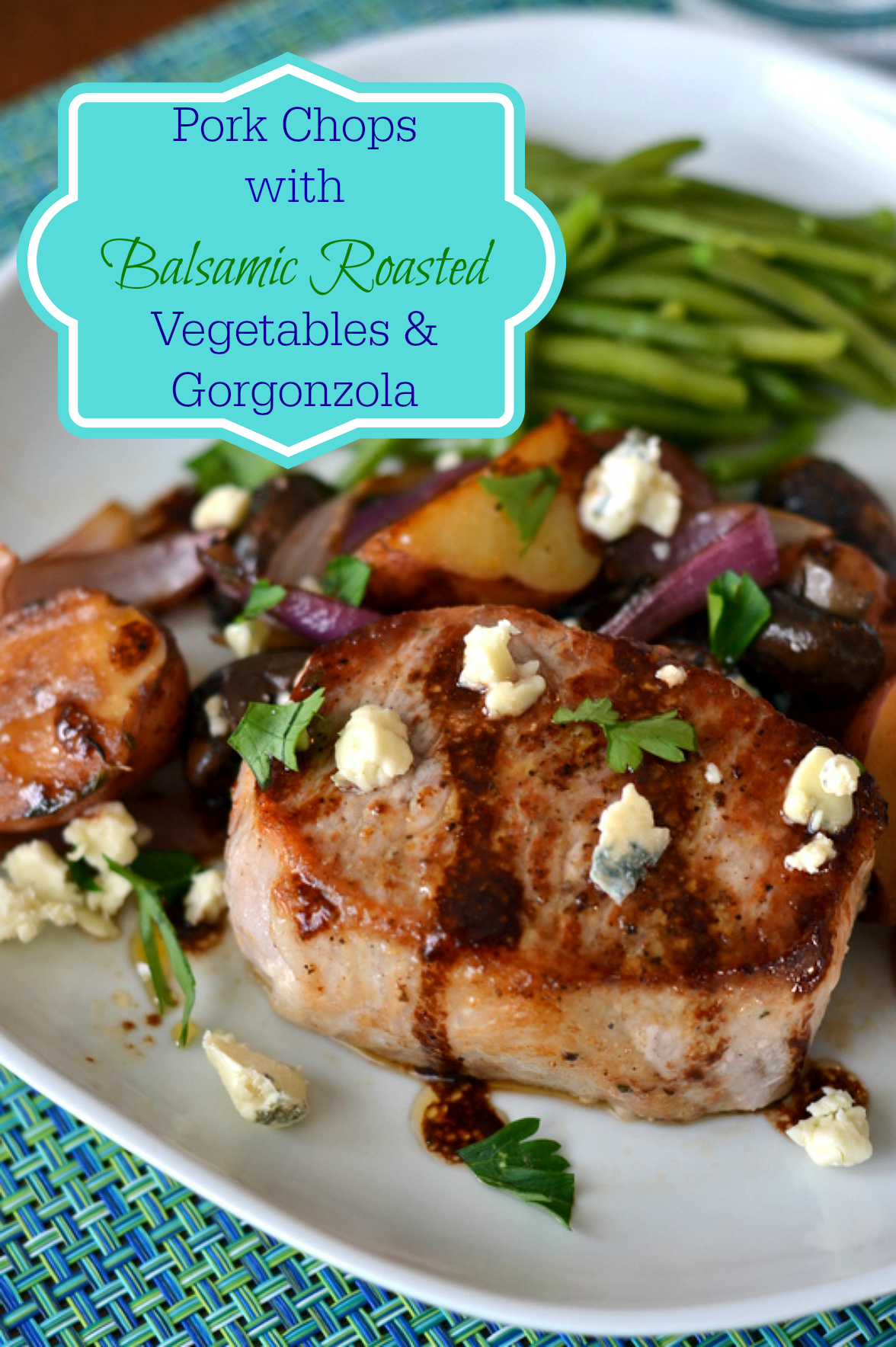 PORK CHOPS WITH BALSAMIC ROASTED VEGETABLES AND GORGONZOLA
Adapted from Cooking Light
Pork Chops with Balsamic Roasted Vegetables and Gorgonzola
Author:
Prep time:
Cook time:
Total time:
Ingredients
4 thick-cut boneless pork loin chops
kosher salt
pepper
1/4 cup extra virgin olive oil, divided
1 lb. small red potatoes, halved or cut into large chunks
3 Tbsp. Balsamic vinegar
1 Tbsp. tomato paste
1 Tbsp. chopped fresh thyme
1 red onion, peeled and sliced into 8 wedges
1 (8 oz.) package Cremini or Baby Bella mushrooms
2 Tbsp. fresh parsley, chopped, for garnish
1/4 crumbled Gorgonzola cheese
Instructions
Preheat your oven to 425*F.
In a small bowl, combine 1/2 teaspoon pepper, 2 Tablespoons olive oil, Balsamic vinegar, and tomato paste with a whisk.
Place the sliced mushrooms and the onion wedges in a medium sized bowl. Add the fresh thyme. Drizzle in 2 Tablespoons of the Balsamic mixture, reserving the rest for later, and toss the mushrooms and onions to coat. Set aside.
Heat a large, heavy roasting pan or large ovenproof skillet over high heat. Sprinkle the pork chops with salt and pepper. Add 2 Tablespoons of oil to the pan, and swirl to coat.
Add the pork to the pan and cook for 3 minutes on each side, until nicely browned. Remove the pork from the pan and set aside.
Add the potatoes to the pan, cut side down, and allow to cook for 2 minutes. Remove pan from the heat.
Add the mushroom and onion mixture to the pan and toss with the potatoes.
Place the pan in the oven and roast the vegetables for 25 minutes, stirring every ten minutes or so.
Nestle the pork chops into the vegetables and put the pan back into the oven to finish off the pork. Bake for 10-15 more minutes, or until a meat thermometer registers the pork at 145*F.
Remove the pork from the pan. Sprinkle the vegetables with a little more salt.
Serve the pork chops with the vegetables, drizzled with remaining Balsamic sauce, and sprinkled with crumbled gorgonzola and chopped parsley.
ENJOY!