Directions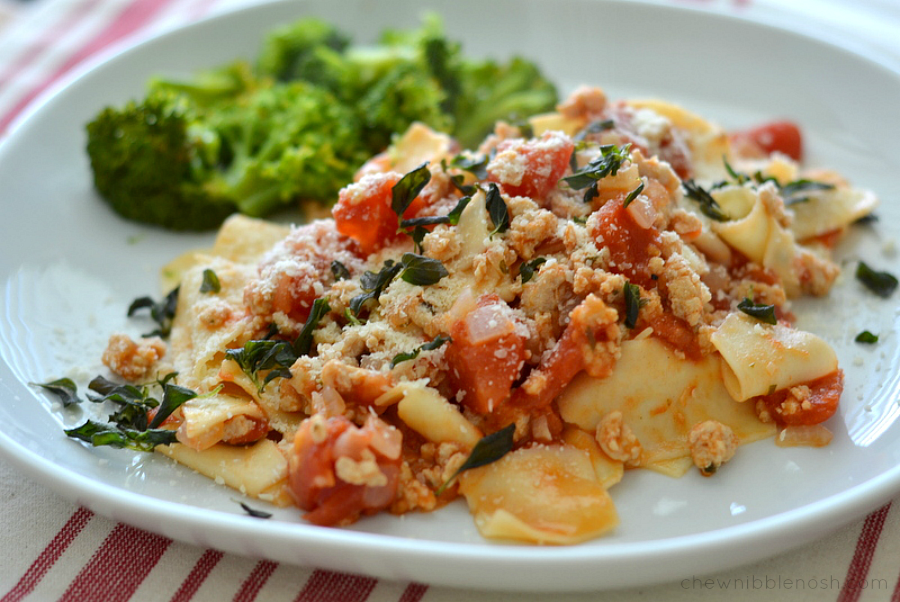 If you were to ask me what my all time favorite pasta sauce is, I would answer, without hesitation, that it is THIS Bolognese sauce.  I posted that recipe a few years ago, and things haven't changed.  It's still my all time favorite.
That said, it's a time-consuming sauce.  One that's meant for a day when I have time to spend in the kitchen.  On days when I don't have time to spend in the kitchen, this lightened up, chicken-based Bolognese sauce is a fantastic alternative.  It came together in minutes, and my family devoured it in just a few as well.  It's fresh and light, and great for a night when you're craving comfort food, but not so much craving the work involved.
I started by prepping my onion, and garlic.  I also set aside a cup of fresh oregano leaves which would be sizzled up as a crispy garnish for my pasta, and I chopped up a bit of fresh Tarragon.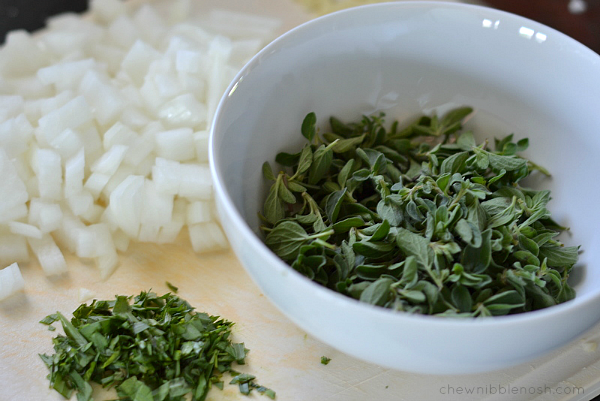 When it was time to begin, I heated some oil in a large skillet on the stove top and added in my fresh oregano.
I stirred the oregano leaves in the oil for just a couple of minutes, until they had deepened in color and crisped up.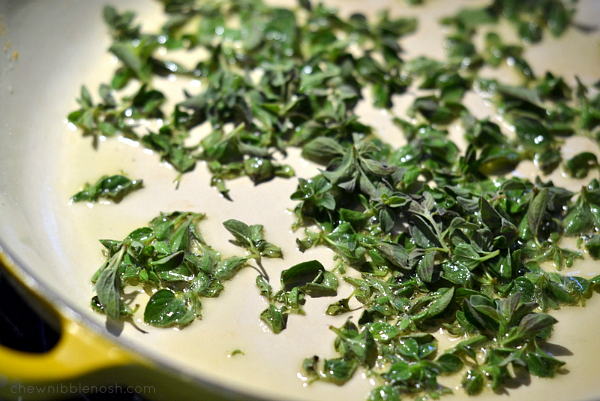 Once they were perfectly crispy, I removed them from the oil (which was now infused with that oregano flavor. Bonus!) and spread the leaves out on paper towels to help soak up the extra oil.
And then, I added my onion, garlic and the tarragon to the hot pan.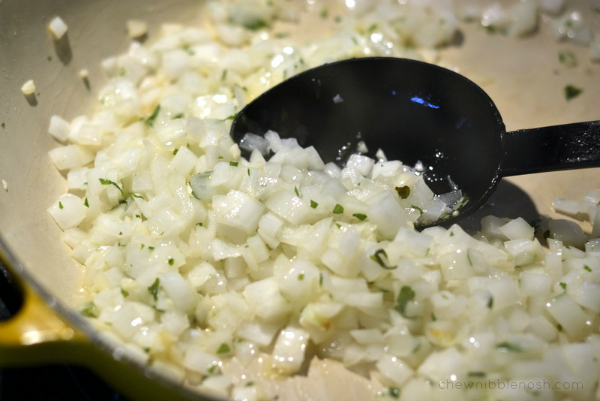 I let that mixture cook down for a few minutes, until the onion and garlic were soft, and then crumbled in a pound of ground chicken.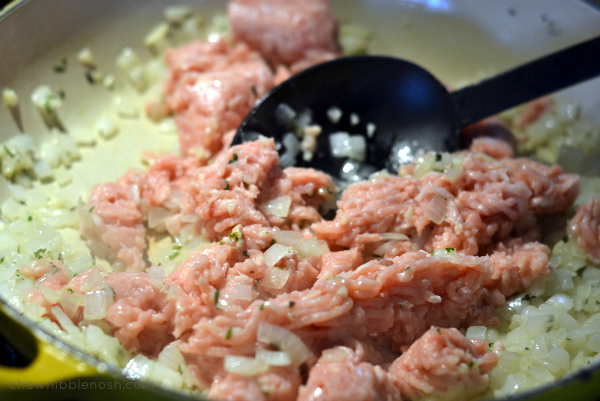 I cooked the chicken and onions together until the chicken was golden, about five more minutes, and then added in a cup of white wine, some chopped canned tomatoes, and some salt and pepper.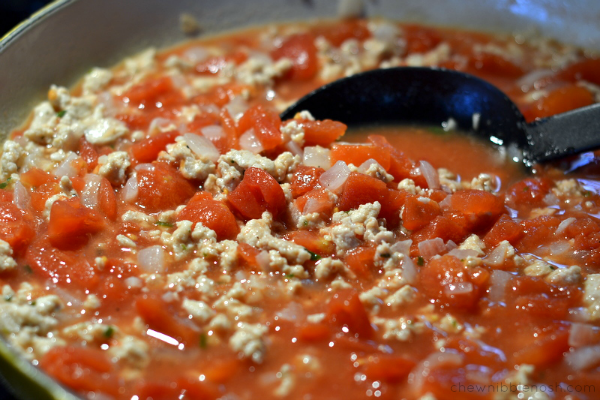 I let the mixture come to a simmer, lowered the heat just a bit, and let it bubble for a while until it was reduced a bit and had thickened up into a luxurious sauce.
I seasoned it with more salt and pepper, to taste, and then tossed the sauce with a heap of pappardelle pasta that had been cooking while I'd been working on the sauce.
Before I served up the plates of pasta, I sprinkled each serving with a hefty dose of the crispy oregano, and a good sprinkle of grated Parmesan.
Is it the "sauce that Mama used to make"?  No, not necessarily, but it's a pretty delicious sauce that this Mama is making when her schedule doesn't allow for the other Mama's sauce!  And be sure to take the few extra minutes to make that crispy oregano.  It adds an awesome punch of crunch and flavor. Yum!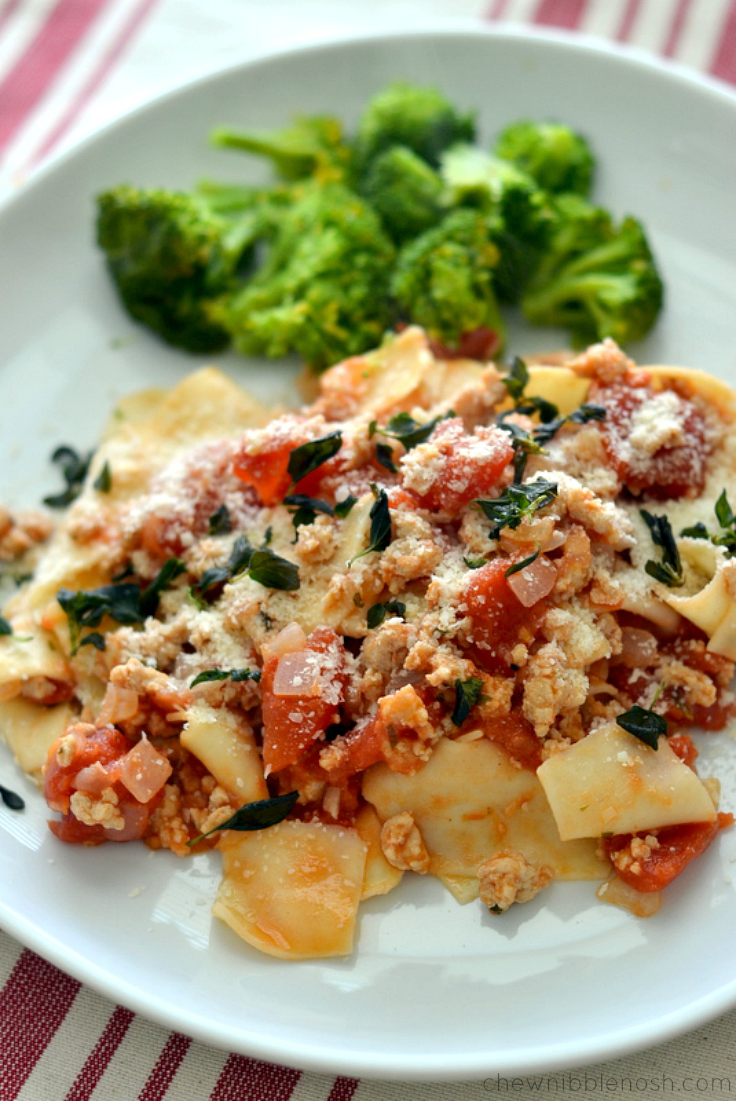 CHICKEN BOLOGNESE WITH CRISPY OREGANO
Adapted from Epicurious
Chicken Bolognese with Crispy Oregano
Author:
Prep time:
Cook time:
Total time:
Ingredients
2 tablespoons extra-virgin olive oil
1 cup fresh oregano leaves
1 yellow onion, chopped
3 cloves garlic, minced
1 tablespoon chopped tarragon, or basil
1 pound ground chicken
1 cup dry white wine
2 (14-ounce) cans chopped tomatoes
Kosher salt and fresh ground pepper
1 pound pappardelle pasta
Finely grated pecorino or Parmesan cheese, to serve
Instructions
Heat the oil in a large non-stick skillet over medium heat.
Add the oregano and cook, stirring, for 1–2 minutes or until crispy. Remove with a slotted spoon and set aside on a paper towel covered plate.
Add the onion, garlic and tarragon to the pan and cook, stirring, for 3–4 minutes or until the onion and garlic have softened.
Add the ground chicken and cook, breaking up any lumps, for 5–7 minutes or until golden and cooked through.
Add the wine, tomatoes, salt and pepper to taste and bring to a simmer. Lower the heat just a bit, and cook for 5–7 minutes or until the sauce reduces and thickens up just a bit. Season with more salt and pepper, if needed.
Meanwhile, cook the pasta in a large pot of boiling salted water according to the directions on the package, until al dente. Drain, and add to the sauce and toss to combine.
Serve the pasta and sauce with the crispy oregano and grated cheese.
ENJOY!