Directions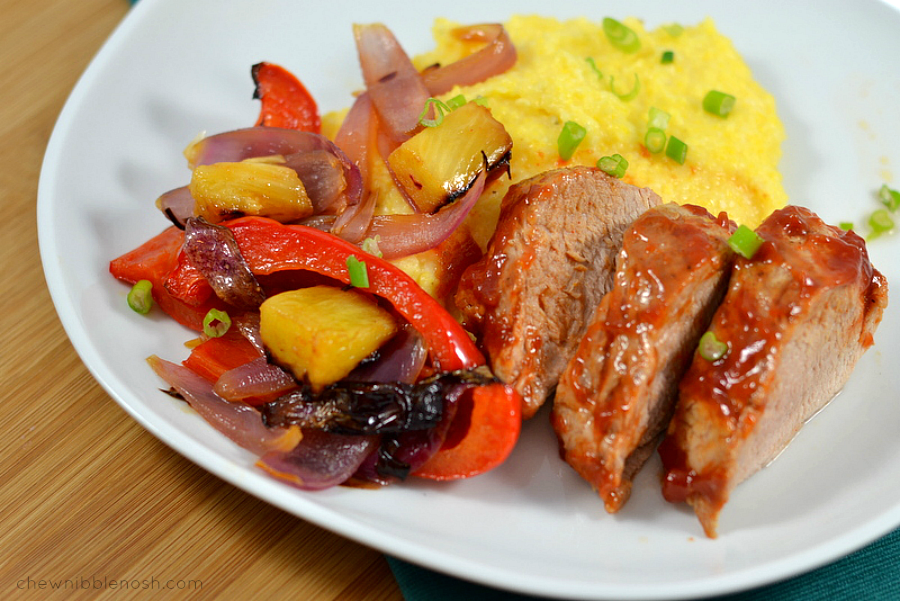 Sorry, guys.  I know I've been a little lax lately in sharing new recipes with you.  Summer is TOUGH, though!  I'd love to say our summer schedule is nothing but laziness, pool days, and endless time, but anyone with kids knows that it just isn't. We're having a great summer so far, but it's keeping me on my toes, and unfortunately, not in the kitchen (or at the computer) as often as the obsessive-compulsive blogger part of me would like. I know you're busy too, so I'm sure you understand. Don't give up on me.  I'm still here!  Just making my way through the season.
This simple, summery pork tenderloin dish won't throw a wrench in your summer day, though.  It comes together easily, is fresh and healthy, and is really quite tasty. Especially when you are having so much "summer", you can't quite "kitchen".
I started by cutting up a red bell pepper into large chunks, following suit with some fresh pineapple, and a red onion.  I tossed those in a bowl with some olive oil, salt, and pepper.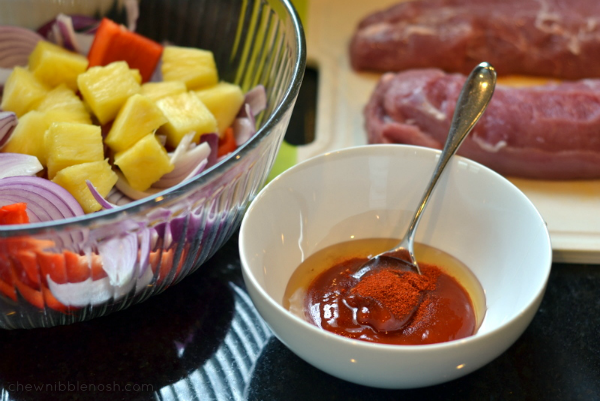 I trimmed my pork tenderloin, and then stirred together my quick glaze which was simply ketchup, honey, and chipotle chili powder.  Chipotle chili powder, like a chipotle chili, is smoky and rich.  A chipotle pepper is basically a smoked jalapeno, so grind that up into a powder, and you have a smoky powder.  If you're not into that smoky chipotle flavor, you could opt for regular chili powder.
The onions, peppers, and pineapple went into the oven for ten minutes to start roasting, and while that was happening, I browned my tenderloins up on the stove top.
Once the ten minutes were up, I moved my tenderloins to the baking sheets with the roasted veggies, and then spread half of the glaze mixture over the pork.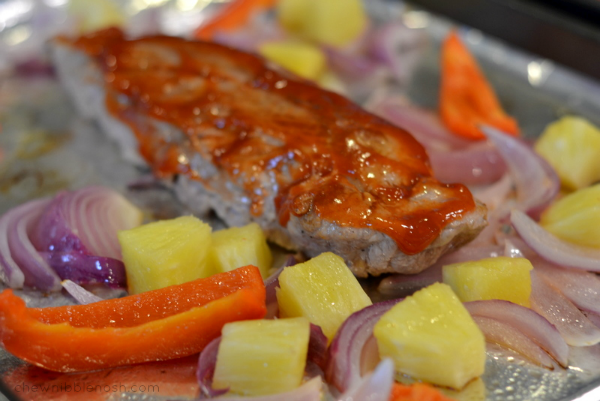 Then, the pork and veg went back into the oven to roast for about fifteen minutes more, until the internal temperature of the pork was 145*F, and the onions and company were caramelized and super tasty.
I moved the pork to a cutting board, spread the rest of the glaze on top, and allowed the pork to rest for about five minutes before slicing into it.  Letting the meat rest helps all of those juices settle inside the meat, instead of all over your cutting board when you slice into it.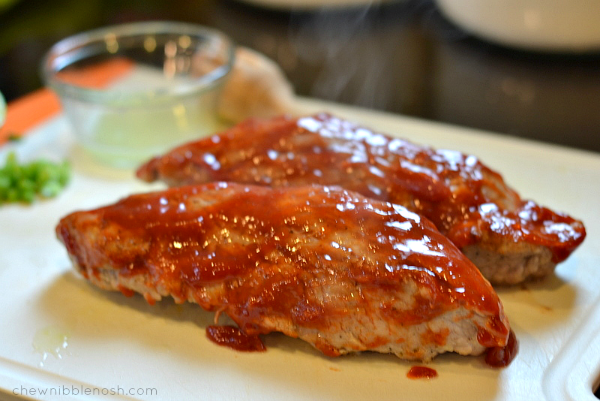 I tossed the vegetables with some fresh lime juice, just to give them one more burst of fresh flavor, and then sliced up the pork, and heaped the veggies alongside.  I served it with some quick cooking polenta, and we had a delicious, fresh summer meal in no time flat.
SWEET AND SMOKY PORK TENDERLOIN WITH PINEAPPLE AND PEPPERS
Adapted from Woman's Day
Sweet and Smoky Pork Tenderloin with Pineapple and Peppers
Author:
Prep time:
Cook time:
Total time:
Ingredients
2 red peppers, each cut into 8 pieces
2 small red onions, cut into 1/2-inch thick wedges
1/2 pineapple, cored and cut into 1-inch chunks
3 tbsp. olive oil
1/4 cup ketchup
1 Tbsp. honey
1/4 tsp. chipotle chili powder (or regular chili powder)
2 small pork tenderloins (about 3/4 pound each)
kosher salt
pepper
1 Tbsp. fresh lime juice (from 1/2 lime)
chopped cilantro or green onions, for garnish
Instructions
Preheat the oven to 425*F.
Line two baking sheets with foil and spray with nonstick spray. Set aside.
In a large bowl, toss the onion, peppers, and pineapple with 2 tablespoons of the olive oil. Divide the mixture between the two baking sheets. Place the baking sheets in the oven and roast for 10 minutes.
While the veggies are roasting, heat the remaining oil in a large skillet over medium-high heat. Sprinkle the pork with salt and pepper, and brown the tenderloins on all sides, about 6-8 minutes total. Remove the pork from the heat and set aside until the veggies have finished.
In a small bowl, combine the ketchup, honey and chili powder.
Remove the veggies from the oven and nestle one tenderloin in on each baking sheet. Spread half of the glaze mixture over the tenderloins, setting the rest of the glaze aside, and place the pans back in the oven.
Roast for 15-18 minutes more, until the internal temperature of the pork reaches 145*F. Remove the pans from the oven, spread the remaining glaze over the tenderloins, and allow the pork to rest for five minutes before slicing it.
Toss the veggies and pineapple with lime juice before serving. Season with salt and pepper, if needed.
Serve the sliced pork alongside the roasted veggies. Sprinkle with cilantro or green onions, if desired.
ENJOY!