Directions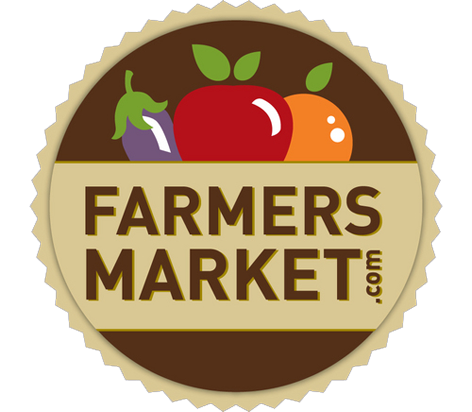 Imagine your favorite weekend farmers market.  Think of all of the colorful, fresh produce, creamy cheeses and butters, warm baked goods, and local snacks and sweets that you can't wait to add to your market basket. Pretty great, right? I absolutely love visiting our local markets in the summertime.  And I think that knowing exactly where your food is coming from, whose garden it grew in, who baked the bread, or who churned the butter, is increasingly important in this day and age where the divide between where our food comes from and how it gets to our tables has grown steadily more difficult to track.
So, imagine my excitement when FarmersMarket.com reached out to me and asked me to give them a try!  Many of my local Indiana farmers market favorites are now available during the week with just the click of a button.  It's as simple as going to FarmersMarket.com and plugging in your zip code.  From there, you'll be connected with local FarmersMarket.com hosts where you can pick up your online order on a weekly basis at no additional charge! Or, you have the option of having your order delivered right to your door, for a small delivery fee. There are several pick up locations around Indianapolis and the surrounding burbs, and I was extra excited to find out that a host location near me was one of my favorite local shops.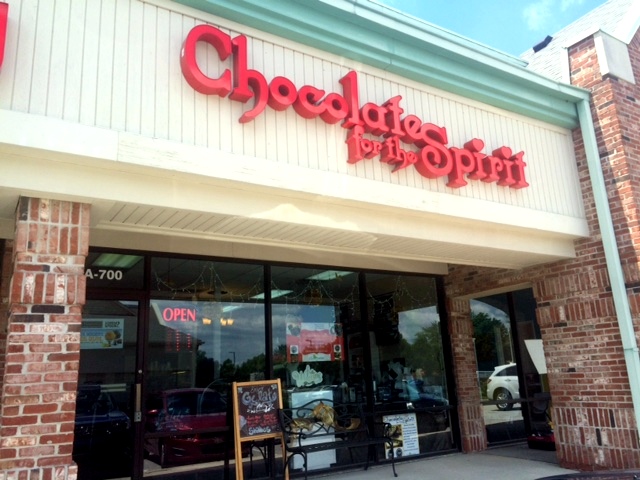 Chocolate for the Spirit is a chocolate lover's dream, located right here in Carmel, and it serves as the gallery for Artisan Chocolatier, Julie Bolejack's, fine creations.  If you haven't stopped in to Julie's shop for some of her truly delectable chocolates or handcrafted Italian gelato, you're really missing out.  I've met Julie on a couple of occasions, and she has always welcomed my family and I into her sweet smelling shop with open arms and a smile, so I knew that stopping in to see Julie again as I picked up my FarmersMarket.com order would be just the thing I needed.
I placed my order easily on the website for a selection of local produce, a tub of truly special Cultured Butter from local dairy, Tulip Tree Creamery, a 4-pack of beef hamburger patties from Tyner Pond Farm, and a bag of some of my favorite Broad Ripple Chip Company potato chips.  I confirmed that I would be in to pick up my order on Thursday, and sent it on its merry way, with just a click.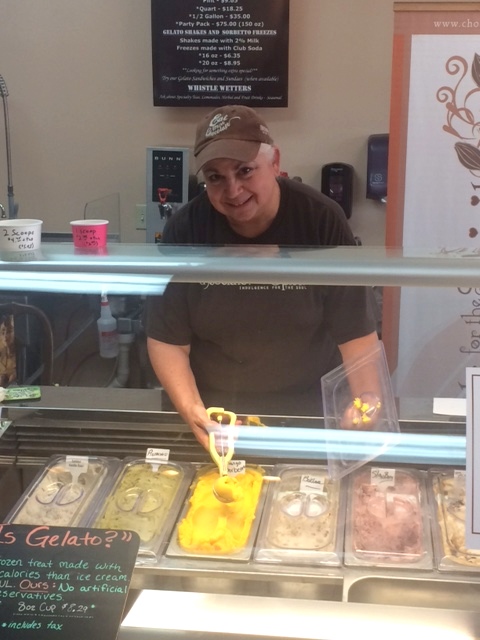 Picking up my order was as easy as I assumed it would be, and after visiting some more with Julie, I couldn't resist trying the delicious Mango gelato and fresh made white-chocolate lavender truffles she offered.  What a treat!  If you can't make it in to see Julie, no worries.  Some of her amazing chocolates are available on the website to add to your market bag!
My FarmersMarket.com bag was waiting patiently for me when I arrived at the chocolate shop, tucked neatly into a refrigerated cooler bag, so my veggies were crisp and butter perfectly cooled.
A pound of asparagus that I had ordered didn't make it into my order due to a horrible storm we weathered early last week  Unfortunately, the asparagus was a victim of the storm, but my purchase was quickly refunded by Nick at FarmersMarket.com and some extra juicy peaches from Josh at Annabelle's Garden were thrown into my bag as an added bonus.
The peaches were so ripe and beautiful, that I couldn't resist slicing them up to serve alongside a simple, light "family-sized" Dutch Baby pancake the next morning.
The peaches were perfectly juicy and sweet, no extra help needed there.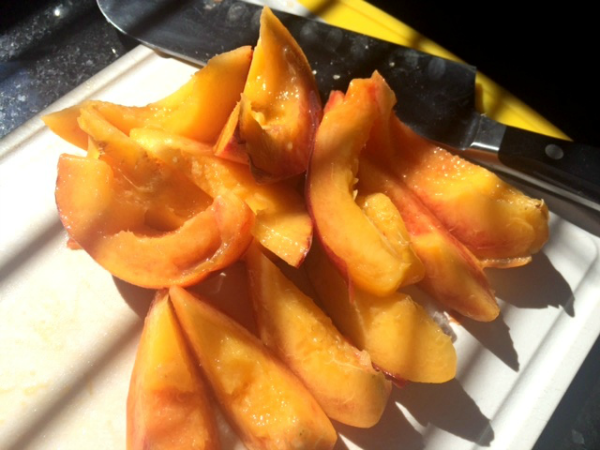 Indy Friends!  Check out FarmersMarket.com when you get a chance and see what they can bring to you!  We are so lucky to live in an area with talented, abundant local food options, and FarmersMarket.com is a simple, delicious way to stay connected with local farmers and food artisans, and to support the wonderful work they do.
And, if you get some juicy peaches in your market delivery, here's that Dutch Baby pancake recipe I was talking about.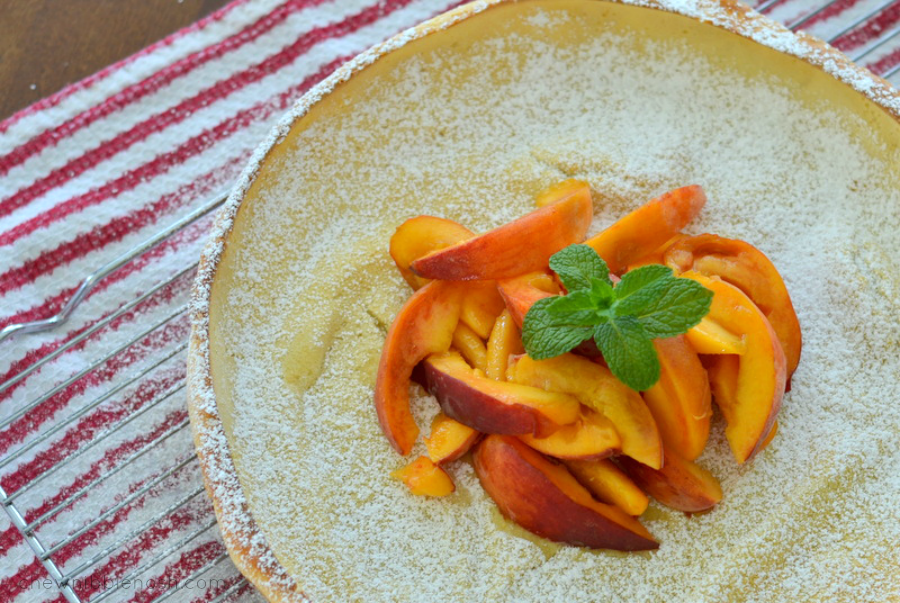 FARMERS MARKET PEACH DUTCH BABY PANCAKE
Adapted from Food Network
Farmers Market Peach Dutch Baby – Introducing FarmersMarket.com
Author:
Prep time:
Cook time:
Total time:
Ingredients
3 tablespoons butter
3 eggs
3/4 cup all-purpose flour
3/4 cup milk, warmed in the microwave for 20-30 seconds to take the chill off
1 tablespoon plus 1 teaspoon sugar
2 teaspoons vanilla extract
Pinch salt
2 cups sliced fresh peaches
Powdered sugar, for sprinkling
Syrup, if desired
Instructions
Preheat the oven to 400*F.
Place the butter in a large (12-inch) ovenproof, nonstick skillet, and place the pan in the oven to help melt the butter.
Meanwhile, add the eggs, flour, warm milk, sugar, vanilla and salt to a blender. Blend until smooth.
Remove the pan from the oven, swirl to coat with melted butter, and pour remaining butter into the blender. Blend until smooth.
Pour the batter into the hot pan and carefully place it back into the oven.
Allow the pancake to bake for 20-25 minutes, until golden brown at the edges and puffed in the middle.
Remove from the oven and carefully slide onto a wire cooling rack for just a minute before serving. The pancake will deflate slightly as the pancake sits.
Slice the pancake into wedges and serve sprinkled with powdered sugar and topped with juicy, sliced peaches.
ENJOY!