Directions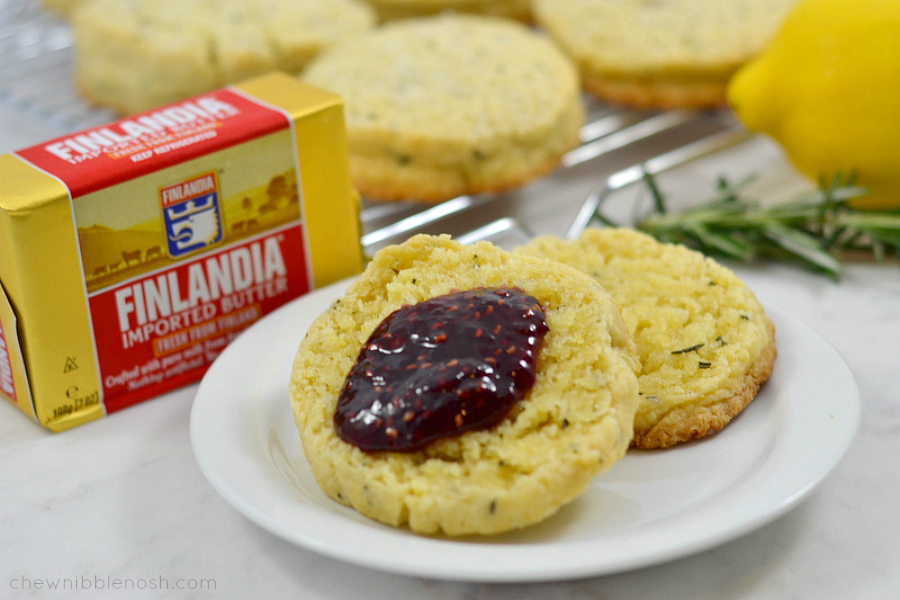 For a while now, I've been wanting to recreate a scone I found at my favorite local coffee spot.  I stumbled across it quite by chance one day when I stopped in to grab a quick cup to go and my stomach happened to grumble at just the right time during the ordering process.  I looked to my left and saw a plate of beautiful, fresh, speckled scones, asked the barista what kind they were, and she replied "Lemon-Rosemary".  And from there, a love affair was born.
The scones are buttery, but light, and the lemon and rosemary add a summery depth and burst of flavor.  Not too strong, but definitely there, and the perfect savory counterpart to the sweet sugar sprinkled on top.
There have been (many) days that I've stopped into the same shop, only to find that early bird customers had snatched up all of my favorite scones before I could get one, leaving behind nothing but crumbs on the display plate. After missing out one too many times, I knew what I had to do.  I needed to make them myself.
I found this recipe a little while ago while searching online, and had held onto it tightly for just the right moment.  The right moment arrived just the other day when a beautiful package of some of the creamiest butters and cheeses I've encountered arrived on my doorstep.  The good folks at Finlandia sent me some of their amazing products to help celebrate June, which happens to be National Dairy Month.  When I tried Finlandia for the first time, I was blown away.  Finlandia Butter is rich and creamy, and a cook's dream.  Their products are made from pure, hormone-free milk, which comes from happy cows from family-owned farms in Finland—the greenest country on Earth.  No hidden chemicals, no factory farms—just pure, creamy goodness.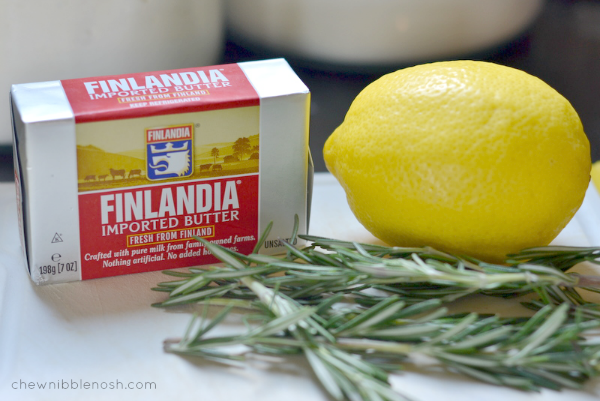 So, I grabbed a block of butter, some fresh rosemary and lemon, and got to work.
I started by zesting my lemon and chopping up two tablespoons of fresh, savory rosemary.  I added that to my food processor, along with some flour, sugar, baking powder and salt.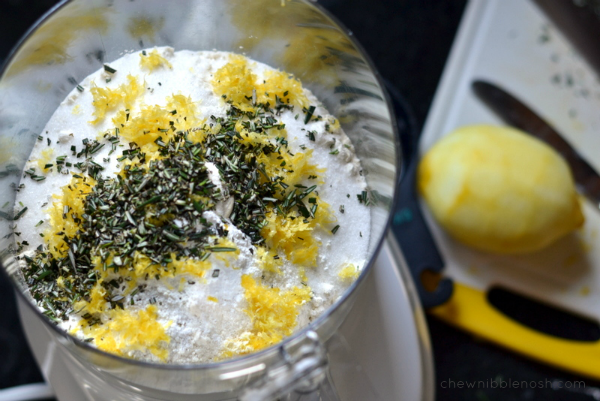 I gave it a good whirl, incorporating those fragrant yellow and green flecks into the flour evenly, and then added in my cold Finlandia Butter, that I'd cut into cubes.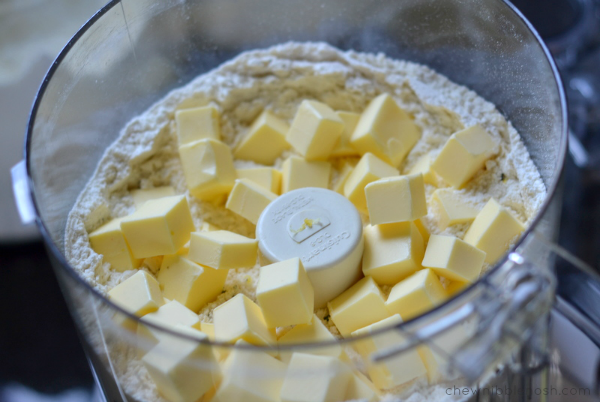 I pulsed the food processor until the butter was evenly worked through and left in pea sized bits, and then moved the dough to a mixing bowl.
Hearing the food processor, Avery decided to come join me, so I put her on cream pouring duty.  She measured and poured the cold cream into my dough so I could start mixing.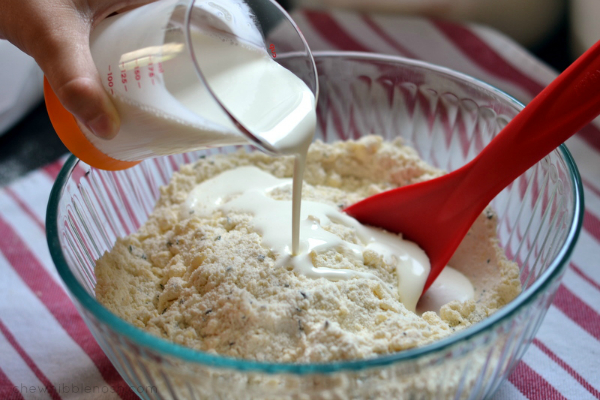 I gave the dough a good stir, and then turned it out onto a floured mat where I kneaded it for a minute until it all came together.  Then, I rolled the dough into a 14-inch log, wrapped it in plastic wrap, and popped it into the fridge until the next morning.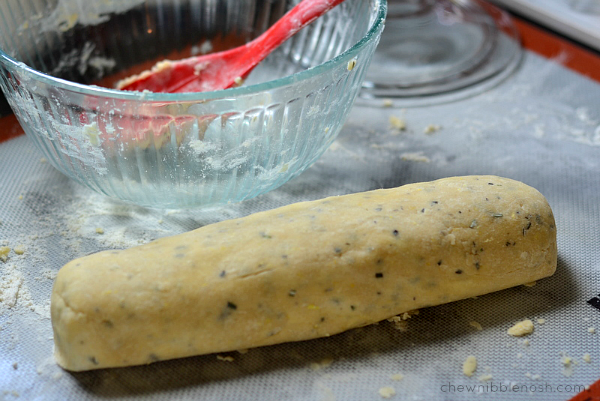 This is a great make ahead breakfast treat for company!  All I needed to do the next morning was grab a cup of coffee (Priorities, am I right?) and then slice up my dough into eight thick rounds.
I brushed them with a little more heavy cream, and sprinkled them with coarse sanding sugar.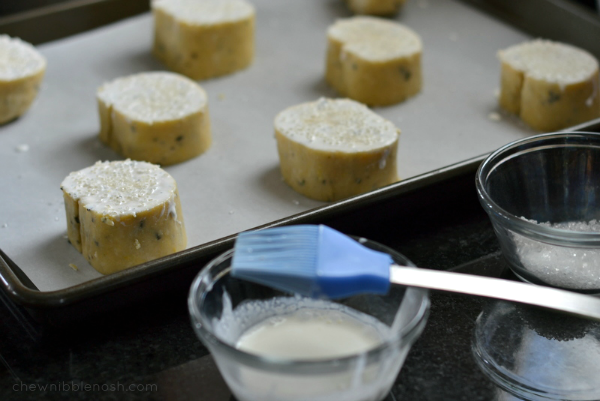 Regular sugar would work just fine.  I used the heavier sanding sugar for a little extra crunch.
The scones went into the oven and baked for just over twenty minutes, and came out a beautiful, buttery golden brown and the air smelled simply divine.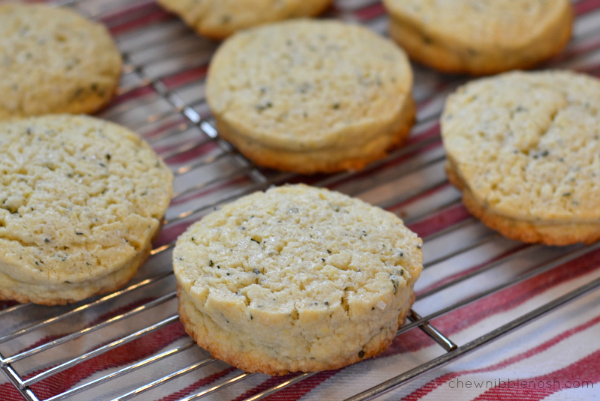 The scones are deliciously buttery enough to go it alone, but I split the warm scones and topped them with a little red raspberry jam.  The raspberry played beautifully with the lemon and savory rosemary, and based on how quickly my sleepy summer kids gobbled them up, I'm pretty sure they've found a new favorite scone too.
Huge thanks to Finlandia Butter, for being just the thing this recipe needed.  The result was as good, if not better, than the original that I was trying to replicate.  And even better than that?  There aren't any early morning commuters swiping my favorite scones out from under me in my own kitchen.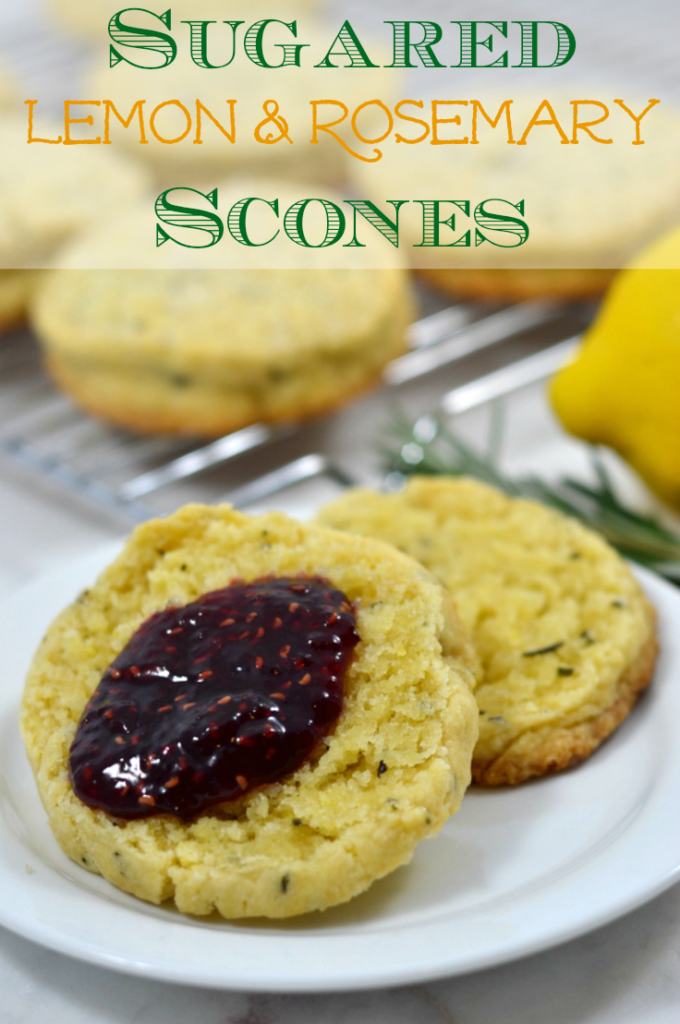 SUGARED LEMON-ROSEMARY SCONES
Adapted from Food & Wine
Sugared Lemon-Rosemary Scones
Author:
Prep time:
Cook time:
Total time:
The dough for these amazing little scones requires a little bit of time to chill in the refrigerator before baking. The dough can be made ahead, up to the point of baking, a day ahead of time.
Ingredients
2 1/4 cups all-purpose flour
1/3 cup sugar
2 tablespoons finely chopped fresh rosemary
1 tablespoon baking powder
3/4 teaspoon kosher salt
Finely grated zest of 1 lemon
12 tablespoons cold, unsalted Finlandia Butter, cubed
3/4 cup heavy cream, plus more for brushing on top
sanding sugar, or extra granulated sugar, for sprinkling on top before baking
Instructions
In the bowl of a food processor, combine the flour, 1/3 cup sugar, rosemary, lemon zest, baking powder and salt. Process until combined.
Add the cubed, cold butter to the food processor, and pulse until butter is mixed in and a few pea sized morsels are still there.
Transfer the flour-butter mixture to a large bowl, and stir in the heavy cream until a shaggy dough is formed.
Turn the dough out onto a floured surface, and knead just until the dough comes together. Roll into a 14-inch long log, wrap tightly in plastic wrap, and place in the refrigerator to chill for at least 1 hour, and up to 1 day.
Preheat the oven to 375*F and line a baking sheet with parchment paper.
Slice the roll of dough into 8 rounds and place on the baking sheet. Brush the tops with more cream, and sprinkle with a good dose of sanding sugar or granulated sugar.
Bake for 22-25 minutes, until the scones are puffed and golden brown.
Remove to a wire rack to cool. Serve slightly warm.
Store in an airtight container and rewarm in the microwave for 15 seconds, if needed.
ENJOY!