Directions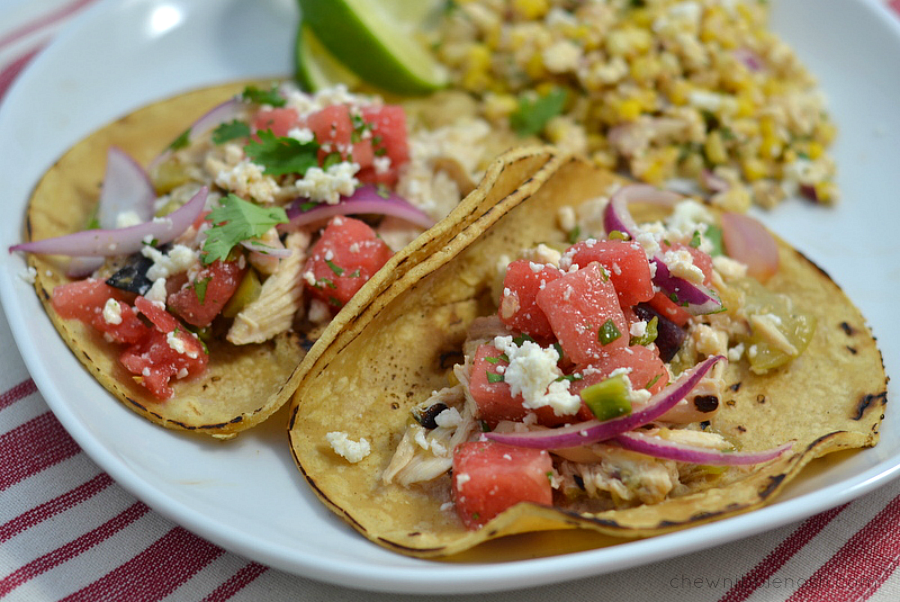 Ah, well.  Vacation is over.  I'm back from the beach.  This was the first time I've left on vacation since I started this blog and I didn't bring my computer along with me.  As any blogger knows, staying in touch is a key to successful blogging, but I needed to check out for a bit.  So, I did.  And now, I'm refreshed and revived, and back.  Thanks for sticking around!
I, quite literally, ate my way through vacation.  We started our trip with a few days in Charlotte visiting sweet friends who filled us up with loads of love and friendship, and a hefty side of all that Charlotte has to offer, including Southern BBQ, collard greens, and mac and cheese that would make the angels sing.  From there, we headed to Folly Beach, SC, home of Carlisle vacations for much longer than I've known the Carlisles.  Fresh seafood was on the menu each and every day and I ate more shrimp (and grits!) and crab than I could measure.  I left the beach both rested and incredibly full.  In fact, we got home after the long drive and my husband and I commented that eating dinner didn't even sound good.
So, back to the grind of cooking for myself finally fell back into play yesterday, and I couldn't resist trying these simple, summery chicken tacos.  The filling is fresh and light, and the cool sweet watermelon salsa and tangy Mexican Cotija cheese were the perfect thing to welcome us back home.
I started by quickly charring some tomatillos, a fresh jalapeno and some red onion on the stove top.
I stirred them around the pan for about seven minutes, until the skins of the pepper and tomatillos were blistered and popping, and the onions had softened a bit.  Once I was happy with how they looked, I removed them from the pan and let them sit for a few minutes to cool just a bit before I chopped them into chunks.
I seeded and minced the jalapeno, and reserved half of it for the salsa.
I heated some oil in a large skillet and added back in my now chopped tomatillos, pepper, and onion.
I let the mixture cook long enough to release all of the juices from the vegetables, and cook down a bit into what resembled more of a chunky sauce.  Once that happened, I added in three cups of shredded rotisserie chicken, the juice of a lime, and some salt, and stirred it in.
I let the filling come to a simmer, lowered the heat and kept it warm for a few minutes while I threw together my speedy cool salsa.
Into the bowl went some chopped watermelon, fresh cilantro, sliced red onion, the rest of that charred jalapeno, a dab of olive oil, and the juice of another lime.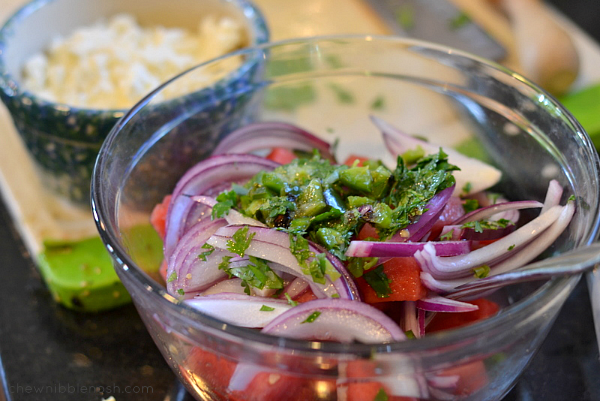 I stirred that together and then folded in about a half of a cup of the crumbled Cotija cheese.  Cotija is soft and mild, crumbly like feta, but without the same bite.  Feta could easily be used in this dish, though, if you can't find Cotija.  I'm seeing it more and more in grocery stores, though, so take a look in your grocer's specialty cheese case before giving up!
My husband warmed some corn tortillas while I got everything together, and then we sat down to a beachy, delicious summer meal right in our own Midwestern-non-beachy kitchen.  The filling was tangy and bright, and the cool, crisp watermelon salsa was just the perfect thing. It was light and refreshing and wonderful way to step back into the kitchen. I served it alongside a Mexican Street Corn Salad that was to die for as well…but you'll have to wait until later this week for that recipe. 😉
EASY CHICKEN TACOS WITH FRESH WATERMELON SALSA
Adapted from Food Network Magazine
Easy Chicken Tacos with Fresh Watermelon Salsa
Author:
Prep time:
Cook time:
Total time:
Ingredients
4 large tomatillos, husks removed and rinsed
1 large jalapeno pepper
1 small red onion (1/2 cut into large chunks and the other 1/2 thinly sliced)
2 Tbsp. olive oil
3 cups shredded rotisserie chicken, skin removed
2 limes, plus more for serving if desired
kosher salt
2 cups cubed watermelon
1/2 cup fresh chopped cilantro
3/4 cup crumbled Cotija cheese (Feta could be used in place of the Cotija, in a pinch)
12 corn tortillas
Instructions
Heat a large skillet over high heat. Add the whole tomatillos, jalapeno and the red onion chunks. Cook, stirring and turning, for 7-8 minutes until the skins of the veggies are blistered and starting to char. (The onions may need to be removed before the rest.) Remove the blistered veggies to a cutting board and allow to rest for a few minutes.
Chop the tomatillos and onions. Seed and mince the pepper, setting aside half of it for the salsa.
Heat 1 Tbsp. of the olive oil in a large skillet over medium-high heat. Add the tomatillos, onion, and half of the pepper to the pan. Cook until the juices are released and starting to simmer.
Add the chicken, the juice of 1 lime, and 1/2 teaspoon kosher salt. Stir, and simmer until warmed through. Reduce heat and keep warm.
In a medium sized bowl, toss together the watermelon, sliced onion, reserved half of the jalapeno pepper, the juice from 1 lime, and remaining tablespoon of olive oil. Fold in 1/2 cup of the Cotija cheese. Season with salt and pepper to taste.
Warm the corn tortillas in a dry skillet.
Serve the tortillas filled with the chicken mixture, and top with the cool, watermelon salsa and more cheese, if desired. Serve with lime wedges and more fresh cilantro.
ENJOY!