Directions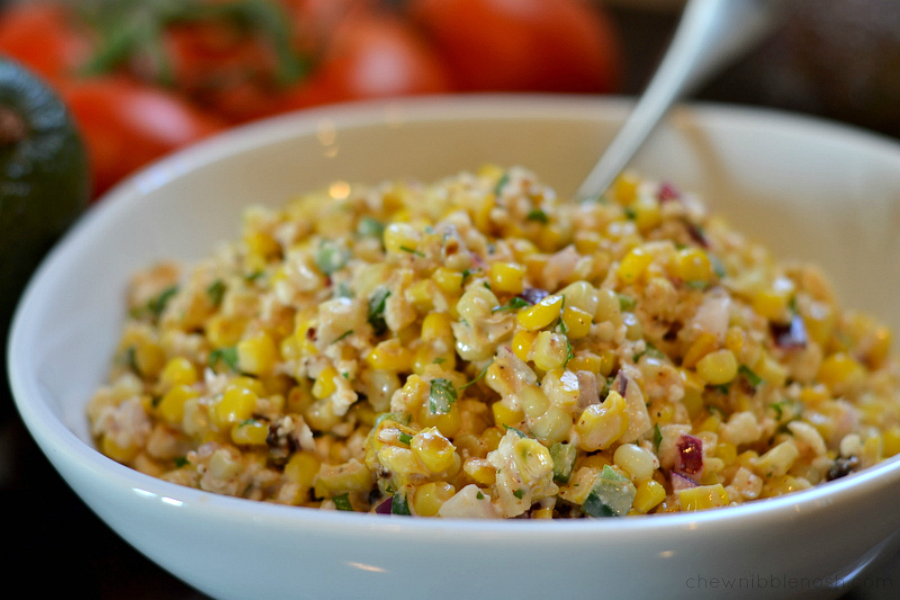 Every time we head to the beach with our family, one of our favorite traditions is stopping in at a local spot on the beach strip called Taco Boy.  Taco Boy is an eclectic, colorful, Mexican taqueria and cantina.  Their tacos and nachos pair wonderfully with their Frozen Screwdrivers and Margaritas, but honestly, the thing that gets us every single time we visit is their Mexican Street Corn.
Have you ever had Mexican Street Corn? If not, you're really missing out on something special.  Fresh sweet corn is grilled until the kernels are toasty and charred, and then it's slathered in a layer of a chili powder spiked mayo and rolled in crumbly Cotija cheese.  And it oftentimes comes on a stick, because…well…it's street food.  It's sloppy and delicious, and has become one of our favorite summer treats when the corn is in season.
However, this year's trip to the beach brought my oldest child and her braces.  So, when we stopped at Taco Boy for dinner, she was immediately disappointed because she didn't think she could handle the corn on the cob with her mouth full of metal.  I promised her that I'd make her a Mexican Street Corn Salad, a recipe I'd been meaning to try for a while, once we got home to make up for it.
The allure of the street corn overcame her, though, and she ended up ordering a cob for herself.  I looked over at the kids table during dinner and found this…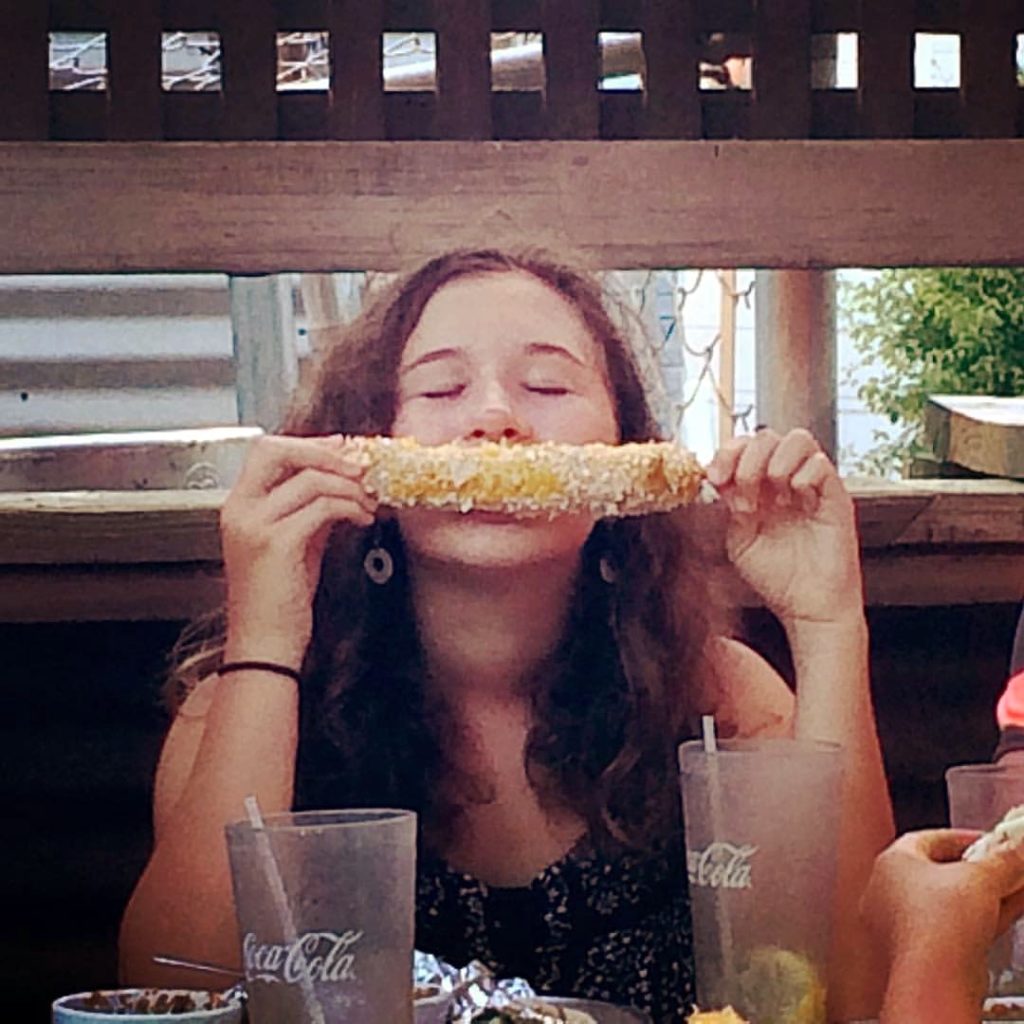 Braces, schmaces.  That's Mexican Street Corn bliss right there. (Although, she did have a broken bracket at her orthodontist appointment on Monday.  Coincidence?)
When we got back home, I threw together these Easy Chicken Tacos with Fresh Watermelon Salsa for dinner, and figured that Mexican Street Corn Salad I'd promised would be the perfect thing to serve alongside.
For the record, I was right. And it couldn't have been much easier.
First, I cut the kernels off of five ears of sweet corn and sautéed them in just a bit of olive oil on the stove top until the edges started to caramelize and brown up a bit.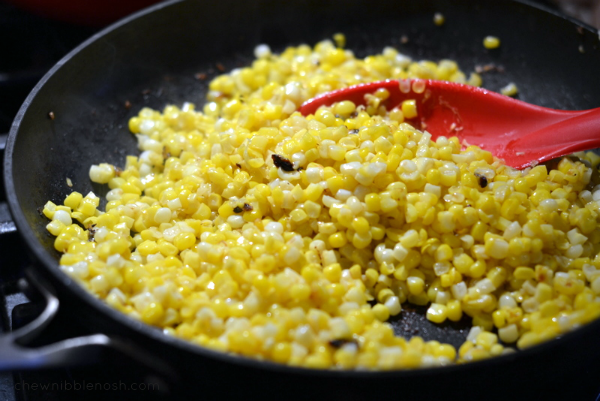 The corn took about ten minutes to brown up, and once it was done, I set it aside for a few minutes to cool off just a bit.
While it was cooling, I mixed together my "dressing", or basically, the rest of the salad.  Into a bowl went some mayonnaise, minced red onion, fresh cilantro, chili powder, fresh minced garlic, minced jalapeno pepper, some fresh lime juice, and a hefty dose of crumbled Cotija cheese.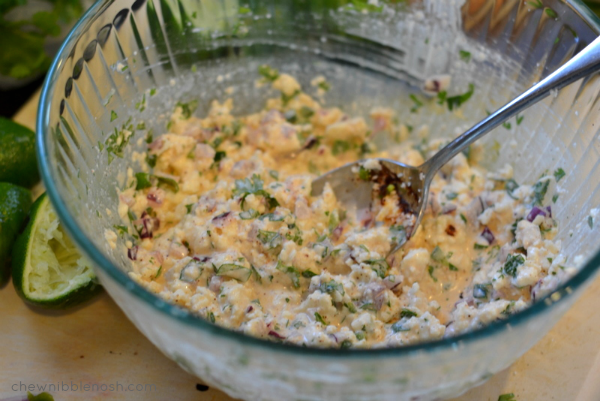 I stirred the cooled corn in, and we were ready to eat. It was DELICIOUS, as I fully expected it to be.  How could it be bad?  It had all of the amazing flavor of our favorite food-on-a-stick, that creamy-cheesy-spicy-toasty-corn flavor, but was much easier to throw together and a lot less messy.  My family of four ate every last bit of the salad that night, so if you're planning on feeding more people than that, I'd consider doubling it.
You'll be glad you did.
MEXICAN STREET CORN SALAD
Mexican Street Corn Salad
Author:
Prep time:
Cook time:
Total time:
Ingredients
5 large ears of fresh sweet corn (resulting in about 4 cups corn kernels)
2 Tbsp. olive oil
3 Tbsp. mayonnaise
4 oz. Cotija cheese, crumbled
2-3 Tbsp. fresh lime juice
1 Tbsp. fresh minced jalapeno pepper
1/3 cup fresh chopped cilantro
2 Tbsp. minced red onion
2 cloves garlic, minced
1/2 tsp. chili powder
salt and pepper
Instructions
Cut the kernels from the corn.
Heat the olive oil over medium heat in a skillet. Add the corn, and cook until the corn begins to brown and caramelize around the edges. This should take about 8-10 minutes. Remove from the heat, and set aside.
Mix together the rest of the ingredients in a large bowl.
Stir in the cooked corn, season with salt and pepper to taste, and serve.
ENJOY!
Adapted from Six Sisters Stuff