Directions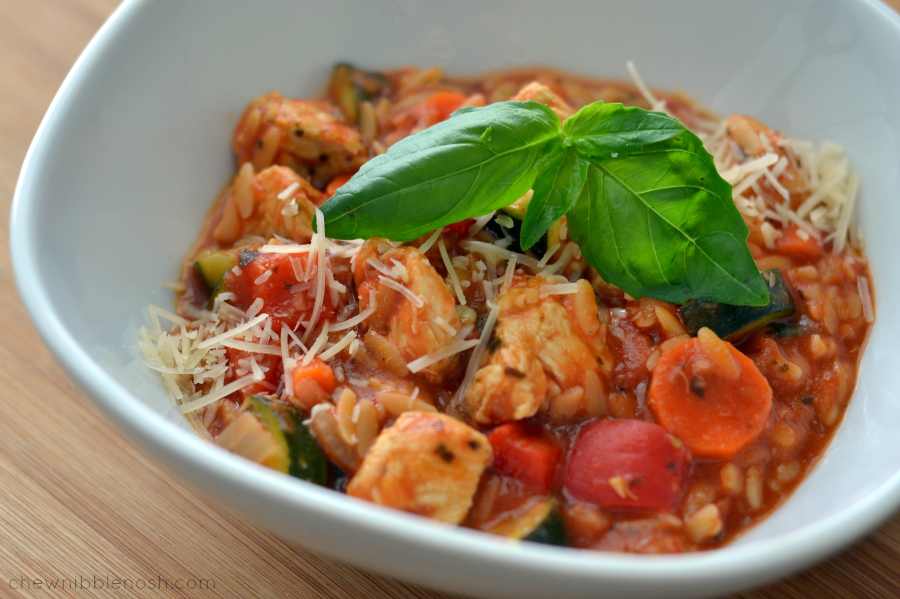 I know what you're thinking.  Stew in July?  Stew is a misleading name for this.  It's light and summery, and chock full of crisp summer veggies, but consistency wise…yes, it's right up there with a stew.  It's a really tasty way to bring dinner to the table any night of the week, and it all comes together in one pan, so clean up is a breeze.  Pair it with a loaf of good, crusty bread and you have an easy, delicious meal in no time.
Ready to give it a try yet?
To begin, I chopped up my carrots, zucchini, a crisp red pepper and some onion.  I also cubed up a pound of boneless, skinless chicken breasts and tossed them with a bit of pesto.
The pesto acts as a quick marinade for the chicken, bringing in all kinds of zesty Italian flavor like fresh basil, garlic, and parmesan cheese, quickly and easily.
I got some olive oil nice and hot in my skillet and added in my onions, carrots, zucchini and pesto chicken.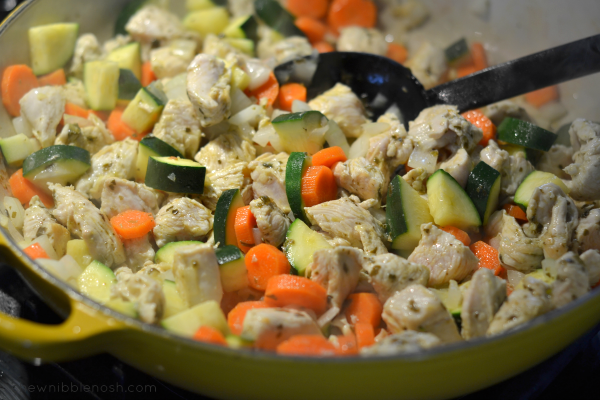 I cooked the chicken and veggies for a few minutes, until the chicken was opaque, but not necessarily cooked through yet, and then I stirred in my chopped red pepper, minced garlic, and a cup of uncooked orzo.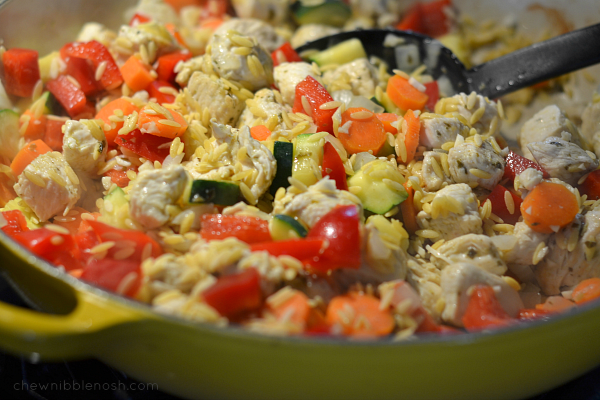 I stirred that up and let it cook for about two more minutes, until the garlic was nice and fragrant, and then I poured in a can of crushed tomatoes, a dollop more of the pesto, two cups of chicken stock, some chicken bouillon, and a hefty sprinkle of oregano, salt, pepper, and red pepper flakes.  I brought the stew to a simmer, gave it a good stir, and reduced the heat down.  I covered the pan and let it simmer for about eight more minutes, until the veggies and chicken were cooked, and the orzo was tender.
Once everything was cooked through, I finished the stew with a hefty dose of Parmesan cheese.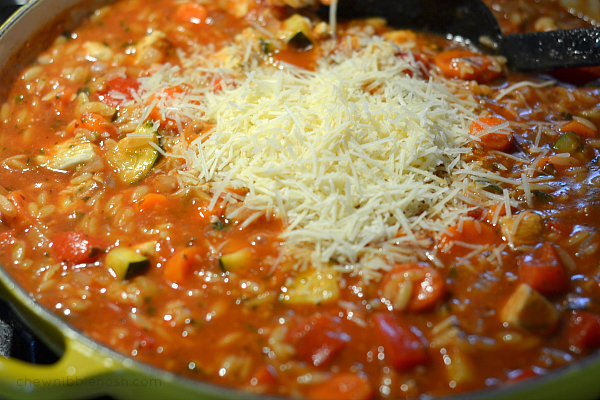 I stirred the cheese in, seasoned the dish with a bit more salt and pepper, and we were ready to dig in!
Stew in July doesn't seem so weird now, does it?  This dinner was a hit with the entire family, and came together so simply that I'll have to remember it come crazy school weeknight time…which, crazy enough, kicks back into gear in just a couple short weeks. Time flies when you're having fun!
ONE POT CHICKEN & ORZO STEW 
One Pot Italian Chicken & Orzo Stew
Author:
Prep time:
Cook time:
Total time:
Ingredients
1 lb. boneless, skinless chicken breasts, cut into 1-inch cubes
1 Tbsp. olive oil
3 Tbsp. refrigerated pesto, divided
3/4 cup chopped onion
1 cup sliced carrots
1 small zucchini, quartered and sliced
1 red bell pepper, chopped
2 cloves garlic, minced
1 cup uncooked orzo
1 (14.5 oz.) can crushed tomatoes
2 cups chicken stock
1 tsp. chicken bouillon
1/2 tsp. oregano
1/4 tsp. salt
1/4 tsp. pepper
1/4 tsp. crushed red pepper flakes
1/2 cup grated Parmesan cheese, plus more for serving
Instructions
Combine 1 Tbsp. of the pesto and the chicken pieces in a bowl. Let sit for a few minutes while you prep the rest of the veggies.
Heat the olive oil in a large, heavy, preferably nonstick skillet over medium-high heat.
Add the onions, carrots, and zucchini to the skillet. Add the chicken. Cook, stirring, for 3-4 minutes.
Add the red pepper, garlic, and dry orzo. Cook, stirring, another 2 minutes.
Stir in the can of crushed tomatoes, chicken stock, remaining pesto, chicken bouillon and seasonings. Bring to a simmer, stir, reduce the heat and cover.
Simmer for 8-10 minutes, until orzo and chicken are cooked and the veggies are tender. Stir every few minutes, replacing the cover after stirring, so the orzo doesn't stick to the bottom of the pan.
Stir in the Parmesan cheese, season with additional salt and pepper if needed.
Serve, with more Parmesan on the side, if desired.
Adapted from Carlsbadcravings.com