Directions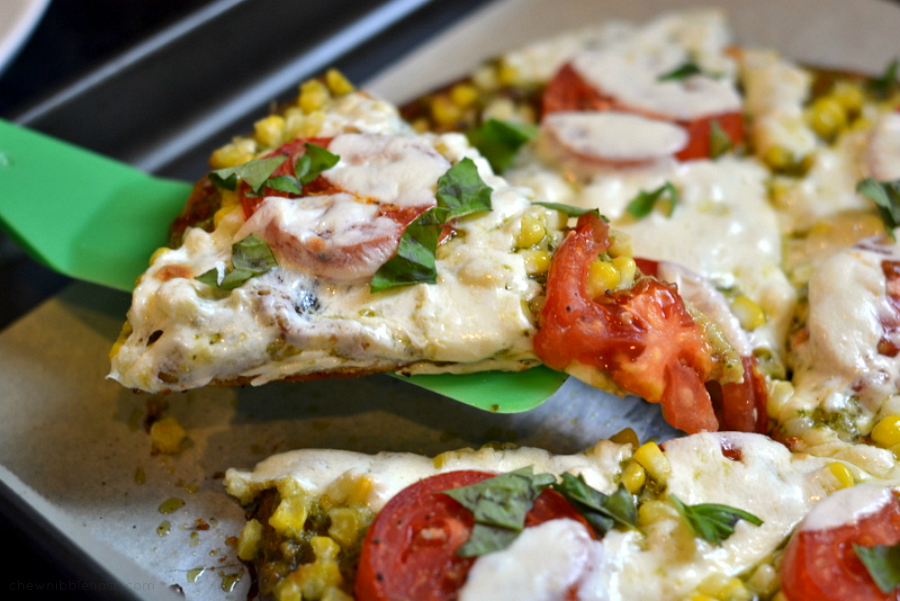 You guys.  This pizza…
Wow.
This Sweet Corn, Tomato & Pesto pizza is everything wonderful about summer…on a crust.
It's crisp, fresh sweet corn and bright summer tomatoes, viibrant fresh basil, and zesty garden fresh pesto.  It's packed with flavor, ridiculously easy to throw together, and on the dinner table (…lunch table, snack table, coffee table. The pizza's not picky.) in virtually no time at all. It's just perfect.
I could eat it every day and probably be pretty happy.
Have I pumped it up enough?
Ready to give it a try?
Start by slicing the a few ripe Roma tomatoes into thin slices.  Then, spread the slices out onto a plate that's lined with paper towels.  Give them a sprinkle of kosher salt and fresh ground pepper, and allow them to hang out there for about twenty minutes.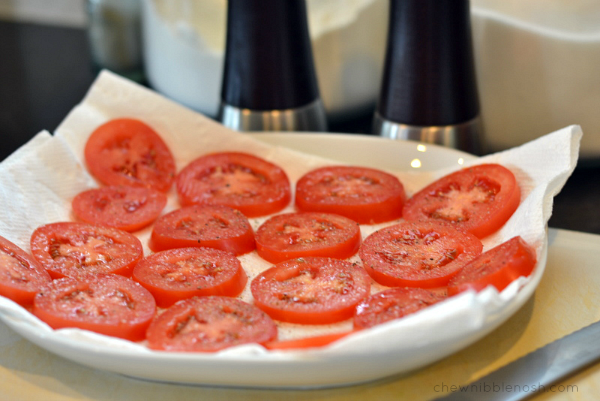 The salt sprinkle and wait time helps draw out some of the moisture from the tomatoes, so you don't have a soggy pizza topper. That wait time is also the perfect amount of time to prep everything else and to preheat your oven.
Slice the kernels from a large ear of fresh summer sweet corn, measure out some pesto (homemade is great, refrigerated from the grocery store works perfectly too.) and slice up eight ounces of fresh mozzarella cheese.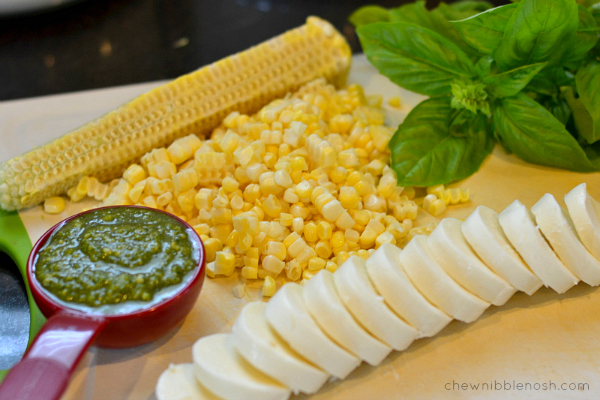 Mix every last one of those sweet corn kernels in a bowl with some fresh grated Parmesan cheese and just a dash of sugar, to help sweeten up things and caramelize the corn when it bakes.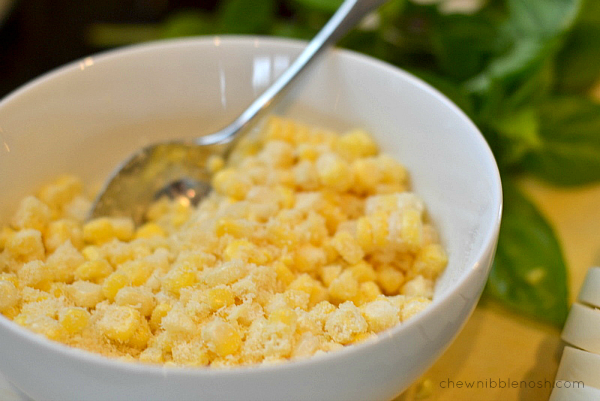 When your oven is ready, place a 14-inch prebaked Italian pizza crust (I used Boboli.) on a cookie sheet that's been lined in parchment.
Spread the pesto over the pizza, taking it almost right to the edge.  Top the pesto with the corn and cheese mixture, then top the corn with the sliced tomatoes, and finally, the slices of creamy, fresh mozzarella.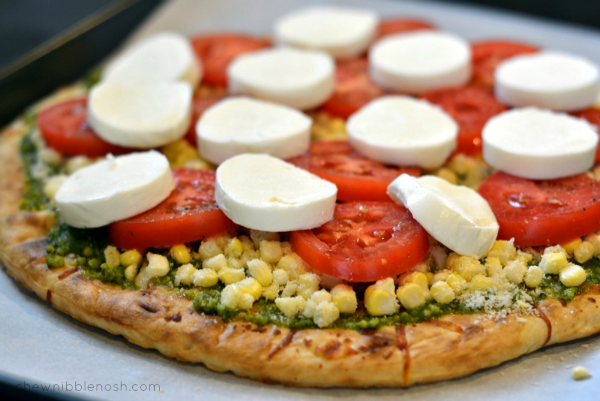 I could eat it just like that and be happy, but give it fifteen minutes in the oven and…well…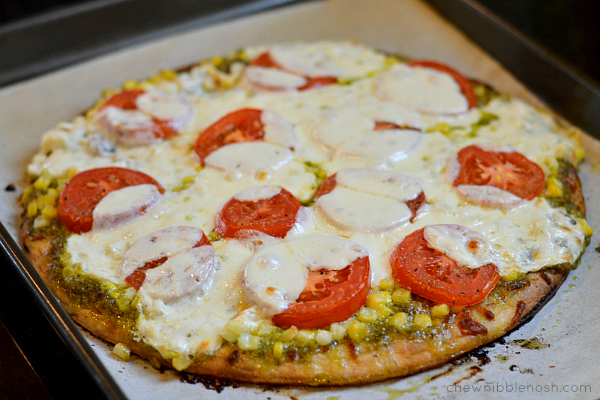 Seriously, guys.  This is one amazing little summer pizza.  There is so much brilliant flavor packed onto that crust, and the way the corn and pesto kind of caramelizes around the edges?  Puh-leeze. It's just the best!
I tore a few fresh basil leaves and sprinkled them over the top, and we dug in and ate every last piece.  One of my girls, who eats like a bird nine times out of ten, out-ate all of us.  No leftovers. Just a happy family who talked, off and on all night about how good "that pizza" was.

SWEET CORN, TOMATO & PESTO PIZZA
Sweet Corn, Tomato & Pesto Pizza
Author:
Prep time:
Cook time:
Total time:
Ingredients
3 small, ripe Roma tomatoes, sliced
kosher salt
fresh ground pepper
3/4 cup fresh sweet corn kernels from 1-2 ears corn (or frozen corn, thawed)
1/3 cup pesto
1/4 cup fresh grated Parmesan cheese
1 tsp. sugar
8 oz. fresh mozzarella cheese, sliced thin
1 12-14 inch prebaked pizza crust (I used a Boboli Original Pizza Crust.)
10 leaves fresh basil
Instructions
Place sliced tomatoes on a paper towel lined plate. Sprinkle evenly with salt and pepper, and allow to rest for 20 minutes while you preheat your oven and prep the rest of the items.
Preheat the oven to 450*F.
Line a cookie sheet with parchment paper and set aside.
Combine the corn kernels with the Parmesan cheese and sugar.
Place the pizza crust on the prepared cookie sheet.
Spread the pesto over the crust.
Top the pesto with the corn mixture, then top with tomatoes and finish with the fresh mozzarella cheese.
Bake at 450* for 15 minutes, or until crust is crisped and cheese is melted, bubbly, and staring to brown.
Remove from the oven and sprinkle with fresh basil.
Slice and ENJOY!
Recipe adapted from Southern Living