Directions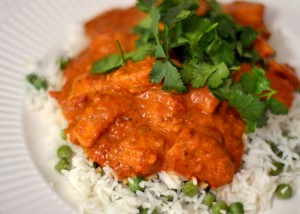 When I go out for Indian food, nine times out of ten, I'll order Chicken Tikka Masala.  In the grand scheme of Indian cuisine, it seems to be a pretty popular item.  Traditionally, the chicken is marinated in yogurt and spices and then baked in a tandoor oven.  The cooked chicken is then simmered in a rich, spicy sauce, often with tomatoes and coriander.  I've had Chicken Tikka Masala in a fair number of restaurants and every time, it's a little bit different.  Some sauces are creamier, some spicier, some chunkier.  It seems as if everyone has their own version.  I've tried to make it at home, at least three other times, and none of them have come remotely close to anything I've  found in the restaurants.  They haven't even made the "Well, that was good.  I'll make it again." list. I figured that there must have been some exotic spice or ingredient that I just hadn't run across yet.
Then, I found this recipe on Pinterest.
Was it worth my effort to try one more time?  Could I possibly make authentic, delicious Indian food in my Crock Pot of all things?  The answer was a resounding YES!  Not only is this just plain delicious, I'm pretty confident when I say it is THE BEST THING I have EVER made in my Crock Pot.  Ever. Ever ever. The flavor blew me away…and I didn't need to buy anything that wasn't already in my spice cabinet.  I just made it a few days ago and I think I might have to make it again this week.  It's THAT good.
The only thing I'll say is, if you're not into spicy food, this may not be the dish for you.  It's not nearly as spicy as some Indian dishes I've had, but it does pack some heat.  Not painful-runny-nose-teary-eyed-lips-burning heat, but some heat.
You'll start by quickly marinating some chicken with a mixture of coriander, cumin, salt and yogurt.  The original recipe called for boneless-skinless chicken thighs.  Personally, I don't like chicken thighs, so I used some chicken breasts instead.
The chicken needs to marinate in the yogurt mixture for about ten minutes.  This gives you enough time to prep your veggies.  Chop up an onion and some garlic, prick the sides of a jalapeno pepper with a fork (much easier than chopping it up and the result is fantastic!) and have four cups of canned crushed tomatoes at the ready.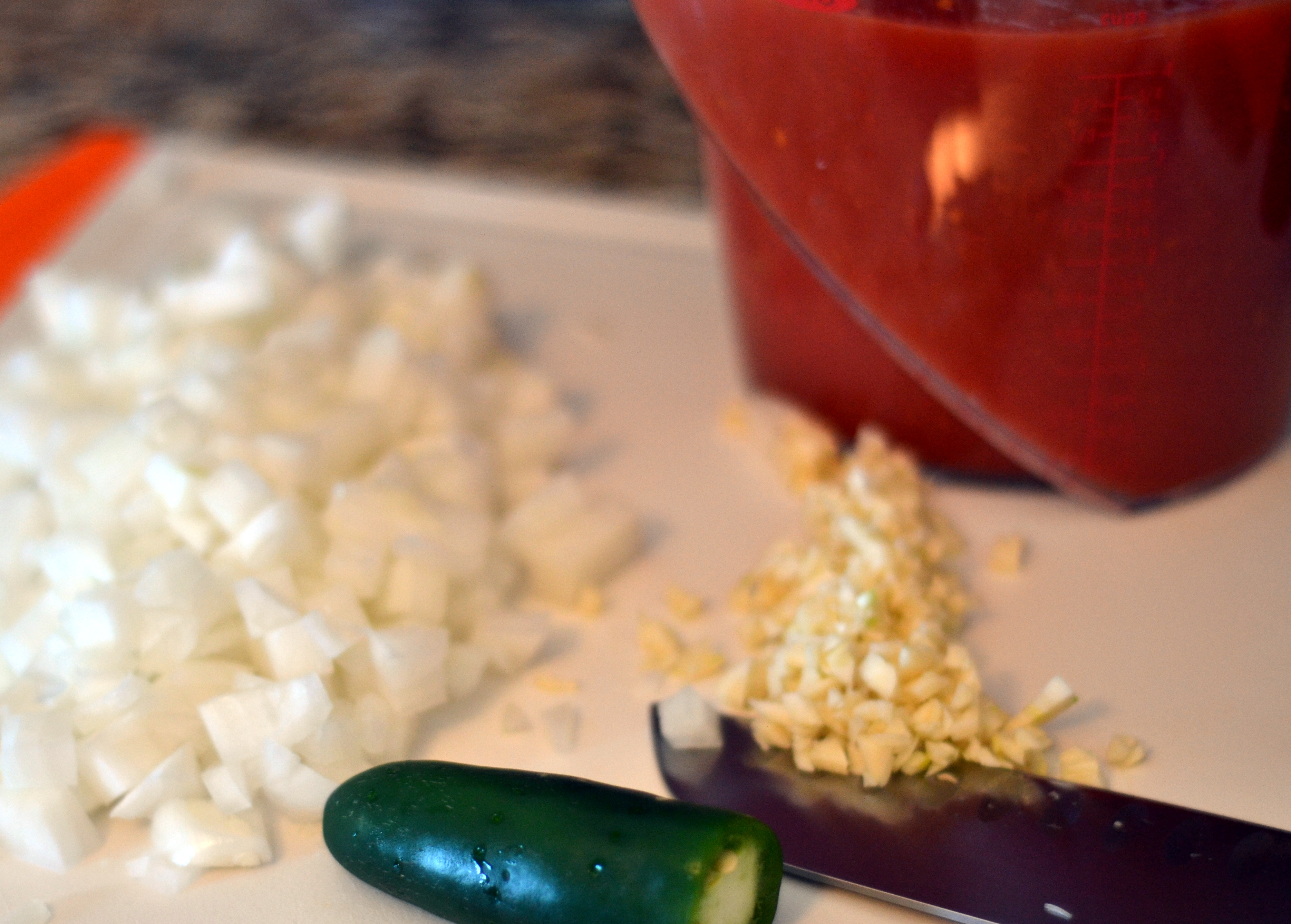 You'll also need some fresh ginger.  You could grate a 2-3 inch knob of ginger, if you want.  I cook with ginger quite often, so I usually have a tube of Gourmet Garden ginger paste in my fridge at all times.  You can buy it in the fresh produce section of your grocery store and it will last for a couple of months.  I used about a tablespoon of the paste.
Once the chicken has marinated, you'll need to quickly brown it in batches in a large frying pan.  I guess one of the other things I should have mentioned is, this isn't exactly a low-calorie dish.  There's some butter involved…and some cream.  The one thing working in our favor is, the recipe makes A LOT of sauce.   Odds are, you're not going to eat it all, right?  The butter and cream don't make up the majority of it and everyone deserves a splurge once in a while.
You'll brown the chicken up, with some butter, in the frying pan and then move the chicken to the slow cooker.  The jalapeno pepper goes on top.
Now, there will be all kinds of spicy-yogurty goodness stuck to the bottom of that pan.  Don't wash it out!  You want all of that flavor in your sauce!  Add some more butter to the pan (Don't hate me.  We're not at Paula Deen butter levels yet.) and saute the onions and garlic until they start to brown and absorb all of that good stuff.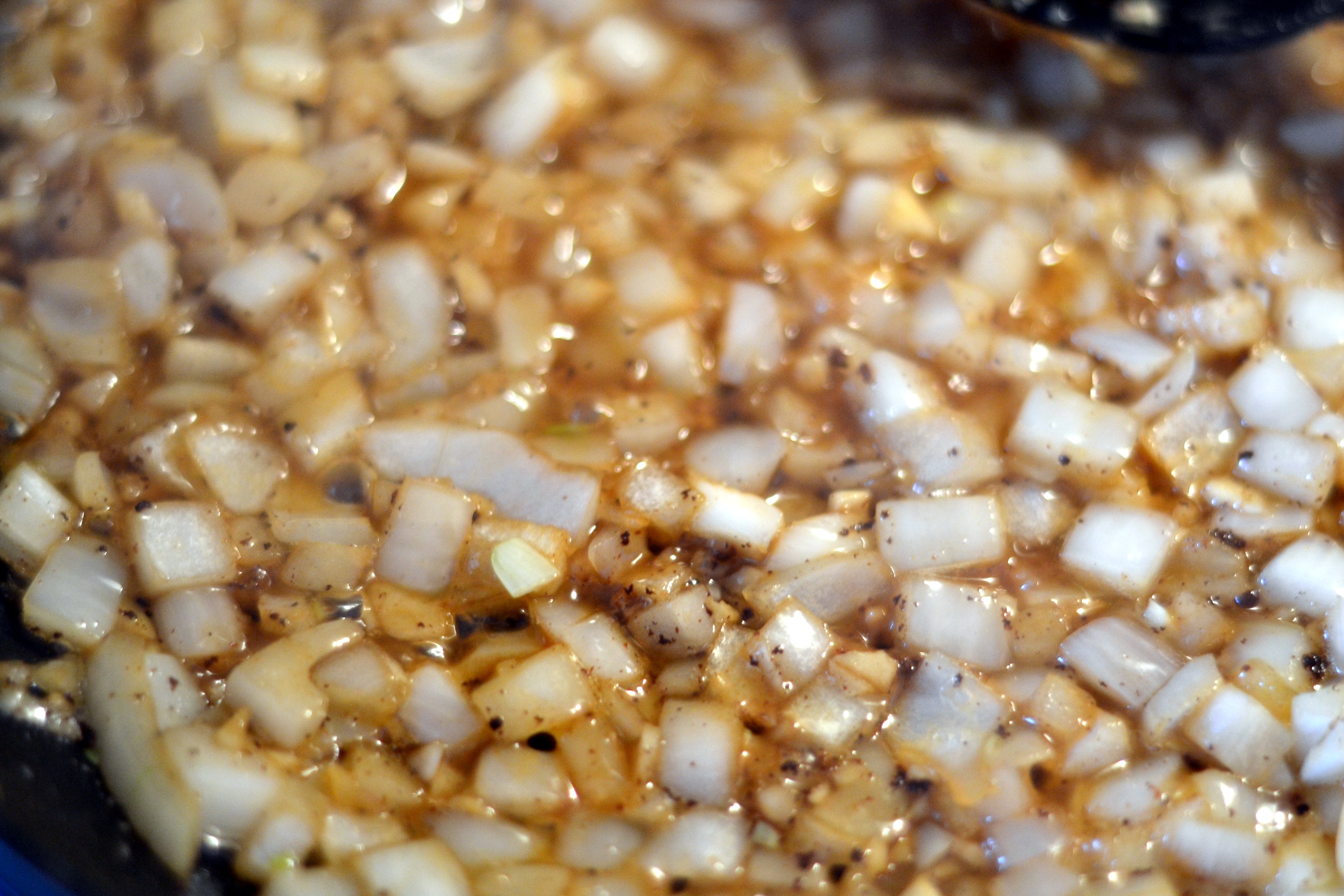 Once browned, you'll add a few heaping tablespoons of Garam Masala.  This is where the magic happens.  Garam Masala is an exotic spice blend used in Indian and South Asian cuisines.  It shouldn't be too hard to find.  My regular grocery store carries it and I already had it on hand due to my previous failed attempts with this dish!  The bottle of Garam Masala that I have is a combination of cumin, green cardamom, cinnamon, black pepper, cloves and mace.  It's warm, spicy and fragrant and will make your kitchen a very happy place.
After the Garam Masala and ginger are mixed in and fragrant, add the tomatoes and just a bit of sugar, to take the edge off.  You'll have a deliciously rich sauce to pour over that chicken.
The chicken and sauce will simmer away in the slow cooker for five hours.  Once the timer rings, remove the pepper from the sauce and discard it.  Then, stir in some cream, mixed with a little cornstarch, to finish off the sauce.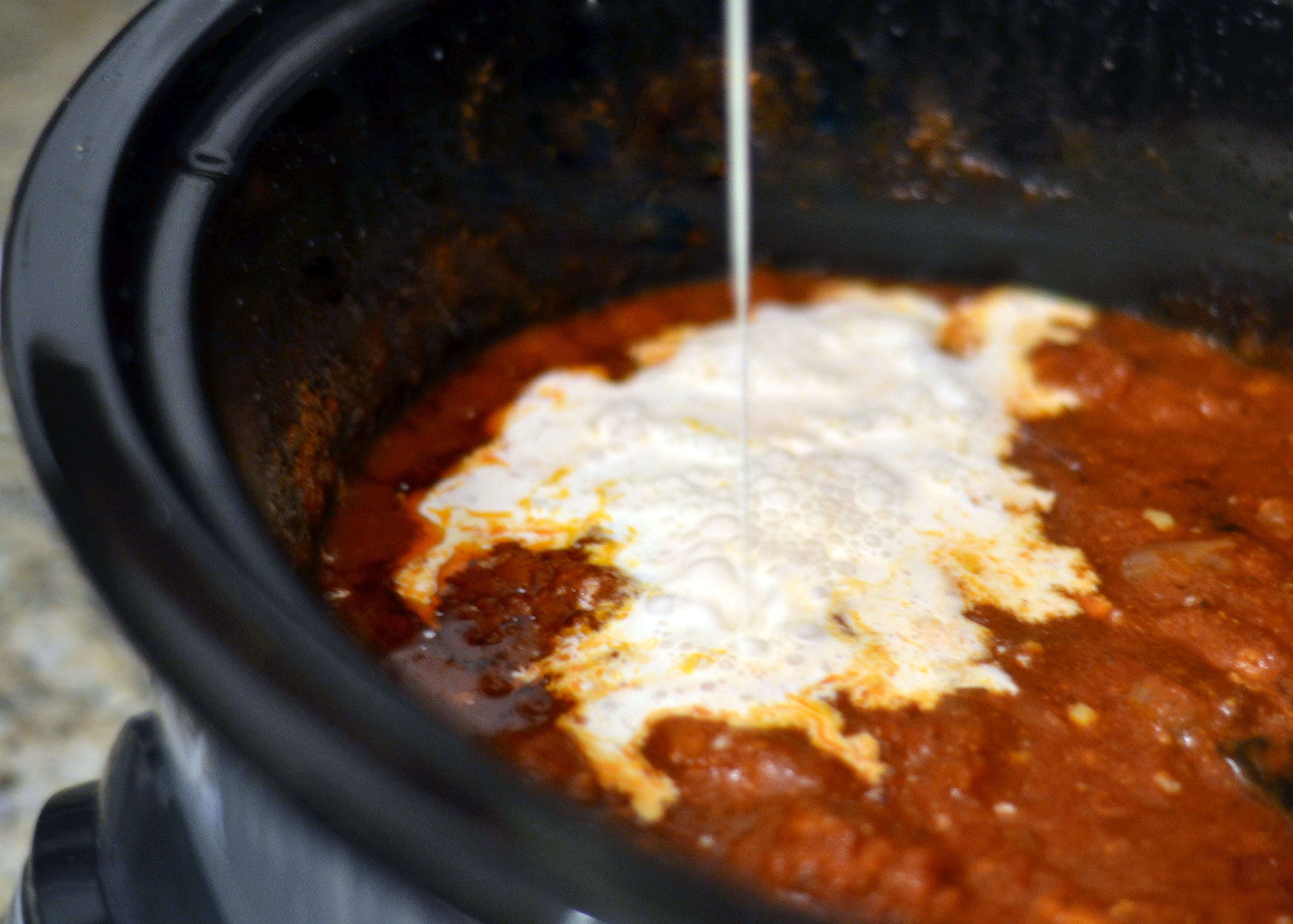 Let it simmer for just a few minutes more and then it's ready to go.  The sauce is beautiful, out of this world good.  The chicken was cooked to perfection, not dry at all.  My one regret?  I forgot to buy some Naan to serve with it!
I did, however, serve this over basmati rice with peas and I topped it with chopped, fresh cilantro.  I just cooked up the peas and stirred them into the cooked rice before serving.
  I never, in a million years, would have imagined that the best Chicken Tikka Masala I've ever had would have come from my Crock Pot. Who would have guessed she had such an international flair about her?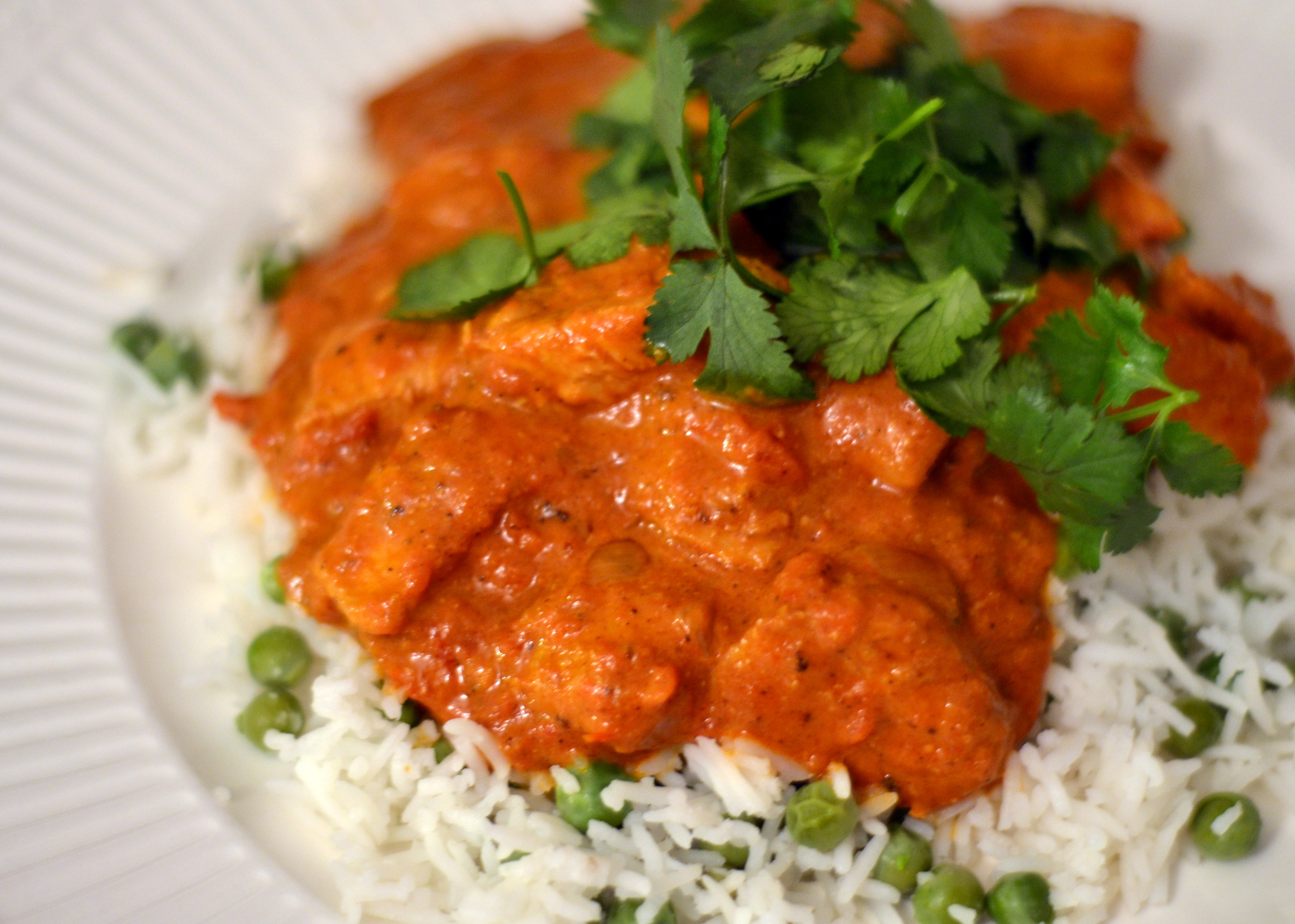 SLOW COOKER CHICKEN TIKKA MASALA
Adapted from Foodie with Family
Slow Cooker Chicken Tikka Masala
Author:
Prep time:
Cook time:
Total time:
Ingredients
2-3 lbs. boneless, skinless chicken breasts, cut into 1 1/2 inch pieces
1 Tbsp. ground coriander
1 Tbsp. ground cumin
1 tsp. kosher salt
1 cup plain yogurt
4 Tbsp. butter
1 whole jalapeno pepper, stem removed, pepper pricked with a fork or sharp knife a few times
Sauce:
4 Tbsp. butter
1 large onion, diced
6 cloves garlic, minced
1 Tbsp. kosher salt
3 Tbsp. Garam Masala
1 piece fresh ginger, 2-3 inches long, grated OR 1-2 Tbsp. tube ginger paste
4 cups crushed tomatoes
1 Tbsp. raw sugar (granulated sugar can be substituted)
1 tsp. cornstarch
1 cup heavy cream
basmati rice, peas and cilantro, optional
Instructions
Sprinkle chicken pieces with coriander, cumin and salt. Stir in the yogurt. Cover the chicken and let it marinate in the yogurt mixture for ten minutes while you prep the other ingredients.
Melt 1 Tbsp. of butter in a large saute pan over medium heat. Raise the heat to medium-high and add about 1/4 of the chicken. Quickly brown it and transfer the chicken to the slow cooker as each batch is finished, using 1 Tbsp. of butter per batch, and repeat until all chicken is in the slow cooker.
Place the pierced jalepeno on top of the chicken.
Prepare the sauce. In the same pan, melt 4 Tbsp. of butter over medium-high heat. Add the onions, garlic and kosher salt. Cook, stirring frequently, until the onions begin to lightly brown around the edges.
Stir in the Garam Masala and ginger and cook until fragrant, about 1 minute. Raise the heat to high and add the crushed tomatoes and sugar. Stir well, scraping the caramelized bits from the bottom of the pan, and bring to a boil. Pour over the chicken in the slow cooker.
Cover and cook on LOW for 5 hours, or until the chicken is very tender.
Use a fork or whisk to stir the cornstarch into the cream until smooth. Pour the cream into the slow cooker and stir gently, until the color is even. Replace the lid and let cook for 10 minutes, or until bubbly around the edges.
Serve over hot rice and peas and top with chopped with cilantro.
ENJOY!