Directions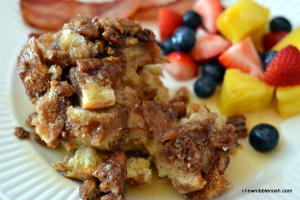 I made this dish purely out of skepticism.
I recently received the America's Test Kitchen: Slow Cooker Revolution cookbook as a gift on Mother's Day from my girls, because I guess they've heard that I like to cook!
If you're an avid reader of this blog, you know that I love America's Test Kitchen.  They are some crazy smart food people over there.  I've never made anything of theirs that hasn't been good, so when I saw this recipe for a french toast casserole in a Crock Pot, I was really skeptical.  I mean, I love my Crock Pot, I really do, but some things just don't work in it…and a lot of recipes I've tried in it just come out tasting like flavorless mush.  When thinking of French toast in a slow cooker, I had visions of rubbery eggs and mushy bread.  It wasn't a pretty vision.
The ATK people assured me that this would work, though, so I figured I'd put my skepticism aside and I gave it a shot because I really do trust these people.
I started with an ounce of prevention.  I lined my slow cooker with foil, in hopes that it would help keep the insert a little bit cleaner.  (Turns out, I didn't put it on tight enough and the egg still leaked through where two pieces of foil met up, but it was better than nothing.  Next time, I'll be smarter about it.)
ATK says that the key to this recipe working is dried out bread, so I cut up a large loaf of French bread (Nothing fancy, just the soft supermarket kind.) and placed the pieces on a large cookie sheet.  They went into the oven, at a low temperature, for forty minutes.  When they came out, they were crisp and dry, but not really toasted.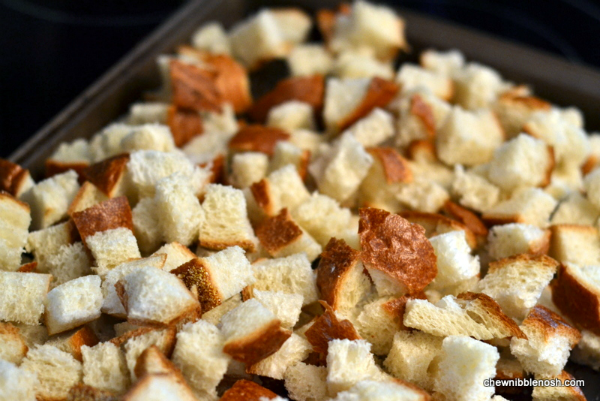 Once the bread was ready, I poured the pieces into my lined slow cooker.  Then, I mixed together some milk, eggs, heavy cream, sugar, vanilla and cinnamon to pour over the top.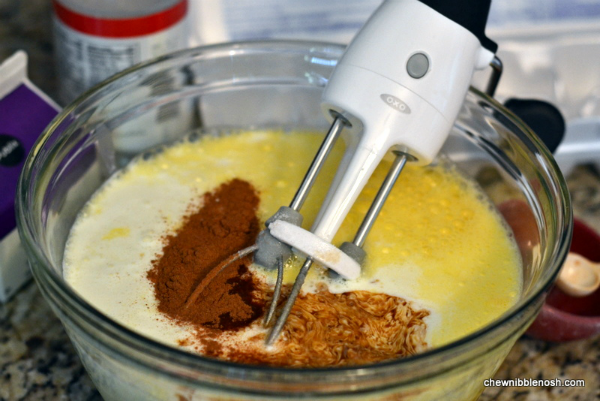 I poured the mixture over the bread and pushed the bread in to submerge it just a bit.  Then, I mixed together some brown sugar and butter and stirred in some candied pecans. I was able to find praline pecans at the grocery store, and ATK claims that the candied nuts hold up better during the long cooking time.  They did remain crunchy, when all was said and done.  The pecan topping went on to the bread and we were ready to start (slow) cooking.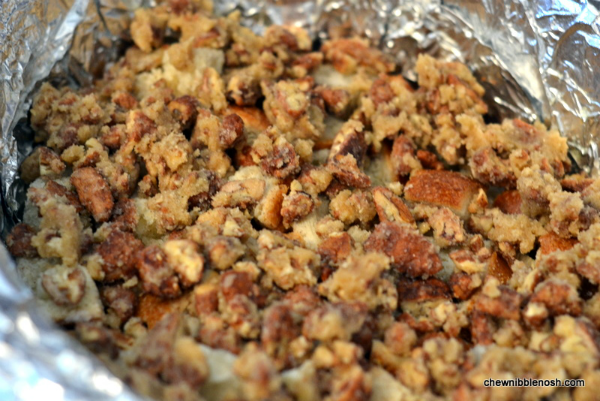 Four hours later, my house smelled like a sweet, breakfast bakery, and I had a beautiful bunch of French toast on my hands for dinner.  Were the eggs rubbery and the bread a mushy mess?  Nope.  Everything about it was perfectly perfect, right down to the crunchy pecan streusel on top.  I was really impressed, and my family was to busy gobbling it up to take in the beauty, and amazement, of French toast in the Crock Pot.  It was a huge success!
SLOW COOKER FRENCH TOAST CASSEROLE
Adapted from America's Test Kitchen: Slow Cooker Revolution
Slow Cooker French Toast Casserole
Author:
Prep time:
Cook time:
Total time:
Ingredients
Nonstick cooking spray
1 (16 oz.) loaf supermarket French or Italian bread (Not a loaf with a thick crust), cut into 1-inch cubes (about 16 cups)
2 1/2 cups whole milk
7 large eggs
1 cup heavy cream
1/3 cup sugar
2 tsp. vanilla
1 tsp ground cinnamon
1/2 cup packed light brown sugar
4 Tbsp. butter, softened
2 cups candied pecans or walnuts, coarsely chopped
Instructions
Tightly line your slow cooker with foil and coat with nonstick spray.
Adjust the rack in your oven to the middle position, and preheat the oven to 225*F.
Spread the bread cubes out onto a large cookie sheet, and bake, stirring occasionally, for 40 minutes, until the bread is crisp and dried out.
Pour the bread cubes into the prepared slow cooker.
Whisk together the milk, eggs, cream, sugar, vanilla and cinnamon. Pour the egg mixture over the bread in the slow cooker and push down the bread a bit so it can soak in the egg.
Mix together the softened butter and the brown sugar. Stir in the candied nuts. Sprinkle the nut mixture over the top of the bread.
Cover, and cook until the center of the casserole is set, about 4 hours on LOW.
Remove the top from the slow cooker, turn off the heat, and allow to cool for 15-20 minutes.
Serve with maple syrup.
ENJOY!