Directions
Ah, the "After Holiday" season is now upon us.  We are all bloated, and overfed, over-wined, over-cheesed, over-cookied, and sporting a couple of extra pounds.  We're ready to banish rich food from our lives for at least a little while, right?  This simple, slow cooker stew is not only hearty enough to get you through a "polar vortex" (assuming you can get to the store), but also healthy enough to make you feel good, and refreshed, as you start the new year.
I started by prepping my potatoes, onions and garlic.  I diced up a pound of red potatoes, skin kept on, chopped up an onion and minced up some garlic.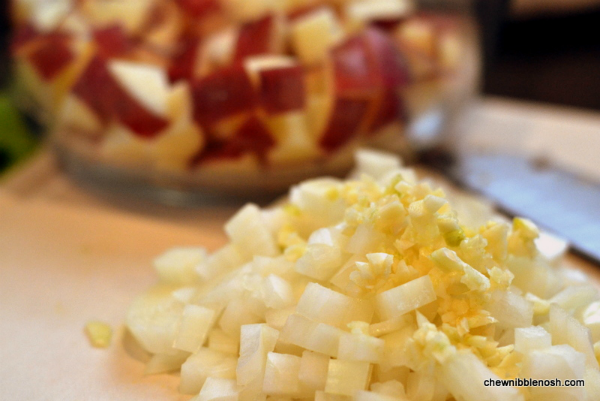 Then, I mixed the potatoes, onions, and garlic together with a bit of vegetable oil and chili powder in a bowl, and popped it into the microwave to help the veggies soften up a bit.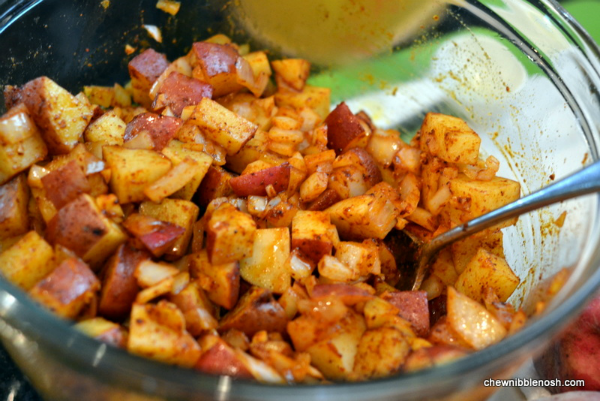 I transferred the mixture to my slow cooker, and added in six cups of chicken broth (you could use vegetable broth if you want to go truly vegetarian), a can of diced tomatoes, and some salt.  Then, I turned my slow cooker to LOW and let it simmer away for about 4 1/2 hours.
Once that time was up, I removed two cups of the potato-tomato mixture and mashed it up with a potato masher before adding it back into the stew.  This would help thicken things up a bit.  I also got a cup of quinoa read to pour in there as well.
I let the quinoa cook in the stew until it was tender, about 25 minutes, before finishing the stew off with some frozen peas and corn.  I just added them in frozen, and it took about five minutes for them to warm through.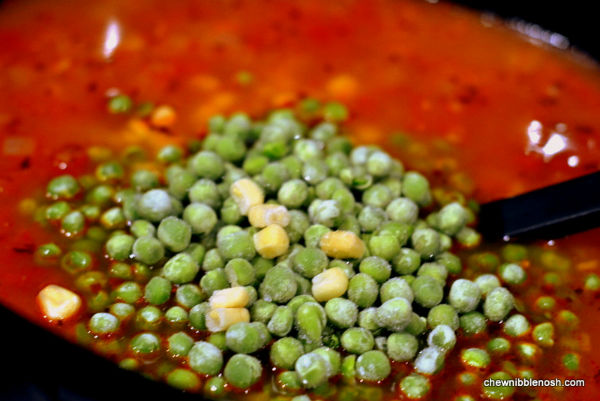 When I served this up, I topped it with fresh chopped cilantro, diced avocado and a sprinkling of cheese.
We all really enjoyed this stew, each and every one of us. The stew is nice and hearty, thanks to the potatoes and quinoa, but tastes refreshingly fresh and light at the same time.  It's a wonderfully delicious dish, made from easily kept pantry/freezer staples.  In fact, even if the "polar vortex" has you housebound, you might even have everything you need!
Stay safe out there.  Stay warm, and well fed.
(This will help.)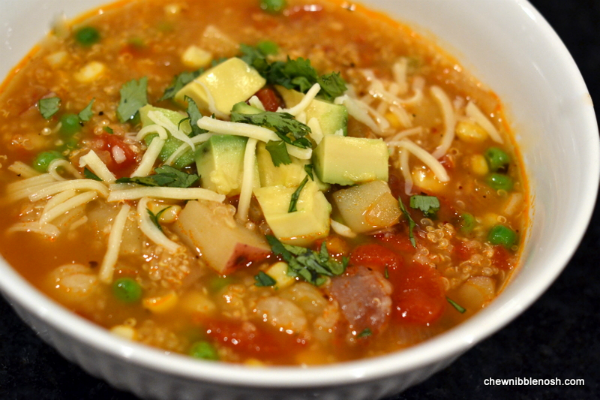 SLOW COOKER QUINOA AND VEGETABLE STEW
Adapted from Slow Cooker Revolution Vol. 2
Slow Cooker Quinoa and Vegetable Stew
Author:
Prep time:
Cook time:
Total time:
Use a 5-7 quart slow cooker!
Ingredients
1 lb. small red potatoes, cut into 1/2 inch pieces
1 cup chopped onion
1 Tbsp. vegetable oil
1 Tbsp. minced garlic
1 Tbsp. chili powder
6 cups chicken or vegetable broth
1 (14.5 oz.) can diced tomatoes, drained
salt and pepper
1 cup quinoa, rinsed
1 cup frozen peas
1 cup frozen corn
chopped fresh cilantro, diced avocado, and cheese to garnish
Instructions
Place the diced potatoes, onion, garlic, oil, and chili powder in a small bowl and mix together. Place the bowl in the microwave and cook until veggies are softened, about 5 minutes. Transfer the mixture to your slow cooker.
Stir in the broth, tomatoes, and 1/2 tsp. salt.
Cover and cook until the flavors come together and the potatoes are tender, 4-5 hours on LOW and 3-4 hours on HIGH.
Remove 2 cups of the potato-tomato mixture to a bowl and mash with a potato masher. Stir the mashed mixture back into the slow cooker and add the quinoa.
Cover and allow to cook for 20-30 minutes more, until quinoa is tender.
Stir in the peas and corn, and let sit until heated through, about 5 more minutes.
Season with salt and pepper, and serve.
Top with chopped cilantro, diced avocado and cheese.
ENJOY!