Directions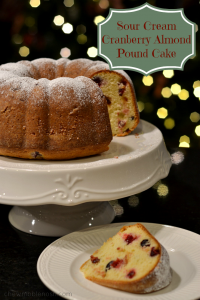 A few weeks ago, I was using my hand mixer while baking up something in the kitchen, and I mentioned to my husband that it seemed that the mixer I'd received as a wedding gift, nineteen years ago, was finally reaching the age of retirement.  It just didn't have much get-up-and-go anymore, and it sounded pretty pitiful.  It was kind of sad, and bittersweet…mainly because I'm realizing that I'm old enough to send reliable appliances into retirement.  Not too long after the old mixer was put out to pasture, I heard from my friends at OXO, and they asked if I'd like to try out their new OXO On Illuminating Digital Hand Mixer! Do they have perfect timing, or what?
If you follow this blog, you know that OXO is one of my all time favorite kitchen gadgetry companies. They are good people, creating great products, and doing wonderful work in the community.  My kitchen is filled with their products, from my measuring cups right down to the storage bins in my pantry. Their latest line moves beyond gadgetry and storage, as they've grown into small appliances!  Their new OXO On line is the latest in a long line of great ideas, and I was excited to give their mixer a whirl.
I decided to put it to the test with a holiday inspired pound cake.  Pound cake is no joke, when it comes to mixing.  It's thick, rich batter, and if I'm being honest, I've never made one using a hand mixer.  I always haul out my big ol' stand mixer to do the job.  Knowing OXO quality, I knew their new mixer would be up for the challenge.
I started by warming some dried cranberries in a bit of amaretto on the stove top.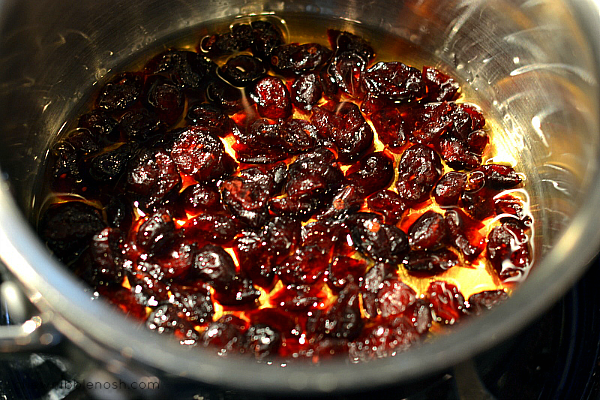 That can't be bad, right?
I brought the amaretto to a simmer with the berries and let them cook for a few minutes, before turning off the heat and setting them aside.  The dried berries plumped up beautifully, and soaked up all that flavor.
Then, it was time to get cracking on the cake.  I measured out my dry ingredients, and then blended together some butter, sugar, and almond paste in a large bowl.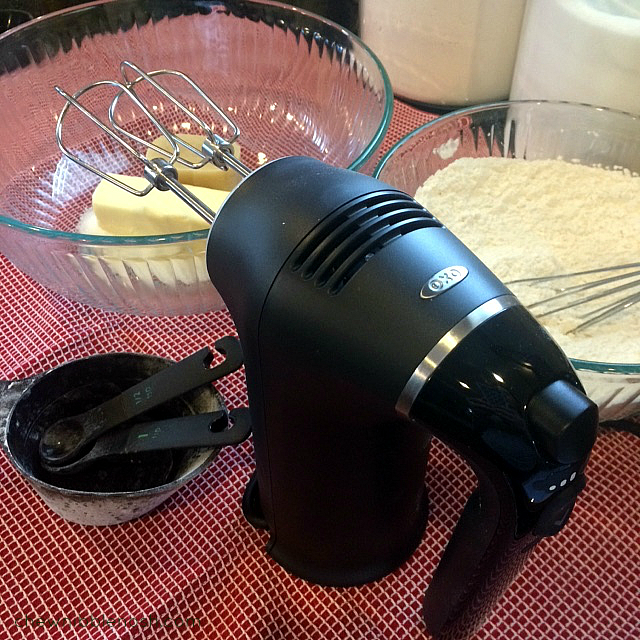 One of the greatest features this mixer has is the ability to prop up on its end and just stand by.  When you're mixing and having to take time in between ingredients, not getting messy beater goo all over the counter is a huge plus.
Once the almond paste was creamed into the butter, I added the rest of the butter and sugar, a bit of almond extract, and six eggs, one at a time.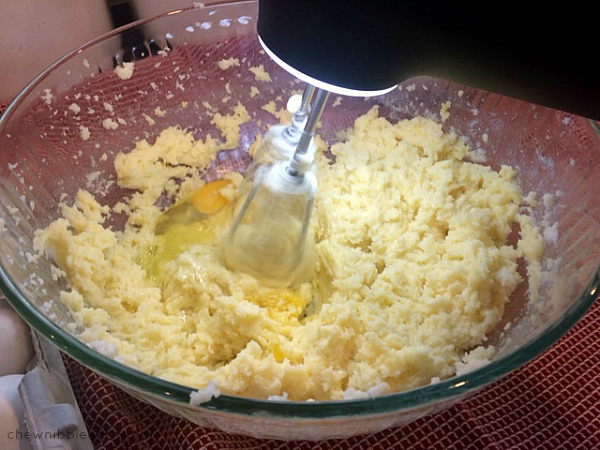 The OXO On Illuminating Digital Hand Mixer shines a little light on your work, with a soft glow LED headlight, as you mix, so you can really keep an eye on how things are going in your bowl!  It creamed the butter and sugar with ease, and then it was time to move onto the dry ingredients, which would really put it to the test.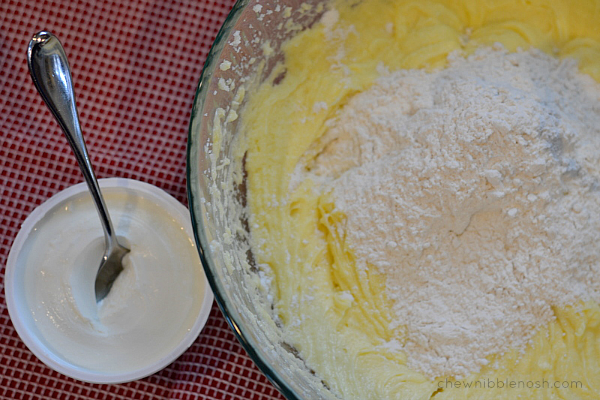 I took turns blending in part of the flour and then alternating it with some sour cream, making sure to beat the mixture well between each addition.  The mixer handled it with ease, and bumping up the power as the batter grew more stiff was as simple as tapping the digital controls with my thumb as I mixed.
Once all of the ingredients were mixed in and the batter was thick, buttery and smooth, I folded in those amaretto soaked berries along with two cups of fresh, tart, cranberries.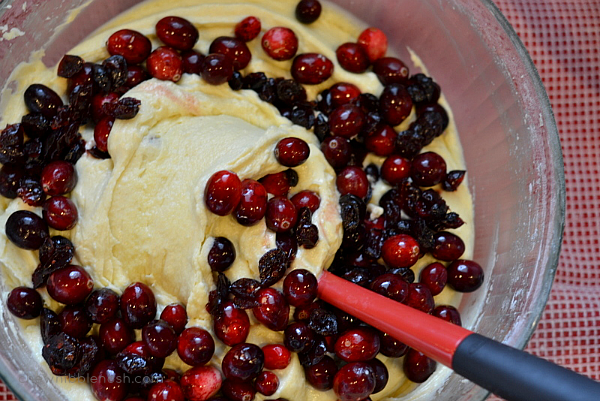 Then, I heaped the thick batter into a greased and floured bundt pan, and smoothed out the top before popping it into the oven for a little over an hour.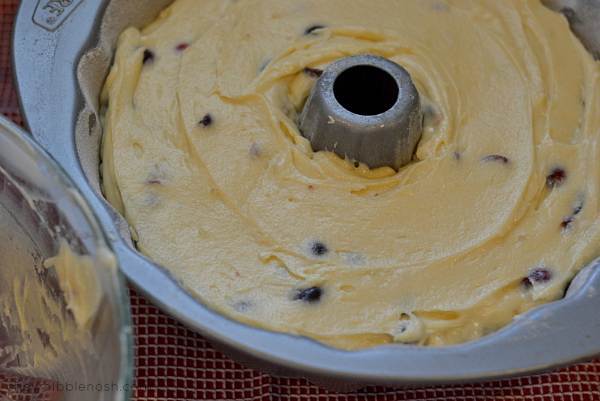 I started checking on the cake around minute fifty-five with my cake tester, but it wasn't ready to come out until about ten minutes later, when the tester came out clean from the center of the cake.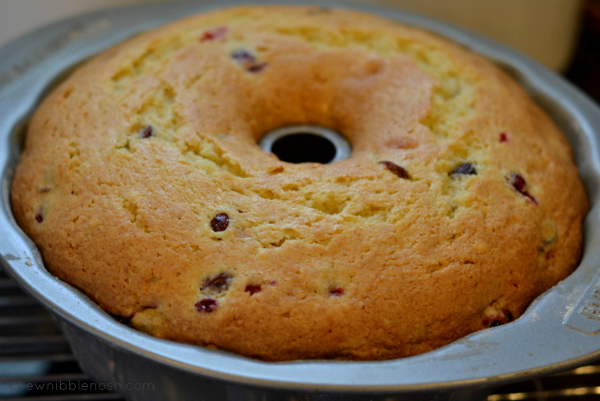 I allowed the cake to cool for about ten minutes in the pan, and then turned it out onto my wire rack to cool.  I did need to go around the edge with a knife to help release some of those sticky berries from the sides before flipping the cake out.
I let it cool, and then after dinner, I sprinkled the top with a sweet layer of powdered sugar snow, and we had ourselves a delicious holiday inspired treat.  The cake is tender, and sweet, but speckled with those tart bursts of cranberry, and the delicate, amaretto spiked berries.  It's really quite delicious, and is the perfect make ahead dessert for your next holiday celebration!  In fact, it even tastes better the next day! (As I just found out as I nibbled on a piece for breakfast!)
Don't forget to check out the rest of OXO's wonderful new OXO On small appliances!  They'd make the perfect present under the tree for a special cook in your life!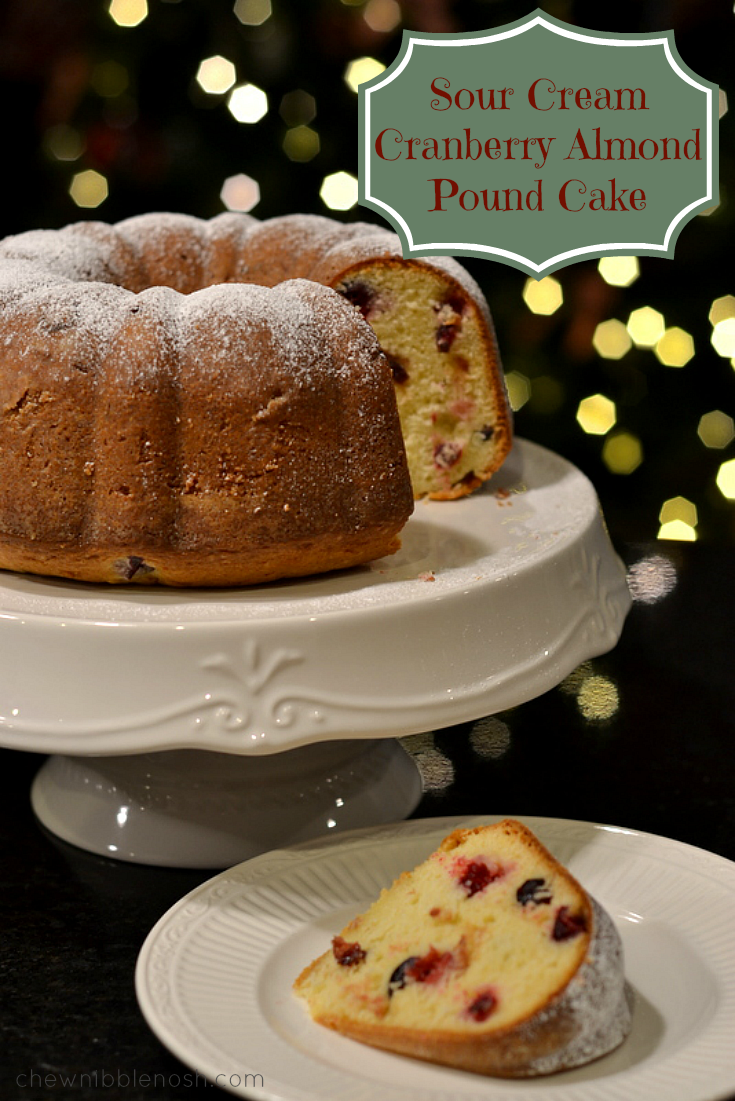 SOUR CREAM CRANBERRY-ALMOND POUND CAKE
Adapted from Taste of Home
Sour Cream Cranberry-Almond Pound Cake: Mix Up the Holiday with OXO On
Author:
Prep time:
Cook time:
Total time:
**This cake can be made ahead. Just wrap it tightly in foil or plastic wrap. Sprinkle with powdered sugar before serving.
Ingredients
1/2 cup dried cranberries
<span class="mceItemHidden" data-mce-bogus="1″><span></span>1/4 cup amaretto</span>
4 oz. almond paste
1 cup plus 2 Tbsp. butter, softened and divided
2 1/4 cups sugar, divided
6 eggs
1/2 tsp. almond extract
3 cups all-purpose flour
1 1/4 tsp. baking powder
1/2 tsp. baking soda
1/2 tsp. salt
1 cup (8 oz) sour cream
2 cups fresh cranberries
powdered sugar, for dusting
Instructions
Preheat the oven to 325*F. Grease and flour a 10 inch fluted bundt pan. Set aside.
In a small saucepan, heat the amaretto and dried cranberries until they come to a boil. Reduce the heat and simmer for 5 minutes, uncovered. Set aside to cool.
Combine the flour, baking powder, baking soda, and salt. Set aside.
In a large bowl, beat the almond paste, 1/4 cup of the sugar, and half of the butter together until creamy. Add the remaining butter and sugar, and continue to beat until fluffy.
Beat in the eggs, one at a time, beating well after each egg addition. Beat in the almond extract.
Gradually add in the dry ingredients, a bit at a time, alternating additions with the sour cream, until all of both are incorporated and the batter is thick and rich.
Fold in the fresh cranberries and the cranberries you've soaked in amaretto.
Transfer the batter to the prepared bundt pan. Even out the top of the cake with a spatula, and place in the preheated oven.
Bake for 55-65 minutes, or until the cake springs back at the touch and a cake tester poked in the center of the cake comes out clean.
Allow to cool in the pan for ten minutes on a wire rack. Flip the cake out of the pan and allow to cool completely on the wire rack.
Before serving, sift a bit of powdered sugar over the top of the cake.
ENJOY!