Directions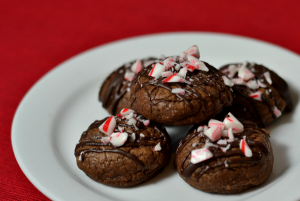 It's that time of year again!  It's time to announce this year's contribution to The Great Food Blogger Cookie Swap!  This is my fifth year participating in this fabulous event, hosted by Julie at The Little Kitchen and Lindsay from Love & Olive Oil. My job?  Bake up a fantastically new cookie recipe and ship out boxes of treats to three hungry food bloggers, Secret Santa style.  These delectable little cocoa-peppermint gems are what made the cut this year.  Dark, and fudgy, but with a peppermint zing that seems just about perfect this time of year, I couldn't wait to send them out to this year's recipients, Ginger from Stark Raving Delicious, Kellie from The Suburban Soapbox, and Annie from Annie One Can Cook.  Based on the response I got, I think they really enjoyed them!  Hope you do too.
First things first, I melted a hefty amount of bittersweet chocolate chips in the microwave.  I set aside some of the chocolate to drizzle on the cookies after baking, and then set the rest aside to cool for just a bit.  Then, I prepped the rest of my ingredients.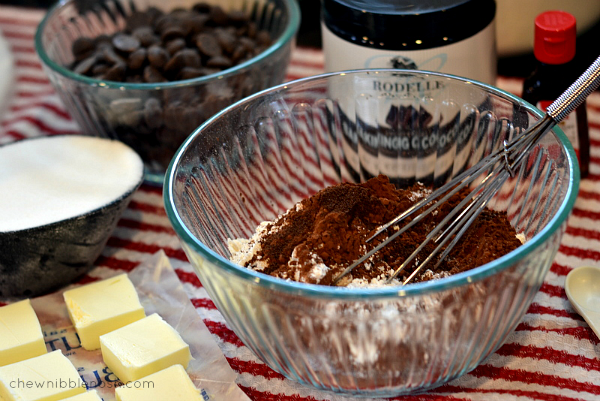 Besides the bittersweet chocolate, there's also an ample dose of baking cocoa involved.  Can you ever have too much chocolate?
I beat my butter along with some vanilla and peppermint extracts until it was nice and creamy.  Then, I beat in two eggs.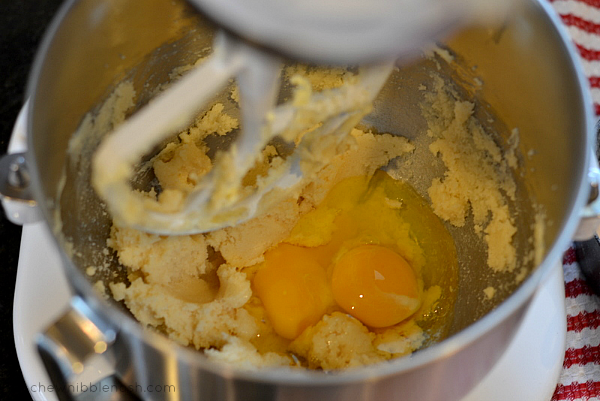 Once it was combined, I added in some of that melted chocolate, mixed it until smooth, and then gradually mixed in my dry ingredients.
I had a thick, rich, decadent dough on my hands, but why stop there?  In went another heap of bittersweet chocolate chips.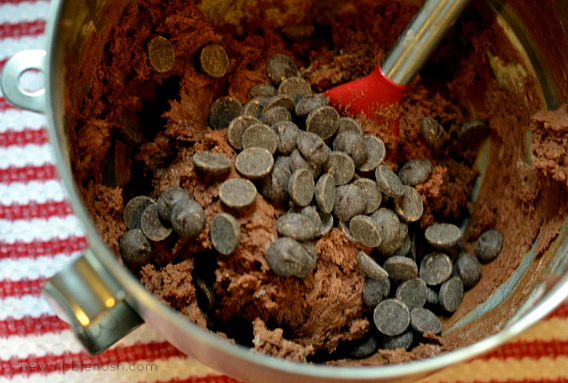 I gave the dough a good stir to distribute the rest of the chocolate, then I covered it with some plastic wrap and put the bowl in the refrigerator to chill for about thirty minutes.  The original recipe didn't say to do this, but after the first time I made them, when I ended up with melted chocolate dough all over my hands and not in my cookies as I rolled them, I decided this was the best bet.
Plus, while chilling the dough certainly produced prettier cookies, they also baked up to be more tender with just a bit of chewy.  Just the way I like them.
Once the dough was chilled, I rolled it into balls (a little goes a long way, just a tablespoonful in each one), and popped them in the oven to bake.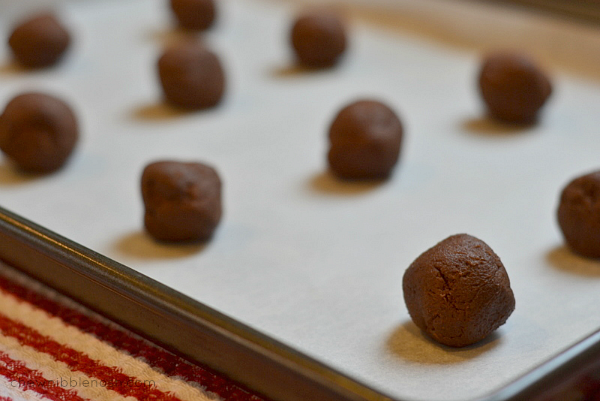 After eight minutes in the oven, the cookies were perfectly crinkled on top, and ready to go.  I moved them to a cooling rack until they were cool and ready to decorate.
See that space in the front row?  I also swiped one before they were cool because I just couldn't resist.
Once they were cooled off completely, I rewarmed the chocolate I'd set aside, and crushed up a few candy canes to sprinkle on top.  I drizzled the cookies with a few stripes of chocolate, and then made sure to sprinkle the crushed candies on while the chocolate was still fluid enough to grab the little crunchies and hold on tight.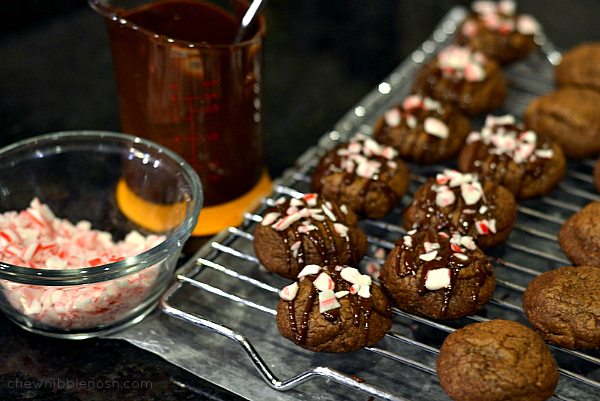 After that, it was just a matter of time until the chocolate set up and they were ready to box up and ship out!  My kids were pretty happy that there were a few left over, too.
Before I share my recipe, I want to send out a HUGE thank you to the wonderful bloggers who sent me their delicious creations this year!  I received Peanut Butter Blossoms from Val at A Scrumptious Life, Browned Butter Salted Caramel Mocha Cookies from Sarah at Fantastical Sharing of Recipes, and Chai Spiced Sugar Acorn Cookies from Nicole at Confectionalism.  Thank you, Ladies!  I can't wait to get my hands on the recipes!  Also, big thanks to this year's Cookie Swap sponsors, OXO, Land o' Lakes and Dixie Crystal Sugar, who along with all the bloggers involved, contributed over $7000 to one of my favorite charities, Cookies for Kids' Cancer!
Happy Baking!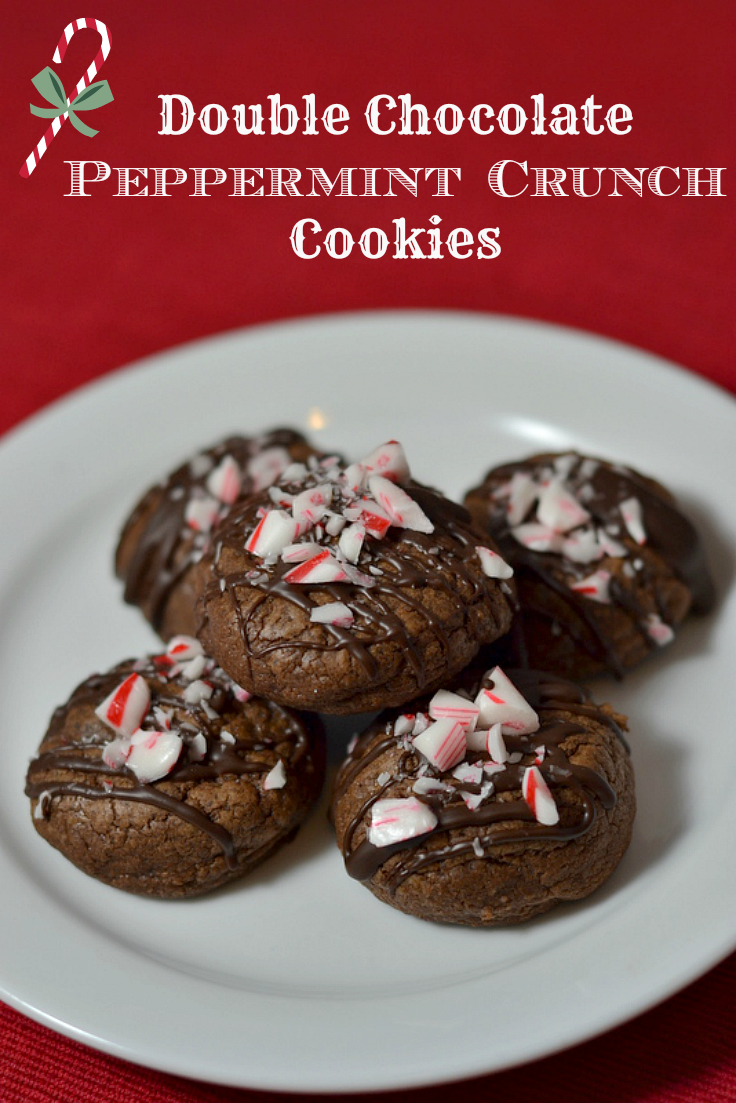 DOUBLE CHOCOLATE PEPPERMINT CRUNCH COOKIES
Adapted from Bon Appetit
Double Chocolate Peppermint Crunch Cookies – The Great Food Blogger Cookie Swap 2015
Author:
Prep time:
Cook time:
Total time:
Ingredients
2 1/2 cups bittersweet chocolate chips (Do not exceed 61% cacao; 15 to 16 ounces), divided
1 1/2 cups all purpose flour
1/4 cup natural unsweetened cocoa powder
1 teaspoon baking powder
1 teaspoon instant espresso powder
1/2 teaspoon salt
1/2 cup (1 stick) unsalted butter, softened to room temperature
1 cup sugar
1 teaspoon vanilla extract
1 teaspoon peppermint extract
2 large eggs
4 candy canes or 16 red-and-white-striped hard peppermint candies, coarsely crushed
Instructions
Preheat your oven to 375*F. Line cookie sheets with parchment paper and set aside.
Place two cups of the chocolate chips in a microwave safe bowl. Microwave for 1 minute, stirring after, and then at 20 second intervals, stirring after each one, until chocolate is melted and smooth. Measure out 2/3 cup of the melted chocolate to use for drizzling later, and set aside.
In a medium bowl, combine the flour, cocoa powder, baking powder, espresso powder, and salt. Set aside.
In the bowl of a stand mixer, beat the butter until creamy. Add the sugar, vanilla and peppermint extracts, and beat until smooth.
Add the eggs, and beat to combine. Drizzle in the melted chocolate from your original bowl, not the bit you measured out, and beat to combine.
Gradually beat in the dry ingredients, mixing just until blended.
Stir in the remaining 1/2 cup of chocolate chips.
Cover with plastic wrap and chill the dough for 30 minutes.
Measure out tablespoons of dough and roll into balls. Place on the prepared parchment. Bake at 375*F for 8 to 9 minutes, until cookies just start to crackle on top.
Transfer to a wire rack to cool.
Rewarm the melted chocolate you set aside.
Drizzle the cookies with the melted chocolate and sprinkle with the crushed candy canes. Allow to sit until chocolate is set.
Store in an airtight container.
ENJOY!