Directions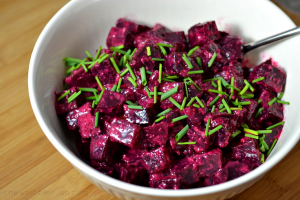 I don't know about you, but this week is a pretty busy one for me.  So busy, in fact, that I contemplated just letting the ol' blog go this week and not adding anything into the mix until after Christmas.  Then, looking through the leftovers in the fridge, I was reminded that I really should share this one special recipe with you before Christmas hits.  Not only is it beautifully festive for the holiday table, it's unbelievably delicious, and became an instant hit in our household.  Don't like beets?  You may change your mind once you try them this way.
I grabbed the recipe from my friend Emily, who writes the beautifully honest and tasty food/parenting/lifestyle/little-bit-of-whatever-is-on-her-mind blog, Em-i-lis. Emily and I met over the summer, while attending a blogging conference in NYC.  Have you ever met someone and just clicked instantly?  Emily and I clicked over the most amazing burrata.  Cheese, people.  It brings folks together.
Anyway, Emily found this recipe among the many delectable creations of Nancy Silverton in her Mozza cookbook, and I couldn't be more pleased that she did.  She shared it with her readers, and now I'm sharing it with you, because, much like that amazing little ball of burrata we shared in New York, it's just THAT good.
I started by roasting a couple of pounds of beets.  I scrubbed them a bit, lopped off the tops, and lined them up in my baking pan.  I drizzled them with olive oil, and sprinkled some salt and pepper on top before covering them with foil and letting them roast in the oven for about an hour.  After that hour, my beets still weren't quite soft enough to be easily poked with a knife, so I let them roast a bit more.  It took about an hour and forty-five minutes to roast them through, but it may take you less time, depending on the size of your beets.  Mine were huge.
It really didn't matter, though, because I was planning on serving the dish cold the following day.  So, I let the roasted beets cool completely before easily rubbing the skins off, and slicing them into beautiful, ruby chunks.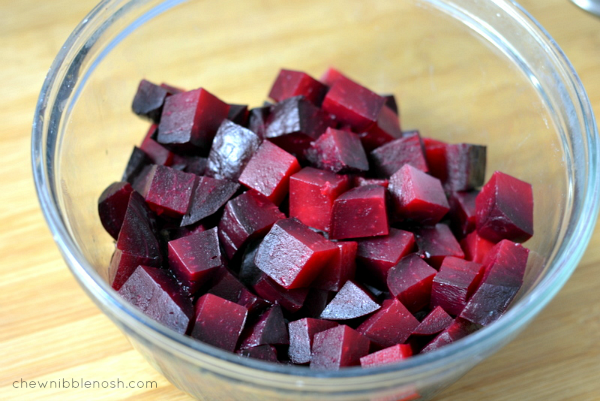 At this point, the beets went into the fridge overnight.  You could absolutely serve them up the same day.
Before serving them up the next day, I whisked together a tangy vinaigrette of Dijon mustard, apple cider vinegar, salt, pepper, and olive oil.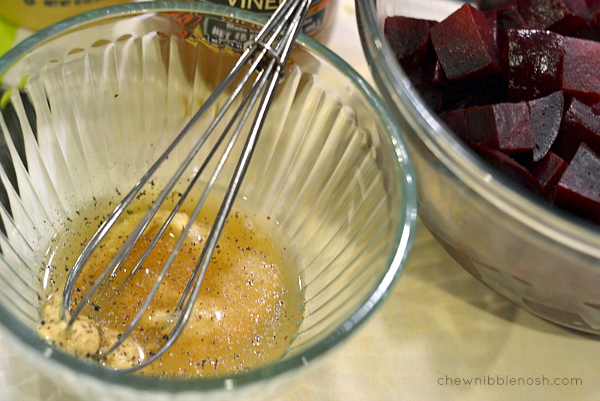 I drizzled the dressing over the chilled beets and gave them a good toss to coat.
Then, I heaped in two overflowing tablespoons of prepared horseradish. (Got a cold?  This is the PERFECT dish to make.)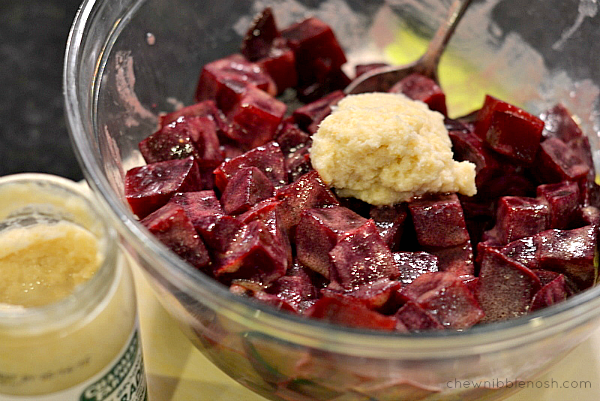 I gave the beets another good stir, to distribute that spicy horseradish, seasoned a bit with more salt and pepper, and the beets were ready to serve!
I sprinkled them with minced chives, and just like that, I had a most beautiful addition to a weeknight table, or a Christmas dinner table.  It's seasonally perfect, and oh so tasty.  I've made the beets twice in one week.  They are that good.
Merry Christmas, Everyone!  Hope your hearts and bellies are full and happy this holiday season.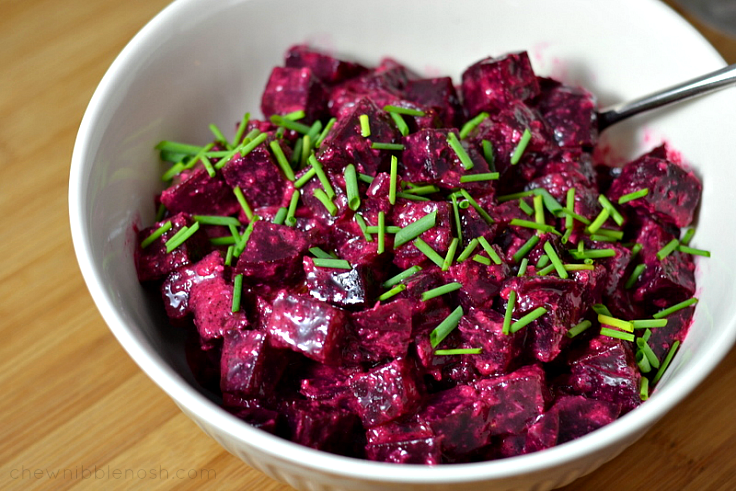 ROASTED BEETS WITH HORSERADISH VINAIGRETTE
Adapted from Mozza
Roasted Beets with Horseradish Vinaigrette
Author:
Prep time:
Cook time:
Total time:
Ingredients
For the beets:
1 1/2 – 2 lbs. red beets, stems removed, scrubbed and patted dry
2 Tbsp. extra virgin olive oil
1 tsp. kosher salt
1/4 tsp. pepper
For the dressing:
1 1/2 Tbsp. apple cider vinegar
1 1/2 Tbsp. Dijon mustard
3/4 tsp. kosher salt, plus more to taste
1/2 tsp. pepper
3 Tbsp. extra virgin olive oil
2 Tbsp. prepared horseradish, or more, if you're feeling adventurous
chopped chives, for garnish
Instructions
Preheat oven to 400*F.
Place the prepared beets in a baking dish. Drizzle with 2 tablespoons of the olive oil, and sprinkle with salt and pepper. Turn the beets to coat in the oil and seasonings. Cover the dish tightly with foil, and place in the oven for 1 hour. Check the beets. If you can pierce the beet easily with a knife after the roast time, they are good to go. If not, give them a little more time in the oven until you can.
Remove the beets from the oven and allow to cool. Peel the beets and cut them into cubes. Place in a medium sized bowl.
At this point, you can either chill the beats overnight, or continue on and serve them right away.
Whisk together the apple cider vinegar, mustard, salt and pepper. Drizzle in the olive oil, slowly, as you whisk to form an emulsion. Pour the dressing over the beets and toss to coat.
Add 2 tablespoons of the horseradish. Toss to coat and taste. If you'd like more heat, add more horseradish. Season with salt to taste.
Serve, sprinkled with chopped chives.
ENJOY!