Directions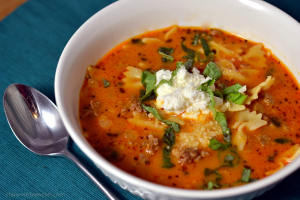 This winter has been so weird.  Balmy on Christmas, then a three-day monsoon and flooded roads, and now we've finally reached "kind of chilly".  This soup is the perfect thing for those crummy days when all you want to do is snuggle under a blanket, read a good book, and watch the weather do strange things.  It takes all of the flavors I love from my favorite lasagna recipe and puts them right into the middle of a creamy, cozy, bowl of soup.
First things first, I cooked up two cups of mini Farfalle noodles, drained them, tossed them with a little bit of olive oil to keep them from sticking together, and set them aside.  You could use any noodle you'd like, even broken lasagna noodles if you have them lying around.  Make sure to use a heftier noodle than just spaghetti, though.
As the noodles cooked, I sautéed a sweet onion in some olive oil until it was softened.  Then, I added my ground beef and Italian sausage, minced garlic, oregano, a dash of red pepper flakes, and some salt and pepper.  I broke up the beef and sausage into crumbles, and cooked until the meat was nicely browned.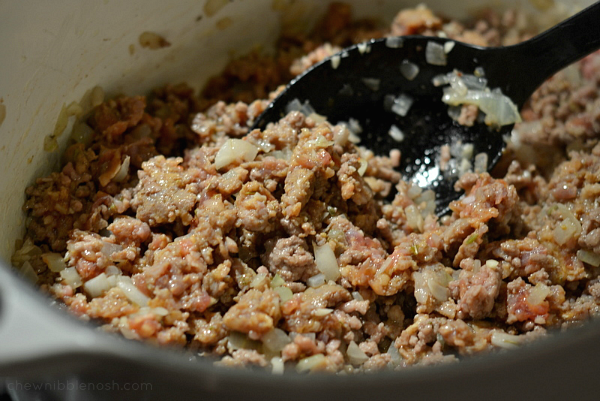 At this point, I tilted the pan, pushed the meat and onions to one side, and let the fat and juices run to the other.  Then, I skimmed most of the fat from the meat and discarded it.
To that, I added a quart of chicken broth, some water, and a jar of pasta sauce!  You can't have lasagna without tomato sauce, right?  I used a traditional tomato-basil sauce, but you could jazz it up however you see fit.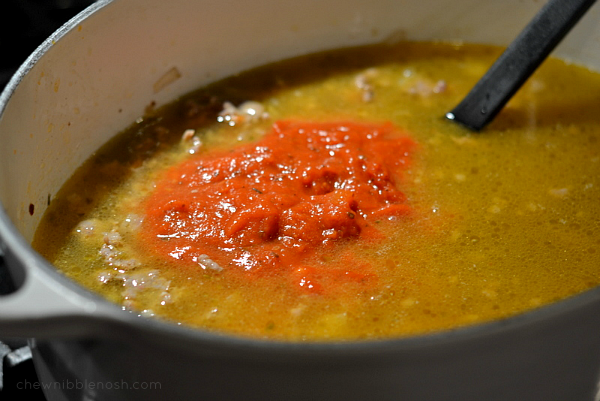 I stirred in the sauce, covered the pan, and let the soup come to a simmer.  Then, I uncovered it, lowered the heat a bit, and let it bubble for about fifteen minutes, until it had reduced slightly and the flavors had time to mingle.
I added in my noodles, a handful of fresh basil, grated Parmesan cheese and a bit of heavy cream.  Not too much, but just enough to make the soup luxurious and smooth.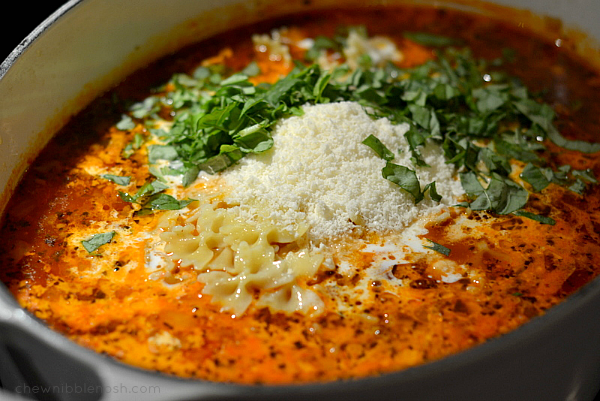 I let the soup simmer for about ten minutes more, and then served it up in big bowls, topped with a dollop of ricotta and some more fresh basil.
My family went nuts for this soup.  Like, gobbled up bowl after bowl at dinner and then fought over the leftovers the next day, kind of nuts.  It's really tasty, and as I look out on this dreary day, I'm wishing the leftovers weren't all gone!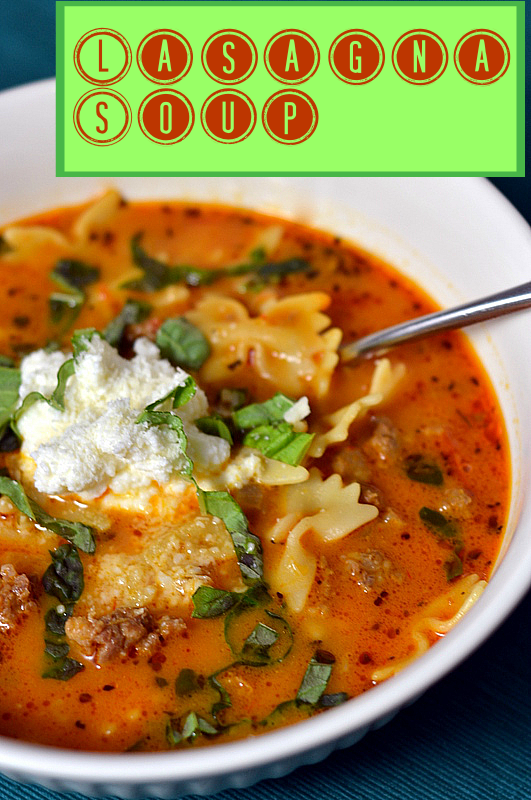 LASAGNA SOUP
Adapted from My Baking Addiction
Lasagna Soup
Author:
Prep time:
Cook time:
Total time:
This tastes even better the next day!
Ingredients
2 cups small noodles, like mini Farfalle or Rotini
1 Tbsp. extra virgin olive oil
1 small sweet onion, chopped
1/2 lb. Italian sausage, casings removed
1/2 lb. ground beef
4 cloves garlic, minced
1 tsp. dried oregano
1/4 tsp. red pepper flakes
salt and pepper, to taste
4 cups chicken broth
1 (24 oz) jar pasta sauce. (I used Classico Tomato-Basil)
1 cup water
1/2 cup fresh chopped basil, plus more for garnish
1/3 cup grated Parmesan cheese
1/4 cup heavy cream
ricotta cheese, for topping finished soup
Instructions
Bring a large pot of salted water to a boil. Cook pasta to al dente. Drain, and drizzle with a little bit of olive oil and toss. Set aside.
Heat 2 tablespoons olive oil in a large, heavy bottomed pot over medium heat. Add the chopped onion, and cook until softened, about 4-5 minutes.
Add the sausage, ground beef, garlic, oregano, and red pepper flakes. Season with salt and pepper. Break up beef and sausage, and cook, stirring and crumbling meat, until the meat is well browned, about 7-10 minutes.
Once browned, skim off some of the fat from the pan and discard.
Add the chicken broth, pasta sauce, and water. Cover and bring to a simmer.
Uncover the pot, reduce the heat a bit, and simmer until it reduces just a bit and the flavors mingle, about 15 minutes. Stirring occasionally.
Stir in the noodles, basil, parmesan cheese and heavy cream. Simmer for an additional 5-10 minutes.
Serve topped with a dollop of ricotta, more fresh basil and sprinkle with extra parmesan, if desired.
ENJOY!