Directions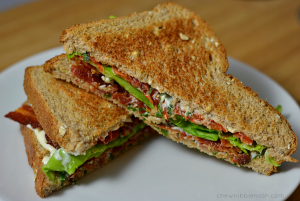 Well, that's it.
The holidays are over.  The kids head back to school today and life as we previously knew it will ease back into view.  I'm currently in that "I can't believe I ate so much cheese/I am just not into cooking anything right now because I've been cooking for a month" frame of mind.  Don't get me wrong.  I love to cook (obviously).  But the fact is, I'm totally over it right now.  Give me a few days to de-bloat and green smoothie my way back into normalcy and I'll be right back in the swing of things.
This recipe doesn't technically qualify as cooking in my book.  Yes, there is time and an oven involved, but I prefer to think of it as just putting together a sandwich, over time.  It's no secret that I love a good BLT, but when I saw this recipe for a Slow Roasted Tomato BLT, I knew I had to give it a try.  Roasted tomatoes are a weakness of mine.  There's something about their tangy, chewy, sweetness that just does me in, and I'm a total sucker for them…even when I don't feel like cooking.
I started by slicing up some Roma tomatoes and laying them out on a baking sheet that I'd lined with parchment.  I gave them a good drizzle of olive oil, seasoned them a bit with salt and sprinkled some dried thyme over them.
If I'd had fresh thyme, I would have gone that route, but I was, funny enough, fresh out.
The tomatoes went into a 225* oven where they s….l….o….w roasted for four hours.
Yes, four hours.
Four hours in low heat will help concentrate all of those flavors, and turn those tomatoes into something special.
Once the tomatoes are done with their four-hour journey, you can just let them hang out while you get your bacon, lettuce, and mayo together.
When I make large batches of bacon, as I do for a family sized serving of BLTs, I throw my bacon in the oven.  Lined up on a foil lined cookie sheet, and baked at 350* for about 10-15 minutes, is a great way to get a lot of bacon taken care of without the splatter.
While the bacon was cooking, I chopped up some fresh basil (which I did have on hand) and stirred it into some mayo, along with a little salt and pepper.
When the bacon was crisped up, it was just a matter of toasting my bread and building my BLTs.  I spread each piece of toast with a hefty slather of the basil mayo, and then layered in the bacon, some tender butter lettuce, and those tasty roasted tomatoes.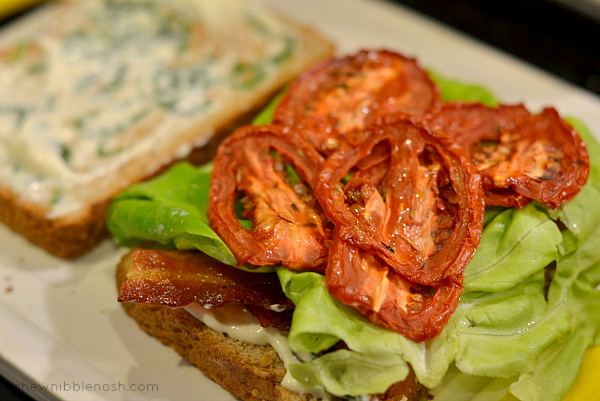 The end result was deliciously different, fresh, and really tasty.  The tomatoes are chewy and their intense flavor is so concentrated, that the tender lettuce and crisp bacon perfectly center it. And that basil mayo…yum. Isn't everything better when you throw in a little fresh basil?
And just like that, my family was fed, and I "cooked", when I really didn't want to.  It just took four hours.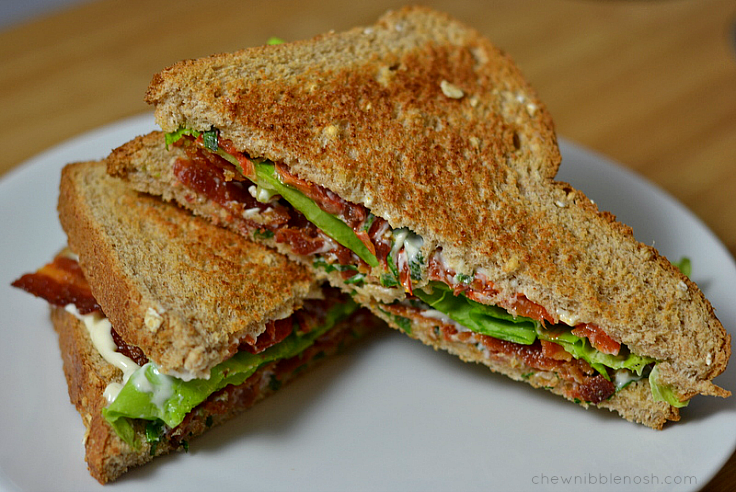 SLOW ROASTED TOMATO BLTS WITH BASIL MAYO
Adapted from Not Without Salt
Slow Roasted Tomato with Basil Mayo
Author:
Prep time:
Cook time:
Total time:
Ingredients
8 firm, yet ripe, Roma tomatoes
extra virgin olive oil
salt
dried thyme
lettuce
1 pound of center-cut bacon, cooked crisp
8 slices multigrain bread, toasted
1/3 cup mayonnaise
1/4 cup fresh basil, chopped
Instructions
Preheat your oven to 225*F. Line a cookie sheet with parchment paper.
Slice the tomatoes, lengthwise, into 1/4″ slices. Place the slices on the prepared cookie sheet.
Drizzle with olive oil, sprinkle with salt and dried thyme.
Place the cookie sheet in the oven and allow the tomatoes to roast for 4 hours, or until dried but still just a little bit juicy.
Remove the tomatoes from the oven and set aside whild you toast your bread and cook your bacon.
Stir the chopped basil into the mayonnaise. Season with salt and pepper.
Slather the bread with the basil mayo and top with the crisp bacon, cool lettuce, and the roasted tomatoes.
ENJOY!