Directions
One of the greatest things I've learned along my food blogging journey is that there are some spectacular cooks floating out there on the interwebs.  I'm thankful that my platform here has connected me with many of these talented folks, and in turn, they inspire me to bring some of their amazing creations into my own kitchen.
My friend, Peter, posted this salmon recipe on his beautiful blog, Feed Your Soul Too, and as soon as I saw it, I knew I needed to try it out. (Thanks, Peter!!)  Over the past couple of years, I have easily fallen in love with Za'atar.  Za'atar is a flavorful, Middle Eastern spice blend.  It lends so much vibrant flavor to everything I've managed to sprinkle it on.  Everything from simple hummus to this tasty salmon.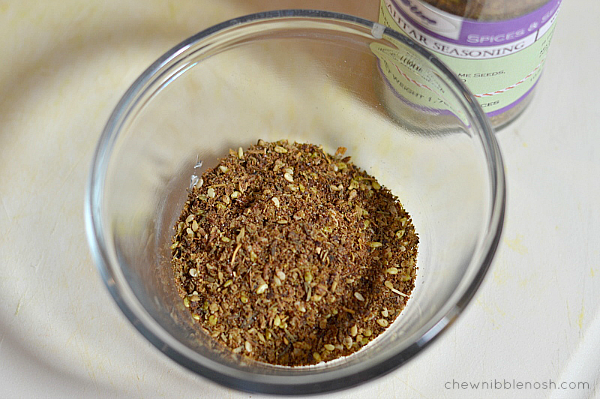 Combinations can vary a bit, but the jar of Za'atar that I use consists of thyme, sesame seeds, oregano, hyssop and sumac.  I found this at a specialty spice shop, but it's becoming more readily available in supermarkets.  In fact, I just saw a HUGE bag of Za'atar at my local Meijer yesterday.
This meal comes together so beautifully quick.  It's perfect to whip up on a weeknight. My husband declared it his new favorite salmon, and my daughter ate every last bit of the salmon on her plate…which is saying a lot.
I started by getting my veggies together.  I sliced a bunch of asparagus into pieces, and tossed them in some olive oil, along with a pint of cherry tomatoes.  I spread the veggies out on a baking sheet, sprinkled them with salt and pepper, and they were ready to pop in the oven as soon as I got the salmon on the stove.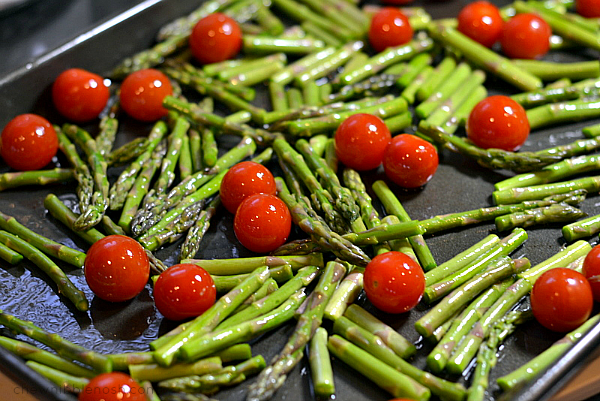 Next, I mixed together the Za'atar with some smoked sea salt (readily available in your supermarket spice section, but if you don't have some, regular kosher salt will do) and I patted the mixture onto my salmon filets.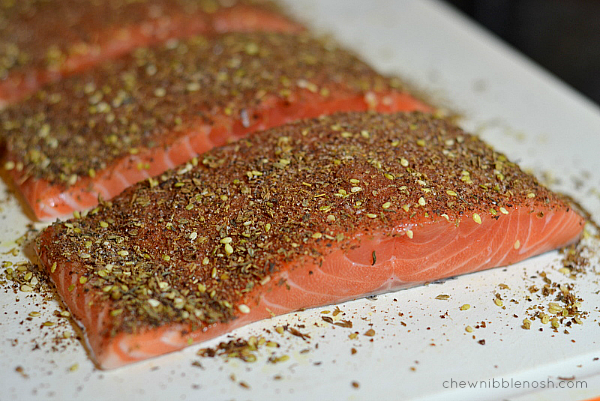 I poured a bit of olive oil into my pan on the stove top, and I carefully placed the salmon in the pan, spice side down, to sear for a couple of minutes.  At this point, I also popped my veggies into the oven.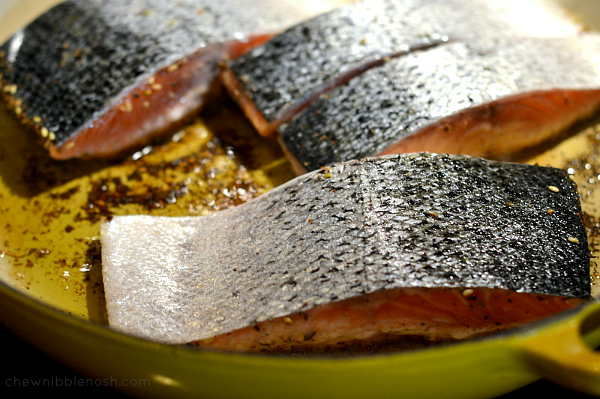 After the fish had a nice golden crust, I carefully flipped over the pieces of salmon, and placed the pan in my oven to finish the fish off for about ten minutes.
During this time, I was able to quickly cook up some tri-color couscous to go alongside.
The salmon and veggies were both done at the same time, and then it was just a matter of plating it up.
I heaped the couscous onto my plate, placed the roasted veggies around it, and then the salmon on top.  It was delicious. The salmon was perfectly cooked, and had so much flavor from the simple spice rub!  So pretty, healthy, and fresh, and it really took no time at all.
Find the Za'atar, Friends.  Find it, make this salmon, and you'll be a really happy camper.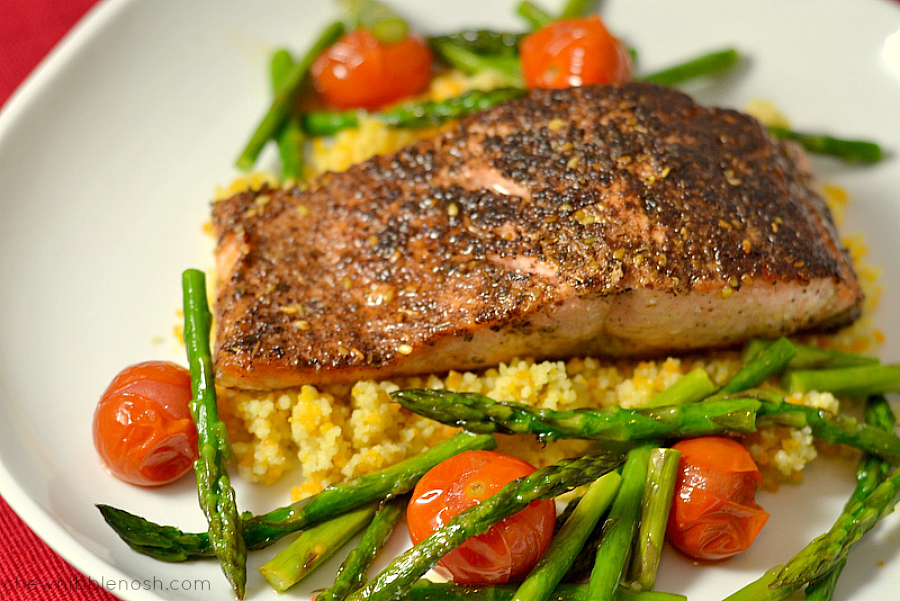 ZA'ATAR SALMON WITH VEGETABLES AND COUSCOUS
Adapted from Feed Your Soul Too
Za'atar Salmon with Vegetables and Couscous
Author:
Prep time:
Cook time:
Total time:
Ingredients
4 salmon filets
2 Tbsp. Za'atar spice blend
2 tsp. smoked sea salt (or kosher salt)
1 bunch asparagus, woody ends removed, and then sliced into 2 inch pieces
1 pint cherry tomatoes
olive oil
couscous, prepared according to package
salt and pepper, to taste
Instructions
For the Salmon:
Preheat the oven to 325*F
Pat the salmon pieces dry. Mix together the Za'atar and smoked sea salt. Season each piece of fish well with the spice mixture, patting to make sure the spices stick.
Heat 2 Tbsp. of olive oil in a large, oven proof skillet. Place the fish spice side down in the pan, and sear for 2-3 minutes. Carefully flip the fish over, and place the pan in the preheated oven for 10 minutes until fish is tender, flaky and cooked through.
For the vegetables:
Preheat oven to 325*F
Toss the asparagus and tomatoes with 2 Tbsp of olive oil, and spread out on a baking sheet. Sprinkle with salt. Roast for 12-15 minutes, or until done to your liking.
Serve the salmon with roasted vegetables and prepared couscous.
ENJOY!