Directions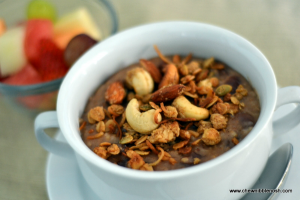 If you added up all of the snacks you eat in a month, how much of it was healthy?  How much did you spend on those snacks?  How many of those snacks left you feeling satisfied and happy with your decision?
If you're like me, you eat at least one snack a day, or are sometimes in such a hurry that grabbing a handful of something constitutes breakfast or lunch.  It's not the best way to go about things, but it's the truth.  Some days, I just don't have time to sit down for a full meal before dinner, so I have a couple of snacks throughout the day instead.  I'm always on the lookout for healthy snacks. Snacks that fill me up, silence the grumble in my stomach, and don't leave me with that "Oh my gosh, I can't believe I wasted the calories on that candy bar, and now I'm starving" guilt.
Enter NatureBox.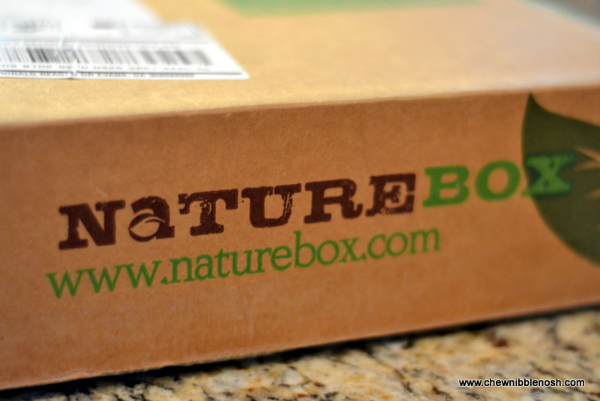 A few months ago, I was just putzing around online and I ran across NatureBox.  NatureBox is, in it's most basic sense, a snack delivery system.  What's special, though, is what they deliver.  NatureBox's mission is to provide healthy, delicious nutritionist approved snacks every month to its subscribers.  According to their website, "Every NatureBox item is carefully sourced and nutritionist approved. Everything inside your NatureBox will be guilt free so that you can feel great about what you're eating. You can trust that our products will be made from the most wholesome ingredients and will be minimally processed, if at all."
That sounded good to me.
Plus, for every box that NatureBox sends out, they provide a meal for a hungry child in America.
That sounded really good to me.
I went ahead and signed up.  It's a flat $19.95 a month, shipping is free, you can cancel at any time, and if you're not satisfied with what you receive, they'll offer a refund.  I didn't figure I had anything to lose.  Let's face it, I spend more than $20 a month on snack food for my family.  Introducing new, fun, healthy snacks to my family each month sounded like a great idea.
Fast forward to today, and I'm a very satisfied customer.  Each month has been an amazing, delicious adventure.  My kids (and husband) LOVE when the NatureBox arrives, and we're always eager to see what we'll find!  For a little more information on what you can expect in each box, check out the link here.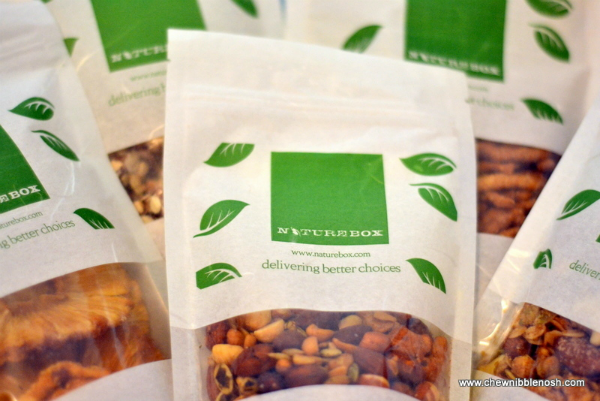 I was so impressed with NatureBox, that I decided to write them and let them know!  I also mentioned that I write a food blog and would love to feature NatureBox on the blog and tell my readers all about the wonderful things they're up to over there.  They thought that sounded like a great idea, AND they have offered to give away a NatureBox to one lucky Chew Nibble Nosh reader!
So, at the end of the post today, I'll let you in on how you can enter to win a NatureBox of your very own, but let's get to the recipe.
I've wanted to try making steel cut oats in the slow cooker for ages now.  I've seen oodles of recipes for overnight oatmeal online, but hadn't tried one.  I opened up my NatureBox last week to find their amazing Apple Orchards Granola.  Their description? "Get ready to "fall back" into autumn with our Apple Orchards Granola.  Warm cinnamon, tart apples, and whole oats are gently coated with agave and soft baked into a chewy and comforting granola that will sweeten up your morning without causing an energy crash hours later."
It certainly sounded warm and cozy, and I thought it might just be the perfect thing to sprinkle on the top of some warm and cozy oatmeal.  I decided to play around with a spiced cranberry oatmeal, and it worked out deliciously.
I started with a few simple ingredients…steel cut oats, dried cranberries, cinnamon, brown sugar, and my granola.
Steel cut oats are heartier than regular rolled oats.  I actually prefer them to regular oats in oatmeal because they have a bit more bite to them.  They are perfect for the slow cooker, though.  They are hearty enough that they don't wither down to nothing after a long cooking time.
The girls get up and eat breakfast at 7 AM, so just before 11 PM, I put my ingredients in the slow cooker, stirred it up and then, I went to bed!
Before I served up my oatmeal, I spread my Apple Orchards Granola out on a cookie sheet and toasted it up in the oven just a bit.  It was a soft-baked granola, and I wanted a bit of crunch on top.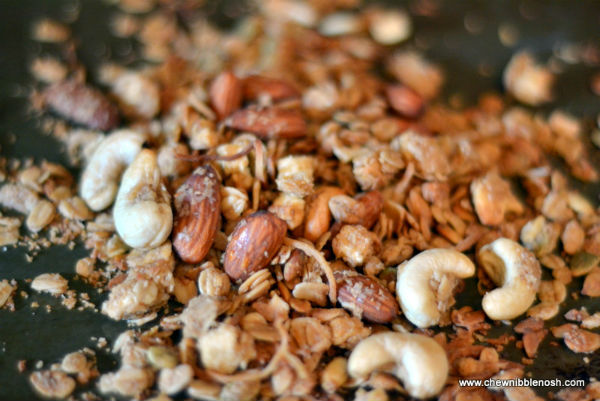 This granola was amazing.  It tasted like fresh apple pie, studded with big, beautiful almonds and cashews.  Goooood stuff.  NatureBox did it again!
My oatmeal cooked for about 8 hours.  It was nice and thick once I stirred it up, not runny at all.  If you like your oatmeal a little less thick, you may want to adjust the time a bit or add a little more water.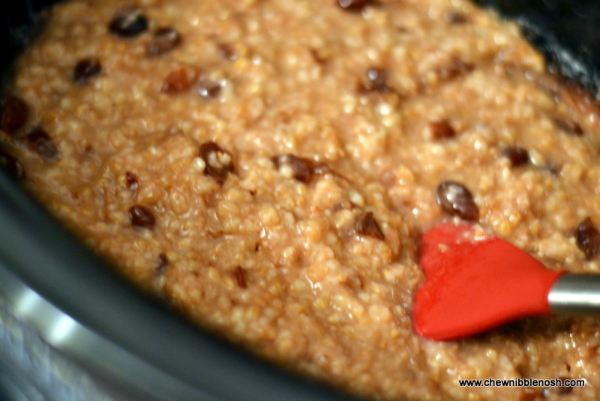 I scooped out the oatmeal into our bowls and topped it with that delicious granola, and we were instantly transported to a very happy breakfast place.  Avery ate two big bowls of it and declared it "THE BEST OATMEAL EVER!!"  The oatmeal was delicious and the granola on top just added to the goodness.  Crunchy, sweet, nutty AND healthy.  It was perfect!  The only caveat would be that even though I sprayed the slow cooker insert with nonstick spray before I added my ingredients, there was still a ring of oatmeal that stuck pretty solidly to the sides.  It was nothing that a good soak in the sink couldn't take care of, though.
Now, how can you get your hands on a NatureBox? There are a few ways to enter!
 1. (Required!!) Leave a comment below telling me about your favorite healthy snack! 
***Want more entries?***
2.  "Like" Chew Nibble Nosh on Facebook, and let me know in a comment that you do!
3.  "Like" NatureBox on Facebook, and let me know!
4.  Follow @chewnibblenosh on Twitter, and tell me about it!
5. Follow @naturebox on Twitter, and leave yet another comment!
The winner will be chosen via a random number generator software program, so each comment will serve as a separate entry. Each individual may have no more than 5 entries (assuming main comment, Twitter, and Facebook comments/entries are all utilized). Make sure you leave separate comments if you're a Facebook or Twitter follower to up your chances!
The Nitty Gritty Important Stuff:
– The giveaway is only open to US residents who are 18 years of age or older.
– Entries must be received by 11:59 PM EST on Friday, September 28, 2012.
– The winner will be chosen at random and contacted via the contact email left with the winning comment. The winner will be asked for their name, age and mailing address. If the winner does not respond by 12:00 PM on Wednesday, October 3, 2012 with the requested information, a new winner will be chosen.
– The winner will be announced on Chew Nibble Nosh, Facebook, and Twitter on Saturday, September 29, 2012.
– The giveaway has been sponsored by NatureBox.
The winner will receive a different NatureBox than the one featured in today's post.  It will be an upcoming month's box.

NatureBox can only ship to addresses in the US.

At this time, NatureBox is unable to customize boxes for specific dietary needs or personal preferences.
GOOD LUCK!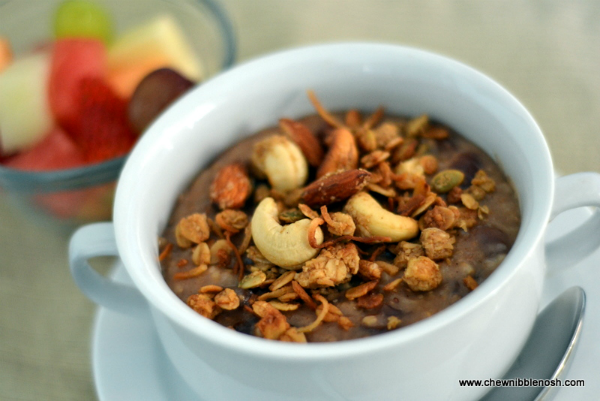 SPICED CRANBERRY SLOW COOKER OATMEAL
Spiced Cranberry Slow Cooker Oatmeal
Author:
Prep time:
Cook time:
Total time:
Ingredients
2 cups steel cut oats
1 tsp. ground cinnamon
4 Tbsp. brown sugar
1 cup Craisins
1/4 tsp. salt
6 cups water
Toasted Apple Orchards Granola, or other granola, for topping
Instructions
Spray the insert of your slow cooker with nonstick spray.
Combine all ingredients, except for granola, in the slow cooker.
Cook, on LOW, for 8 hours. Stir before serving.
Top with toasted granola.