Directions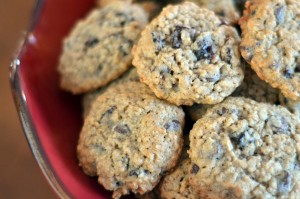 If you could bake a cookie to represent each season, what would you bake?  To me, each season has its own distinct "flavor".  When I think of winter, I imagine a minty, cool cookie (next to a mug of cocoa).  Spring brings thoughts of sugar cookies with pretty little sprinkles, each one like a new flower ready to bloom.  Summer makes me think of lemon bars and sunshine.  After spending some time in the kitchen this morning with this recipe, I now know that this is my new fall cookie.  All of the wonderful, savory spiciness of fall can be found in this sweet, easy oatmeal cookie recipe.
I have my friend, Carri, to thank for it.  She emailed me the recipe a while back, saying that after tinkering with a basic oatmeal cookie recipe, she believed that she had reached oatmeal cookie perfection.  I think she may be right.
You'll start by mixing up a pretty straightforward cookie recipe.  Quickly creaming some butter and sugar, adding some eggs…the usual.  The dry ingredients are when things start to get interesting.  Instead of just the typical cinnamon you usually add to oatmeal cookies, Carri suggested adding some ground cloves and allspice as well.  Not too much, but just enough to up the spice ante.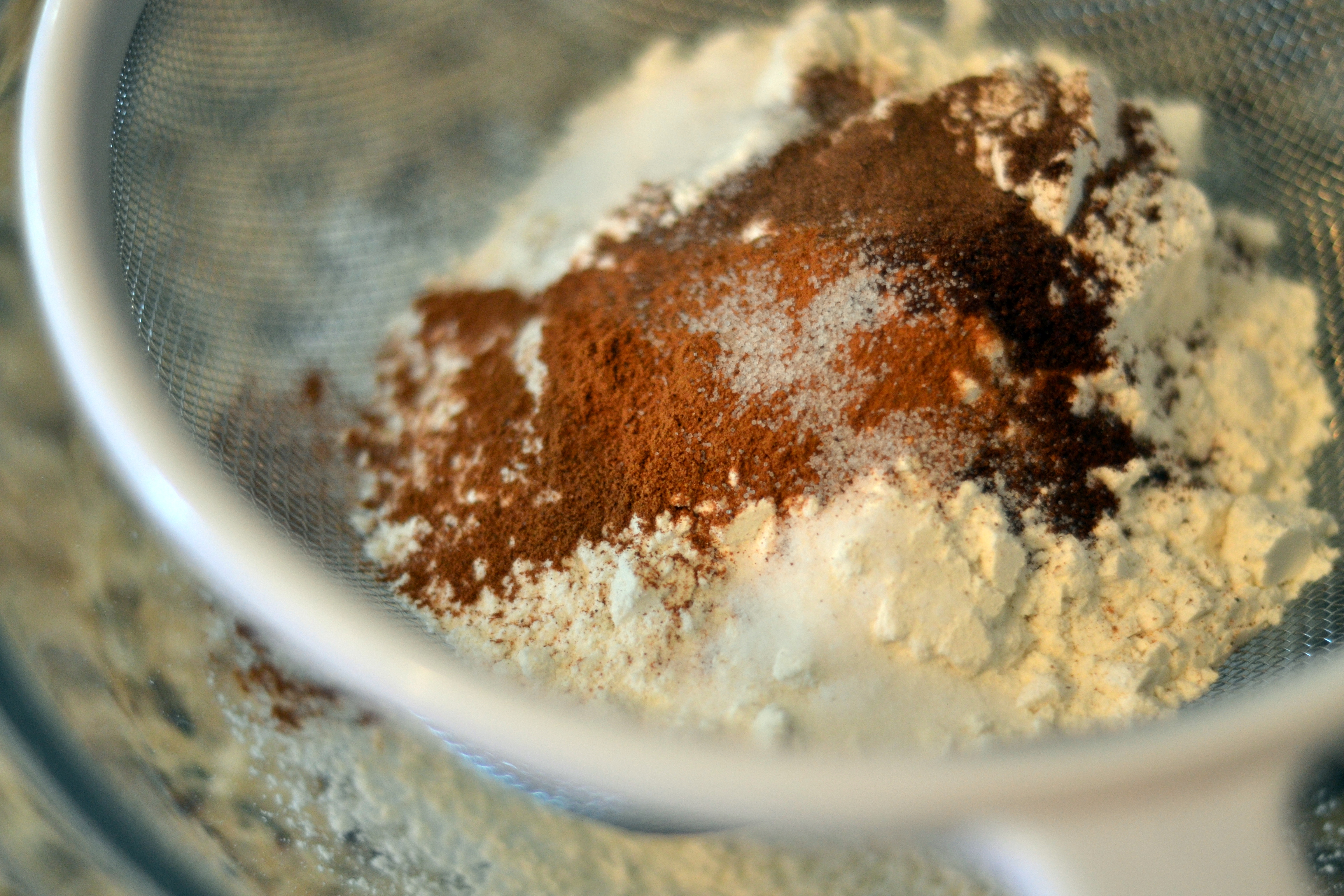 I sifted all of the dry ingredients together before adding them to the butter mixture.  Once it was worked in, it was time to add the oatmeal and some chocolate chips.  I used semi-sweet chocolate chips because it's what I had on hand.  Carri suggests milk chocolate chips.  Either way, you can't go wrong.
Now, just when it looks like you couldn't possibly add anything else to the dough, it's time to up the flavor ante again!  Carri throws in a cup of raisins at this point, which I'm sure is delicious…for people who like raisins. I'll fully admit that I have an over-the-top dislike for baked raisins.  I just don't like them…at all.  They give me the heebie jeebies.  Strangely enough, however, I do love dried cherries, so that's what I added here.  Dried cherries are quite a bit larger than raisins, though, so after measuring out a cup of them I gave them a rough chop before adding them to the dough.
Once the cherries were folded in, I scooped the dough out onto a cookie sheet and baked to my little fall heart's content.  My kitchen was filled with the spicy aroma that I love so much this time of year.  I tried one soon after they came out of the oven and it was delicious, but they were even better after they'd cooled.  I have a feeling they might be even better than that tomorrow, after the spices settle in a bit more.
Carri was right!  She found oatmeal cookie nirvana and they were the perfect thing on this beautiful October day.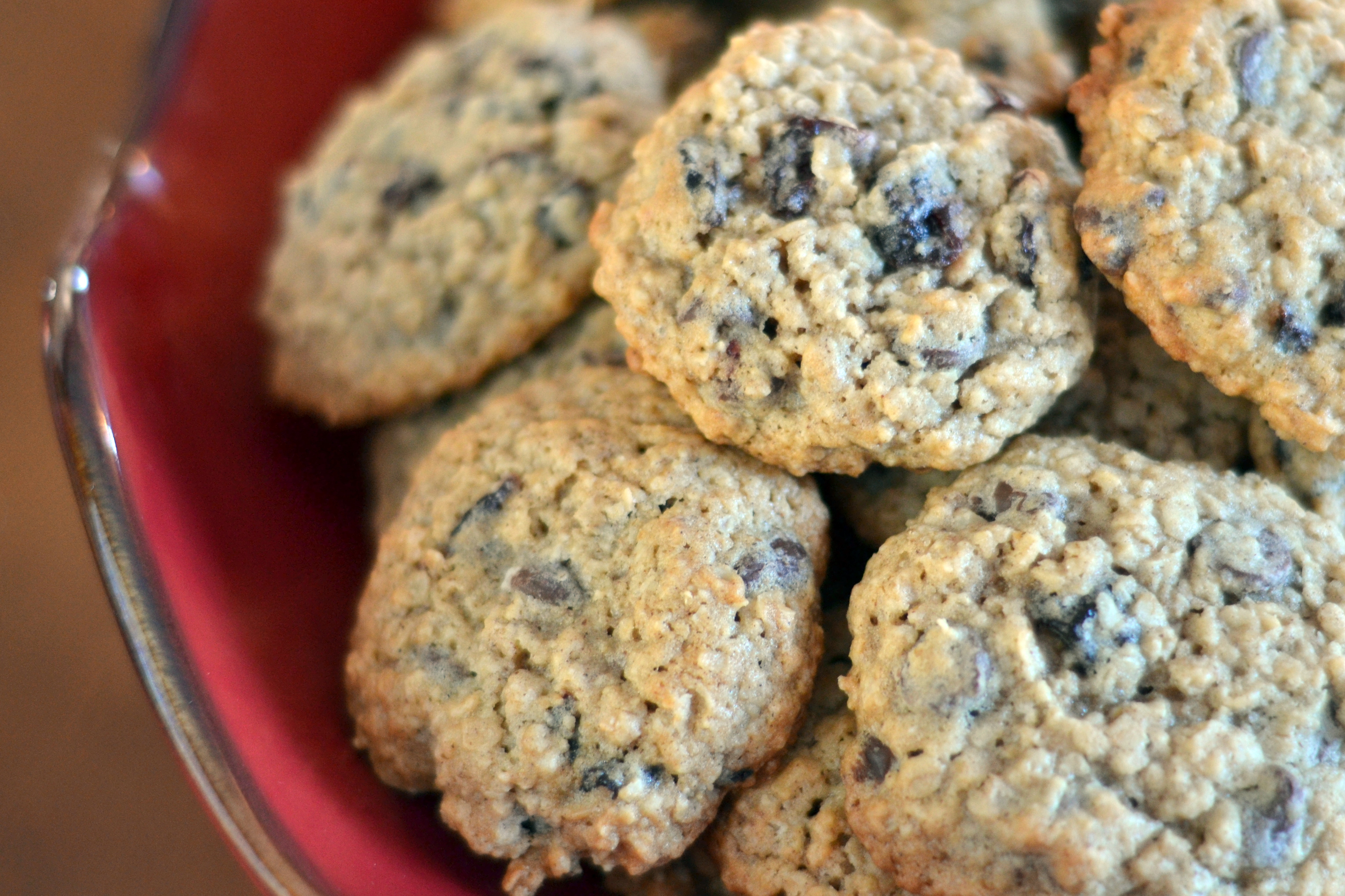 SPICED OATMEAL CHOCOLATE-CHERRY COOKIES
Adapted from Carri Underwood
Spiced Oatmeal Chocolate-Cherry Cookies
Author:
Prep time:
Cook time:
Total time:
Ingredients
3/4 cup butter, softened
1/2 cup sugar
1/2 cup packed light brown sugar
2 eggs
1 tsp. vanilla
1 1/4 cup sifted all-purpose flour
1 tsp. baking soda
1 tsp. ground cinnamon
1/4 tsp. ground cloves
1/4 tsp. ground allspice
1/2 tsp. salt
2 3/4 cups quick-cooking rolled oats
1 cup dried cherries, roughly chopped *or* 1 cup raisins (If using raisins, Carri suggests soaking them in hot water before adding them to the dough.)
1 cup chocolate chips
Instructions
Preheat oven to 350*. Line two baking sheets with parchment paper.
In a large bowl, cream butter and sugars together with a mixer until smooth. Beat in the eggs and vanilla until fluffy.
Sift together the flour, baking soda, cinnamon, cloves, allspice, and salt. Gradually, stir the flour mixture into the butter mixture in three equal parts. Do not overwork the dough.
Fold in the oats and chocolate chips. Add the dried cherries (or raisins…don't forget to drain them!) and fold into the dough.
Using a cookie scoop, spoon heaping tablespoonfuls onto your lined cookie sheets. Using the tips of your fingers, lightly press down the dome of the scoops.
Bake for 10-15 minutes per batch. Cookies should be golden around the edges and still look a little wet in the middle when you remove them from the oven. Cool slightly on the cookie sheet and then move to a wire rack to cool completely.
Yield: Approx. 3 1/2 dozen
ENJOY!