Directions
My two daughters have played the texture card at dinner since the dawn of (their) time.  I can't tell you how many times they've put a bite of something perfectly wonderful in their mouths, not even given it the slightest chew, and instantly spit it out because they "don't like the texture".  In some respects, I get it.  There are some foods that I'm not into strictly due to their mouthfeel.  There are certain foods that feel funny, take a bit longer to chew, or are just plain weird.  I am not a big fan of cooked mushrooms (I think they're slimy), oysters (Again, slimy), or softshell crab (Not slimy, but weirdly crunchy).  I get the texture issue.
My kids have taken it to a new level, though, where "I don't like the texture" is the go-to phrase if they don't want to even try something.
Steak has always been an issue.  They have both gotten to where they'll eat beef that's been braised to the point where it shreds with a fork, but give them a piece of steak or ground beef, and the answer is no. (Unless you're Avery and that ground beef is in the form of a meatball.  Then, she's all in.  Hamburgers? Meatloaf?  No way.)
Emily, my oldest, seems to be growing out of this.  Or, at least, starting to.  She still won't touch a hamburger with a ten foot pole, BUT she will admit to enjoying steak on occasion…"as long as it's tender".  We just returned from a cruise over spring break and she ordered filet one night at dinner.  I figured we'd be heading to the buffet after dinner for a second dinner for her, but she gobbled it up and said that she really enjoyed it.  Breakthrough!!!
This was a dinner that was met with moans and groans, but the girls ended up realizing that it was quite tasty, despite its steaky "texture".  We're getting there, baby step by baby step.
(For the record, the adults at the table enjoyed the meal from the get go.)
I started with the potatoes.  I sliced some buttery Yukon Gold potatoes into quarter-inch thick rounds, and tossed them with some vegetable oil, salt and pepper, before laying them out on a parchment covered cookie sheet.
At that point, they went into a hot oven and roasted for about twenty minutes.  While they were toasting up, I got moving on my steak.
I used sirloin steak tips for this dish, and made sure they were cut into, roughly, 2-inch chunks before cooking them quickly on the stove top.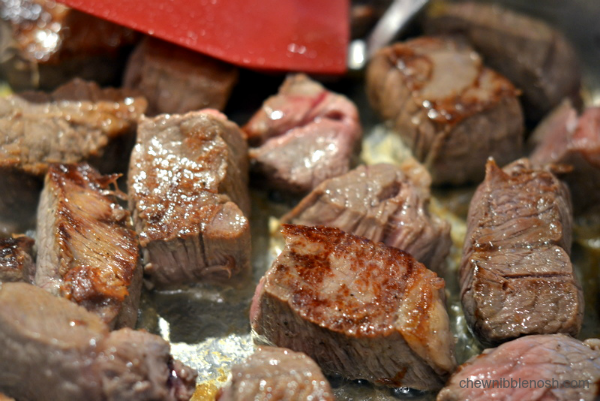 I cooked the steak for about 8 minutes, until they were seared nicely all over and had reached medium rare-medium status.  If you like your steak well done, give it a little more time.
Once the steak was done, I moved it to a plate and tented it with foil to keep it warm.
I made a quick pan sauce in the now empty skillet by sizzling up some sliced green onions and a bit of oregano for a minute before deglazing the pan with some red wine vinegar.  Scraping up those browned bits from the steak added so much flavor to the simple sauce!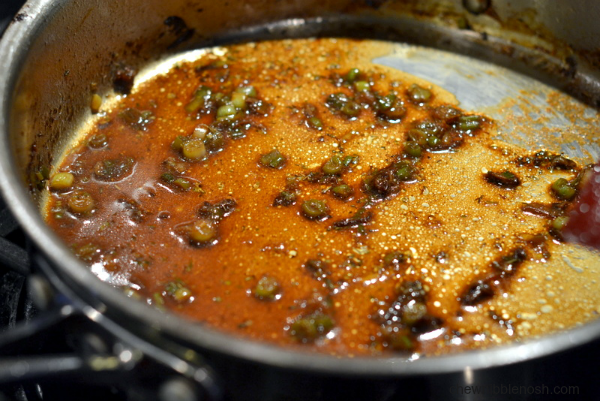 By this point, my potatoes were done roasting, so I topped them with some feta cheese and some scallions and popped them back in the oven for just a couple of minutes until the cheese had started to melt.
 And that's it!   I drizzled the sauce over the steak tips, and we sat down to dinner.  A steakhouse worthy dinner in about 30 minutes!  I'll take it!  The kids loved the potatoes, and warmed up to the steak after some prodding.  Aaron and I gobbled it all up, no whining, no moaning, easy peasy.  I look forward to the day when my kids eat like that too.  Someday…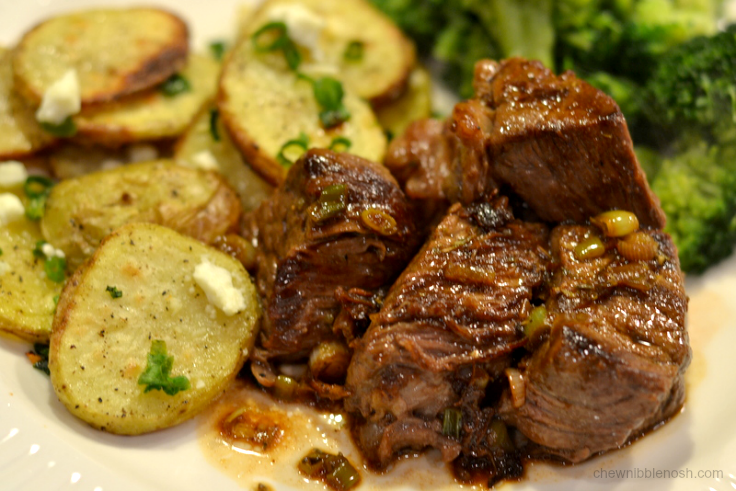 STEAK TIPS WITH ROASTED FETA POTATOES
Adapted from Cook's Country
Steak Tips with Feta Roasted Potatoes
Author:
Prep time:
Cook time:
Total time:
Ingredients
1 1/2 lbs. Yukon Gold potatoes, unpeeled, and sliced into 1/4 thick rounds
3 Tbsp. vegetable oil, divided
salt and pepper
1/2 cup feta cheese, crumbled (I used reduced fat, and it worked just fine!)
4 green onions, sliced, white and green parts separated
1 1/2 lbs. sirloin steak tips, trimmed and cut into 2-inch pieces
1/2 tsp. dried oregano
1/4 cup red wine vinegar
Instructions
For the Potatoes:
Adjust your oven rack to the upper-middle position and preheat the oven to 475*F. Line a cookie sheet with parchment paper.
Toss the sliced potatoes with 2 Tbsp. of the oil, 1 tsp. salt and 1 tsp. pepper. Arrange the slices on the prepared cookie sheet. Roast the potatoes until they are browned and tender, about 20 minutes.
Sprinkle the potatoes with feta cheese and the green parts of the green onions and bake just until the cheese begins to melt, about 5 minutes.
For the Steak:
Pat the steak dry with paper towels and season well with salt and pepper.
Heat the remaining oil in a 12-inch skillet over medium-high heat until oil just begins to smoke.
Add the steak tips and cook until well browned all over and the meat reaches your desired doneness (5-7 minutes for medium-rare, steak should register at 125*F).
Transfer to a plate and tent with foil to keep warm.
Add the whites from the green onions to the pan along with the oregano. Cook until softened, about 30 seconds.
Deglaze the pan with the red wine vinegar, scraping up the browned bits from the steak. Cook until slightly thickened.
Pour the sauce over the steak tips and serve with the potatoes.
ENJOY!