Directions
It's almost time for Cinco de Mayo!  Yay!  But, Cinco de Mayo falls on a Tuesday this year.  Boo.
Mid-week celebrations can definitely throw a wrench in your plans, especially when those plans include eating and drinking.  Luckily, you can celebrate with this simple, healthy, family friendly, weeknight-friendly, Cinco de Mayo-friendly soup!
I love tortilla soup, and one of my favorite soup recipes of all time can be found here.  I do love that recipe, but when I came across this one, I was struck by how fresh and light it looked.  I'm all about fresh and light these days.  I loved that it was chock full of veggies, and super colorful.  It looked like it could balance out a margarita or two and a piece of Tres Leches cake quite well.  (Everything in moderation, right?  It is Cinco de Mayo, after all.)
I stared by prepping a few ingredients.  Nothing fancy, but everything good.  I needed to chop up some onion, mince a handful of garlic cloves, and gather some canned goods together, along with a few boneless, skinless chicken breasts.  I also mixed together some cumin, chili powder, paprika, and ground coriander.
My tomatoes and chicken broth went into my 4 quart slow cooker first.  Then, I stirred in the onion, garlic, spice mix, and some salt and pepper.  I nestled the chicken breasts down into the mix, and it was ready to cook on LOW for six hours.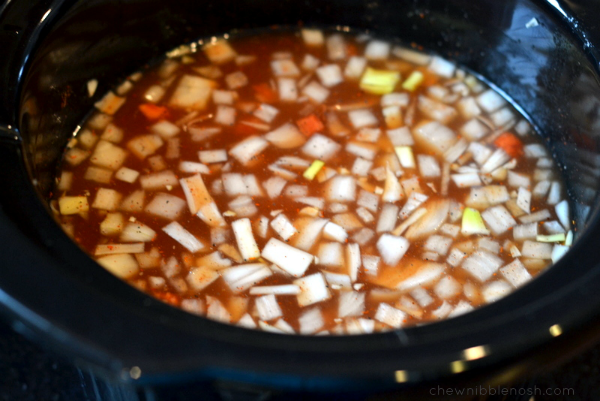 Super thrilling picture, eh?
Well, after it had time to cook, it looked a whole lot more interesting, and smelled delicious!  I removed the chicken breasts from the soup, and gave them a good shred.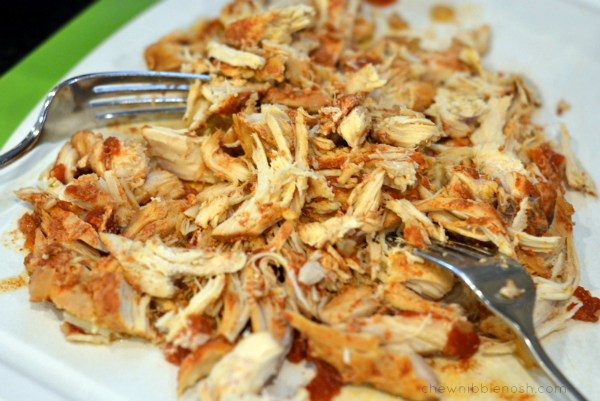 Then, I added the chicken back into the soup, along with a heap of frozen corn, a can of black beans that I'd drained and rinsed, and some fresh lime juice.  (Speaking of frozen corn, if you're lucky enough to live near me in Indianapolis, be sure to grab some Husk frozen corn next time you're at the store.  It's locally grown, and tastes like it's fresh off the cob.  Support your local farmers!)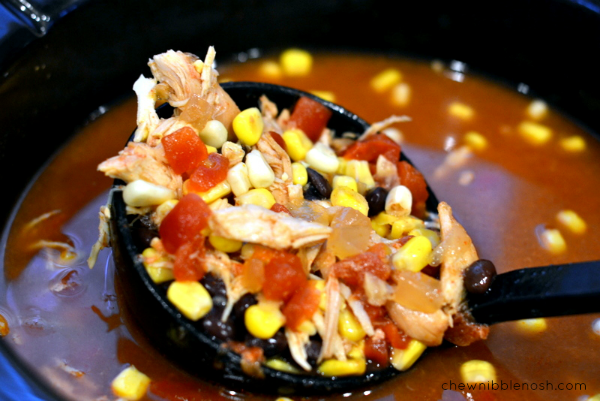 It looks a lot better now, right?
I let the soup heat through while I diced up an avocado, and chopped some cilantro to serve in the soup.  and I made sure to get some tortilla strips ready.  You can't have tortilla soup without crunchy tortillas, right?  I kept the toppings simple, but you could top to your heart's content:  cheese, sour cream, tomatoes, diced jalapeno peppers, pico de gallo, it's all good.
We all really enjoyed how fresh and tasty this soup was.  Each bite was studded with tender chicken, and fresh-crisp veggies.  No muss, no fuss, just goodness through and through, and just enough spice to keep both the kids and adults happy.
 SLOW COOKER CHICKEN TORTILLA SOUP
Adapted from Cooking Classy
Slow Cooker Chicken Tortilla Soup
Author:
Prep time:
Cook time:
Total time:
Ingredients
4 1/2 cups low-sodium chicken broth
1 (14.5) oz. can petite diced tomatoes
3/4 cup finely chopped yellow onion
4-5 cloves garlic, minced
2 1/2 tsp. chili powder
1 1/2 tsp. cumin
3/4 tsp. paprika
1/2 tsp. ground coriander
kosher salt and pepper, to taste
1 1/2 lbs. boneless, skinless chicken breasts, trimmed of fat
1 (14.5) oz. can black beans, rinsed and drained
1 1/2 cups frozen corn
2 Tbsp. fresh lime juice, or more to taste
Toppings (optional): Crunchy tortilla strips or chips, chopped cilantro, diced avocado, shredded cheddar cheese, sour cream, pico de gallo
Instructions
Combine the chicken broth and tomatoes in a 4 quart slow cooker.
Add the onion, garlic, chili powder, cumin, paprika, and coriander and stir to combine. Add salt and pepper to taste.
Nestle the chicken breasts down into the liquid, and cover with lid. Cook, on LOW, for 6 hours, until chicken is cooked through and shreds easily.
Remove the chicken breasts and shred with two forks. The chicken should pull apart very easily.
Add the shredded chicken back into the soup, along with the frozen corn, black beans, and lime juice.
Continue to cook until heated through, about 5-10 minutes. Season with salt and pepper to taste, and serve with assorted toppings.
ENJOY!