Directions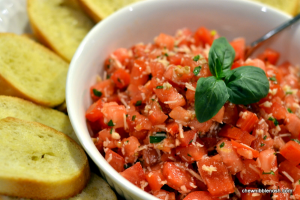 When Winter comes along, there are some sacrifices we all must make.  One of these sacrifices is often a decent tomato.  We've all had that crummy tomato.  Whether it's the pale, pithy, icky tomato thrown on a restaurant sandwich in January, or the tomato that looks like it might just be OK, but has absolutely no flavor.
Winter tomatoes are often the pits.
Sometimes, however, amazing tomatoes sneak their way into the winter tomato bin at the grocery store, and that's exactly how it came to be that I made this appetizer for a book club meeting I went to last week.
I was at the grocery store, shopping my way through the produce department, when I saw a huge bin of beautiful Roma tomatoes.  Not only did they look pretty, but they had that summer tomato smell.  Know what I'm talking about?  There they were, right in front of me, in February…REALLY NICE TOMATOES.
So, I bought a bunch and whipped up this favorite of ours to share with my friends.  I've been making this for years, and it's nothing fancy, but always a hit.  It's fresh and light, and you'd be hard pressed to find someone who doesn't like that classic tomato-basil-garlic-parm combination.
First things first, I sliced up a baguette and laid the slices out on a cookie sheet.  I brushed the pieces with olive oil, and then sprinkled them with salt before popping them into the oven to toast up for a bit.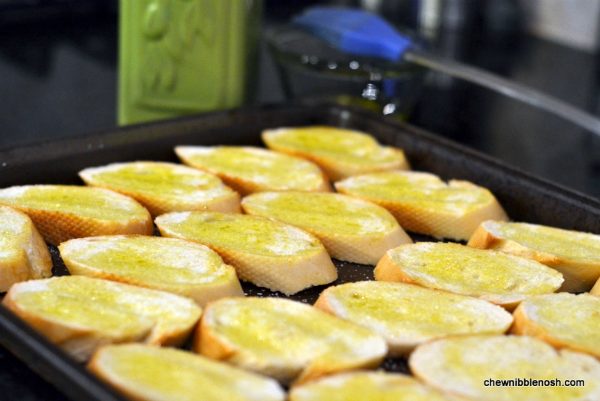 As the bread was toasting, I got to chopping.
I chopped up those beautiful tomatoes, as well as some fresh basil from my super cool indoor herb garden that my in-laws got me for Christmas.  Yay for homegrown fresh basil in the winter to go with my unseasonably nice tomatoes!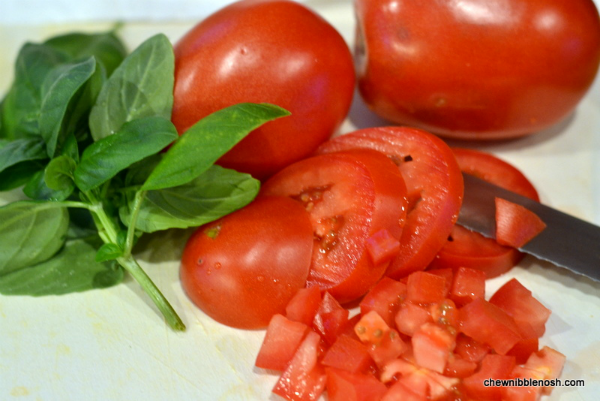 I put the tomatoes in a bowl, added the chopped basil, threw a couple of cloves-worth of minced garlic in, some olive oil, and some shredded Parmesan cheese.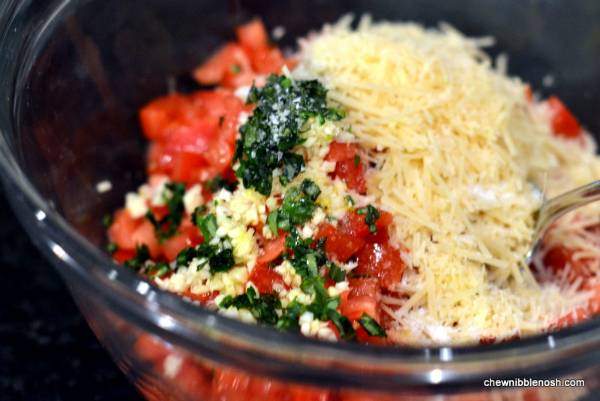 I stirred it all up, added some salt and pepper to taste, and it was done.  Fresh, simple, and light.
I arranged the warm, crusty toasted bread around the bruschetta and took off for the night.
My book club gobbled it up, and I had a couple of people mention to me that the tomatoes were really good!  It was like a special, fresh little treat, in the middle of (what seemed like) Polar Vortex #20.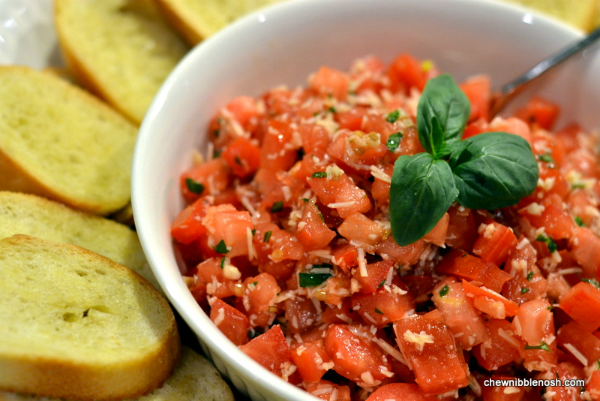 TOMATO BASIL BRUSCHETTA
Adapted from Betty Crocker
Tomato Basil Bruschetta
Author:
Prep time:
Cook time:
Total time:
Ingredients
1 crusty baguette, sliced into 1/4 inch pieces
Olive oil (2 Tbsp. plus however much you need to brush the tops of the bread)
2 cups diced Roma tomatoes (2-3 tomatoes)
3 cloves garlic, finely minced
1/2 cup shredded Parmesan cheese
2 Tbsp. chopped fresh Basil
1/2 tsp. salt
Instructions
Preheat the oven to 425*F.
Place the bread slices on an ungreased cookie sheet. Brush the tops of the pieces with olive oil, and sprinkle with salt.
Bake 5-10 minutes until toasty and golden brown.
Mix together the chopped tomatoes, garlic, basil, Parmesan, 1/2 tsp. salt and 2 Tbsp. of olive oil.
Serve the tomato mixture alongside the toasted bread.
ENJOY!