Directions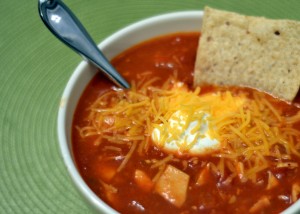 I'm just going to come out and say it. I won't mince words.
I love this soup.
  It may be my favorite soup to make during the chilly months.  I always look forward to the first batch and, as usual, this year's did not disappoint!
Every time I make this soup for someone, they ask me for the recipe.  It's so easy, it's almost embarrassing.  There's nothing gourmet about it, preparation-wise, but it is the best Tortilla Soup I've ever had.  It's great to either entertain with or have on a busy weeknight.  It can be a little spicy, though, and if you're not into the heat, there are a few ways to mellow it out.
You'll start with some chicken.  You could cook up a few chicken breasts and chop up the meat, but I usually grab a rotisserie chicken at the grocery store.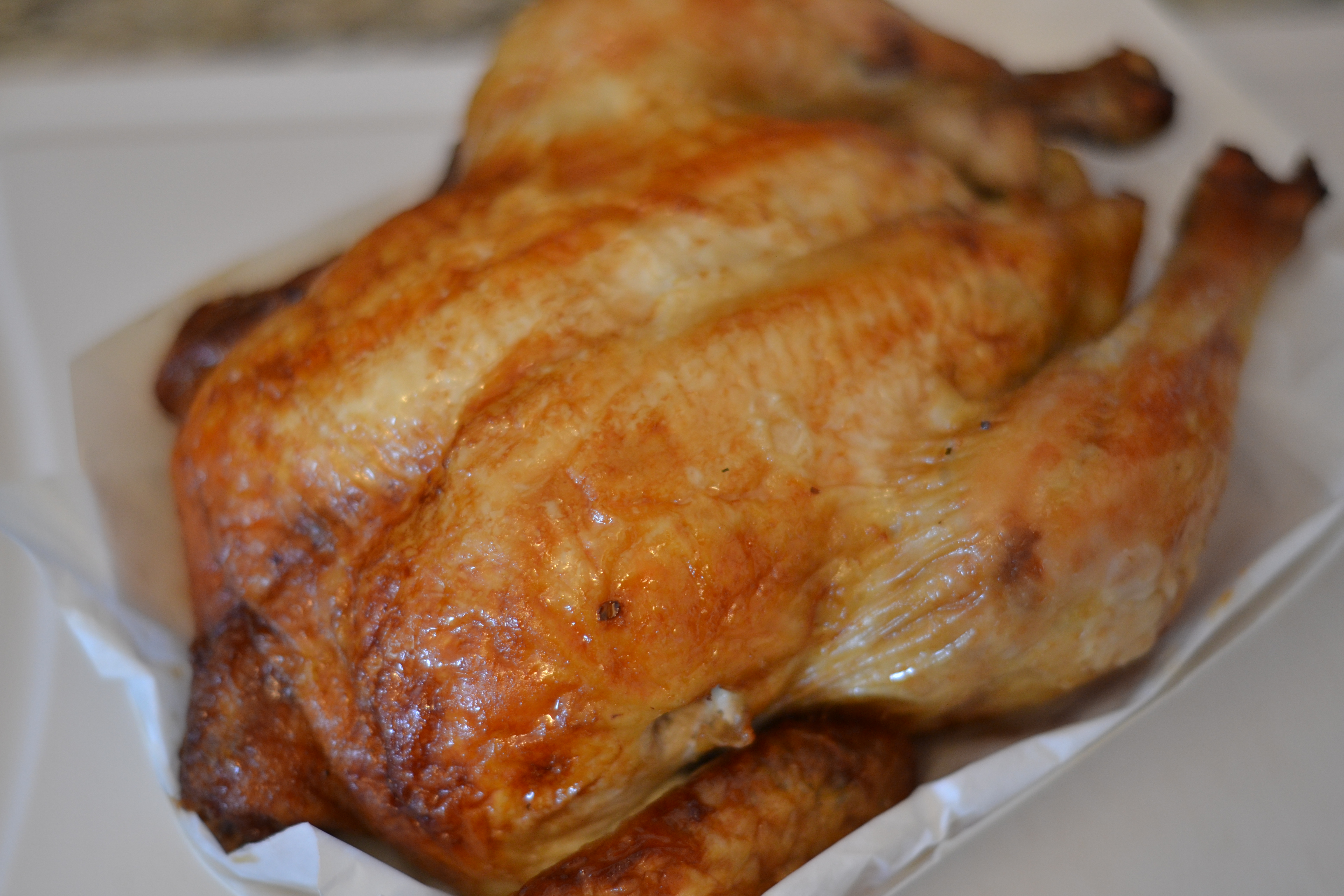 I'll remove the meat and chop that up.  It amounts to about 4-5 cups of chopped chicken.
Next, you'll chop up and saute' an onion and some garlic.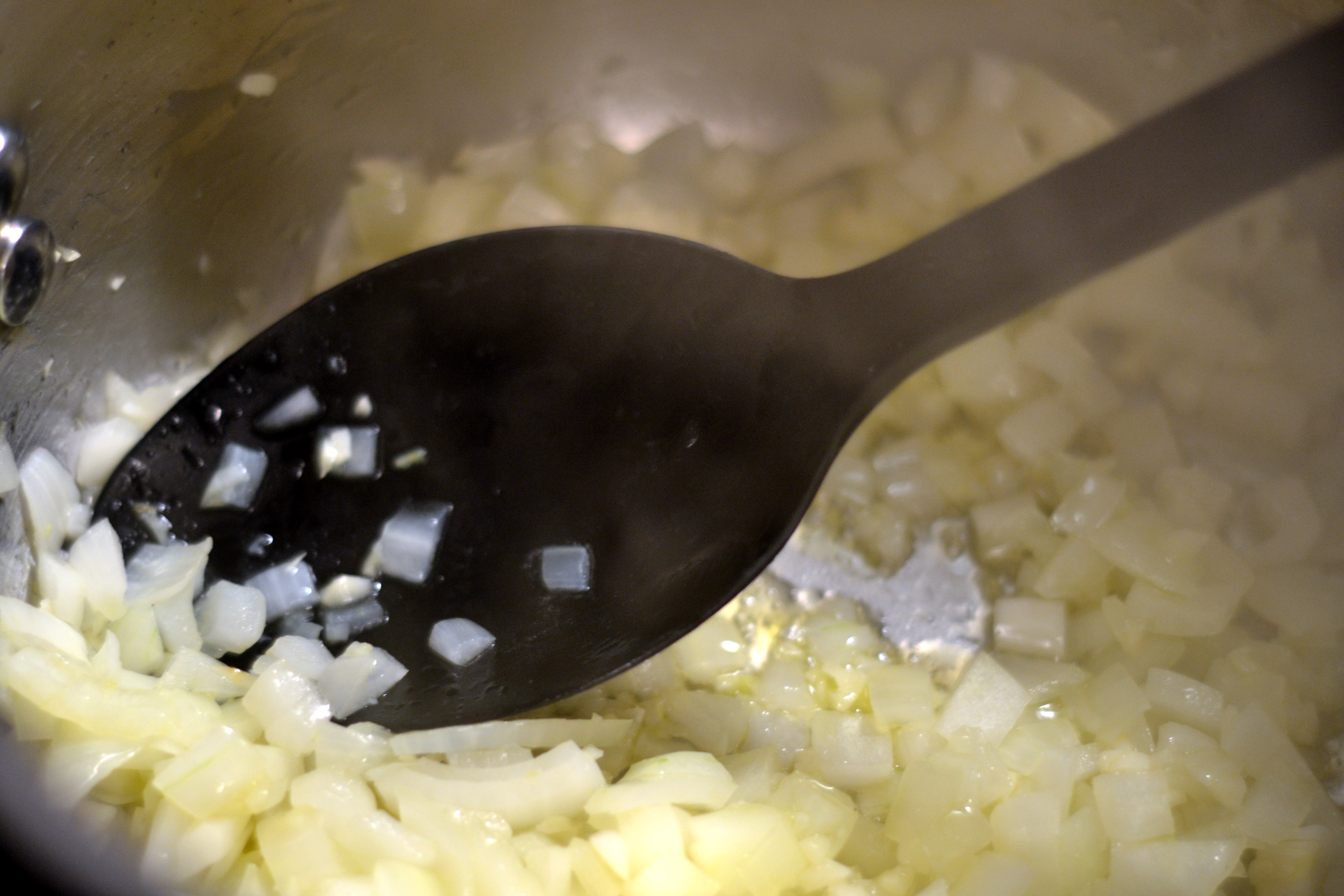 This is where the chopping and "hard" work ends.
The rest is just a matter of dumping the rest of the ingredients, chicken included, into the pot with the onions and garlic.  This recipe uses an alarming amount of canned goods!  It's an odd combo, but you'll add some Rotel (choose mild if you're not into spicy!) tomatoes, stewed tomatoes (use Mexican Style to up the spice ante), two cans of tomato soup, some chicken broth, and a bunch of both beef and chicken bouillon cubes.
Throw in a little cumin and chili powder and that's it!
Now, it just needs to simmer on the stove for an hour.  Give it a stir every once in a while and break up some of the stewed tomatoes with a large spoon.
When the soup is ready, crumble up a few tortilla chips into a bowl.
Ladle the soup over the tortilla chips and serve it with some sour cream, cheddar cheese and extra chips.  If you like cilantro, feel free to throw some of that on top as well!
I make a lot of soups during the colder months, and this one tops my list of favorites.  It's so easy, it's delicious, filling, and it freezes extremely well.  We always  have enough left over to freeze for a rainy day.
Looking at this picture reminds me that I have a bowl waiting in the fridge for me to heat up.  I better get right on that.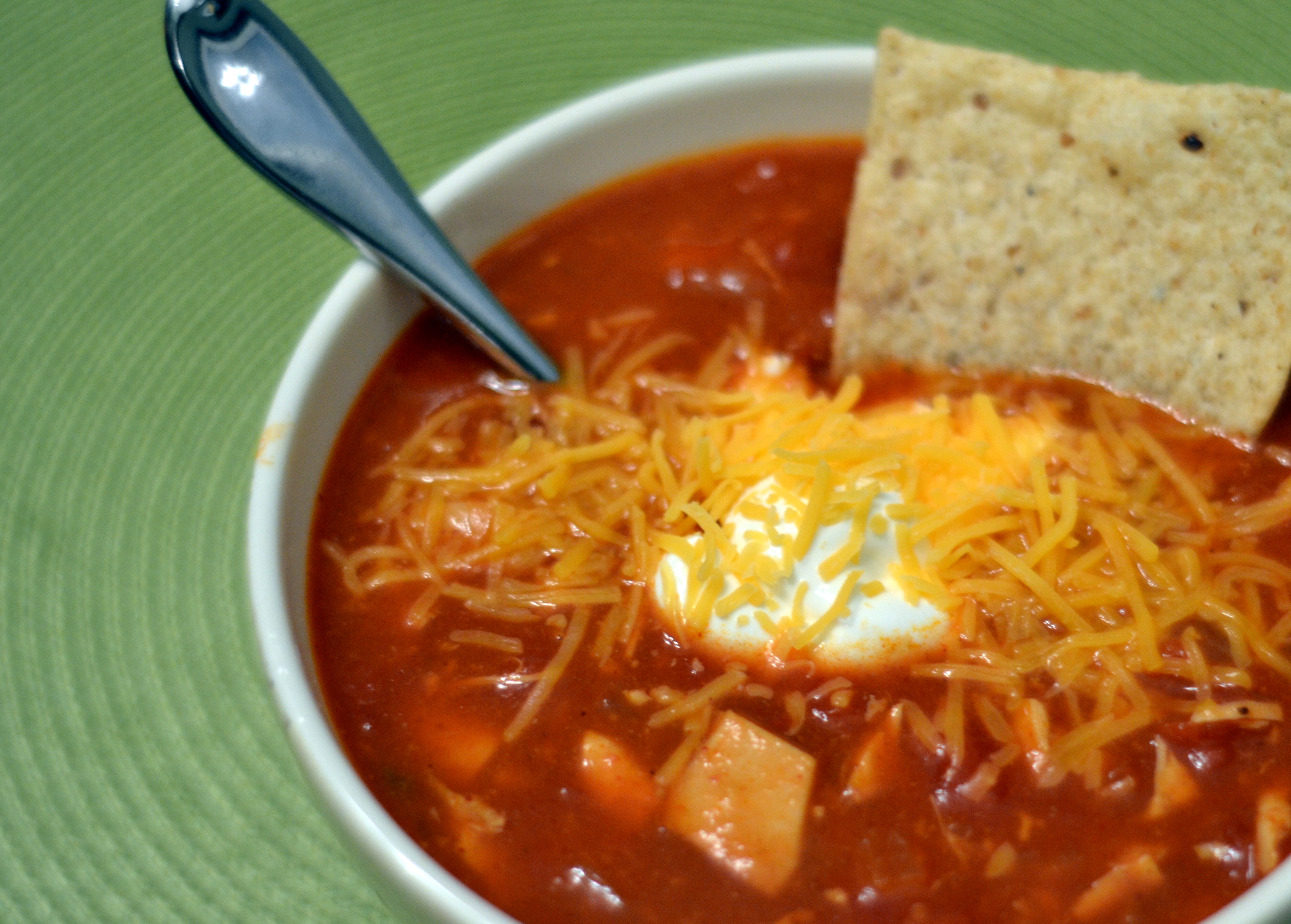 TORTILLA SOUP
Tortilla Soup
Author:
Prep time:
Cook time:
Total time:
Ingredients
1 deli rotisserie chicken, meat removed and chopped up (or substitute 4-5 cups cooked chicken breasts)
1 chopped onion
4 garlic cloves, minced
1/4 cup olive oil
2 (14.5 oz) cans Mexican Style Stewed Tomatoes (Regular stewed tomatoes work really well too, just not as spicy)
2 (10 oz.) cans Rotel tomatoes with chiles (The original Rotel help make the soup plenty spicy. If you don't want as much of a kick, use the mild.)
4 cubes beef bouillon
4 cubes chicken bouillon
2 cans tomato soup
3 cups chicken broth
2 Tbsp. ground cumin
1 Tbsp. chili powder
Chopped fresh cilantro, tortilla chips, sour cream and cheddar cheese for garnish
Instructions
Saute' onion and garlic in the olive oil over medium heat until softened. Add the chicken and the next 9 ingredients. Bring to a boil. Lower the heat and simmer for 1 hour.
To serve, crumble some of the tortilla chips in a bowl and ladle the soup over the top. Top with chips, cheese, sour cream and cilantro if desired.
This freezes really well.
ENJOY!