Directions
A few days ago, I returned from a  Girls Week at the beach with my daughters, Mom, Aunt and cousins.  We had a fantastic time together and it was so nice to just hang out and reconnect, since we don't get to see each other that often.  We live in different states, and all lead very busy lives, so we were eager to park our chairs in the sand and just "be" for a week.  I think the trip did all of us some good!  Oh, and the Mojitos helped too.
The trip, however, was not so good for my waistline.  That's OK, though, because I enjoyed every…single…bite.   I figure, if you can't eat what you want when you're on vacation then it's just not vacation!  Every night we were treated to a wonderful meal and stumbled back home looking, and feeling, like we'd just eaten Thanksgiving dinner.  (And every day since, I've been working to reverse the turkey belly.)
One night, we stopped at a popular local spot that had a beautiful outdoor seating area and great live music, right on the main strip.  It was a lovely night, with a nice, soft breeze flowing in from the beach, so we decided to call the patio home for the night.  When the server came around to tell us about the specials, my oldest daughter's eyes lit up as she mentioned an appetizer involving fresh, cool watermelon, zesty feta cheese, basil oil, and balsamic vinegar.  Emily has odd tastes for a kid, but I love that she'd rather dive into something like that than the chicken fingers and fries her sister covets.
Once Emily heard about the appetizer, there was no going back.  I had to order it or I'd rank as "The Most Awful Mom in the World" for an evening, and nobody wants to deal with that label on vacation, so I asked the server to bring us some.  When it arrived, we all sampled it (Although, Emily snarfed up most of it before we could get our hands on it.) and found that it was a perfect appetizer for summer.  It was light, fresh, and cool.  The sweetness of the watermelon paired perfectly with the salty feta, oil and vinegar.  It was really refreshing!  Emily raved and raved about it and asked me if I could make it for her at home.
You know what?  It was simple enough that I could.  So I did!
First things first, I had to make the basil oil.  After a little bit of online research, and I'm talking about twenty seconds worth, I found that making basil oil is pretty darn simple.  I had everything I needed on hand.  Everything being fresh basil and olive oil.  That's all you need!  The most difficult part of the process was prepping the basil, and that took all of about a minute.  In order to keep the basil nice and green when it's added to the oil, instead of that murky, blackish color it usually turns into once you cut into it, I had to quickly blanch the leaves in boiling water.
I got my leaves together, threw them in the boiling water, let them cook for about ten seconds and then took them out and dried them on some paper towels.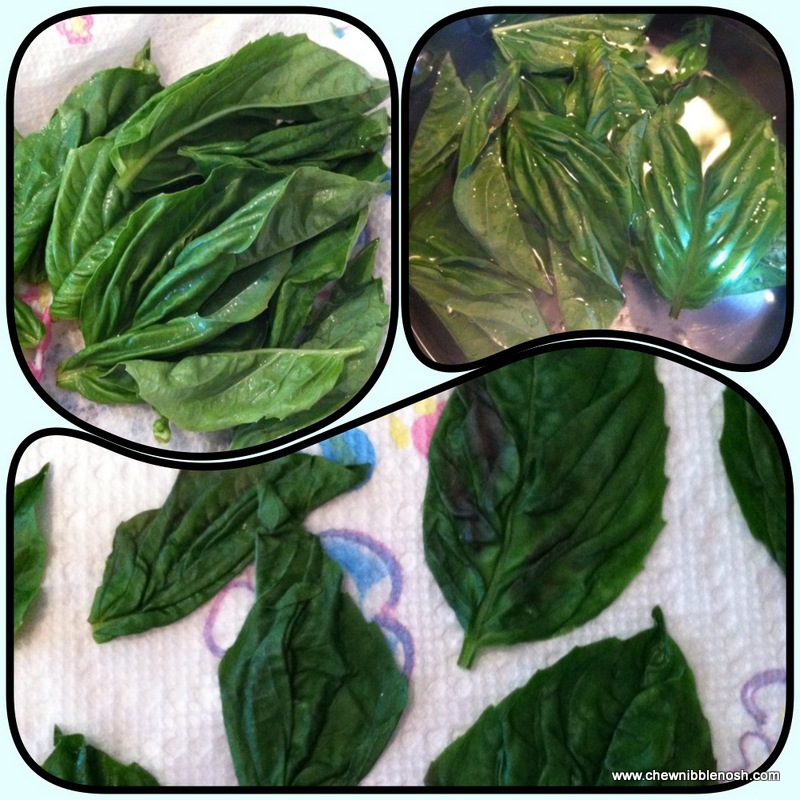 Once that was done, I threw the basil leaves in my blender with a half cup of olive oil, and after a couple of quick spins in the blender, I had beautifully green basil oil!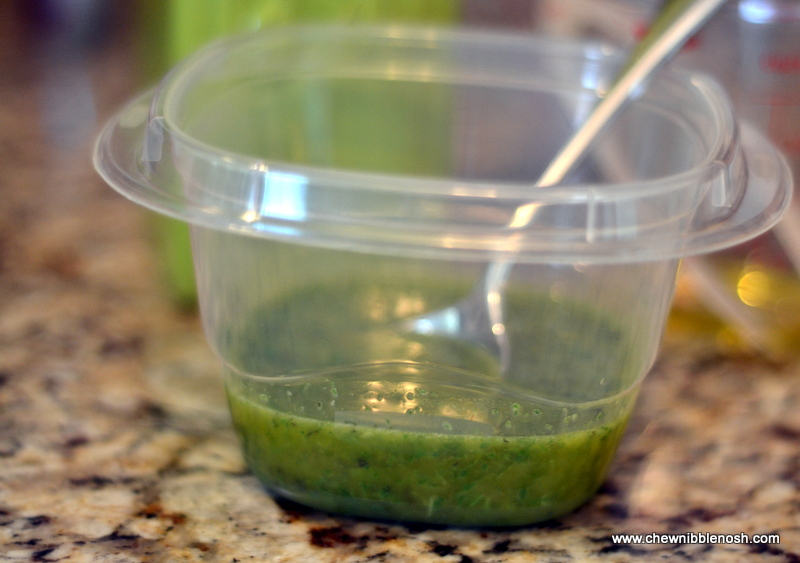 This basil oil can be used in a lot more than just this appetizer.  Mix some into some mashed potatoes, drizzle some over tomatoes and mozzarella, mix it with a little grated parmesan and dip some bread in it, drizzle some into some tomato soup, it's up to you!  You won't need much for this dish and the oil keeps in the fridge for three days.  Just take it out of the fridge about 30 minutes before you want to use it, so the oil can loosen up.
Now that the basil oil was done, all I needed to do was assemble my watermelon and feta stacks.  I thinly sliced up a seedless watermelon.
(This was the prettiest watermelon!)
Then, I cut the slices into squares and let them hang out on some paper towels while I got the feta ready.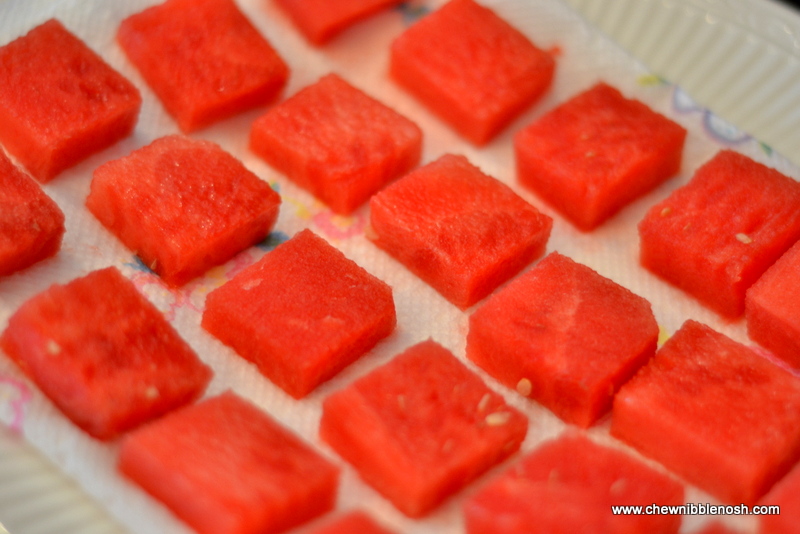 Next, I got out my block of feta cheese and sliced it into slightly smaller squares.
I placed a piece of feta on top of each watermelon square and then poked a toothpick in to keep it stable.
When I was ready to serve them up, I drizzled them with some of the basil oil and then with some Balsamic Glaze.  Have you discovered Balsamic Glaze yet?  If not, grab a bottle of it next time you're at the grocery store.  You should be able to find it in the vinegar aisle.  Basically, it's Balsamic Vinegar that's been reduced down to a syrup.  It's thick, tangy, dark, and delicious.  I keep it on hand because Emily drizzles it over everything, but it's delicious with a Caprese salad, over grilled chicken or even drizzled over strawberries!  A little of this stuff goes a long way!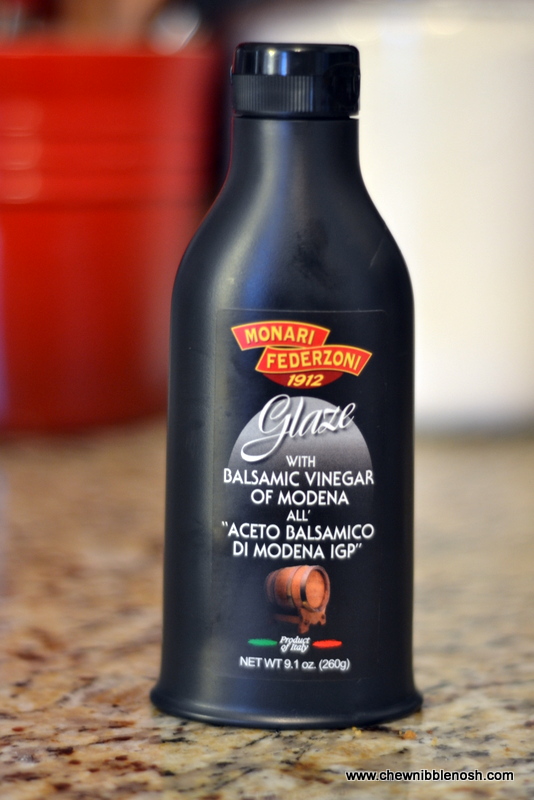 Emily didn't know that I was making this appetizer last night before dinner, so she was pleasantly surprised when she walked into the kitchen and saw it.  I got a giant hug and a "You're the BEST MOM EVER!" from her.  Avery, on the other hand, rolled her eyes and asked if she could just have a slice of watermelon.
Oh well, one out of two works for me!
WATERMELON FETA BITES WITH BASIL OIL AND BALSAMIC GLAZE
| | | |
| --- | --- | --- |
| Watermelon Feta Bites with Basil Oil and Balsamic Glaze | | |
Author:
Ingredients
1/2 cup fresh basil leaves
1/2 cup extra virgin olive oil
watermelon, thinly sliced
a block of feta cheese
Balsamic glaze
Instructions
To make the basil oil: Quickly blanch the basil leaves in boiling water, for about 10 seconds. Remove from the water and dry on paper towels. Add the basil and olive oil to a blender and pulse until blended. Store in the refrigerator, for up to three days. Remove from the fridge 30 minutes before using.
Slice the watermelon and feta so they are bite sized and similar in size and shape. Stack one on top of the other. Secure with toothpicks and drizzle with the basil oil and Balsamic glaze before serving.
ENJOY!