Directions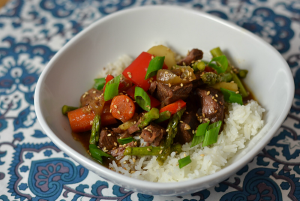 Sometimes, it's a lot of fun when worlds collide.
I can safely say that I've spent most of the mornings during my lifetime watching The TODAY Show. I grew up watching Jane Pauley and Bryant Gumbel, watched it in college to catch up on the news before classes, and as an adult, I watch it, and enjoy it, more than ever. When I was in New York over the summer at a blogging conference, I spoke with some people from the show, who were there to promote their online parenting community called TODAY Parenting Team. It's a place where everyone from TODAY Show guests and experts, to "Mom of Two, from Cleveland" can contribute to the conversation about what parenting looks like today. It's a great concept! I have checked it out online, and enjoyed many parenting segments on the show as I sip my morning coffee. Being a food blogger, though, the Parenting Team wasn't really my writing niche. So, when I received an email from TODAY about their new TODAY Food Club, I got really excited, because THIS was a place I could really sink my teeth into.
Like the Parenting Team, TODAY Food is full of wonderful ideas, but also delectable recipes, contributed from everyone from TODAY show guests and celebrity chefs to, again, "Mom of Two, from Cleveland". I love that they've made the community so all encompassing, accessible, and easy for everyone (not just food bloggers and chefs) to be a part of. You can simply head on over to the TODAY Food Club page, sign up for an account, start contributing recipes. and add to the discussion. It's that easy. Here's a link to my profile page. Check it out!
I've had a lot of fun with their Food Club Challenges, and you can too! The first challenge I entered was a call for Family Favorites, recipes that have been passed down through generations and still come in strong today. I contributed my Baked Gnocchi with Zucchini and Tomatoes, a twist on a staple of my Grandmother's. The recipe took off on the site, received quite a few votes, and was so successful that I even got a shout out from Willie Geist and Tamron Hall during one morning's show, which as an avid viewer, was pretty exciting! (Even though I missed seeing it live by about five minutes. Thankfully, my dad was able to grab it on his DVR and then TODAY was nice enough to email me a video of the segment. Phew!)
The most recent challenges I've entered have been calls for Breakfast Ideas and Slow Cooker recipes. And to help me with the Slow Cooker challenge, TODAY teamed up with All-Clad and sent me the most BEAUTIFUL 7 qt. slow cooker. My inner food gadget nerd got really excited at the sight of it (It's so pretty!), and I couldn't wait to try it out!
I'm pretty proud of this Asian Beef Stew recipe that I submitted for the challenge. I wanted to create a twist on a winter favorite, hearty beef stew, but also wanted to incorporate more fresh veggies and a little spice. The result was really tasty, really simple, and exactly what I was looking for. My family thoroughly enjoyed it, and we'll be having it again and again!
I started by slicing up half of a large sweet onion, and peeling and cutting up about a pound of carrots. I also got my stew meat situated, making sure the cubes of meat were cut into roughly the same size cubes.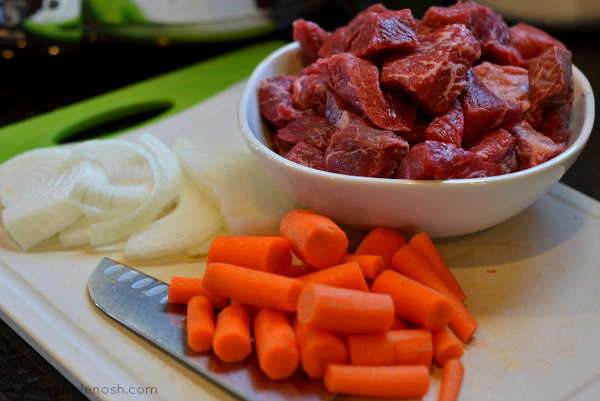 I added the meat, carrots, and onion to my new slow cooker, and mixed them around so the veggies were evenly distributed. Then, I got to work on the sauce.
I whisked together some beef broth, soy sauce, brown sugar, sesame oil, Sriracha, rice wine vinegar, garlic, and black pepper.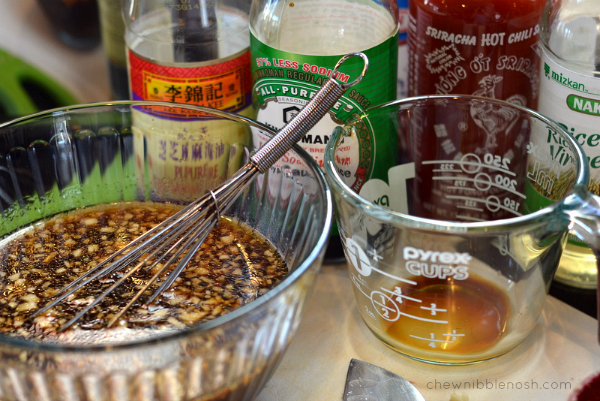 A little bit of sweet, a little bit of spicy, some tang, and a whole lot of flavor!
Then, once everything was mixed up nicely and the sugar had dissolved, I poured the Asian sauce over the meat and veggies in the slow cooker.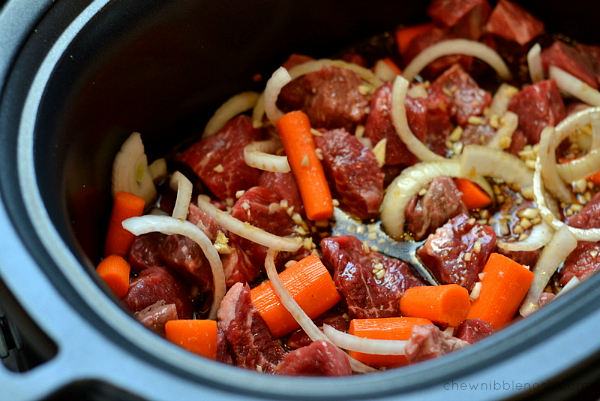 I poked things around a bit, to make sure that it was all nestled into the sauce, and then I covered the slow cooker and set it to cook on LOW for eight hours.
There's more to this stew though than just carrots and onions! I wanted to add more fresh veggies near the end of cooking time, to help keep them crisp and vibrant. My day was only getting busier, so while the stew was stewing, I chopped up a fresh red pepper, and a good bit of asparagus.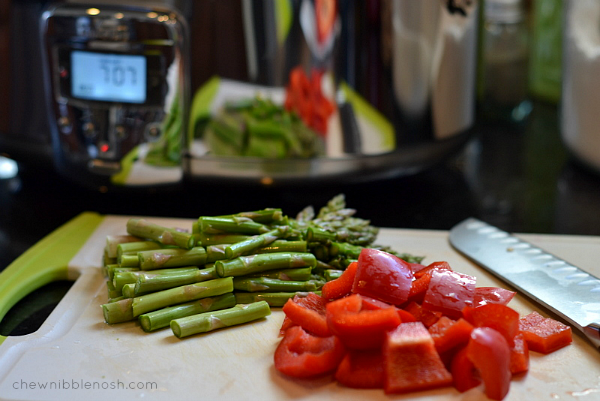 I put the fresh veggies in the fridge until later in the day when I needed them.
About twenty minutes before we wanted to eat that evening, I whisked together some cornstarch and water, and stirred it into the slow cooker. Then, I added in my red pepper, asparagus, and a can of sliced water chestnuts.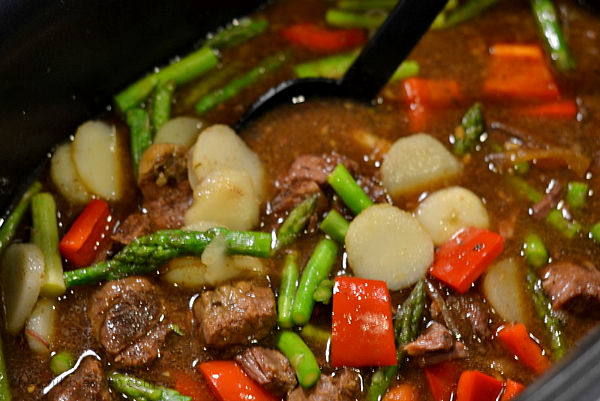 I put the lid back on, changed the heat to HIGH, and let the stew cook for about 15-20 minutes longer, until the sauce had thickened just a bit more and the veggies were crisp tender.
To serve, I ladled the rich stew over steamed Jasmine rice, sprinkled it with some sliced green onion and sesame seeds, and we had a delicious, fresh meal, ready to go.
Thank you so much, TODAY and All-Clad for the extra special gift, and for creating a fabulous space for home cooks and professionals to gather together and celebrate something we all enjoy…FOOD! Check out my personal page here, and if you like what you see, feel free to "vote up" my recipes! And, sign up for an account yourself and start sharing! I'd love to see you there. If you do, leave a comment on this post with a link to your profile! I'll stop on by!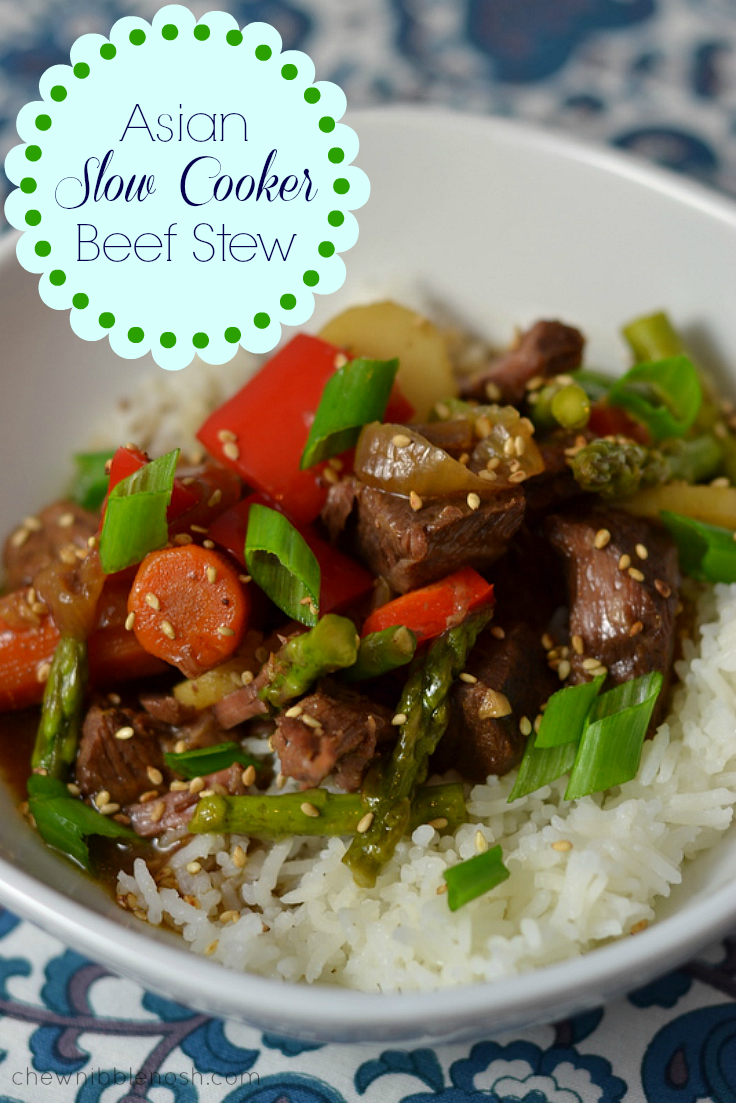 ASIAN SLOW COOKER BEEF STEW
Asian Slow Cooker Beef Stew
Author:
Prep time:
Cook time:
Total time:
You can prepare the extra veggies ahead of time, and switch them out for other veggies if you'd like. Just add them to the slow cooker during the last segment of cooking time, so they stay nice and fresh-crisp.
Ingredients
2 ½ lbs. beef stew meat, cut into 1 ½ inch cubes
½ large onion, thinly sliced
1 lb. carrots, peeled and cut into 2 inch chunks
1 cup beef broth
½ cup reduced-sodium soy sauce
½ cup light brown sugar, packed
1 Tbsp. sesame oil
1-2 tsp. Sriracha (depending on how spicy you like things)
1 Tbsp. rice wine vinegar
4 cloves garlic, minced
1 Tbsp. fresh grated ginger
¼ tsp. ground black pepper
2 Tbsp. cornstarch
½ bunch fresh asparagus, woody ends removed, and cut into 2 inch pieces
1 large red bell pepper, cut into 1 inch chunks
1 (8 oz.) can sliced water chestnuts
sliced green onions and sesame seeds, for garnish
cooked white rice, for serving
Instructions
Combine the beef with the onions and carrots in a 6 quart slow cooker.
In a medium sized bowl, whisk together the beef broth, soy sauce, brown sugar, sesame oil, vinegar, ginger, garlic, Sriracha, and pepper.
Pour the sauce over the beef and vegetables in the slow cooker. Stir to make sure everything is evenly coated.
Cover the slow cooker, and cook on LOW for 7-8 hours or HIGH for 3-4 hours.
In a small bowl, whisk together the cornstarch and ¼ cup of water. Stir it into the stew.
Add the sliced asparagus, red pepper, and water chestnuts. Stir to combine. Cover the slow cooker, turn the heat to HIGH and cook for 15-20 minutes longer, until sauce has thickened a bit and the vegetables are crisp tender.
Season with salt and pepper, to taste, and serve over cooked rice.