Directions
I won't mince words.  This is really, really tasty.  I have to thank my sister-in-law, Karin, for sharing this recipe with me, and I have to apologize to the rest of you for waiting so long to make it, and share it with you.
It's really that good.
And it couldn't be easier to throw together.
It's no secret that I love Middle Eastern spices and flavors, and this packs them into a simple, weeknight recipe that my entire family enjoyed.  You could easily wrap the spiced chicken up in warm, toasty pitas with hummus, some of the fresh tabbouleh salad, and this insanely tasty garlic sauce.  You'd have yourself a shawarma wrap that rivals any I've had in a restaurant.  But, we're trying to keep things a little more low carb at home right now, in an attempt to recover after our holiday oink-fest.  So, instead, the chicken sat atop a bed of clean, healthy tabbouleh salad, with a hefty drizzle of that delicious sauce, and it was just as satisfying.
I started by prepping my marinade for the chicken.
There's a lot going on here.  I mixed together some smoked paprika, turmeric, cumin, pepper, cinnamon, crushed red pepper, and minced garlic.  To that, I added the juice from two lemons and a half of a cup of olive oil.
I added three large boneless, skinless chicken breasts, made sure they were all covered with the marinade and popped the bowl in the fridge for a few hours.
It needs at least one hour in the fridge to marinate, but if you can give it a few more, it certainly doesn't hurt.
When I was ready to bake it up, I added a sliced onion to the bowl, gave it all a good toss, and then poured the chicken, marinade, and onions into a 9×13 inch baking dish.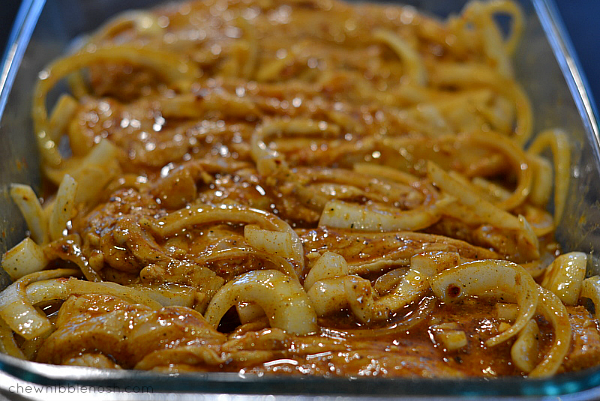 I spread the chicken and onions out in the marinade, and then the dish went into the oven for about forty minutes.
While the chicken was roasting, I made my tabbouleh salad and garlic sauce.
The salad is so simple and fresh, chock full of cracked wheat, cucumbers, tomatoes, mint, parsley, lemon and spices.  You can easily make it up ahead of time, but other than cooking the cracked wheat, it's easy enough to make up the same day.  If you can't find the cracked wheat (fine bulger), here's a Quinoa Tabbouleh alternative.
Once the salad was together, I whipped up the garlic sauce.  Olive oil, lemon juice, fresh garlic, an egg white, and some salt took a whirl in the blender, and I was left with a sauce so delicious that you could probably dip most anything in it and make it better.
I took the chicken out of the oven and let it rest for a few minutes before slicing into it, letting all of the juices settle in.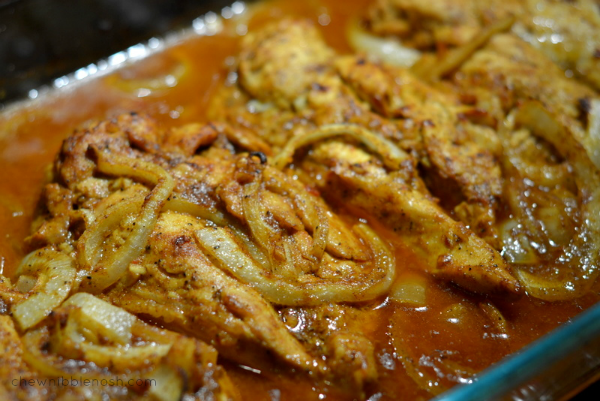 I sliced up the chicken breasts, heaped the chicken and onions over the tabbouleh, and then drizzled hefty spoonfuls of garlic sauce over the top.
Seriously, people.  It's so good.
And it's not over the top spicy.  My kids ate it and loved it, never once mentioning that it was too hot.  It is just a wonderful mix of exotic flavors, but nothing too intimidating.  If you've never had shawarma before, give this one a try, and let me know what you think!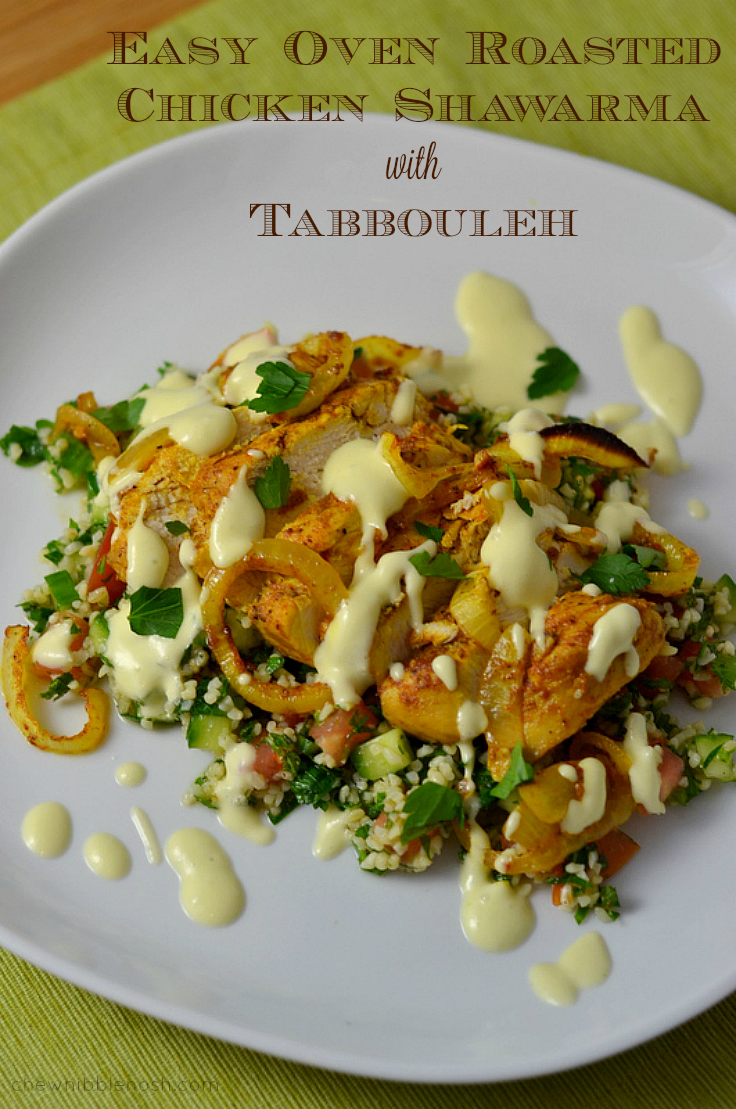 EASY OVEN ROASTED CHICKEN SHAWARMA WITH TABBOULEH
Adapted from Jo Cooks and Epicurious
Easy Oven Roasted Chicken Shawarma with Tabbouleh
Prep time:
Cook time:
Total time:
The Tabbouleh can be made up to a day ahead of time. The chicken needs to marinate for at least one hour before roasting. If you can give it a few hours to soak up the flavor, all the better.
Ingredients
For the Chicken:
3 large boneless, skinless chicken breasts
2 tsp. smoked paprika
1/2 tsp. turmeric
2 tsp. cumin
2 tsp. ground black pepper
1/2 tsp. cinnamon
1/4-1/2 tsp. crushed red pepper (based on how spicy you like things)
4 cloves garlic, minced
juice from 2 lemons
1/2 cup olive oil
1 large sweet onion, sliced thin
For the Tabbouleh:
1/2 cup fine bulgur (cracked wheat)
3 tablespoons olive oil
1 cup boiling-hot water
1 cup finely chopped fresh flat-leaf parsley
1/2 cup finely chopped fresh mint
2 medium tomatoes, cut into 1/4-inch pieces
1/2 English cucumber, cored, and cut into 1/4-inch pieces
3 tablespoons fresh lemon juice
3/4 teaspoon salt
For the Garlic Sauce:
1 cup olive oil
1/2 cup fresh lemon juice
6 cloves garlic, peeled
1 egg white
1 tsp. salt
Instructions
In a large bowl, combine the smoked paprika, turmeric, cumin, pepper, cinnamon, crushed red pepper, lemon juice, garlic, and olive oil. Add the chicken breasts to the marinade, turn to coat evenly. Cover the bowl and refrigerate for at least one hour.
Preheat the oven to 425*F.
Add the sliced onion to the marinade and make sure it's all coated. Pour the chicken, onions, and marinade into a 9×13 inch pan that you've sprayed with nonstick spray. Arrange the chicken and onions evenly in the pan, and roast for 40 minutes, or until chicken is cooked through.
Let the chicken rest for 5 minutes in the pan before slicing.
For the Tabbouleh:
Stir together the bulger and 1 Tbsp. of the olive oil together in a bowl. Pour the boiling water over the bulger, and stir. Cover the bowl tightly with plastic wrap and allow to sit for 15 minutes. Drain in a fine mesh colander, pressing excess water out.
Combine the cooked bulger with the tomato, cucumber, parsley, mint, lemon juice, and salt. Stir to combine.
Can be made ahead and chilled until ready to serve. Season with salt and pepper to taste before serving.
For the Garlic Sauce:
Place all of the sauce ingredients in a blender and blend until fluffy and smooth, 1-2 minutes. Serve alongside the chicken. Refrigerate extra sauce.
To serve:
Wrap the shawarma in warm pitas, topped with tabbouleh, hummus and garlic sauce OR serve the sliced chicken over the tabbouleh, drizzled with the garlic sauce. Whatever floats your boat. 🙂
ENJOY!