Directions
This, my friends, is EXACTLY the recipe we need for today.  This morning, at 5:00 AM, my phone pinged, telling me that my kids officially had their first two-hour weather delay of the season.  We only got a couple of inches of snow overnight, but it came down at just the right time to throw a kink in the bus schedule.  The kids were thrilled, I was excited to set my alarm for a little bit later, all was well with the world.  My husband texted me a while later and suggested I stay at home, if possible, because the road conditions stunk. OK, sounds good to me.
Today is a day for hunkering down, and staying cozy.  This healthy, warm-your-soul-up soup is absolutely perfect for a day like today.  There's so much going on, with so many flavors and textures, and it all comes together beautifully into a thick, hearty stew-like soup that my entire family enjoyed.  It actually tastes better the second day, so if you know in advance that you're going to get some serious snow soon (I'm looking at you, East Coast!), be sure to grab the ingredients, and get cooking, after that last mad dash to get some bread and milk.
My first step was to roast some winter root veggies in some olive oil, balsamic vinegar, and salt, until they were softened and nicely toasty.  I cubed some sweet potato, parsnips, and carrot into evenly sized pieces, tossed them with the oil, vinegar, and salt, and cooked them for about thirty minutes.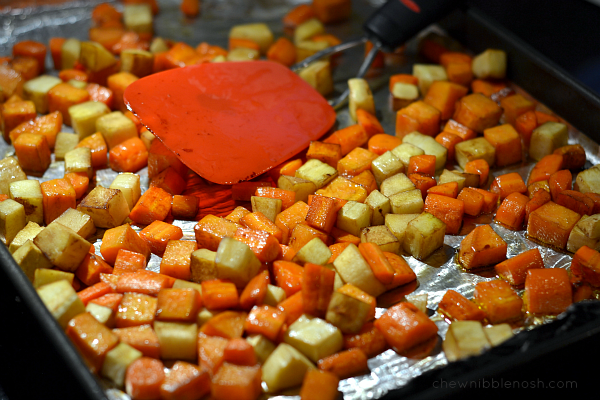 The roasting brings out their sweetness, and the balsamic vinegar balances it out perfectly.
Once they were done, I set them aside and got going on my soup.  I added my diced pancetta to my pot, and cooked it until it was nice and crisp.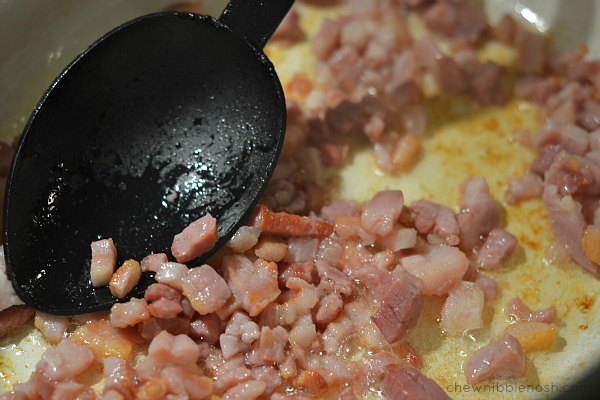 Then, I removed the pancetta with a slotted spoon, making sure to leave the drippings, and added my sliced shallots and red onion to the pan.
I cooked the shallots and onion until they began to caramelize, and then added in some fresh thyme, minced garlic, more balsamic vinegar, and some pepper.
Can you just imagine how wonderful that smells?  Mmmm…
After the thyme and garlic were fragrant, I deglazed the pan with some dry white wine, making sure to scrape up all of the browned bits from the bottom of the pan.
I put my pancetta back in, added my lentils and some chicken stock, and brought the soup to a boil.
I reduced the heat to a simmer, covered the pan, and let the lentils cook for about thirty minutes until they were nice and soft.
As the lentils cooked, I trimmed and chopped a bunch of beautiful Swiss Chard, that  I would add to the soup at the very end.
Swiss Chard is ridiculously pretty. It's such a flashy veggie, and adds a beautiful earthiness to the finished product.
So, after the lentils had a chance to cook, I removed the lid to find this…
Plump, tender lentils, cooked perfectly and floating on top of that super flavorful herbed stock.  To that, I added a couple of cups more of the stock, and my roasted veggies.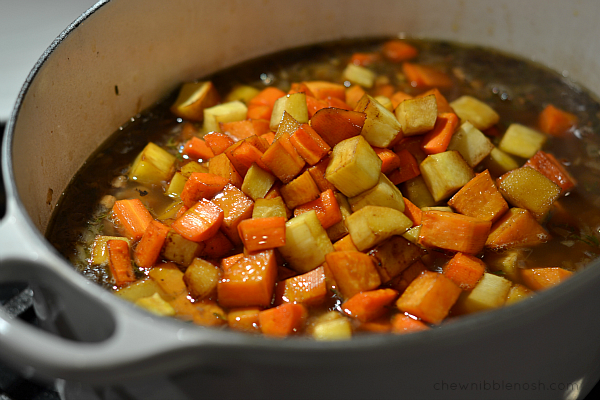 I let that all simmer together for another fifteen minutes, before folding in that beautiful chard, until it had wilted down.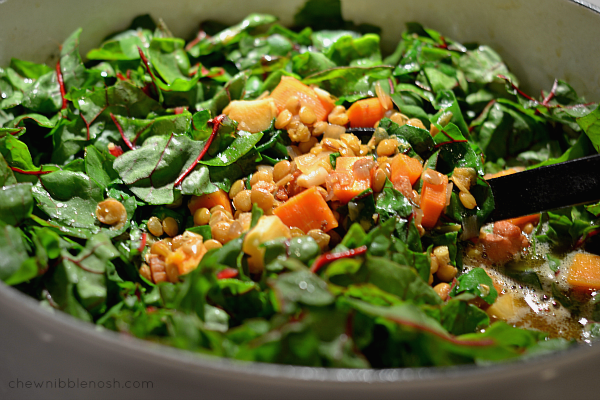 So, a little bit of time, a whole lot of veggies, and healthy goodness, and you're left with a pretty cozy, put-on-your-jammies-and-comfy-socks before dinner, kind of meal. It's just about perfect.
Stay warm out there, folks.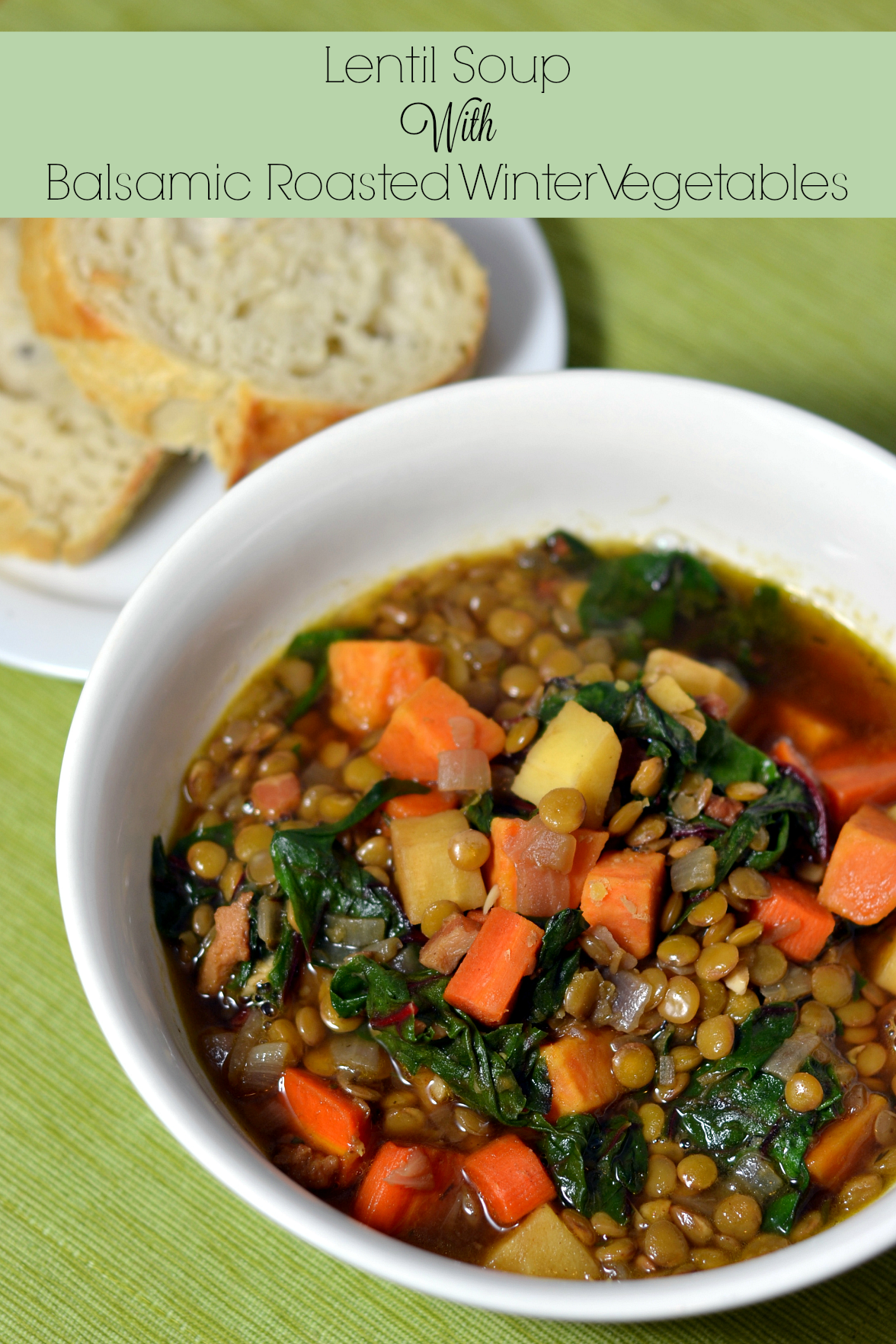 LENTIL SOUP WITH BALSAMIC ROASTED WINTER VEGETABLES
Adapted from Cooking Light
Lentil Soup with Balsamic Roasted Winter Vegetables
Author:
Prep time:
Cook time:
Total time:
This soup is delicious on day one, but tastes even better the next day. If the soup seems too thick as you reheat it, feel free to add more broth or a little bit of water.
Ingredients
1 1/2 cups peeled, cubed sweet potato
1 1/2 cups peeled, cubed parsnip
1 1/2 cups peeled, cubed carrot
2 Tbsp. balsamic vinegar
2 Tbsp. olive oil
1/4 tsp. kosher salt
1 cup chopped pancetta
1 cup chopped shallots (about 6 shallots)
1 cup chopped red onion
1 Tbsp. minced fresh thyme leaves
1 Tbsp. fresh minced garlic
1 Tbsp. balsamic vinegar
1/2 tsp. ground black pepper
1/4 cup dry white wine
1 1/4 cups dried lentils, rinsed and picked through
6 cups chicken stock, divided
6 cups Swiss chard, trimmed and chopped
Instructions
Preheat your oven to 375*F.
Combine the sweet potato, parsnip, carrot, 2 Tbsp. balsamic vinegar, olive oil, and salt in a large bowl. Toss to coat evenly.
Line a cookie sheet with foil and spray with nonstick spray. Spread the vegetables out on the prepared sheet and roast for 30 minutes, or until browned and tender. Set aside
Cook the pancetta in a Dutch oven over medium-high heat, for 6-8 minutes or until crisp. Remove with a slotted spoon and set aside.
Add the shallots and red onion to the drippings in the pan, and cook, over medium heat, for about 15 minutes, or until golden.
Add the thyme, garlic, 1 Tbsp. vinegar, and pepper, and cook for 1 minute, until thyme and garlic are fragrant.
Deglaze the pan with the white wine, scraping up all of the browned bits.
Add the pancetta, lentils, and 4 cups of the stock. Bring to a boil.
Reduce the heat, cover the pot, and allow the lentils to simmer for 30 minutes, until tender.
Add the remaining 2 cups of stock to the pan, and gently stir in the roasted veggies.
Simmer, uncovered, for 15 minutes.
Add the chard, folding in until wilted.
ENJOY!