Directions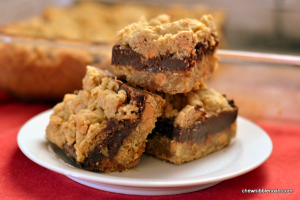 Sometimes, you just need a cookie.
This was my state of mind yesterday afternoon, when I decided to whip up these tasty little guys.
I'd made plenty of chocolate-oatmeal bar variations before, in fact, I wrote about a delicious no-bake version here a while back.  This one wasn't much more difficult than the quick no bake version, and the result was totally worth the extra time in the oven.  These are buttery, and fudgy, and speckled with sweet butterscotch chips.  Oh, and there's oatmeal in there, so they are TOTALLY healthy. (wink wink)
I started by mixing together the cookie dough in my stand mixer.  This is a THICK cookie dough, so if you don't have a stand mixer, I hope you have very strong arms.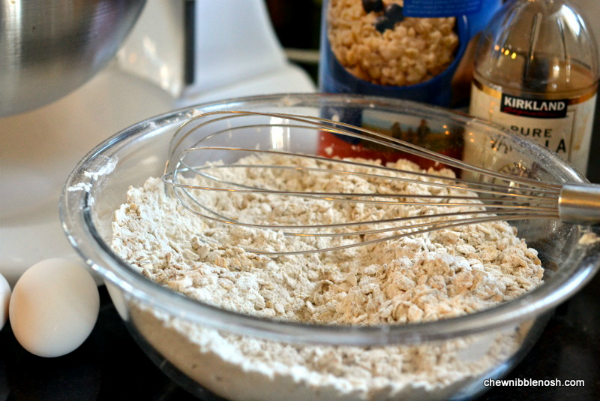 Once the dough came together in the mixer, I added in a bag of butterscotch chips and let the mixer do the work…again.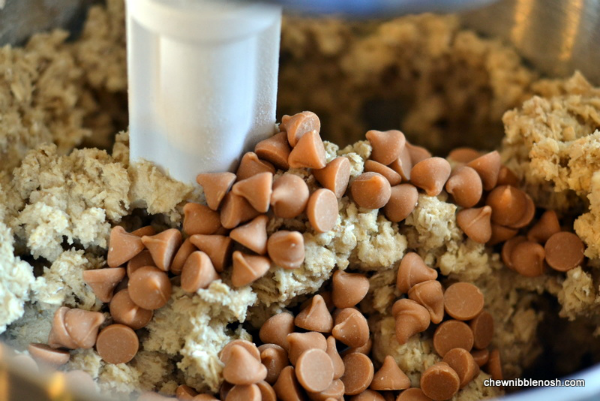 Once the dough was ready, I set it aside and got to work on the fudgy filling.  This came together quickly and easily on the stove top.
In a small saucepan, I melted together a few tablespoons of butter, two cups of chocolate chips, and a can of fat-free sweetened condensed milk.  See?  Fat-free milk AND oatmeal…it's getting healthier by the minute! 😉
After a minute or so, the fudge melted together to be beautifully silky smooth.  I stirred in some vanilla, and got ready to put my bars together.
I took two-thirds of the dough and pressed it into a greased 9×13 inch baking dish.  Then, I poured the fudge over the top, spread it out evenly, and dotted the top with the rest of the cookie dough.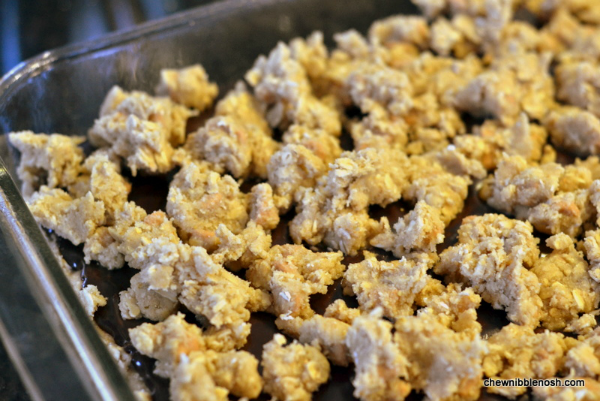 The bars went into the oven for thirty minutes, and when they came out, they were perfectly golden and toasty on top, and smelled of cocoa and butter.  Does it get any better than that?
I couldn't wait, I know you're shocked, so I dove into them when the girls got home from school just about thirty minutes later, and we all settled in for an after school treat.  They'd had time to set up a bit, but were still fudgy and melty in the middle…and oh, so good.
I'm pleased to report that once they'd cooled completely, they were just as delicious.  The cookie is perfectly buttery and crumbly, and the fudge keeps the middles nice and tender, and has a chewy, wonderful bite to it.  They bake up BIG, so a little goes a long way.
They were a delicious hit with my family, and I couldn't have asked for a better way to solve my cookie craving problem.  Crisis averted.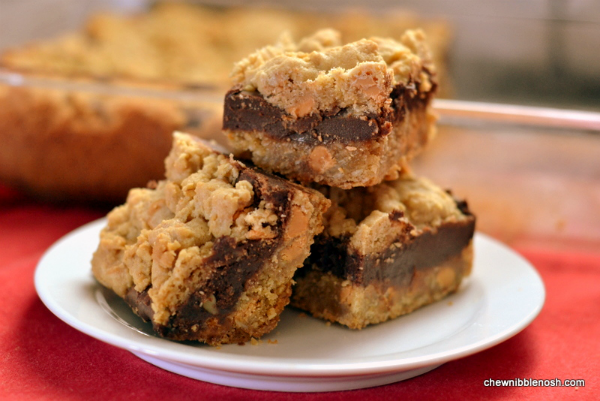 BUTTERSCOTCH OATMEAL FUDGE BARS
Adapted from BakingwithMelissa.com
Butterscotch Oatmeal Fudge Bars
Author:
Prep time:
Cook time:
Total time:
Ingredients
For the Cookie Dough:
2 1/2 cups all-purpose flour
3 cups old-fashioned oats
1 tsp. salt
1 tsp. baking soda
1 cup (2 sticks) butter, softened
2 cups brown sugar, packed
2 eggs
1 Tbsp. pure vanilla extract
2 cups butterscotch chips
For the Fudge:
2 cups semi-sweet chocolate chips
1 (14 oz.) can sweetened condensed milk – I used fat-free
3 Tbsp. butter
1 Tbsp. pure vanilla extract
Instructions
Preheat your oven to 350*F. (If using a dark pan, lower the temp to 325*)
Coat a 9×13 inch pan with nonstick spray, and set aside.
In a large bowl, combine the flour, oats, baking soda, and salt.
In the bowl of a stand mixer fitted with the paddle attachment, cream together the butter and brown sugar until fluffy. Add the eggs and vanilla, and beat until combined.
Slowly add the oat mixture in, making sure the dough is combined evenly.
Stir in the butterscotch chips.
In a medium-sized saucepan over medium heat, melt together the chocolate chips, butter, and sweetened condensed milk, stirring until melted and smooth. Take the fudge off the heat and stir in the vanilla.
Press 2/3 of the dough into the bottom of the prepared baking dish.
Pour the fudge over the dough, and spread it out evenly.
Drop pieces of the remaining dough over the top of the fudge.
Bake for 30 minutes, or until cookie is golden brown and middle is set.
Allow to cool completely (if you can wait that long) before slicing into bars.
Store, covered, at room temperature.
ENJOY!