Directions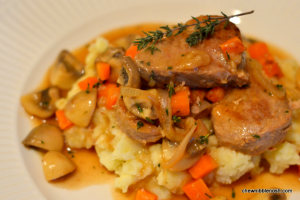 When my mom came to me about this recipe, and told me how good it was, I was a little bit skeptical.  I'm not a huge mushroom fan, but I'm learning to accept them and, even better, eat them without gagging.  So, when she told me about this amazing, and different, pork and mushroom stew, I was a little leery.
But, as usual…she was right.
Always listen to your Mama.
This dish is actually quite simple to throw together, and the result is pretty spectacular.  It's not your everyday meat and potatoes dish, and is the perfect thing to warm you up when the Winter wind is (still…) howling.
I started by prepping all of my veggies.  I diced up some carrots, quartered some white mushrooms, and sliced up a couple of shallots.
Once they were ready, I peeled some creamy Yukon Gold potatoes, and one Granny Smith apple for my apple-potato mash.  (Just trust me…it's tasty.)
I chopped up the potatoes and apple, and got them cooking in boiling water on the stove, and then dove into the quick cooking stew.
I started by sauteing my pork tenderloin, that I'd sliced into thick, 2-inch pieces.
Once they'd browned up nicely, I removed the pork and got going on the rest of it.  I cooked the mushrooms, shallots, and carrots in the same pan til they were softened, and then stirred in a little flour to help thicken up the sauce I was about to build.
I deglazed the pan with a little sherry, scraped up all of the browned bits to help flavor the sauce, and then stirred in some apple juice and chicken broth, and brought the mixture to a boil.
In went the pork to finish cooking for a few minutes, along with some fresh chopped thyme.
I let the stew simmer, and thicken, for about five minutes.
This was just enough time to finish off my potatoes.  I drained the potato and apple mixture, poured them back into the same pan they'd cooked in, and set them back over the heat for a minute, to help dry them out just a little bit.
Then, I added in some half and half (I used fat-free), a dab of butter, and some salt and pepper, and got to mashing.
The end result was creamy, and fluffy, with just a hint of sweetness from the apple.  It's the perfect vehicle for this savory stew.
I topped those creamy mashed potatoes with the pork and those amazing veggies that had soaked in all of the flavor of the sauce, and my family went to town.
Mom was right.  It's different and delicious!  The pork was so tender, and everything seemed to work together in perfect culinary harmony.  Oh, and in case you were wondering, I eagerly gobbled up every last mushroom on my plate.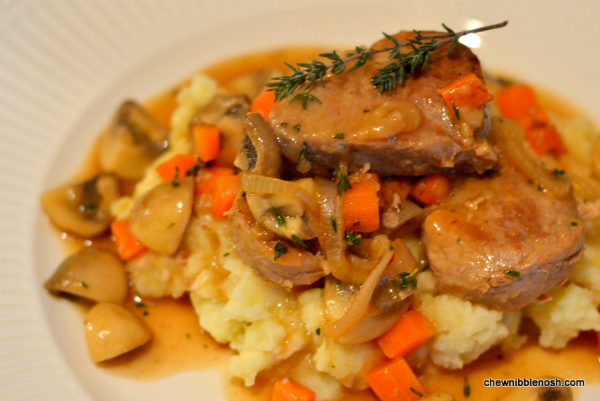 PORK AND MUSHROOM STEW WITH APPLE-POTATO MASH
Adapted from Cuisine Tonight
Pork and Mushroom Stew with Apple-Potato Mash
Author:
Prep time:
Cook time:
Total time:
Ingredients
For the Stew:
1 Tbsp. olive oil
1 Tbsp. butter
1 1/2 lb. pork tenderloin, trimmed, and sliced into 2-inch pieces
8 oz. small white mushrooms, quartered
1/2 cup sliced shallots (2 shallots)
1/2 cup diced carrot
2 Tbsp. flour
1/4 cup dry sherry
3/4 cup apple juice or cider
3/4 cup low-sodium chicken broth
1 Tbsp. fresh minced thyme
salt and pepper to taste
For the Apple-Potato Mash:
2 lb. Yukon Gold potatoes, peeled and cubed
1 large Granny Smith apple, peeled and cubed
1/4 cup half-and-half (I used fat-free)
2 Tbsp. butter
salt and pepper to taste
Instructions
For the Stew:
Dry off each slice of pork tenderloin with paper towels, and sprinkle with salt and pepper. In a large saute pan, melt together the butter and olive oil over medium-high heat.
Add the pork slices, and cook until browned, 2 minutes per side. Remove the pork to a plate and set aside.
Add the carrots, mushrooms, and shallots to the same pan and saute until slightly softened, about 3-4 minutes. Stir in the flour, and cook for 1 minute.
Deglaze the pan with the sherry, scraping up any browned bits from the bottom of the pan into the sauce. Reduce until the sherry is just about evaporated. Pour in the chicken broth and apple juice and bring to a boil.
Reduce the heat to medium-low, and add in the pork, its juices, and the minced thyme.
Simmer the stew until slightly thickened, about 5 more minutes. Season with salt and pepper.
For the Apple-Potato Mash:
Boil the potatoes and apple in a pot of salted water until they are fork tender, about 15 minutes. Drain.
Add the potato mixture back into the pan, and place it over the heat for about 1 more minute, just to dry things up a bit.
Remove from the heat, add in the half-and-half and butter and then mash the mixture with a potato masher. Season with salt and pepper.
Serve the stew over the mashed potatoes.
ENJOY!