Directions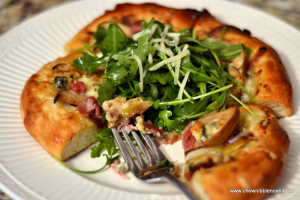 My husband wasn't home for dinner one night last week, so I took it upon myself to declare it a Girls' Night In and invited a friend of mine over to hang out, laugh a lot, and have some dinner.  Because that's what girls like to do, right?  Talking, laughing, eating…we like that.   Plus, my little girls were there with us, so it was a multi-generational girls' night, which made it extra special.
After talking with my girls about what we should have for dinner, we decided to have a "Make Your Own Pizza" night.  The thought of pepperoni and cheese wasn't thrilling me, though.  I wanted something more, something with a little more wow factor.  I grabbed the pepperoni, mozzarella and sauce for the little ones, but decided that the adults were going to go a little more grown up.
In yet another Costco spending flurry (I've gotten better about it.  I really have.), I bought a case of beautiful Comice pears.  I saw them sitting in the bowl on my counter and knew exactly how I could use them.  I love the combination of pears, blue cheese and prosciutto, so I looked around for a bit online to see if I could find something to help guide me along my "Easy Pizza Night that was Suddenly Turning into a Bit of an Adventure" path.  I ran across this recipe on the beautiful blog, Fifteen Spatulas.  When you get a chance, check it out.  Joanne has some amazingly delicious things going on over there!
Anyway, the recipe looked like what I was going for, but I did tweak it just a bit.  I really wanted to get some prosciutto in there, some crunchy walnuts, and I knew I wanted to top the pizza with a simply dressed salad.  I grabbed the recipe, and set to work.
I started by cooking down some thinly sliced red onion in just a dab of butter.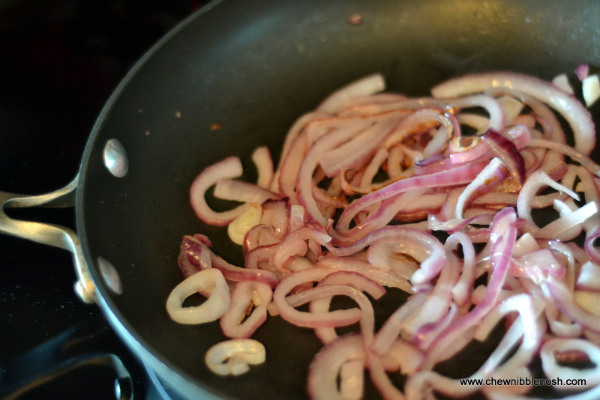 I let them cook low and slow until they were nice and caramelized.
While they were cooking, I sliced up one of my pears.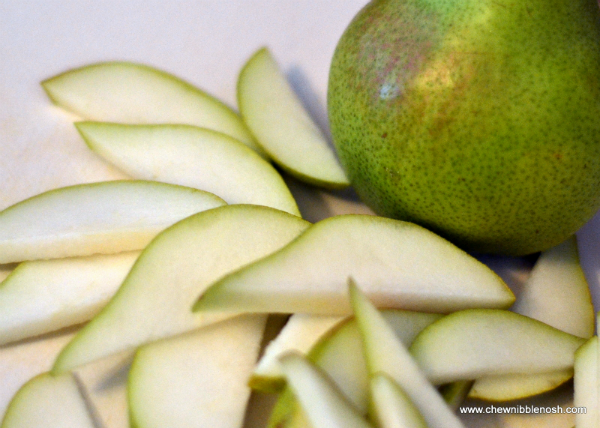 For this pizza, I'd suggest using a firmer pear.  It doesn't need to be rock hard, but an over-ripe super soft and juicy pear would just fall apart as it cooked.  The Comice pears were perfectly sweet and juicy, but nice and firm as well, so they worked out great.
When the onions were done, I removed them from the pan, added a little more butter to the pan and then sautéed my pears just a bit, until they'd started to soften up a little.
While all of this was going on, my pizza dough (I just bought some at my grocery store.  Didn't have time to make the homemade stuff that day!) was coming to room temperature on my counter.  I'd split the dough into two rounds, and spread it out a little while it was still cold.  Then, I let it sit for a while longer, before trying to stretch it out again.  Once it had warmed up a bit, it was a little more obedient and, before I knew it, I had two perfect little rounds of dough ready to prebake in the oven for 10 minutes.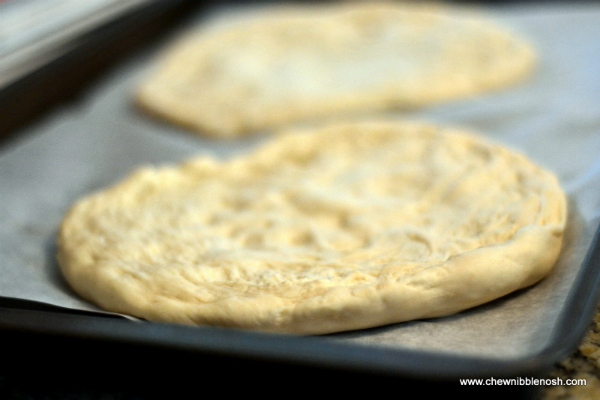 The dough went into the oven for 10 minutes to prebake, so that gave me enough time to get the rest of my ingredients together and ready to go.
I had my sautéed pears and onions, some pungent Gorgonzola cheese, thin slices of prosciutto, an olive oil, thyme, and honey mixture to brush on the crust, as well as some shredded Gruyère cheese that, somehow, managed to dodge the photo session.
When the crust came out of the oven, it was completely poofy and everything going on top would have rolled right off.  So, I took a fork and pushed down the middle of the crust, leaving a lip around the edge.  This gave me a much better palate to work with.
I brushed the entire crust, and edges, with the olive oil/honey mixture, then layered all of the goodies on top starting with the onions, then the Gruyère, pears, prosciutto and Gorgonzola.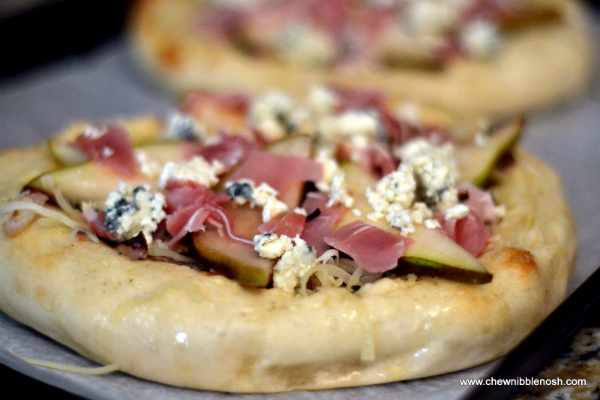 Before they went into the oven, I sprinkled them with some chopped walnuts.
They went back into the oven for about 13 minutes.
The pizzas came out beautifully golden and crisp, and the cheese was perfectly melty and gooey.  Plus, they smelled REALLY good.  We were eager to dive it!
Before we could, though, I tossed together a quick salad of fresh arugula, a little olive oil, the juice of one lemon, and some salt and pepper.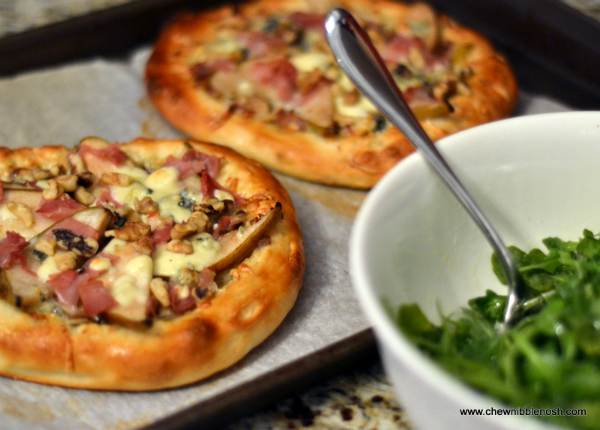 I sliced up the pizzas, put them on our plates and topped them with some of that zesty salad.
It was definitely good to be an adult that night at dinner.  Not that my kids didn't LOVE their pizzas, but ours were pretty darn special.  I think we'll be having pizza night more often.  I'd better get back to Costco.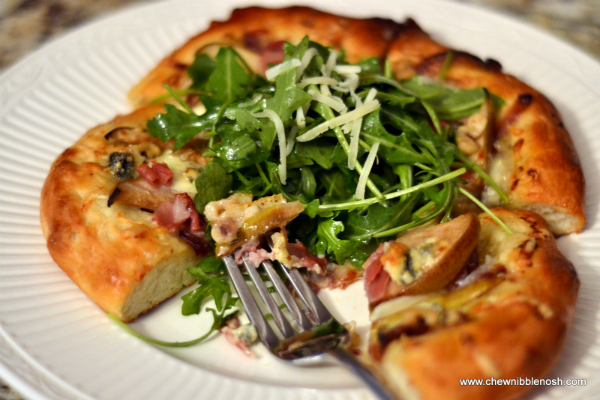 CARAMELIZED PEAR, PROSCIUTTO & GORGONZOLA PIZZA WITH ARUGULA SALAD
Adapted from Fifteen Spatulas
Caramelized Pear, Prosciutto & Gorgonzola Pizza with Arugula Salad
Author:
Prep time:
Cook time:
Total time:
Ingredients
For the pizza:
Pizza dough, enough for 1 large pizza or split for 2 individual sized pizzas
1 cup shredded Gruyère cheese
1/2 cup crumbled Gorgonzola cheese
1 firm pear, thinly sliced
1/2 of a red onion, thinly sliced
1/2 cup thinly sliced prosciutto, cut into small pieces
1/2 tsp. fresh thyme leaves
2 tsp. honey
2 tsp. olive oil
1/2 tsp. rice vinegar
1/4 cup coarsely chopped walnuts
For the salad:
2-3 cups arugula
juice of one lemon
2 tsp. olive oil
salt and pepper
Instructions
Preheat the oven to 425*.
Spread out your pizza dough on a cookie sheet lined with parchment paper and prebake for 10 minutes.
Remove the dough from the oven and press down the middle with a fork so that there's a definite edge for the crust.
As the dough is baking, heat a medium-sized skillet over medium heat and add 1 Tbsp. of butter. Once the butter is melted, add the sliced onion. Sprinkle with salt, and cook slowly, for about 10 minutes or until the onions begin to caramelize.
Remove the onions from the pan and place the pan back on the stove. Add 1 Tbsp. of butter. Add the pear slices to the melted butter and cook for just a few minutes, until they start to soften up just a bit. Don't overcook them or they'll turn to mush! Remove them from the pan.
Whisk together the honey, 2 tsp. olive oil, rice vinegar and fresh thyme in a small bowl.
Brush the prebaked crusts with the olive oil mixture.
Start layering your ingredients, starting with the caramelized onions. Next, the Gruyère, then the pear slices, prosciutto, and Gorgonzola. Sprinkle the tops with the chopped walnuts.
Bake the pizzas for 12-15 minutes until the crust is beautifully golden, and the cheese is melted and starting to brown.
Meanwhile, toss the arugula with the olive oil, lemon juice, salt and pepper.
Serve the pizzas with the arugula salad piled on top.
ENJOY!