Directions
I have a lot of friends who think it's pretty funny that I've held down more odd jobs than I can count.  You name it, and I probably dabbled in it at one point in my life.  When I was in high school, I worked in a local bakery.  Besides the amazing cakes, breads, pastries and desserts we whipped up, we had a pretty mean lunch menu.  That bakery was where I was first introduced to cauliflower soup.  Up until that point in my life, cauliflower was just…cauliflower.  Nothing spectacular.  It was usually the last to go on a veggie tray and we had it with dinner a lot, but it was just cauliflower.
The soup at the bakery was insanely good.  It was actually a Cream of Cauliflower soup, so it was very rich, very creamy, very cheesy, and I'm sure that if I looked at the calorie count, very fattening.
I've been looking for a great cauliflower soup recipe ever since then, but wanted one that still had a ton of flavor, and a few less calories.  I finally tried one that is not only worth sharing with you, it's also worth making again and again.  Is it diet soup?  Not really, but it's not super creamy rich, so it's a better-for-you alternative.
I started by tossing some cauliflower that I'd chopped up with some olive oil, salt and pepper.  The cauliflower went into the oven for about 20 minutes to roast.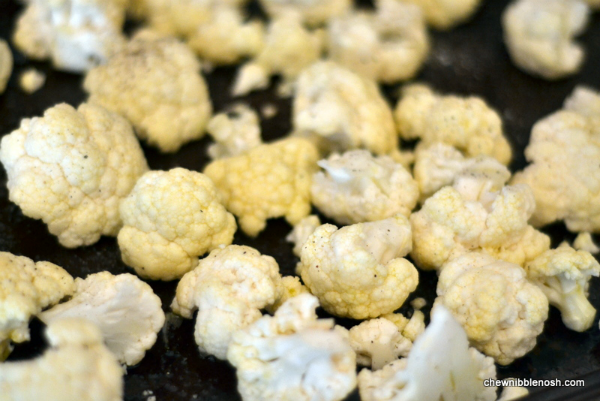 Roasted cauliflower is an amazing dish on its own.  I shared one of my favorite recipes with you last year.  Be sure to check it out, if you haven't tried it!  Roasted cauliflower has turned many a cauliflower hater around!
As the cauliflower was roasting, I threw a few strips of center cut bacon in a pan on the stove.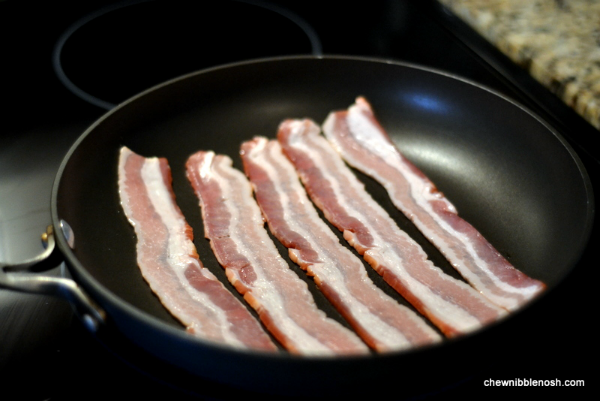 Center cut bacon is cut closer to the bone, so there's less fat than with standard bacon strips.  I love bacon, but as we all know, your waistline does not.  Whenever I use bacon in a recipe, you can usually assume it's going to be center-cut.  It makes me feel a little better about the splurge.
The bacon was actually a garnish for the soup, but the five strips I used left behind just enough bacon grease to cook down some onion, garlic, and thyme in.  You could use olive oil here, instead of bacon grease, but if you're going to use the bacon in the soup, you might as well use the itty bit of grease it leaves behind.  Center cut bacon produces a lot less grease than standard bacon.  Personally, I feel that bacon grease has so much flavor, so I'm all over it for something like this.  If you're going for a vegetarian option, though, feel free to skip the bacon and use olive oil.
 Once the onion, garlic, and thyme are softened they went into a large saucepan.
The cauliflower was finished by now, and had started to toast up nicely in the oven.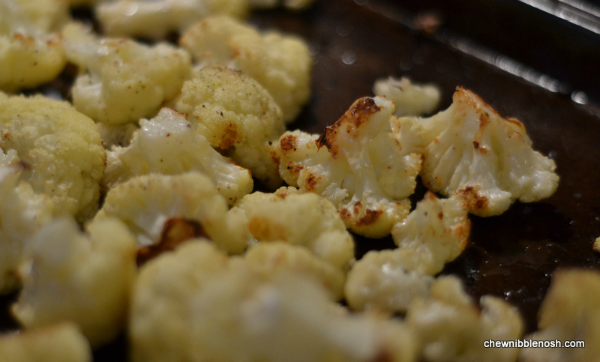 The roasted cauliflower went into the pan with the onions.  I added some chicken broth (feel free to substitute vegetable broth), brought it to a boil, reduced the heat and let it simmer for 20 minutes.
After 20 minutes, I used my immersion blender and pureed the cauliflower soup mixture.
It was rich and velvety, and smelled so good, but it wasn't done yet.
I shredded up about a cup of sharp aged white cheddar cheese, and stirred it in.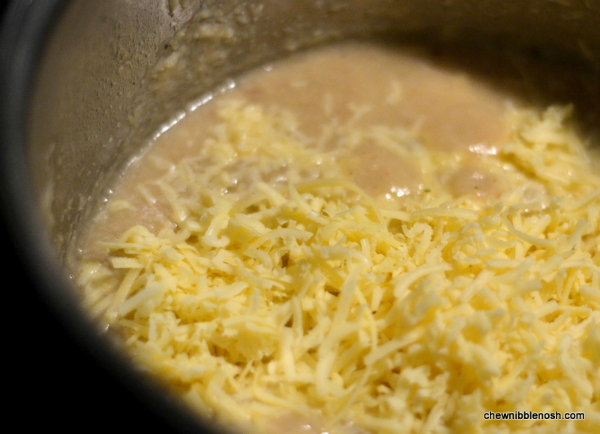 Once the cheese had melted, I removed the soup from the heat and stirred in a cup of 2% milk.  If you want to go whole hog on this, feel free to use heavy cream.  I was trying to keep it creamy, but not over the top, so I went with 2%.
Before I served it up, I sliced up some crusty bread, brushed the slices with some olive oil and sprinkled them with a bit of kosher salt.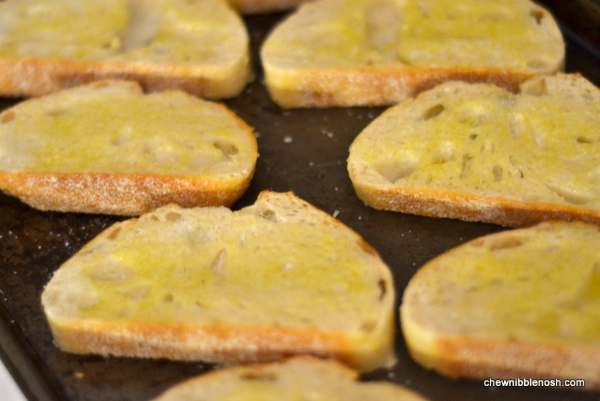 I put the bread in a 400* oven for just a few minutes to toast up a bit.  These would make perfect dippers for my soup.  As I served it up, I sprinkled each bowl with some of the crisped bacon.
When we sat down to dinner, EVERYONE was happy.  Including Avery!  I told her it was "cheese soup" to get her to try it.  Then, after she'd eaten most of her bowl, we let her in on the cauliflower factor.  She was surprised, but it didn't sway her!  She kept eating!
The soup was deliciously velvety and smooth, with the roasted cauliflower, onions and garlic shining through.  There was a bit of bite from the cheese, but it wasn't overpowering at all.  It was just enough.  This may be my new favorite fall soup!
I think my old bakery boss would be proud.
ROASTED CAULIFLOWER SOUP WITH AGED CHEDDAR AND BACON
Adapted from Closet Cooking
Roasted Cauliflower Soup with Aged Cheddar and Bacon
Author:
Prep time:
Cook time:
Total time:
Ingredients
1 head cauliflower, cut into florets
2 Tbsp. olive oil
salt and pepper
5 strips center cut bacon
1 medium onion, diced
2 cloves garlic, minced
1 tsp. fresh thyme, chopped
3 cups chicken (or vegetable) broth
1 cup aged, sharp white cheddar cheese, shredded
1 cup milk or cream
salt and pepper to taste
Instructions
Heat your oven to 400* F. Toss the cauliflower florets with the 2 Tbsp. olive oil, and some salt and pepper. Spread the florets out on a cookie sheet and roast, about 20 minutes, until they start to brown and have softened.
Meanwhile, cook the bacon in a skillet on the stove top. Remove the bacon when crisp, and drain on some paper towels. Keep the remaining bacon grease in the skillet and add the diced onion. Cook for about 5 minutes, until the onion softens.
Add the garlic and thyme to the onions, and cook until fragrant, about 1 minute.
Scrape the onion/garlic mixture into a large saucepan.
When the cauliflower is done, place the florets in the saucepan with the onions and garlic. Add the broth. Bring to a boil, cover, and reduce the heat. Let the soup simmer for 20 minutes.
Meanwhile, prepare your toasts. Slice up some crusty bread, lay it on a cookie sheet and brush each slice with some olive oil. Sprinkle with salt.
After 20 minutes, puree the soup using an immersion blender (or you can use a regular blender, just do it in batches and return it to the pot).
Stir in the cheese, stirring until melted completely.
Remove the soup from the heat and stir in the milk. Season with salt and pepper to taste.
Toast the bread slices in the oven for just a couple of minutes, until they start to brown a bit.
Serve the soup with the toast slices and sprinkle each bowl of soup with some of the crisped up bacon.
ENJOY!