Directions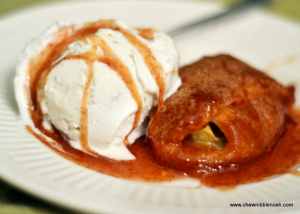 OK, so these aren't truly spooky in the creepy, Halloween sense of the word.  They are spooky in the, "How does that work?  Why does that work?" kind of way.  Seemingly mild-mannered ingredients, a simple recipe, and then…a strange kick in the pants.  You'll see what I mean in a minute.
  A couple of weeks ago, I visited my daughter Avery's classroom and read a story to the kids.  Her class had been talking about apples and Johnny Appleseed all week, and I decided to read a sweet little book called The Apple Pie Tree to them.  In the story, a family watches through the seasons as their backyard apple tree works to bring them delicious fall apples for their apple pie. This led to a discussion with the kids, and Avery's teacher, about our favorite apple recipes.
We talked about our love of apple pies, cobblers, breads, muffins, homemade applesauce, coffee cakes, caramel apples, etc. etc. etc.  (They made me hungry.)
Her teacher told me that I needed to go, right away, and ask Avery's former Kindergarten teacher for her apple dumpling recipe, saying that "It's just crescent rolls, apples, sugar, cinnamon, butter and ********, and it's amazing."
Hearing her mention "*******" in an apple dessert recipe shocked me.  I mean, who would ever think of trying "*******" in an apple dumpling recipe!  Totally weird.  It had me intrigued, though, so I went straight down to the Kindergarten room and asked Mrs. Turner if she'd share the seemingly crazy recipe with me.
Soon after, the recipe arrived in my inbox and I decided that, for experiment's sake, it needed to be made right away.
I started by peeling, coring and slicing a large Granny Smith apple into 8 wedges.  Then, I unrolled a can of refrigerated crescent rolls and wrapped each little wedge up, all snug as a bug, in the rolls.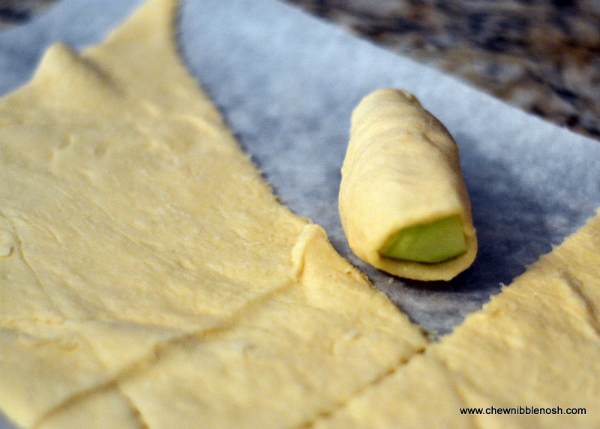 Each wedge got its own roll, and I spaced them out in a 9×13 inch pan.
Then, I melted some butter in a pan on the stove top and stirred in some sugar and cinnamon.  Once it was blended, I poured it over the rolls in the pan.
Then, came the kicker.  Are you ready?
Readers, meet "*******".
I KNOW, RIGHT?
Crazy.
I don't even like Mountain Dew, so this was a major departure for me in all realms of sensibility.  This may have been the first bottle of Mountain Dew I've ever purchased.
As per the recipe, I poured six ounces of Mountain Dew over the pastry wrapped apples, and the cinnamon-butter sauce.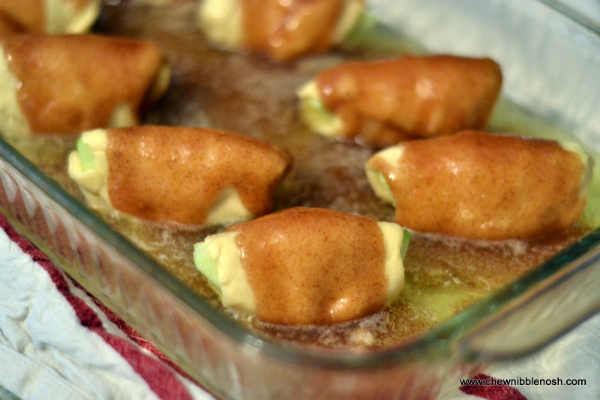 And into the oven then went.
They baked for about 40 minutes at 350*.  My house smelled like apple pie, not a party full of crazed over-caffeinated teenagers, so that was a plus.  I was hopeful.
When I took the pan out of the oven, I was stunned.  I had eight, beautifully puffy little dumplings in front of me and they were sitting in, what appeared to be, a most amazing sweet sauce.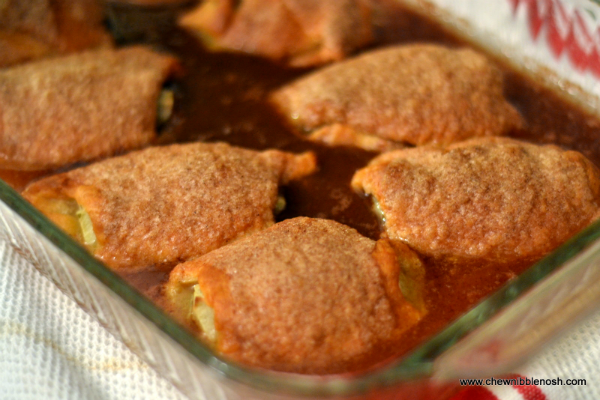 I dished one out for each of us, scooped some vanilla ice cream on the side, and drizzled that sticky, sweet, buttery, cinnamon sauce over the top.
All thoughts of creepy day-glo soda left my mind.
These were, as Avery's teachers said, amazing.  The crescent rolls had a crispy, crunchy cinnamon sugar coating on top and baked up more like puff pastry than a refrigerated crescent roll.  The apple inside was perfectly sweet and delicious, and that sauce was to die for.  It's like a buttery cinnamon caramel.  YUM! It is super sweet, though, so a little goes a long way, and the ice cream alongside it was a must.
How could something so simple, and so weird, turn into something so delicious? I don't know, but I'm really glad it did.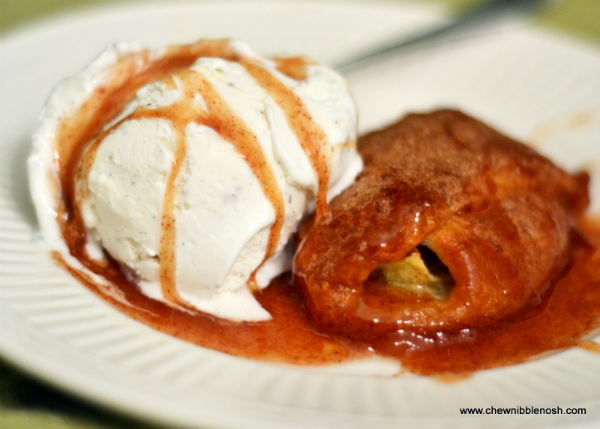 SPOOKY APPLE DUMPLINGS
"Spooky" Apple Dumplings
Prep time:
Cook time:
Total time:
Ingredients
1 large Granny Smith apple, peeled, cored and sliced into 8 large wedges
1 can refrigerated crescent roll dough
1 stick butter
1 cup sugar
2 teaspoons ground cinnamon
6 oz. Mountain Dew
vanilla ice cream, for serving
Instructions
Preheat the oven to 350* and coat the bottom of a 9×13 inch baking pan with nonstick spray.
Unroll the crescent roll dough, and separate the rolls on the perforations into triangles. Roll each apple wedge up in a dough triangle, starting at the smaller end. Pinch the dough closed to seal around the apple wedges and place them in the baking dish.
Melt the butter in a small saucepan over medium heat. Add the sugar and cinnamon and stir until combined. Pour this mixture over the top of the apples in the baking dish.
Pour the Mountain Dew over the apples and cinnamon sauce.
Bake for 35-45 minutes, at 350*, until golden brown and bubbly.
Serve warm with vanilla ice cream.